It's been years since a pro-choice moderate Republican represented any Iowa House and Senate district in the Des Moines suburbs. In this June's GOP primary in Senate district 22, we'll find out whether a mainstream Republican stands a chance against a loud voice on the party's social conservative wing.
Senate district 22 includes parts of Polk and Dallas Counties, including the Des Moines suburbs of Waukee, Clive and Windsor Heights as well as a large area in West Des Moines: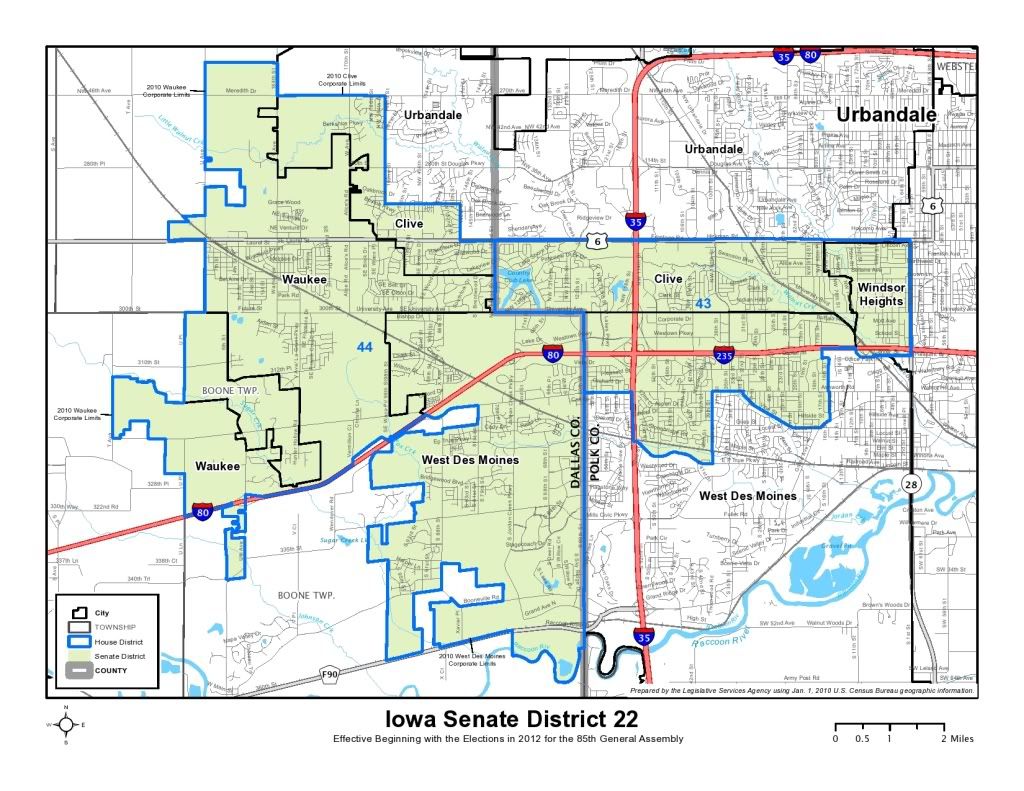 Republican State Senator Pat Ward has represented most of the Polk County areas in this district since 2004. The redistricting plan adopted last year put her West Des Moines home in the new Senate district 21. She immediately announced plans to move rather than run against Democratic incumbent Matt McCoy in Senate district 21. After the Iowa Senate voted to approve the new map, Ward said in a press release,
"Senate District 22 contains 60% of what used to be my district. I want to continue to represent the best interests of that district and a majority of people that I currently serve," said Ward.

Senator Ward is running for re-election in November 2012 and is a Senate Republican Assistant Leader. "My top priorities are to foster economic growth and job creation while demanding accountability and transparency in government spending."
Ward is an assistant Iowa Senate minority leader and ranking member of the Labor and Business Relations Committee. Late last year, she did not respond to my requests for comment about whether she had moved into Senate district 22. Today the new resident of Clive confirmed her re-election bid.
Born and raised in Missouri, Senator Ward received her Bachelors Degree from Central Missouri State University. She is a former director of public and government relations for an electric utility company in Illinois as well as the former Director of the Senate Republican Caucus staff.

Ward was elected to the Iowa Senate in 2004 during a special election to fill a seat vacated by Mary Kramer, a Republican who was appointed by former President George W. Bush as a U.S. ambassador to Barbados and the Eastern Caribbean.

Ward is a sustaining member of Junior League, volunteers at local schools, and is an active member of Plymouth Congregation Church of Christ.
Ward is not moderate in the Jim Leach mold, but she is less of a knee-jerk conservative than some of her Senate GOP colleagues. In 2007, she was one of four Senate Republicans to vote for a bill adding language on sexual orientation to the Iowa Civil Rights Act. She was also one of six Senate Republicans to vote for an anti-bullying bill. Since 2009, Ward has repeatedly voted to bring a constitutional amendment banning same-sex marriage to the Senate floor, but she hasn't been out in front on that issue. I do not recall her speaking out publicly against retaining the Iowa Supreme Court justices who concurred in the Varnum v Brien decision.
In contrast, Ward's GOP primary rival was a leading voice against the judges. Jeff Mullen, senior pastor at the Point of Grace Church in Waukee, launched the Iowa Pastors website in 2010. The site was "designed to encourage and equip pastors to communicate effectively to their congregation and community the importance and biblical mandate for involvement in local and national elections." It wasn't hard to connect that message to the campaign against retaining the Iowa Supreme Court justices.
Mullen announced his candidacy in Senate district 22 last September. He promises to fight for conservative positions on a wide range of issues. Since Mullen founded Point of Grace sixteen years ago, the non-denominational church has become one of the largest in the Des Moines metro area. After presidential candidate Michele Bachmann addressed the Point of Grace congregation last August, Mullen gave a sermon denouncing homosexuality as "immoral and unnatural."
Mullen has a professional-looking campaign website, and his day job gives him a large pool of potential supporters and volunteers. I was unable to find a campaign website for Ward, and she doesn't appear to participate on her Facebook page. Her page on the Iowa Senate Republicans' site doesn't link to any campaign site.
Ward won easily in 2004, and Democrats did not field a candidate against her in 2008. Perhaps for that reason, she has taken a relaxed approach to fundraising. Her latest filing with the Iowa Ethics and Campaign Disclosure Board reports only $11,095 in contributions, most of it from political action committees that donate to all Republican state legislators. She had $22,419.36 cash on hand as of January 2012. That's more than Mullen has, but only because Ward started 2011 with some cash on hand, whereas Mullen started from scratch.
Ward's campaign finance reports filed in January 2011 and in 2010 also show surprisingly little fundraising for an entrenched incumbent. Without the PAC money that comes to Senate Republicans automatically, Ward would have almost no campaign cash.
Mullen reported $13,195 in contributions during 2011, all from individuals. He should have enough money for a district-wide primary campaign. I expect low turnout in Senate district 22 this June, because there will be no contested Republican races for state or federal offices on the ballot. Despite the advantages of incumbency, I consider Ward an underdog against a more outspoken conservative with a large following. Mullen has some establishment support; Newt Gingrich headlined a fundraiser for him in November. Representative Tom Latham was the special guest at a house party for Mullen last month.
The winner of the GOP primary in Senate district 22 will face Democrat Desmund Adams. His campaign announced proudly last month that he raised more money during 2011 than either Ward or Mullen. Adams' $18,655 in contributions all came from individuals.
Adams is a good public speaker, judging from his comments to Iowa Democratic caucus attendees last month. However, he faces a steep uphill battle in this district. According to the Secretary of State's Office, Iowa Senate district 22 contained 11,787 registered Democrats, 16,441 Republicans and 13,983 no-party voters as of February 2012. He will need to do very well among independent voters. If Mullen is the GOP nominee, perhaps his extremism will create an opening for Adams among moderate Republicans.
Any comments about the Senate district 22 race are welcome in this thread.
LATE UPDATE: Both of the House districts that make up Senate district 22 lean Republican. On February 13 Iowa House Democrats announced their candidate in the new House district 44, which forms the western part of Senate district 22.
West Des Moines Fire Fighter Eric Brenneman announced today that he is running for State Representative in the newly created House District 44; a district that includes the Dallas County portions of the Cities of West Des Moines, Clive and Waukee.

Brenneman, who is running as a Democrat, states "I believe the next generation of leaders must put the future well being of the State of Iowa above partisan politics, I feel this can be accomplished through actively listening to the public and working with conviction to find solutions for our difficult problems. I believe these results will create a solid foundation for continued growth and success for the State of Iowa."

Brenneman is a professional Fire Fighter who both lives and works in the City of West Des Moines with his wife, Melanie, a licensed physical therapist at a Des Moines hospital. Brenneman attended The University of Iowa, and completed his Master's Degree in Public Administration at The University of North Dakota. Eric serves locally as board member with the International Association of Fire Fighters, and has been involved with the Habitat for Humanity, The Muscular Dystrophy Association, and the Shriner's Burn Foundation. Eric and Melanie both regularly attend the Lutheran Church of Hope in West Des Moines.

Born and raised in Iowa, Brenneman's family still runs and operates a manufacturing business started by his grandfather. Both of his parents have a long history in serving the public, his father being a Professional Fire Fighter and Battalion Chief, and his mother a schoolteacher.

"In the months ahead I am truly looking forward to meeting the people of District 44 to see how I can assist them. I'm a firm believer that education is the best way to create well paying and solid jobs to help grow Iowa and increase living standards for all Iowans for years to come. We must work as one to develop and create a highly educated and strong workforce, by continually striving to have the best education system in the United States," said Brenneman.
Republicans have a voter registration advantage of more than 3,000 in House district 44. Dallas County GOP Chair Rob Taylor announced his candidacy last summer and will be the heavy favorite in November, assuming he wins the GOP primary.
I am not aware of any Democratic challenger to two-term State Representative Chris Hagenow in the new House district 43, which makes up the eastern half of Senate district 22. According to the Secretary of State's office, that district contained 7,035 registered Democrats, 8,314 Republicans, and 5,320 no-party voters as of February 2012.