The list of potentially competitive Iowa House districts without a Democratic candidate shrank yesterday when the chair of the Muscatine Community College Business Department, John Dabeet, announced that he'll stand in the new Iowa House district 91.
Most voters in the new House district 91 reside in the city of Muscatine. The district also includes the small town of Fruitland as well as some rural areas in eastern Muscatine County.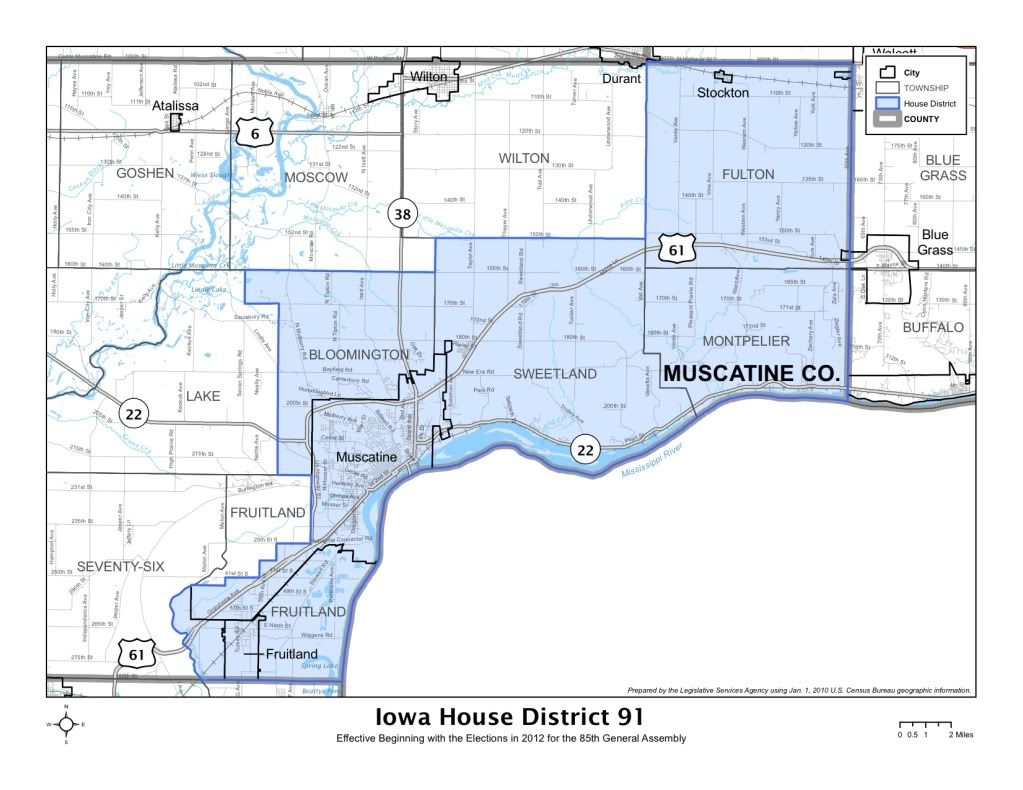 Neither party has a clear advantage in terms of voter registration. According to the Iowa Secretary of State's Office, House district 91 contained 6,350 Democrats, 6,559 Republicans, and 8,474 no-party voters as of February 2012 (pdf).
Republicans take an incumbency advantage into this race. State Representative Mark Lofgren easily defeated three-term Democratic incumbent Nathan Reichert by more than 1,400 votes in 2010. It was Lofgren's first attempt at elected office. From his official bio:
Mark Lofgren is a life-long resident of Muscatine, Iowa. He graduated from Muscatine High School in 1980 and the University of Iowa with a BBA Finance degree. He has a Chartered financial consultant designation from the American College and is currently working on his Masters in Financial Services. After nearly 10 years working and building a successful real estate business, Mark decided to go into investments and opened Lofgren Investments in 1996. Mark is an avid runner and has coached track, soccer, and basketball throughout the years. Mark is married to Paula, a teacher librarian in the Muscatine Community School District. Together they have four children.
Lofgren serves on the Iowa House Economic Growth, Education, Human Resources, and Natural Resources committees. Unlike a few Iowa House Republican freshmen who made waves last year, Lofgren didn't rock the boat. I am not aware of him voting against the House GOP leadership on any significant bills during the 2011 session.
Lofgren doesn't come across as a policy wonk. Commenting on Governor Terry Branstad's 2012 condition of the state address, he told the Muscatine Journal,
Lofgren said he thinks Branstad "really cares about the issues. I think the education blueprint thing, he is passionate about that. I think he really cares with his family members there - he's got four granddaughters - so I think he's very passionate about that.

"I think the third-grade literacy thing, is a tough issue.

"The property tax, he has a lot of passion about that. That all goes back to Keynesian supply-side economics. He's trying to create an environment where businesses want to locate in the state.

"I think the Senate's (commercial property tax) bill doesn't go far enough."
I would expect a member of the House Education Committee to have a more substantive comment on the governor's education reform plans. Lofgren's mostly got the property-tax talking points down, except that supply-side economics is very different from Keynesian economics. On the contrary, supply-side economics was developed in opposition to Keynesian economics.
Lofgren's campaign website hasn't been updated since the 2010 election, but I assume he will seek a second term. I've heard no hint that he plans to retire.
Several Iowa legislators defeated in 2010 are attempting comebacks this year, but Reichert showed no interest in a rematch against Lofgren. The former House Democrat continues to teach economics at Muscatine Community College, where he has worked since 2008.
One of Reichert's faculty colleagues threw his hat in the ring. From the Iowa House Democrats February 20 press release:
The Chair of the Business Department at Muscatine Community College John Dabeet today announced that he will run for state representative in District 91, which includes the city of Muscatine and eastern Muscatine County.

"I'm proud of my work helping people in Muscatine get the skills they need to land a good-paying job, continue their education, or start their own business. Community colleges are the key to growing Iowa's skilled workforce and strengthening the middle class," said Dabeet, a Democrat. "My top priorities in the Iowa House will be making sure every Iowan gets a world class education from preschool to higher education and helping local communities create jobs."

Now in his 17th year at Muscatine Community College, Dabeet teaches economics and statistics in addition to his duties chairing the Business Department. He is also the student government advisor and serves on Eastern Iowa Community College district wide globalization initiative as well as the student council. Dabeet is also an adjunct professor at Iowa Wesleyan College in Mt. Pleasant.

"As state representative, I will put aside the partisanship and listen to the people of our community. I look forward to engaging the citizens of Muscatine just like I engage my students in the classroom and seek their input on the critical issues our state faces. It's a humbling experience to run for state representative and I'm excited to meet Muscatine residents at their doorstep," said Dabeet, who received the Excellency in Volunteerism Award from the Greater Muscatine Chamber of Commerce and Industry in 2002-2003.

Dabeet, a Christian, is currently serving as President of the national Americans & Palestinians for Peace organization and has been involved in a host of other activities and organizations in Muscatine. He is Past President of Muscatine Sister City Association and former Chair of the Diversity Service Center of Iowa, which is based in Muscatine. For eight years, he served on the Board of Directors for the Greater Muscatine Chamber of Commerce and Industry.

John and his wife, Abeer, have two twin boys, Nabeel and Anton, who are three years old. He received Sister Cities International 50th Anniversary Distinguish Volunteer Award in 2006, was nominated by his students for Who's Who of America's Best Teachers, and received the Chancellor's Award for Excellence in Teaching at MCC.
Teachers and community college professors often make good legislative candidates, because they are personally acquainted with so many local families. Dabeet's close contacts with the Chamber of Commerce crowd could help him gain crossover votes in the business community.
Like John Deeth, I noticed that the press release seemed to go out of the way to mention that Dabeet is a Christian. On the other hand, most Democrats running for the Iowa House or Senate do mention a religious affiliation in their campaign announcements and official bios.
Democrats are sure to target House district 91, not only because the party recently held this seat and has a strong candidate in Dabeet, but also because the district is half of Iowa Senate district 46, a potential pickup for Democrats. Republican incumbent Senators Jim Hahn and Shawn Hamerlinck appear likely to duke it out in a primary. The winner of the June primary will face Democrat Chris Brase, a Muscatine firefighter.
The other half of Senate district 46 is House district 92, where former Democratic State Senator Frank Wood is challenging first-term Republican Representative Ross Paustian.
Republicans won't let this district go without a fight. Emily Lofgren, the daughter of Mark Lofgren, serves on the Iowa GOP State Central Committee. She managed her father's successful 2010 campaign, and I assume she'll play a major role in his re-election effort.
I also expect the advocacy group Iowans for Tax Relief to be heavily involved in the House district 91 campaign. David Stanley, who represented the Muscatine area in the state legislature during the 1960s and 1970s, founded Iowans for Tax Relief in 1978. Despite major staff turnover in the spring of 2011, Iowans for Tax Relief is still based in Muscatine, and Stanley remains the organization's chairman.
Any relevant comments are welcome in this thread.
P.S.- Muscatine is one of the 36 cities that lost its Iowa Workforce Development field office in 2011.