Northeast Iowa contains a large number of potentially competitive Iowa House and Senate seats. The field is now set in the new House district 56, where a first-term Republican will face a Democratic challenger with a similar background.
House district 56 covers all of Allamakee County and most of Clayton County, except for the Elkader area: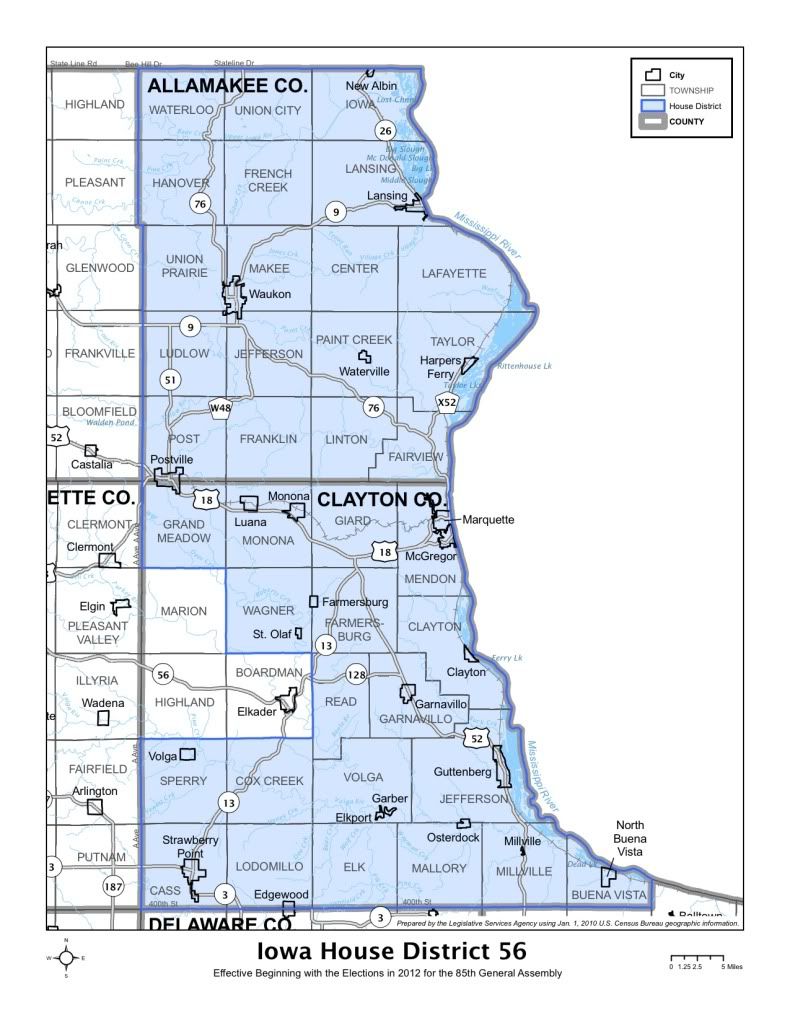 Republicans have a registration advantage in this district, but as in most Iowa House and Senate seats, no-party voters are a plurality of the electorate. According to the Iowa Secretary of State's Office, the new House district 56 contained 5,695 registered Democrats, 6,718 Republicans, and 8,314 no-party voters as of February 2012 (pdf).
First-term Iowa House Republican Bob Hager is expected to seek re-election here. He is vice-chair of the Iowa House Environmental Protection Committee and also serves on the Economic Growth, Local Government, and Natural Resources committees. He hasn't been much of a newsmaker, compared to some other first-termers in the House Republican caucus. I can't think of any cause Hager has championed in the legislature, or any issue on which he has criticized the Republican leadership's approach.
Hager now represents Allamakee County and most of Winneshiek County, having defeated Democratic incumbent John Beard in 2010. The Republican entered that race late in the game, but he had prior experience as a candidate. Before beating Beard, Hager served on the Allamakee Community School Board for six years.
Allamakee County was crucial to Hager's victory. He received nearly 1,500 more votes than Beard did there, whereas Beard carried the Winneshiek portion of the district by more than 1,200 votes. Hager probably was happy to see the new map of Iowa political boundaries remove the Decorah area from his territory.
Hager's official bio illustrates why Allamakee is a strong base of support for him:
Bob has lived in Allamakee County for all of his 49 years. Bob is married to his wife, Kristi, they have three daughters.

Bob and his wife have owned and operated Upper Iowa Resort & Rental for the past 12 years. Bob has driven semi for several local companies; he has been on the Allamakee Community School District Board of Education for the past six years.

Bob is a member of St Patrick's Catholic Church and has been heavily involved with CEW (Christian Experience Weekend), jail and prison ministry. He has been active with various civic groups over the years including the Waukon Jaycees, Pheasants Forever, 4-H leaders, and as a summer softball coach.

Bob and Kristi currently operate the Living Stone which is a non-profit reentry home for people coming out of jail/prison, the homeless or people who need a hand up not a hand out.
The Living Stone opened in March 2009. I wasn't able to find any information about how many people have lived there or benefited from its programs on the halfway house's website.
Hager's Democratic challenger announced her candidacy on February 16. From the Iowa House Democrats press release:
McGregor, Iowa - MFL Mar-Mac School Board President Patti Ruff of McGregor announced today that she will run for the Iowa House in the new House District 56, which includes all of Allamakee County and part of Clayton County.

"As a working mother of three, I know the challenges, middle class families face every day. We need world class schools and thriving local communities to keep young people in rural communities like ours," said Ruff. "Working with farmers every day, I also understand how critical a strong ag economy is to our community."

Ruff is currently the President of the MFL Mar-Mac School Board and works at Bunge North American in McGregor. She works with local farmers and co-ops to sell and transport grain down the Mississippi River to other states as well as exporting grain overseas.

"Like many Iowa families, my husband and I both work outside the home. As a member of the MFL Mar-Mac School Board, I listened to the concerns and struggles of working parents who needed more child care options and quality early childhood education options. I'm proud of our work opening early childhood and day care centers next to the schools in McGregor and Monona," said Ruff, who has served on the school board for nine years. "Not only have the child centers made life easier for working families, we've made them an asset to our community by bringing more young families to Northeast Iowa."

Patti and her husband, Dan, both grew up in Northeast Iowa and graduated from Mar-Mac High School. They have three children Tucker, 4, Bryar, 12, and Liam, 15. They are members of St. Mary's Catholic Church in McGregor. Patti is a graduate of Loras College in Dubuque.

"In addition to boosting Iowa's skilled workforce, I will work together across party lines to build consensus and do what's best for us. The state should be a strong partner with us in local economic development, tourism, revitalizing our Main Streets, and helping local businesses expand to create new jobs," said Ruff.
So, the House district 56 race features two lifelong residents of northeast Iowa who have served on school boards and are active in their Catholic churches. Hager has owned and operated a small business, while Ruff works in a key sector of the local and state economy. Bunge North America is a large agribusiness company. The Bunge Grain subdivision has many locations along major North American rivers.
Hager has to be considered the favorite going into this race. Beard's win in 2008 ended a long string of Republican statehouse election victories in Iowa's northeast corner.
Ruff will need strong turnout in Clayton County, where she lives and the MFL MarMac school district is located. She takes significant accomplishments into the campaign. Parents benefit hugely from having day care centers and preschools attached to public schools. Hager's vote in early 2011 to end Iowa's public preschool program is sure to be an issue in this campaign. (The Democratic-controlled Iowa Senate removed language repealing the preschool program from that legislation.) Hager may counter that he voted against the Iowa House Republicans' attempt to cut preschool funding by more than half last year. The roll call for that bill, House File 535, is in this pdf file.
Job creation will be an important election issue across Iowa this fall and may be particularly salient in Allamakee and Clayton counties, which both have have unemployment rates above Iowa's statewide average.
Both parties are likely to target House district 56, because it's the eastern half of the open Iowa Senate district 28. That Senate race pits Democrat John Beard against Mike Breitbach, an unsuccessful Republican House challenger in 2010.
The other half of Senate district 28 (House district 55) should be competitive too. Longtime State Representative Roger Thomas will be the Democratic nominee. So far the only declared Republican in that race is Spillville Mayor Michael Klimesh.
Clayton and Allamakee Counties are part of Iowa's first Congressional district, where three-term Democrat Bruce Braley will run for re-election against either Ben Lange or Rod Blum.
Any relevant comments are welcome in this thread.