NOTE: A third Democrat, Nick Volk, filed nominating papers in this district on March 15.
Shelley Parbs announced today that she will run for Iowa Senate district 38. She is the second declared Democratic candidate in this district; the winner of the June primary will face first-term Republican Tim Kapucian, a Senate minority leader and ranking member of the Transportation Committee. Background on Parbs is after the jump, along with election-related developments in the two Iowa House seats that make up Senate district 38.
The new Senate district 38 covers all of Benton, Iowa, and Poweshiek counties: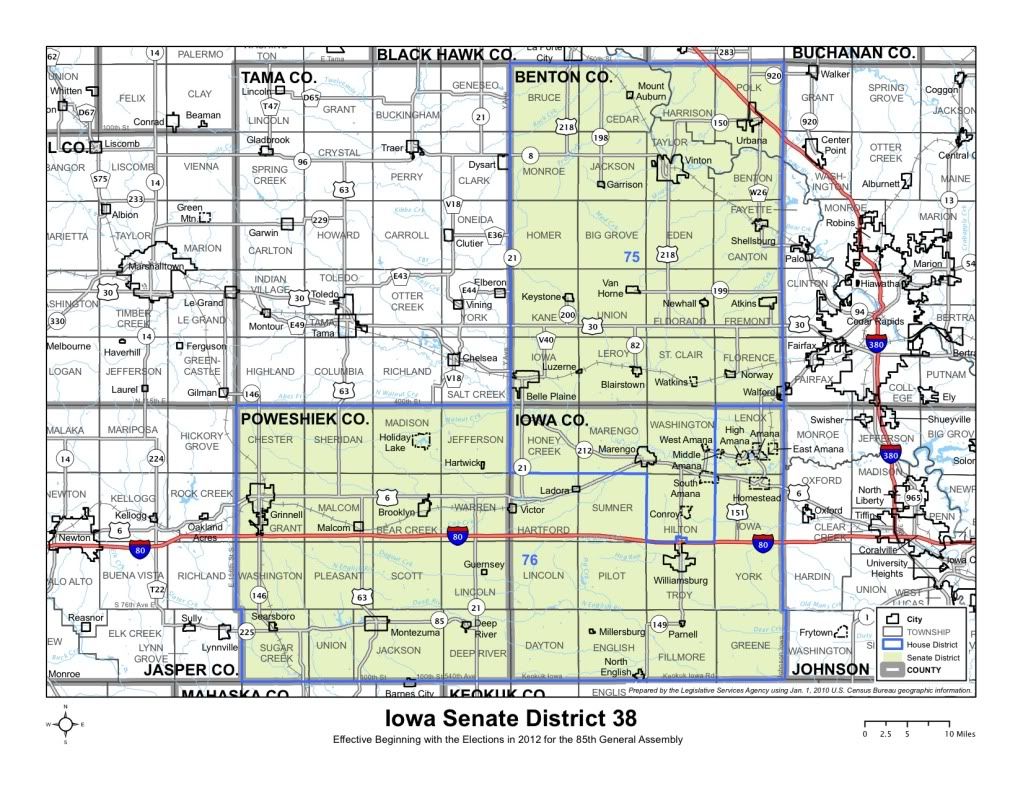 According to the Iowa Secretary of State's office, Senate district 38 contained 12,758 registered Democrats, 13,134 Republicans, and 18,557 no-party voters as of March 2012. If you add the active registered voter numbers in each county, the Senate district numbers look better for the GOP: 10,845 active Democrats, 12,405 active Republicans, and 16,480 active no-party voters.
Earlier this month, LaForest Sherman announced his candidacy in Senate district 38. Sherman has long been a Democratic activist in the Grinnell area.
Parbs has roots on the other side of the district. From her March 12 press release:
Iowa's unacceptably high unemployment rate and education reform have prompted Urbana resident Shelley Parbs to throw her hat in the ring for the Iowa State Senate in District 38. District 38 includes Benton, Iowa and Poweshiek counties.

"The Iowa Legislature has failed to take the bold steps necessary to help Iowans who are unemployed or underemployed," said Parbs. "I'm running for the Iowa Senate to improve Iowa's economic climate to benefit both employers and employees, increase our investment in worker training, and make sure jobless Iowans get the help they need to get back on their feet."

Parbs added: "Governor Branstad has replaced trained individuals with computers at local employment offices. And as anyone who's ever had to look for a new job knows, computer stations are not the same as trained workforce staff. Closing these offices at a time when unemployment is unacceptably high is highly irresponsible."

Shelley Parbs, a Democrat, is a production worker at Rockwell Collins and is currently the Chair of the Regional Workforce Investment Board for Region 10, which covers seven counties surrounding the Cedar Rapids/Iowa City corridor, including Benton and Iowa County. Shelley graduated from Urbana High School in 1981 and received her Bachelor's in Business Administration from Mt. Mercy College in 2009. She and her husband Ron, an auto mechanic, live in rural Urbana and have two grown children, Maria and Jason.

"Raising our kids in Benton County, we had access to a public education system at Center Point-Urbana where small class sizes and close attention to individual students were the norm, rather than the exception," said Parbs. "But because state officials have forced cuts to education budgets over the past several years, Iowa students just aren't getting the same opportunities that they once were.

"I will never settle for a second-best school system like some politicians in Des Moines seem to be satisfied with. I'll fight to make sure that our great education system, from preschool through college, is a priority for the Legislature and gets the support it needs to return to the world-class standards Iowa schools were once known for."

In addition to her service with the Regional Workforce Board, Parbs has also served on a Financial Stability Team at The United Way, the Food Advisory Council for Hawkeye Area Community Action Program (HACAP) and is a member of the Iowa Credit Union Review Board.

"I'm excited to meet as many people in Senate District 38 as I can," said Parbs. "We're going to campaign by door-knocking and meeting voters all over this district. I want to hear what the people have to say and represent their concerns at the State Capitol. If anyone has a specific concern or issue that they feel is being currently ignored by officials in Des Moines, I encourage them to contact me at (319) 560-5403 or by email to shelley4senate@gmail.com."
Parbs' press release does not mention that she is president of the Cedar Rapids-based Hawkeye Labor Council, AFL-CIO. That should make it easy for her to line up campaign volunteers in the organized labor community.
Iowa's unemployment rate is low by national standards, but unemployment in Benton and Iowa Counties is a bit higher than the statewide average. I was intrigued to see that Parbs raised the issue of Iowa Workforce Development field office closures, even though none of the 36 cities that lost their field offices are in the new Senate district 38. Several Democratic lawmakers filed suit against Governor Branstad's line-item veto of language designed to keep those offices open; their lawsuit is now pending in the Iowa Supreme Court.
Parbs' announcement echoes themes other Democratic candidates are talking about: job creation and the need for the state to invest in public education. Sherman focused on economic issues in his own campaign announcement. So far there's no sign of major differences between Sherman and Parbs on the issues. Unless some ideological difference emerges, the primary will become a test of who can mobilize more Democratic voters. That probably improves the eventual winner's chances in November, although the advantages of incumbency mean Kapucian will be favored to hold this swing district against either Parbs or Sherman.
A week ago, I wrote that I wasn't aware of a Democratic challenger to State Representative Dawn Pettengill in House district 75. Late last week a candidate emerged here.
Sandra Cronbaugh of Marengo announced today that she will run for the Iowa House of Representatives in District 75, which includes the northern part of Iowa County and all of Benton County.

"As our economy continues to recover, we must work to secure our own future by supporting existing businesses and attracting new businesses to Iowa and Benton Counties," said Cronbaugh, who serves on the Iowa County Economic Development Commission. "As a small business owner and farmer, I understand the challenges business owners face every day and will make sure the state does more to help Iowa businesses succeed."

Cronbaugh was a general manager of two businesses and owns the von Essen Galerie in Williamsburg. She, along with her husband Bob, maintain the Cronbaugh family farm in Marengo township. She is a member of the Williamsburg Chamber of Commerce, East Central Iowa Council of Governments Board, and the Farm Bureau.

"We need a fiscally responsible budget that will protect and provide for our veterans, disabled, elderly, and our youth. I will listen to the people of District 75, put aside politics, and work together to do what's best for our community," added Cronbaugh.

Cronbaugh and her husband have five children and ten grandchildren.
Two candidates with ties to Grinnell College may end up facing off in House district 76, which covers the rest of Iowa County and all of Poweshiek. Grinnell City Council member Rachel Bly, a Democrat, and Poweshiek County Supervisor Larry Wilson, a Republicans, have both filed nominating papers for the district. (Republican David Maxwell said last October that he would run for this seat, but he hasn't filed with the Secretary of State's Office yet. UPDATE: Maxwell qualified for the ballot on March 13.) The college newspaper Scarlet and Black discussed the possible race between Bly and Wilson:
Larry Wilson, ex-manager of the Spencer Grill and current Poweshiek County Supervisor, announced his candidacy for the the 76th district in the Iowa State House. If Wilson secures the Republican nomination during the primaries-against fellow Republican candidate David Maxwell-he will be running against the Democrat candidate, Rachel Bly '93, Director of Conference Operations and Events for Grinnell College and Grinnell City Council Planning Committee Chair.

The possibility of the 76th district race between two people affiliated with the College presents an exciting potential, given Grinnell College's progressive reputation, according to Sam Mulopulos '14.

"I think it's fantastic to have a very Grinnell-oriented race, and the key point is that we have a Republican running who is affiliated with the college." [...]

Before working as a manager at the College, Wilson worked as a data analyst at GTE, Verizon, and Iowa Telephone for over 24 years, along with 13 years on the Grinnell Board of Education, experience that he believes will help him in the State House.
All of the counties in Iowa Senate district 38 are part of the new first Congressional district, where three-term Democratic incumbent Bruce Braley will face either Rod Blum or Ben Lange. Braley grew up in Brooklyn (Poweshiek County), and I expect his campaign to do a lot of GOTV in this area and on the Grinnell College campus.
Any relevant thoughts are welcome in this thread.