The two Republican candidates in Iowa's second Congressional district have been campaigning hard through personal appearances around southeast Iowa, paid advertising, and direct mail. I have no idea who's got the upper hand between John Archer, attorney for John Deere and Pleasant Valley School Board member, and Dan Dolan, a successful home-builder. Archer took leave from his job in March in order to campaign full-time. He also started running radio and television commercials sooner. Dolan's self-funding provided his campaign with more money to spend during the final weeks. The National Republican Congressional Committee has given equal recognition to both candidates.
After the jump I've posted the prominent public supporters for each candidate, along with videos and transcripts for Dolan's latest television commercial and Archer's latest radio spot.
The news page on Archer's campaign website lists the following endorsers:
State Representative Linda Miller

State Representative Steve Olson

State Senator Roby Smith

State Senator Jim Hahn

Muscatine Mayor DeWayne Hopkins
The Dolan campaign's website lists the following people on the endorsements page:
Muscatine County Attorney Alan Ostergren

Caroline Ruhl, President Ruhl & Ruhl Realtors

Davenport Alderman Barney Barnhill

State Senator Shawn Hamerlinck

Wilton City Councilman Bob Barrett

Republican Activist Jeanita McNulty (a Scott County resident who is president of the Iowa Federation of Republican Women)

Louisa County Recorder Leanne Black

Diana Gradert, Chairman/CEO WTC Communications
UPDATE: The Dolan campaign ran this ad in the West Liberty Index, a weekly newspaper, listing more than 100 Dolan endorsers in Muscatine County.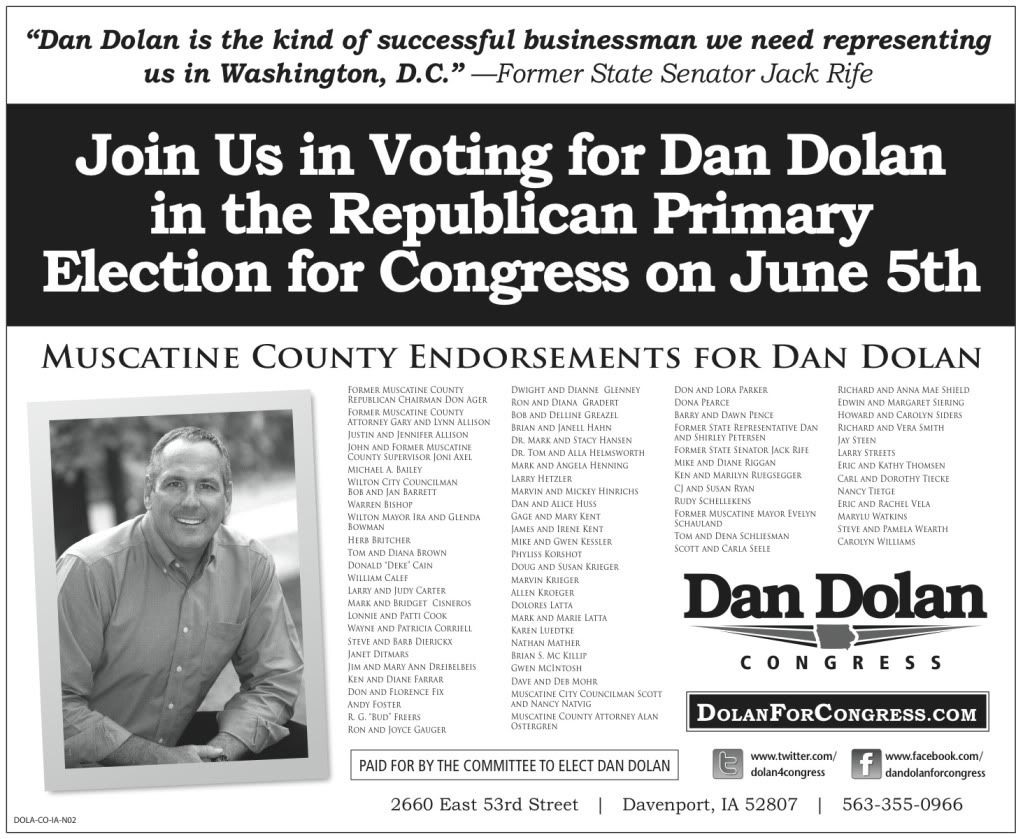 The campaign highlighted these names in particular:
Chairs- Wayne and Pat Corriell and Muscatine County Attorney Alan Ostergren

Former Muscatine County GOP Chair Don Ager

Former Muscatine County Attorney Gary Allison

Former Muscatine County Supervisor Joni Axel

Wilton City Councilman Bob Barrett

Wilton Mayor Ira Bowman

Muscatine City Councilman Scott Natvig

Former State Representative Dan Petersen

Former State Senator Jack Rife

Former Muscatine Mayor Evelyn Schauland
Bleeding Heartland covered Dolan's first television commercial here. I don't know exactly when the second spot went up on the air, but on May 22 Dolan described it as "our new tv ad" in a Facebook post.
This 30-second commercial called "Stand Up" is supposedly running district-wide. I have seen it on cable television in the Des Moines market, which reaches the western part of the new IA-02 (such as the Newton and Pella areas).
My transcript:
Dolan speaks to the camera, with a new home under construction as a backdrop: I'm Dan Dolan, running for Congress, and I approved this message. [words on screen Dan Dolan Congress]

Dolan's voice continues: I'm a father, a husband, and a home-builder. [Footage shows Dolan's family in their kitchen. His wife sits at the table with two daughters. Two sons sit at a counter in the background. Dolan kisses his wife on the forehead and pours her a cup of coffee.]

Dolan's voice: Celeste and I started our business 24 years ago. We've built over 300 homes that bring security to Iowa families. [Footage of Dolan at construction site, holding a board that another man is cutting, shaking hands with another worker; construction equipment is in background.]

But helping families find stability is harder because of Washington. [Footage of Dolan talking with a group of people sitting around a table.]

Overspending, government health care, a weak energy policy. [Footage of Dolan speaking to an audience at a campaign event; large Dolan for Congress barn signs in background.]

Dolan looks directly into the camera again: I've never been a politician–never wanted to be. [Frame of home under construction in background, words on screen DolanforCongress.com ]

But it's time for common-sense conservatives to stand up and lead. [Closer view of Dolan's face speaking into camera; Dolan campaign logo is on screen]
I have heard Dolan's radio commercial several times in Des Moines. I'm always in my car, so I can't take notes, and I can't find the recording online, so I have no transcript. Parts are similar to the script of this television ad.
Archer started running a television commercial about jobs a few weeks ago. To my knowledge, he has not rolled out a new tv ad during the final week of the primary campaign. He started running this 60-second radio spot across the district during the second week of May.
Transcript:
John Archer's voice: Harry Truman was a president willing to say, "The buck stops here." Hi, this is John Archer. Since President Obama stepped into the White House, our country has lost 1.5 million jobs. Even more, Obamanomics has meant trillion-dollar deficits for our nation.

So what do we hear from the White House? That's right, they blame George Bush. The bottom line is this: the buck stops with the President and Dave Loebsack, his rubber stamp in Congress.

Male voice-over: Republican John Archer knows job creation. Working with global business units at John Deere, he actively worked to expand international markets and make a difference for Iowa jobs and agriculture.

Archer's voice: The solution for the economy isn't complicated: follow the Constitution, allow businesses to bring their profits home to the United States, and stop regulators from harassing American job creators. That's it.

I'm John Archer. I approved this message and I'm asking for your support.

Male voice-over: Conservative Values, Business Leadership. John Archer for Congress.

Archer's voice: Paid for by Archer for Congress.
It's not every day a Republican candidate leads with a Harry Truman reference.
Last night Archer's campaign posted a Facebook appeal for donations, saying "We have to raise $2,765.00 in order to buy additional radio time by 9am tomorrow to match a recent ad purchase by our opponent." An e-mail blast Archer sent last week indicated that he is rattled by Dolan's large loans to his own campaign.
Dolan's latest tv ad focuses on what kind of person the candidate is, and so did his first ad. While Archer's commercials include biographical information as well, to my ear they sound more ideological, focusing on what the candidate believes in. I don't know which message is better for a low-turnout Republican primary.
I find it strange that neither Archer nor Dolan mentions the primary election date of June 5 in their radio or television ads.
Any comments about the IA-02 race are welcome in this thread.
UPDATE: In the middle of a post mostly about the IA-01 Republican primary, Craig Robinson writes,
Archer's expenditure report shows that his campaign is spending money on auto calls, radio ads, mail, and TV ads. On the other hand, Dolan looks to be banking the primary entirely on a direct mail program. Thus far, it appears that the Dolan campaign has sent out 13 different mailers.

It will be interesting to see which strategy prevails in the primary. The Archer campaign seems to be doing a little bit of everything, while Dolan is has decided to contact voters directly via the mail. In a district that includes multiple media markets, and spans from the Mississippi River in the eastern part of the state to Interstate 35 in the west, trying to focus resources on a mail campaign isn't necessarily a bad idea.
Dolan has spent more on direct mail than Archer for sure. Thirteen different mailers for a primary is a lot–maybe overkill if they're all going to the same set of households. Robinson is wrong about Dolan not advertising on radio and television, which may reflect the fact that the Dolan campaign hasn't made a big deal out of publicizing its ads with press releases.
SECOND UPDATE: Added a Dolan campaign advertisement that ran in the West Liberty newspaper just before the primary. The ad lists more than 100 Muscatine County endorsers. It's ironic that in the Senate district 46 primary, the candidate from the Muscatine area (Jim Hahn) has endorsed Archer, while the candidate from the Quad Cities Area (Shawn Hamerlinck) is backing Dolan. A strong turnout among Muscatine area Republicans could be good for both Dolan and Hahn.
Over the weekend of June 2 and 3 I heard Dolan's radio ad again in the Des Moines area. I still find it odd that he didn't mention the primary date in that commercial.