Ryan Flood won an uncontested district nominating convention yesterday to become the new Republican nominee in Iowa Senate district 34, covering several suburbs of Cedar Rapids in Linn County.
Here's a closer look at the new Senate district 34. Democratic incumbent Liz Mathis won last year's special election to represent Iowa Senate district 18, which covered much of the same area.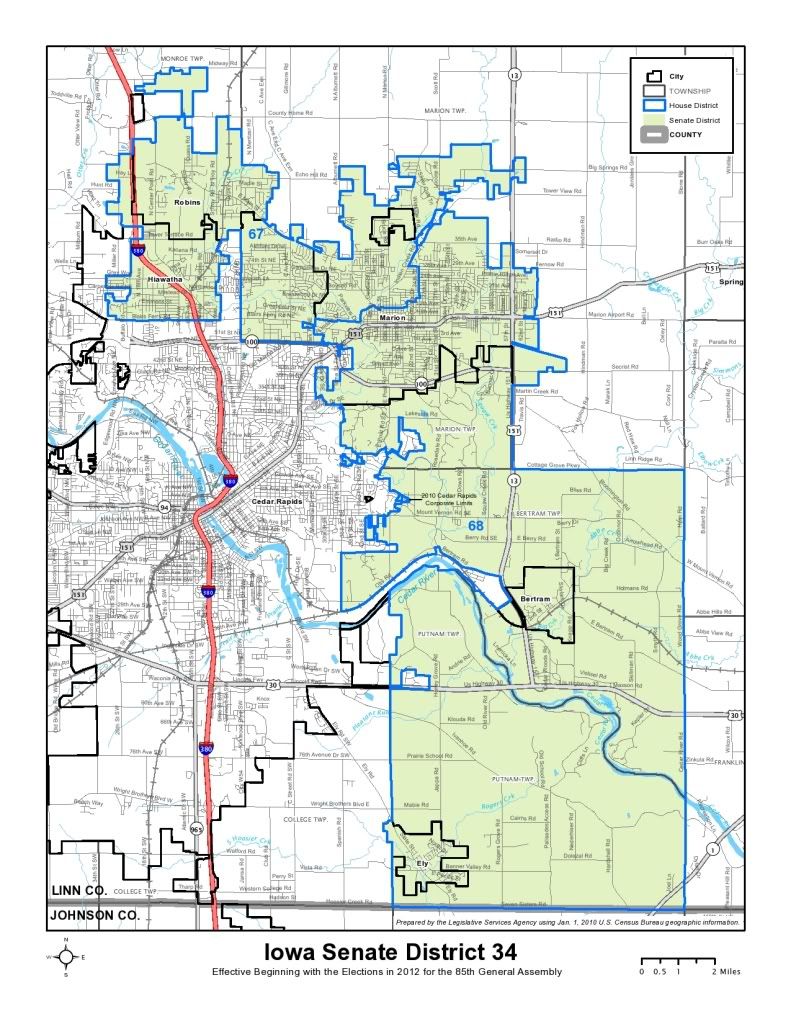 As of August 2012, Senate district 34 contained 13,091 registered Democrats, 14,034 Republicans, and 16,722 no-party voters according to the Iowa Secretary of State's office (pdf).
Linn County Republicans were forced to call a special nominating convention after the previous GOP nominee, Randi Shannon, dropped out of this race to become "U.S. Senator" in an alternative federal government (more on that decision here). Several well-connected Republicans competed for the nomination in last year's Senate district 18 special election. However, the convincing victory by Mathis appears to have deterred heavyweight GOP candidates this year. Shannon was little-known and unopposed for the Senate district 34 nomination in the primary.
Flood just graduated from the University of Iowa in 2010. I had never heard of him until I saw that he was chairing Shannon's campaign against Mathis. Flood is playing down that association now.
Ryan Flood was listed on disclosure reports as Shannon's campaign chair.

"I actually didn't really know about that until it was on the news," Flood said. "I was down in Texas and she asked me to come up and help her out. I knew she was trying to get some paperwork done at the last second, so it doesn't surprise me that she put me on there."

Ryan Flood said he had just begun efforts to assist with Shannon's campaign when he learned she dropped out. Flood adds that he has "cut all ties" with Randi Shannon and disagrees with the "U.S. Senator's" views that the U.S. government has been illegitimate since 1871.

"I don't know anything about that," Flood told TheIowaRepublican. "I heard a little bit about that and looked into it a little bit and I still don't really follow what they're talking about. The government that we have is the legitimate government. It's the one we need to work with."
This district has slipped down the list of GOP pickup opportunities in the Iowa Senate. Republicans have to be choosy about the races they target given the relatively weak fundraising by their Senate leadership. I will be surprised if Mathis doesn't defeat Flood easily. President Barack Obama's a lot less popular in the Cedar Rapids suburbs now than he was four years ago, but as a longtime local television news anchor who is active in the community, Mathis has much more stature than Flood.
Any relevant comments are welcome in this thread.