What's on your mind this weekend, Bleeding Heartland readers? All topics are welcome in this open thread. A few links on women voters and the gender gap are after the jump. As a bonus, I've enclosed an advertisement from the 1916 campaign about giving Iowa women the right to vote.
Several recent nationwide polls have shown Mitt Romney ahead of Barack Obama or the two candidates tied among likely voters. Some of those polls, like the latest from AP/GfK, show Romney and Obama roughly tied even among women likely voters.
Less than two weeks out from Election Day, Republican Mitt Romney has erased President Barack Obama's 16-point advantage among women, a new Associated Press-GfK poll shows. And the president, in turn, has largely eliminated Romney's edge among men.
The gender gap has been a factor in every presidential election since 1980. The Center for American Women and Politics at Rutgers University produced a good fact sheet on the phenomenon (pdf).
I do not believe that a strong debate performance by Romney or a weak campaign strategy by Obama erased a three-decade trend of women favoring Democratic presidential candidates.
The AP/GfK poll got a lot of media coverage, even though the latest ABC/Washington Post national poll found a significant gender gap in preferences for Obama or Romney.
Perhaps Obama's advantage among women won't be large enough to win the popular vote nationally. Perhaps women won't vote for the president in sufficient numbers to deliver 270 electoral votes. But I would bank on some gender gap persisting in this election. A poll that shows Romney running even among all women voters nationally is just not credible. By the same token, no poll can convince me that Obama has "largely eliminated Romney's edge among men." Not that those pollsters are to blame, but even with ideal sampling methods and solid likely voter screens, some polls are going to be wrong just by chance.
Speaking of women voters, Louise Noun's book Strong-Minded Women: The Emergence of the Woman-Suffrage Movement in Iowa, contains a reproduction of this anti-suffrage advertisement from May 1916.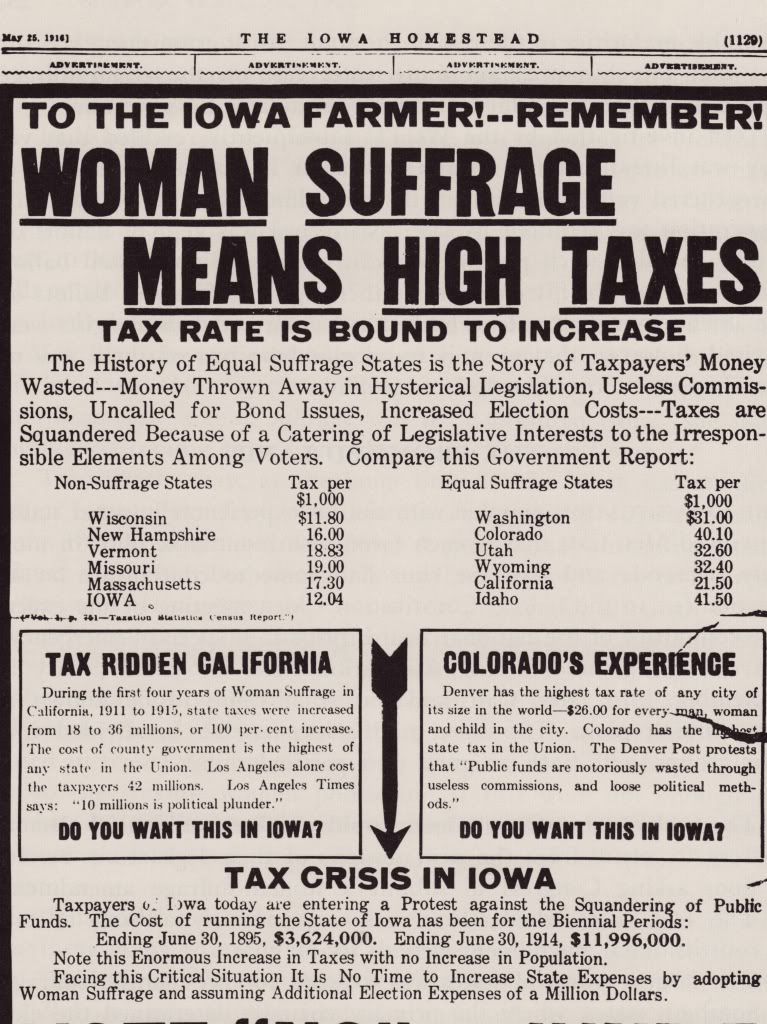 I didn't realize that anti-suffrage activists had claimed letting women vote would increase taxes.
The bottom part of this ad was cut off during the scanning process. It said in part (emphasis in original),
The Farmers of Iowa should remember that the granting of Woman Suffrage means the doubling of the city vote in Iowa which has no thought of their interests and does not materially increase the farm vote. "It is not your wife and daughter who will vote, but the women of towns and cities who have easy access to the polls and axes to grind."
I wonder whether urban women did turn out to vote at higher rates than rural women during the first few decades after suffrage.
Iowans voted on a state constitutional amendment to grant women the right to vote in June 1916, the same day as a statewide primary election. Noun writes,
Despite a well-organized and well-financed campaign supported by a majority of the papers in Iowa, the woman-suffrage amendment was defeated on June 5 by a total of 10,341 votes, the four "wet" counties on the eastern border of the state–Scott, Clinton, Dubuque, and Des Moines–returning a large adverse vote which overcame favorable majorities in the rest of the state. Most astonishing was the fact that there were 29,341 more votes cast on the equal-suffrage amendment than the total cast for all candidates for governor.
Speaking of sexism, I don't watch Ellen DeGeneres much, but I enjoyed her skewering of the new "Bic for Her" pink and purple pens.
Final link for U.S. history buffs: design student Meg Jannott of the College for Creative Studies in Detroit is making a "visual brand" for every U.S. president. The first 40 presidents are here. She uses nicknames, catch phrases, campaign slogans, or other quotations in most of the images.
I think Jannott's most successful brands are for Harry S Truman, Calvin Coolidge, and JFK. I also found the images for William McKinley and LBJ eye-catching, although I didn't understand why Jannott cut off part of the president's face. Kyle VanHemert says his favorites "include James Madison, his initials rendered in stretched-out letterforms, and LBJ's, whose image manages to convey a bit of his infamously intimidating stature by cropping off the top part of his head."
UPDATE: Some things never change: the blog gender analyzer still wrongly thinks Bleeding Heartland "is written by a man" (87 percent chance according to its text classifier).
But some things do change: for the first time since 1972, the Des Moines Register endorsed a Republican for president. I posted my thoughts at the end of this diary. Shorter version of the Register's position: Never mind everything we've ever told you about federal policy, because confidence fairy dust!