No Republicans have announced firm plans to run for the open seat in Iowa's first Congressional district, but several people are definitely or rumored to be considering the race.
To evaluate who is best poised to win this Democratic-leaning district, it's helpful to look at where the votes are in a Republican primary as well as in a general election. After the jump I've posted a district map, the latest voter registration numbers for the 20 counties in IA-01, and a brief take on some of the possible Republican candidates.
IA-01 covers a large area in northeast Iowa but stretches south and west to include parts of central Iowa. The Cedar Rapids and Waterloo media markets cover much of the district, but Dubuque has its own media market, and viewers in the southwestern part of this district watch Des Moines-based television stations.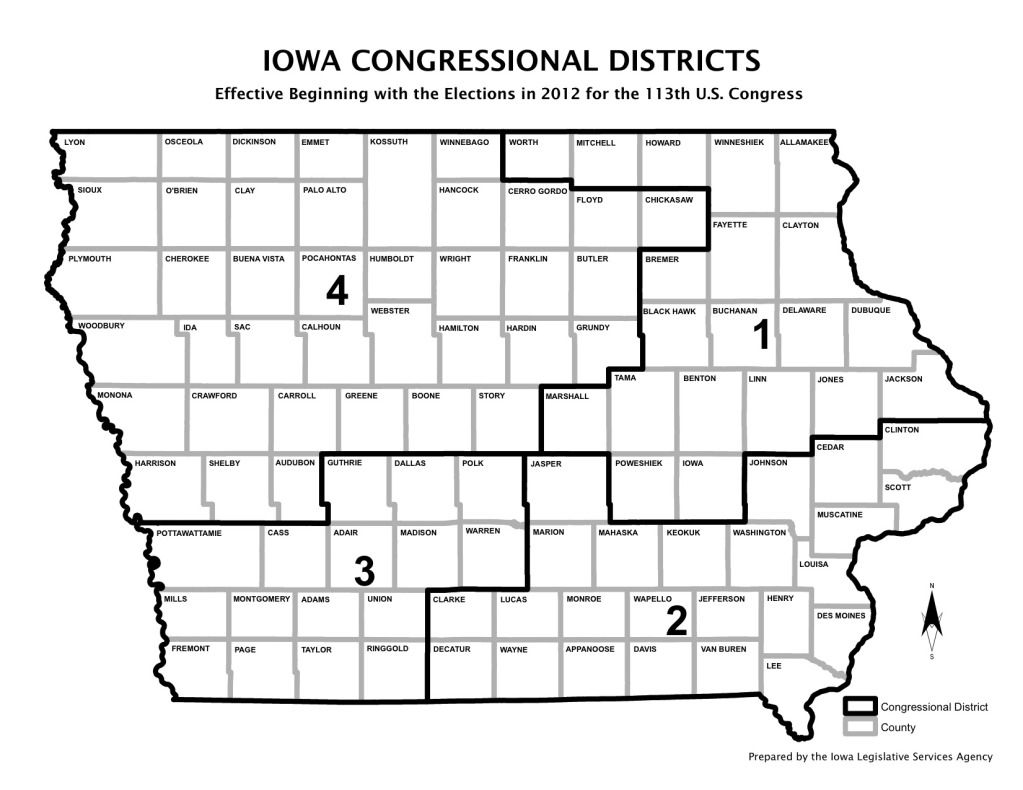 The voter registration totals come from the Iowa Secretary of State's website.
Active voter registration numbers as of February 2013
IA-01
County
Democrats
Republicans
no-party voters
Allamakee
2,235
4,309
3,145
Benton
4,756
5,067
7,590
Black Hawk
29,437
20,773
32,103
Bremer
3,894
5,085
7,441
Buchanan
3,918
3,164
6,475
Clayton
3,455
3,276
4,805
Delaware
2,593
3,847
4,912
Dubuque
25,070
14,810
22,475
Fayette
3,849
4,142
4,233
Howard
1,954
1,470
2,601
Iowa
2,866
3,748
4,909
Jackson
5,912
2,728
5,709
Jones
3,561
3,688
5,882
Linn
50,326
38,347
52,342
Marshall
7,842
7,846
9,494
Mitchell
1,858
2,561
2,794
Poweshiek
3,855
3,721
5,106
Tama
3,408
3,452
4,485
Winnishiek
3,635
4,509
5,232
Worth
1,578
1,817
2,072
total
166,002
138,360
193,805
Linn County, containing Cedar Rapids and its suburbs, has the largest population of the 20 counties in this district, but it doesn't dominate IA-01 the way some Congressional districts are concentrated around a single metro area. About 30 percent of the registered Democrats, 28 percent of the Republicans, and 27 percent of the no-party voters in IA-01 live in Linn County.
Based on the statewide statistical reports for the last two midterm elections in Iowa, we can expect turnout among no-party voters in 2014 to be way below presidential year levels. So while it's always important to do well among independents, base turnout may be more crucial to winning this Congressional seat in the next election.
IA-01 has a "partisan voting index" of about D+5, meaning that in the last two presidential elections, residents of this Congressional district voted about 5 points more Democratic than the national average. While the open seat is favorable ground for Democrats, it's far from a lost cause for Republicans. Representative Bruce Braley's "old" district was also D+5 and had a Democratic voter registration advantage of about 32,000 at the time of the November 2010 election, but Braley nearly lost to Ben Lange. If not for a couple of conservative third-party candidates on the ballot that year, Braley might not even be in a position to run for Tom Harkin's U.S. Senate seat.
But Braley is running for Harkin's seat, and as the likely Democratic nominee in the top-ticket race, he will need strong turnout in the counties where he is best known. The Iowa Democratic Party's GOTV will surely focus on the IA-01 counties, not just to hold the Congressional seat but also to have any chance in the statewide races.
For that reason, Republicans need to nominate a Congressional candidate who can appeal to voters in the major IA-01 metro areas.
IA-01 also contains several Iowa House districts that could be competitive in 2014, including the recent Democratic pickups in House districts 56, 66, and 68, the narrow Democratic hold in district 55, and relatively close Republican wins in districts 58 and 95. Both parties are likely to target some or all of those House races for GOTV in 2014. The Iowa House currently has 53 Republicans and 47 Democrats.
The first Congressional district contained all or part of six competitive Iowa Senate races in 2012. Looking ahead to 2014, the hard-fought state Senate races are likely to be in either IA-02 (Senate districts 41 and 49, and perhaps districts 39 and 15, depending on retirements) or IA-04 (Senate districts 7 and 27, and maybe district 5 if Democrat Daryl Beall retires).
Apologies for burying the lede. Getting back to the potential Republican field in IA-01:
Ben Lange, the GOP challenger to Braley in 2010 and 2012, has not responded to my request for comment about a possible third run for Congress. Whether or not he runs, I expect Republicans to nominate someone else for the open seat. Lange didn't come close to beating Braley in the November election, though in fairness to him, Mitt Romney ran very poorly in northeast Iowa. UPDATE: Lange spoke to Erin Murphy of the Dubuque Telegraph-Herald last week.
"I'm just a normal guy working and living in Independence, Iowa," Lange said. "I have made no decision nor given any consideration to any political office down the road."
Rod Blum nearly won an upset victory in the 2012 GOP primary to represent IA-01, even though he was out-raised and outspent by Lange, the establishment favorite. I asked Blum whether he'll run again, and he sent me this response via e-mail:
Since Bruce's announcement I have had prominent Republicans reach out to me to encourage a run. But what is really surprising, I have had many young people and Independent voters encourage me on Facebook and Twitter to run, as they like my populist message of reforming Congress and working for jobs you can raise a family on. This will enable ALL hard working taxpayers to realize their dreams. People who have reached out to me seem to like the fact that my career has been as a job creator and not a career politician. Based upon this outpouring of support and my previous experience in building a grassroots campaign organization, YES I am "officially" contemplating a run.
Blum campaigned across the district during the first half of 2012. He edged out Lange in Linn County and won several other counties in the GOP primary. His best showing was in Dubuque, where he has lived and worked for decades. Blum seems to have appeal on the "tea party" wing, but my guess is that he would be at a disadvantage compared to a Republican with a strong base in Linn County.
Two prominent Linn County Republicans have been mentioned as possible Congressional candidates. Iowa House Speaker Kraig Paulsen has represented a district in the Cedar Rapids suburbs for the last decade. He hasn't ruled out running for Congress but said "I'm focused on being speaker of the House right now." Paulsen may run into trouble during a Republican primary for being seen as insufficiently supportive of top conservative causes. He hasn't listed social issues among his legislative priorities. He doesn't appear to be eager to schedule another Iowa House vote on a constitutional amendment to ban same-sex marriage. Paulsen helped block a House floor vote on "personhood" in 2011 and isn't excited about moving anti-abortion bills this year. I question whether Paulsen would want to give up his powerful position in the Iowa House to run in a GOP primary he may not win. He can't be on the ballot for both the Congressional race and his House district next June.
Paul Pate is also thinking about this race, according to Waterloo Courier journalist Jon Ericson, who lives in IA-01. Pate represented part of Linn County in the Iowa Senate for six years, then served one four-year term as Iowa Secretary of State during the 1990s. He was mayor of Cedar Rapids from 2002 through 2006. Since there's a good chance Democrats will nominate someone from Linn County, Pate strikes me as a potentially strong general-election candidate. He doesn't currently hold any elected office, so he wouldn't have to give up a job to run for Congress. The big question is whether he could be portrayed as too moderate to win a Republican primary.
State Representative Walt Rogers is thinking about this race. He said last week, "It definitely leans Democratic, but we had Jim Nussle from that area, so it isn't out of the question that a Republican could be there." Rogers represents Iowa House district 60, covering parts of Cedar Falls and Waterloo. He is a strong campaigner (nearly knocking off Democratic State Senator Jeff Danielson in 2008) and considered a rising star in the House Republican caucus. He's already one of the assistant majority leaders, and last year Speaker Paulsen "nominated Rogers to attend GOPAC's Emerging Leaders Class of 2012; only 15 freshman legislators nationwide are invited to attend." Like Paulsen, Rogers would have to give up his Iowa House seat to go for the Congressional nomination.
One other name crossed my radar as a possible Republican candidate: former State Senator Merlin Bartz. He narrowly lost the 2012 election to Democratic incumbent Mary Jo Wilhelm and recently took a job running Representative Steve King's Mason City office. Bartz's farm in Worth County is near the northwest tip of IA-01. Part of the area he used to represent in the Iowa Senate now lies in the fourth Congressional district, though, and he is not well-known in the major metro areas of the first district. When I spoke with Bartz by phone on February 9, he declined to comment on any future plans except to say, "The people that speculate don't know, and the people that know don't speculate." Bartz might also be a Republican contender in Iowa Senate district 27, although he would have to buy or rent another residence to run there in 2014.
Please share any relevant thoughts in the comments, and let me know which Republican candidates I've left out.