Several Democrats have already announced plans to run for Iowa House district 99 in Dubuque next year. State Representative Pat Murphy has represented part of that city for more than 20 years. He is leaving the state legislature to run for Congress in Iowa's first district.
After the jump I've posted background on Kevin Lynch, Steve Drahozal, Abby Finkenauer and Greg Simpson, along with a map of House district 99 and the latest voter registration totals. More candidates may emerge in this strongly Democratic House seat before the filing deadline in March 2014. One or more of the current candidates may opt out of the race before the filing deadline.
APRIL 5 UPDATE: Erin Murphy of the Dubuque Telegraph-Herald reports that Lynch has decided not to pursue this campaign. According to a Bleeding Heartland reader in Dubuque, both Drahozal and Finkenauer (but not Lynch) addressed county Democrats at the off-year caucus in March.
House district 99 covers part of the city of Dubuque and Dubuque township: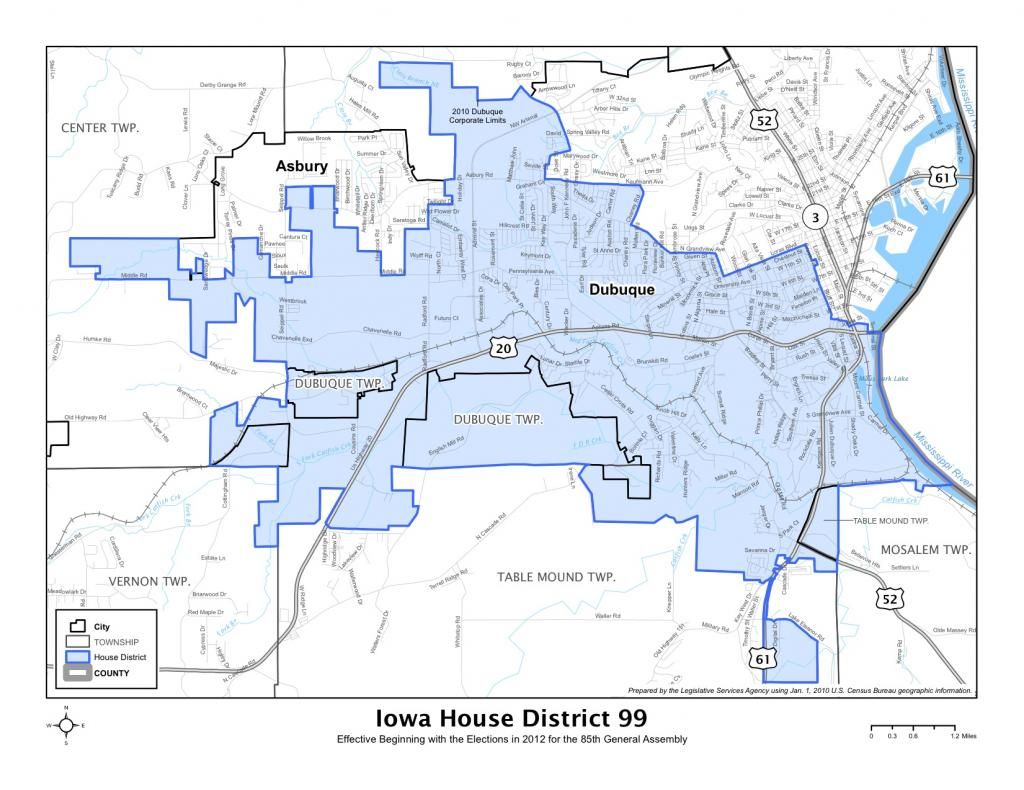 The Dubuque area has been a Democratic stronghold for generations, and the winner of the Democratic primary should have no trouble holding House district 99. The latest figures from the Iowa Secretary of State's office indicate that the district contains 9,305 registered Democrats, 5,356 Republicans, and 7,893 no-party voters as of April 2013. It's worth noting that in the 2010 Republican landslide year, Murphy was re-elected with under 52 percent of the vote, but he didn't spend any money defending his own House seat.
If Rod Blum wins the 2014 Republican primary to represent the first Congressional district, GOP turnout may be higher than normal in the Dubuque area next November. Even so, a hard-working Democratic candidate should be able to win House district 99.
Murphy announced in February that he would run for Congress rather than another term in House district 99. Immediately afterwards, Dubuque City Council member Kevin Lynch told the Dubuque Telegraph-Herald that he was "definitely interested" in the race.
Lynch said he has been considering running for the statehouse for many years, and though he has not yet filed official papers, he fully intends to run for the office.

"I can't see any reason at this point why I would not do it," said Lynch, the owner of Net-Smart in Dubuque. "It's something I've been thinking about for a long time." [...]

Lynch, a Democrat, said he would like to serve in the Capitol to work on statewide education issues and incentives to keep young Iowans in Iowa. He was first elected to the city council in 2005 and is serving the final year of his second term.
I have not seen a Lynch campaign Facebook page or website.
Local attorney Steve Drahozal also announced plans to run in mid-February, KCRG reported.
Drahozal decided to run because he has observed cuts in education and other attacks on the middle class.

"As a proud product of Iowa's public education system and the husband of an educator, the Governor's proposal of zero percent allowable growth unless his education reform plan is passed is very troubling," Drahozal says. He continues, "I have also seen the middle class come under attack from some proposals in Des Moines." These include initiatives to limit collective bargaining and opposition to expanding Medicaid to help many of Iowa's workers and veterans.

Drahozal, a Democrat, is a Dubuque attorney. An Iowa native, Drahozal attended Kirkwood Community College and the University of Iowa College of Law.
Drahozal's campaign is on Facebook here.
Abby Finkenauer officially joined the race for Murphy's seat on March 15, the Dubuque Telegraph-Herald reported.
Finkenauer is a former page to Murphy when he was speaker of the House in 2007.

Finkenauer, who had previously said she was considering a run, made her official announcement on what would have been her late grandfather's 80th birthday. Finkenauer said her grandfather, Ron Kann, a former Dubuque firefighter, is the reason she is interested in public service.
Finkenauer's campaign is on Facebook here. During the 2012 and 2013 legislative sessions, she has clerked for State Representative Todd Taylor of Cedar Rapids. He introduced her at this campaign kickoff event and mentioned that in 2007, Finkenauer had been a statewide volunteer coordinator for Joe Biden's presidential campaign in Iowa.
State Senators Pam Jochum and Tod Bowman also attended Finkenauer's campaign kickoff. Jochum represented the other Dubuque-based Iowa House seat alongside Murphy for 16 years and has represented the Dubuque area in the Iowa Senate since 2009. Bowman represents a Senate seat that includes a large area in Dubuque County outside the city of Dubuque.
Greg Simpson announced his candidacy in House district 99 this morning. His campaign is on Facebook here. Official press release:
The race to succeed Pat Murphy as the Representative of Iowa House gains a new candidate. Long time Democratic Party activist and former Dubuque County Party Chairman, Greg Simpson, will be announcing his candidacy for the upcoming 2014 election.

On Wednesday, April 10th, at a gathering of friends and supporters Simpson will make a formal announcement of his candidacy. This event will be held at Simpson's home at 584 W 11thStreet from 6-8pm. Light refreshments will be served.

Simpson's decision to enter the race was influenced by the current debate on health care reform taking place in Des Moines. "As a Registered Nurse providing critical care at the bedside, I understand the real world effects of the decisions being made and the impact they can have on the lives of everyday Iowans."

Simpson, a father of eight children, is a lifelong resident of Dubuque and a graduate of Hempstead High School. Greg also holds a B.A. in history from the University of Dubuque and a Registered Nurse Certificate from Northeast Iowa Community College. Additionally, Simpson served 12 years with the Iowa National Guard and he has been actively involved in the Senior High football program for more than a decade.

"I believe my longstanding involvement with the Democratic Party, understanding of health issues, firsthand knowledge of the challenges facing our young people, combined with my military experience and deep community roots qualify me to best serve and represent the entire Dubuque community," said Simpson.
UPDATE: I have received confirmation that the Dubuque County Democrats will not endorse a candidate before the June 2014 primary election. Party by-laws require neutrality in competitive Democratic primaries.