Many questions remain to be answered about Iowa's new plan to provide health insurance to low-income citizens, but this much is clear: resolving the impasse over Medicaid expansion will be a major theme in State Senator Amanda Ragan's re-election campaign next year.
Follow me after the jump for background on Ragan and more details about Iowa Senate district 27, sure to be targeted by both parties in 2014.
Ragan has served in the Iowa Senate since 2003, rising to the position of assistant majority leader and chair of the Human Resources Committee. Mason City has always been the population center of her Senate district, and she was re-elected to represent Senate district 7 by a comfortable margin of 12,908 votes to 8,452 in 2010, a mostly disastrous year for Democratic candidates. (Five incumbent state senators were defeated.) Senate district 7 contained 12,997 registered Democrats, 10,219 Republicans, and 16,534 no-party voters as of November 2010, so Ragan must have done well among independents to win with more than 60 percent of the vote.
The redistricting plan adopted in 2011 put Ragan in "the most Republican Senate seat held by a Democrat" according to John Deeth. The latest voter registration totals indicate that Senate district 27 contains 12,091 Democrats, 13,481 Republicans, and 17,282 no-party voters. Mason City is still the largest city in Ragan's district, but she lost Floyd and Mitchell counties, which she had long represented, and picked up more conservative areas. Here's a detailed map of her current district: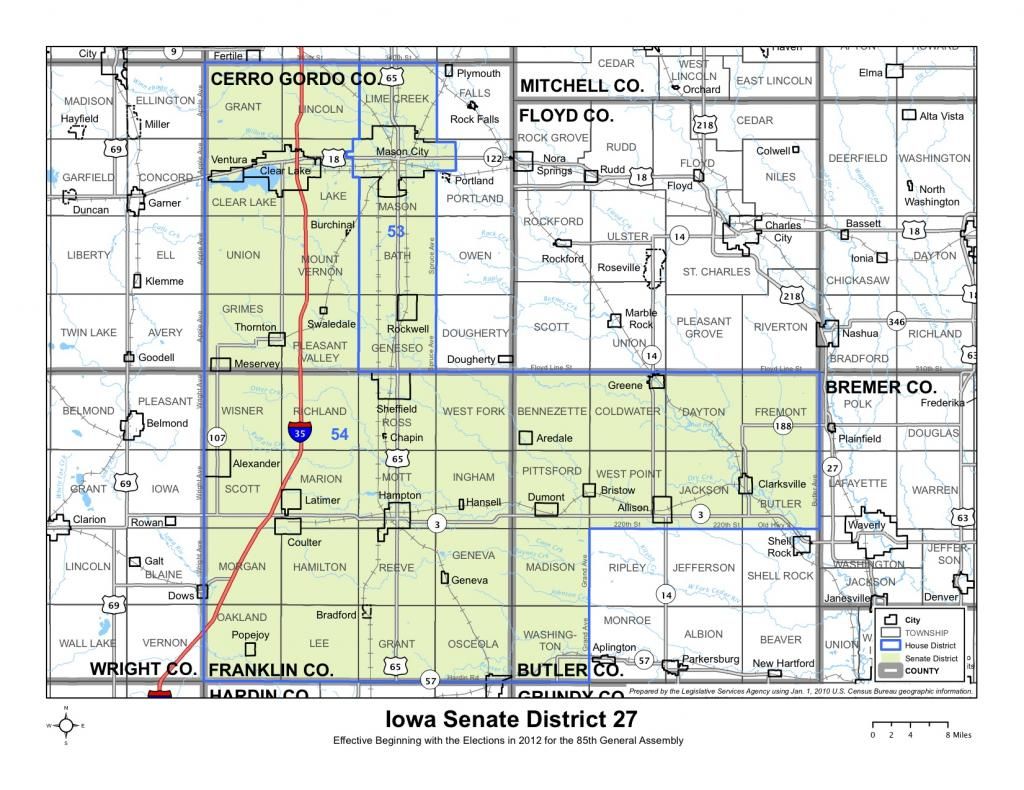 I haven't seen a 2014 campaign website for Ragan yet, but here's an excerpt from the biography posted on her 2010 campaign website:
Amanda Ragan is an Assistant Majority Leader, chair of the Human Resources Committee, and vice-chair of the Health & Human Services Budget Subcommittee. She also serves on the Appropriations, Natural Resources & Environment, Rules & Administration, and Veterans Affairs committees.

Senator Ragan is active in her local district. She is a member of the Osage Chamber of Commerce, the Charles City Chamber of Commerce, the St. Ansgar Chamber of Commerce, and the Mason City Chamber of Commerce. She was a volunteer member of the Mason City Chamber Diplomats, and was honored as the Diplomat of the Year in 1998 and 2001. Additionally, she has served on the North Iowa Band Festival Committee for the past 10 years.

Amanda currently serves as a member of the State of Iowa Healthy and Well Kids in Iowa (HAWK-I) Board of Directors and the Iowa Department of Public Health Birth Defects Advisory Committee. She is also a member of the Maternal Health Advisory Council, the Francis Lauer Youth Services Board of Directors, Mason City Sunrise Rotary, and Trinity Lutheran Church.

In addition to her service in the Iowa Senate, Amanda Ragan is the Executive Director of two area non-profit agencies - The Community Kitchen of North Iowa, Inc., and the Meals On Wheels program. Both are based in Mason City.

She is married to Jim Ragan, a retired U.S. Air Force Lt. Colonel. She has two grown children, Edith and Charles, and four grandchildren.
During the legislative session that just ended, Ragan was one of the key Senate Democrats pushing to expand Medicaid, as foreseen under the 2010 health insurance reform act. Last week, House Republicans and Senate Democrats struck a compromise whereby Iowa will accept federal funding to expand health insurance coverage for the poor, but low-income people will receive policies through private health insurance providers rather than traditional Medicaid. In her closing remarks to colleagues, Senate President Pam Jochum credited Ragan with making this deal happen:
The biggest challenge of this session was how to help Iowans who, despite working every day, still cannot afford health insurance.

We met that challenge.

And by doing that, we showed the nation how to put lasting progress ahead of short-term partisanship.

Thanks to the Iowa Health and Wellness Plan, 150,000 working Iowans will finally be able to go to a doctor when needed.

The Iowa Health and Wellness Plan will make Iowa's entire health care system more financially secure.

The Iowa Health and Wellness Plan will slow rising health care costs for every Iowa family and Iowa business.

The Iowa Health and Wellness Plan will bring health insurance to 80,000 currently uninsured working Iowans, and preserve health care for 70,000 Iowans currently on IowaCare.

Iowans look at the mess divided government in Washington D.C. has created, and they shake their heads.

Iowans expect better from their state legislature, and we delivered.

We delivered on health care, our most difficult issue, and on a host of other issues.

Here's an example of how we did it.

The key to Iowa's health care compromise was the work of Democrat Amanda Ragan, the chair of the Senate Health and Human Services Committee, and Republican Linda Upmeyer, the House Majority Leader.

These two North Iowa residents are longtime friends, guests at the weddings of each other's children. They came to the Legislature at about the same time. One is a strong Democrat. The other is a passionate Republican.

In the final days of the session, these two put partisanship to the side and hammered out the health care compromise.

The work they did brought health care security to tens of thousands of Iowa families.

The bipartisanship of Senator Ragan and Majority Leader Upmeyer was repeated time and time again on the other issues by other legislators.
That campaign ad writes itself, don't you think?
Upmeyer's Iowa House district makes up half of Ragan's Senate district. Unlike Ragan, Upmeyer wasn't on the conference committee assigned to find a compromise over health insurance. Ragan went outside official channels to find a solution House Republicans and Governor Terry Branstad could live with.
To my knowledge, no Republican has announced plans to run against Ragan next year. Speculation has centered around two possible candidates: former Mason City Mayor Bill Schickel and former State Senator Merlin Bartz. Earlier this year, Schickel sought unsuccessfully to become chairman of the Republican Party of Iowa. UPDATE: Forgot to mention that Schickel served three terms in the Iowa House, representing the Mason City-based district. He retired from the state legislature in 2008.
Bartz took a job running Representative Steve King's Mason City office after losing his re-election bid in Senate district 26 last year. He would have to buy some residence in Senate district 27 to run against Ragan, because his family's farm lies outside the district in Worth County.
Upmeyer almost certainly won't challenge Ragan next year. She'll be a front-runner to become the first woman speaker of the Iowa House if current Speaker Kraig Paulsen seeks the GOP nomination for the open seat in Iowa's first Congressional district.
Any relevant comments are welcome in this thread.
UPDATE: Appearing on Iowa Public Television's program "Iowa Press" on May 31, Senate Majority Leader Mike Gronstal went out of his way to say that Ragan and Upmeyer "did yeoman's work on this [the Iowa Health and Wellness Plan]. An issue that could have driven us apart and we could have gotten stuck in the partisanship of it, but those two individuals sat down and worked together and really helped move us forward on this issue."