The path appears clear for passionately conservative State Representative Jason Schultz to move up to Iowa Senate district 9 in next year's election. Longtime State Senator Nancy Boettger announced Friday that she will retire. Although she's one of the longest-serving Iowa Senate Republicans, she's never played a particularly important role. The last three Senate minority leaders haven't tapped Boettger for their leadership teams.
Boettger's retirement creates a career advancement opportunity in the strongly Republican Senate district 9. The two obvious potential candidates are State Representatives Matt Windschitl and Jason Schultz, who represent both halves of the district in the Iowa House. Within hours, Schultz announced his Senate candidacy. Windschitl told The Iowa Republican blog over the weekend that he will stay in the Iowa House. Windschitl is one of the GOP's rising stars and serves as an assistant House majority leader, but he's drawn criticism from some "pro-life" activists as not strong enough on their issue. In contrast, Schultz co-sponsored the most extreme version of "personhood" legislation and has fought to get a personhood vote on the Iowa House floor when Windschitl and others blocked a vote on that legislation. (Windschitl introduced a different "personhood" bill this year.)
After the jump I've posted a map of Senate district 9 and the latest voter registration numbers for the district, along with Schultz's official bio. It's also worth noting that Schultz chairs the Iowa House Local Government Committee and previously chaired the Appropriations subcommittee on economic development. He endorsed Ron Paul for president in 2012. In my opinion, he's a contender for most clueless Iowa legislator. His passionate opposition to marriage equality prompted him to introduce one of the dumbest bills I've heard of, which would have banned Iowa judges from citing case law or precedent in their rulings. Schultz also joined a small group of legislators who threatened to yank state funding for the Des Moines Area Community College over the Governors LGBTQ Youth Conference.
Iowa Senate district 9 covers all of Ida, Monona, Harrison, and Shelby Counties, along with parts of Crawford and Woodbury: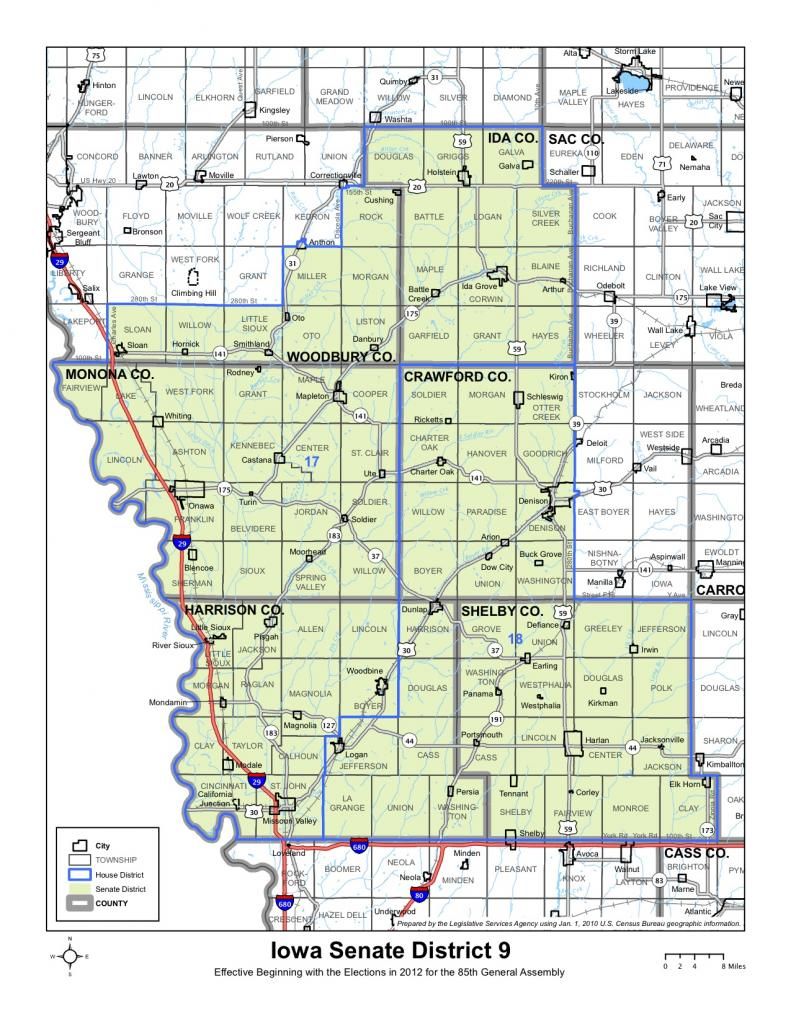 According to the Iowa Secretary of State's office, Senate district 9 contained 10,750 registered Democrats, 15,032 Republicans, and 14,098 no-party voters as of June 2013. Democrats will not target this district in 2014 and may not even nominate a candidate.
Note: the official bio from the Iowa House Republicans' website hasn't been updated lately. Schultz is currently serving his third term in the Iowa House.
Jason is serving his first [sic] term in the Iowa House. He was elected in 2008.

Jason continues to farm with his parents as they have farmed together for the past 13 years. Jason served seven years in the Iowa National Guard. He has been and continues to be a member of the Horn Memorial Hospital Foundation.

Jason and Amy have been married for 13 years and have two daughters: Josie and Camryn. They are members of Immanuel Lutheren Church in Schleswig where Jason serves as an elder, a Sunday School Teacher, and is also one of two Sunday School Superintendents.