I can't remember a local race that's been more divisive for central Iowa Democrats than the Des Moines at-large City Council contest between Skip Moore and Chris Diebel. (That includes Ed Fallon's challenge to Leonard Boswell in the 2008 Democratic primary to represent IA-03. In that race, the whole local establishment was on Boswell's side.) I've been meaning to post an update on the city council race for the past week, but frankly, I wanted to avoid sparking a flamewar like some of the Facebook threads I've seen.
The early returns tonight indicate a big victory for Moore.
After the jump I've posted examples of positive and negative messages from the Diebel and Moore campaigns, along with one of the direct-mail pieces the National Association of Realtors Fund sent to Des Moines residents. The realtors' group appears to be polling voters to gauge whether their mailing and radio ads have helped Diebel. During the last couple of days, several of my acquaintances in Des Moines have received telephone polls that asked them why they were supporting the candidate of their choice, and whether Diebel's mail or the realtors' mail affected their vote.
Let's start with Diebel's central argument against Moore, the talking point that has become pivotal in the campaign. Multiple direct-mail pieces contained similar language.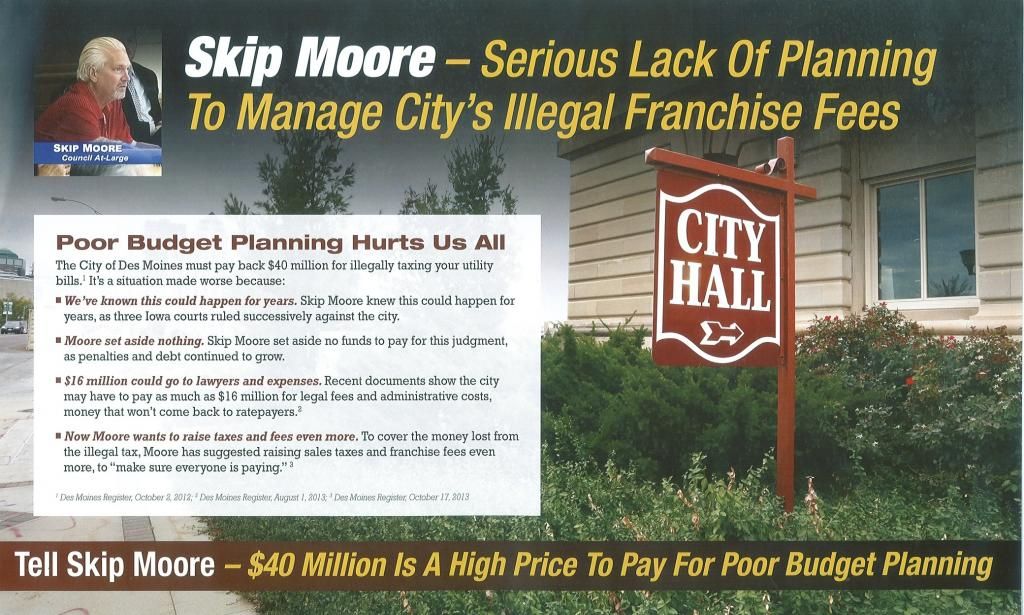 Typically, a challenger needs to do at least some negative campaigning to make a case for replacing the incumbent. However, I don't buy this argument against Skip Moore. He was not on the city council when the illegal franchise fee was levied. He joined the council well into the appeal process, which happened to be during the worst recession in 60 years. The city of Des Moines was already cutting staff and services in 2010 and 2011. I do not share Diebel's view that it would have been more prudent to make millions of dollars in additional cuts at that time, just in case the city lost its appeals.
I suspect that very few Diebel voters have made up their minds based on the franchise fee issue. All over the west side of Des Moines I see yards with signs for both Diebel and Chris Hensley, who has served on the council for two decades. Why not throw her out too if this franchise fee business is proof of poor leadership?
The Des Moines Register's editorial board endorsed Diebel about a week ago but chastised him for his mail against Moore. Diebel responded with this letter to the editor (excerpt):
My opponent does not have a track record of leadership, and the franchise fee offers one example.

Nowhere in our mail pieces did we ever say Skip Moore created this problem. We simply point out he's had four years to do something about it. Despite multiple losing court battles, our city did not put any money away to pay the judgment. At the first sign of trouble, I would have suggested that we set aside funds until we confirmed whether the revenue in question was legally obtained.

Instead, we now have to decide how we will pay back $40+ million – approximately $7 million of which will go to attorney fees. This is not only unfortunate, but it was avoidable.

Skip Moore has had the opportunity to speak up on this issue every year he has been in office and he did not. Every time he voted to approve a city budget, he could have suggested we put money in a rainy-day fund just in case the city lost its court case. He failed to act or even raise the question about paying the $40 million.

Voters are smart enough to know that we should have been saving for the very realistic chance that we'd have to return these fees.
Reasonable minds can differ, but the Des Moines Register's editorial board wasn't buying this explanation. On Saturday morning, November 2, they withdrew their endorsement of Diebel, an unprecedented move. The editors explained,
We endorsed Chris Diebel for council at-large over incumbent Skip Moore and challenger Margaret Trowe. Earlier that week, however, voters had begun receiving mailers from the Diebel campaign attacking Moore for his failure to advocate that the city set aside money to pay for a court-ordered refund of gas and electric utility franchise fees. The mailer also said Moore "ignored orders to pay back illegal fees."

These attacks are unfair and inaccurate. […]

In an editorial Tuesday, we urged Diebel to withdraw his attacks on Moore. Instead, he has doubled down.

In a letter to the editor published Thursday, Diebel asserted, "Nowhere in our mail pieces did we ever say Skip Moore created this problem." That was the clear implication of the first two mailers, however, and a third mailer flatly says, "Tell Skip Moore you don't want more fees to pay for his $40 million mistake."

The city's illegal collection of utility franchise fees for five years was a mistake, but it was not Skip Moore's mistake. […]

Diebel's third mailer seriously undermines voter support for the city's best option for rectifying the franchise fee mistake.[…]

For these reasons, we can no longer support Chris Diebel for the Des Moines City Council. Withdrawing an endorsement after the fact is unusual for the Register, but given Diebel's reckless and inaccurate campaign ads, we have no choice.
Adding to the awkwardness, a direct-mail piece hit voters' mailboxes on Monday touting the Register's endorsement of Diebel. (No doubt that piece was produced and sent to the printer before the newspaper changed its mind.) Several of my friends who support Diebel believe his campaign messaging about the franchise fee will cost him the election.
In my opinion, Diebel's positive mail was more effective. Here's one example: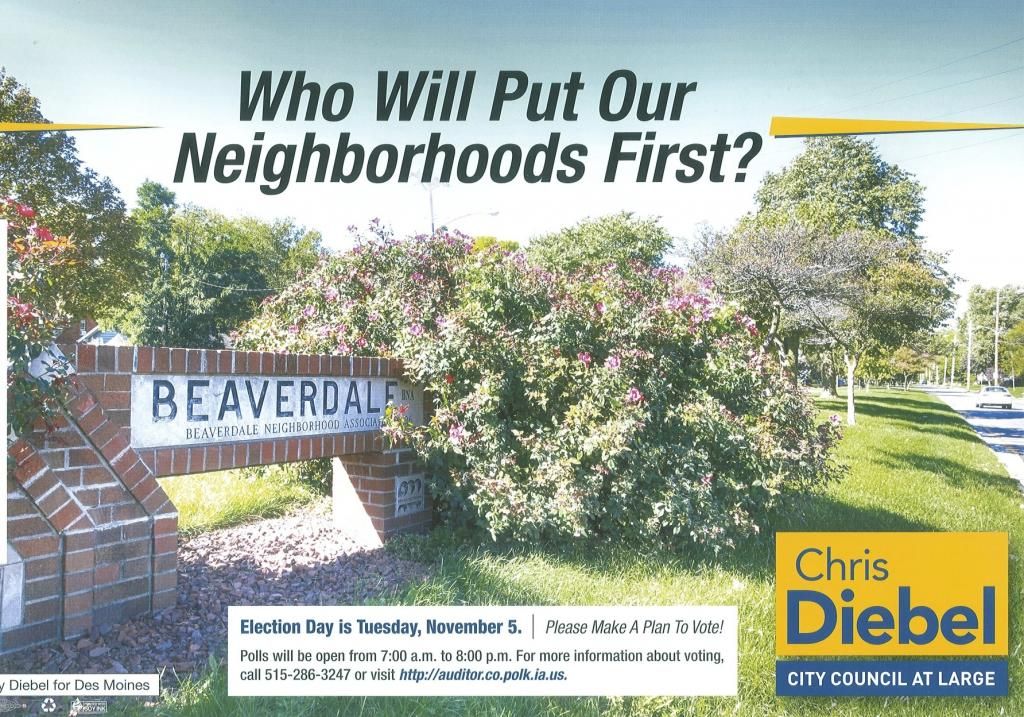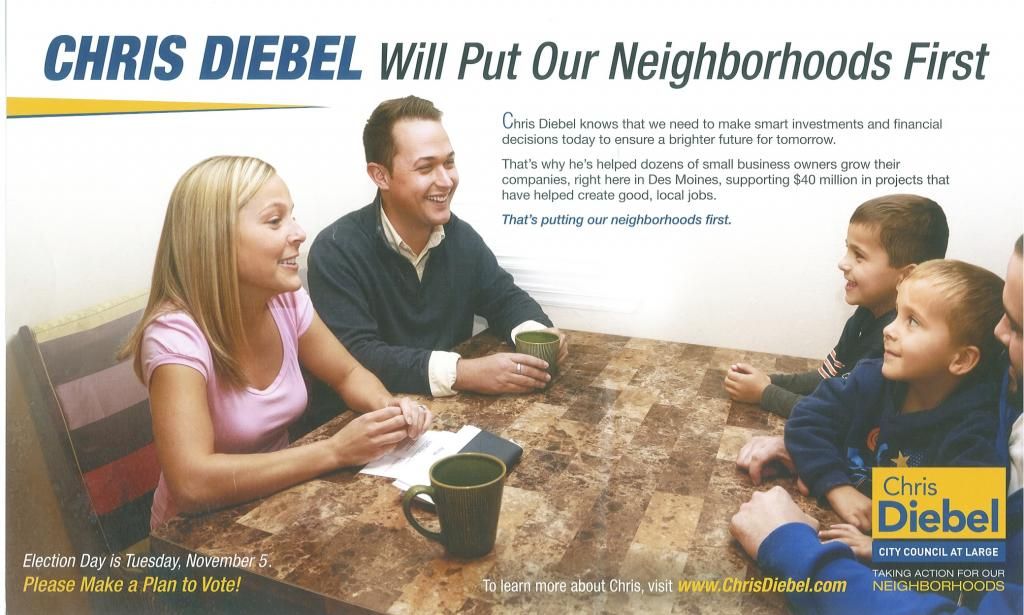 Speaking of neighborhoods, I agree 100 percent with Diebel that Rice Field in Beaverdale should be preserved as green space while the city explores options for putting badly-needed new senior housing along nearby Franklin Avenue, close to the public library and the Northwest Community Center.
Bleeding Heartland already covered the National Association of Realtors Fund's pro-Diebel radio ads, which made false claims about "red tape" in local home sales. In addition, the realtors paid for direct mail on Diebel's behalf. This piece made a positive (and in my view more effective) case for electing him: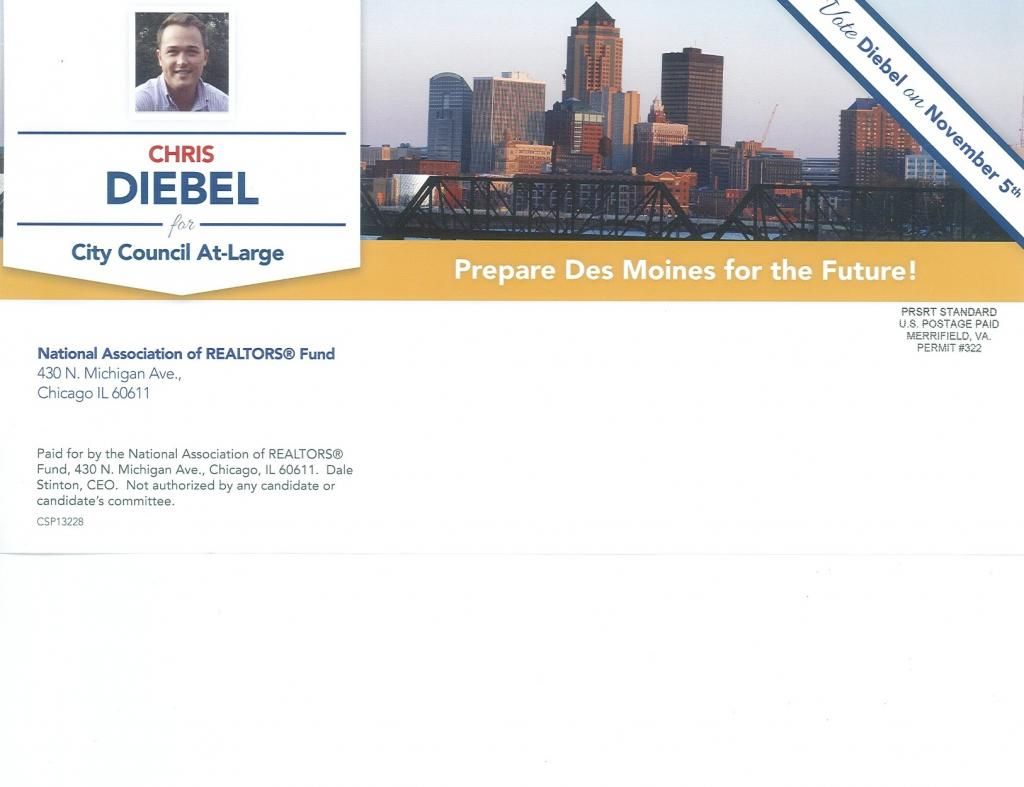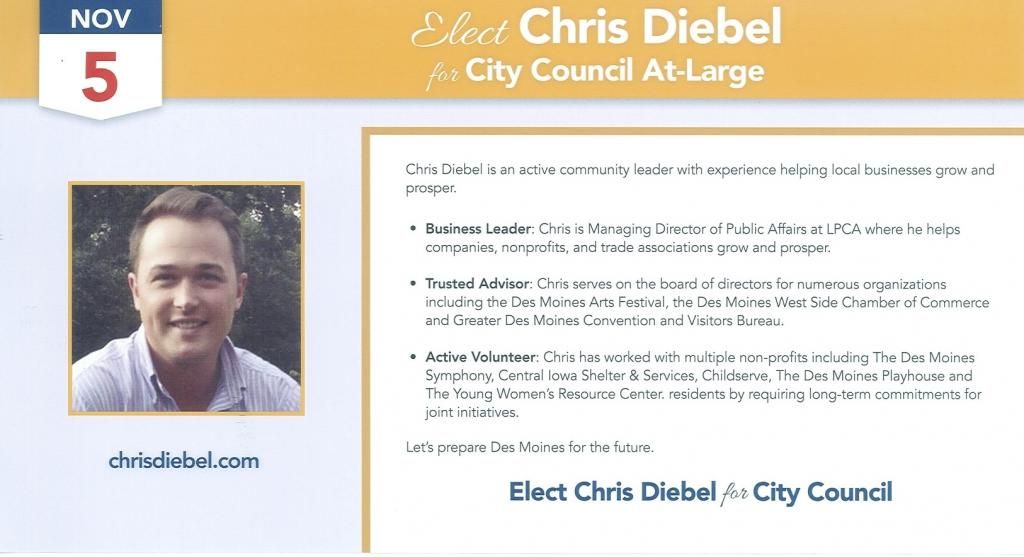 Many prominent Des Moines residents who have endorsed Diebel (including former Attorney General Bonnie Campbell and State Senator Matt McCoy) have cited his community involvement and business acumen.
Here's an example of Skip Moore's positive campaign communications. One of my friends was swayed partly by his record promoting gender equity on city boards and commissions.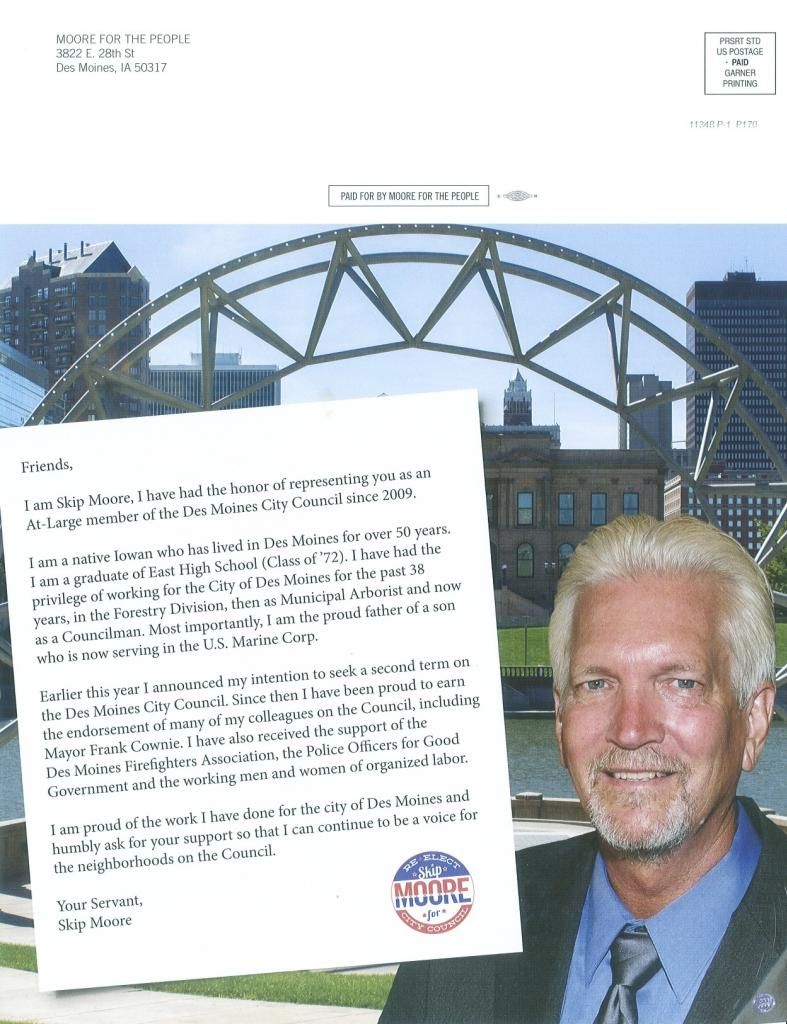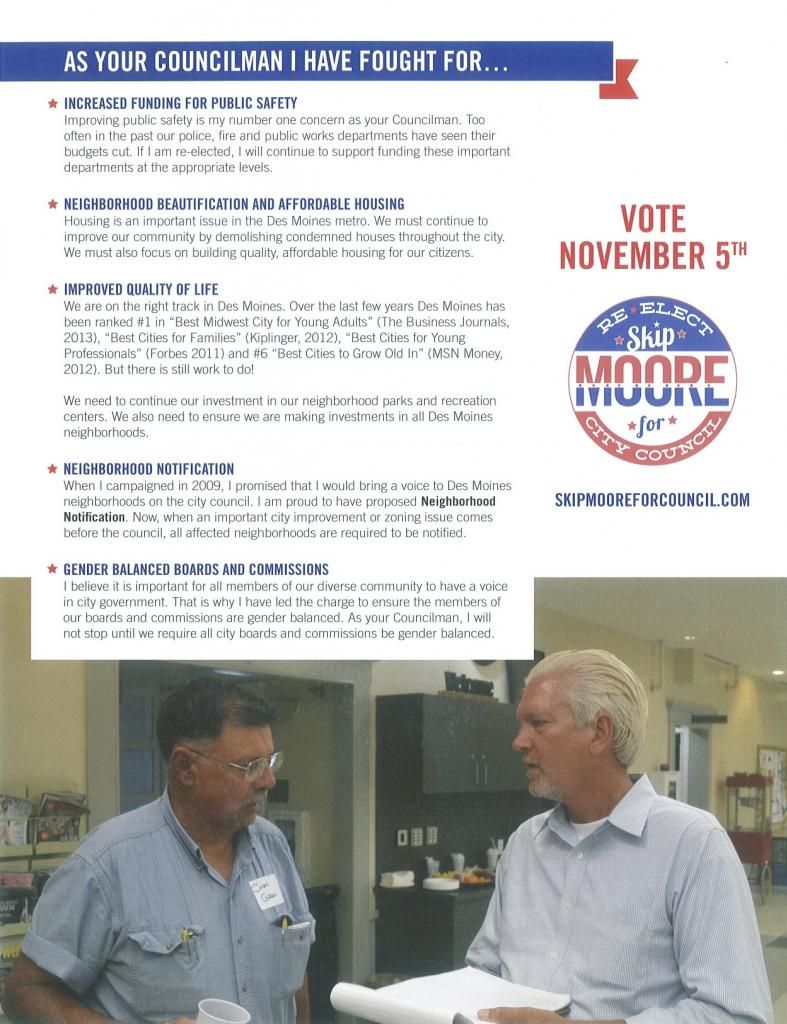 This fundraising letter from Moore's campaign hints at the incumbent's main dig against Diebel: he's less experienced and is the candidate of big money.