"States' rights" has typically been a rallying cry among American conservatives, but six Democratic Iowa legislators are concerned that the Trans-Pacific Partnership now being negotiated may infringe on local control and states' ability to legislate in the public interest. In an open letter, 43 state lawmakers have asked 23 state attorneys general, including Iowa's Tom Miller, to analyze the Trans-Pacific Partnership's possible impact on state and local governments.
I've enclosed the text of the letter below, along with a news release on the initiative from the National Caucus of Environmental Legislators. The Iowans who signed are State Representatives Chuck Isenhart, Marti Anderson, Dan Kelley and Curt Hanson, and State Senators Bill Dotzler and Joe Bolkcom. The letter spells out ten areas of state regulation that signers fear could be undermined by the Trans-Pacific Partnership. Isenhart stressed that the lawmakers' concerns go beyond environmental issues, citing Iowa's support for the biofuels industry as well as state policies to protect consumers and discourage smoking.
President Barack Obama is seeking to fast-track the Trans-Pacific Partnership. Activists who oppose the trade agreement have criticized the secrecy surrounding the negotiations as well as the agreement's tilt toward corporations and potential to undermine environmental and public health protections.
UPDATE: Bleeding Heartland user cocinero notes in the comments that the American Cancer Society is concerned about this trade agreement. At the end of this post I've enclosed a joint statement from Campaign for Tobacco-Free Kids, American Cancer Society Cancer Action Network, American Heart Association, American Lung Association and the American Academy of Pediatrics.
NEWS RELEASE

For immediate use

Wednesday, January 16, 2014

What will be the ability of states to legislate in the public interest under new international trade deals being negotiated by the U.S Trade Representative, such as the Trans-Pacific Partnership?

That's a question posed in a letter to states' attorneys general, including Iowa Attorney General Tom Miller, signed by six Iowa state legislators. The letter, jointly issued by 43 state legislators from 23 states, seeks legal insight into the agreements being developing in an apparent shroud of secrecy.

In addition to Attorney General Miller, the letter is being delivered to the AGs in Alaska, Arkansas, Connecticut, Delaware, Idaho, Indiana, Kentucky, Maine, Maryland, Michigan, Minnesota, Montana, Nebraska, New Mexico, New York, North Dakota, Ohio, South Dakota, Vermont, Virginia, Washington and Wisconsin.

The letter is also addressed to the National Association of Attorneys General. Miller is a member of the NAAG Federalism/Preemption Committee.

Iowa signers include Rep. Chuck Isenhart, Senator Bill Dotzler, Senator Joe Bolkcom, Rep. Curt Hanson, Rep. Marti Anderson and Rep. Dan Kelley.

The initiative was coordinated through the National Caucus of Environmental Legislators (NCEL).

Each of the Iowa signers participates in NCEL, though the lawmakers have a wide range of concerns in addition to environmental ones, according to Isenhart, who co-wrote the letter with Maine State Rep. Sharon Treat.

"For example, I wonder whether Iowa's continued support for the biofuels industry could come under outside attack under provisions of the TPP. Plus, questions have been raised about the defensibility of tobacco prevention policies and consumer protections, both of which are near and dear to the heart of Attorney General Miller.

"I have heard presentations on this topic at other meetings of state legislators over the past two years," Isenhart continued. "Alarm bells continue to go off, so we think the most responsible way to intervene is to engage our chief legal officers and to seek their expertise and analysis."

Isenhart said that he hopes to have a response shortly after the winter meeting of National Association of Attorneys General, which is set for Feb. 24-26 in Washington, DC.

Contacts:

State Rep. Chuck Isenhart (Iowa), 563-599-8839

State Rep. Sharon Treat (Maine), 207-242-8558

Note: Rep. Treat is a certified advisor to the US Trade Representative for the Trans-Pacific Partnership.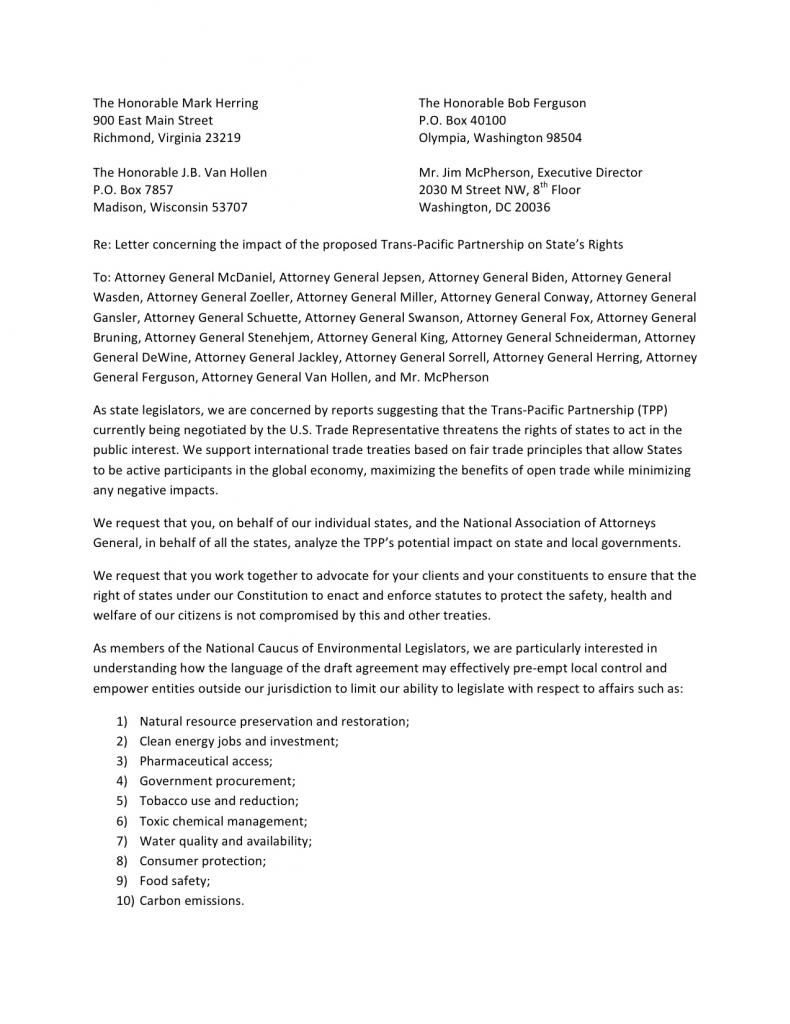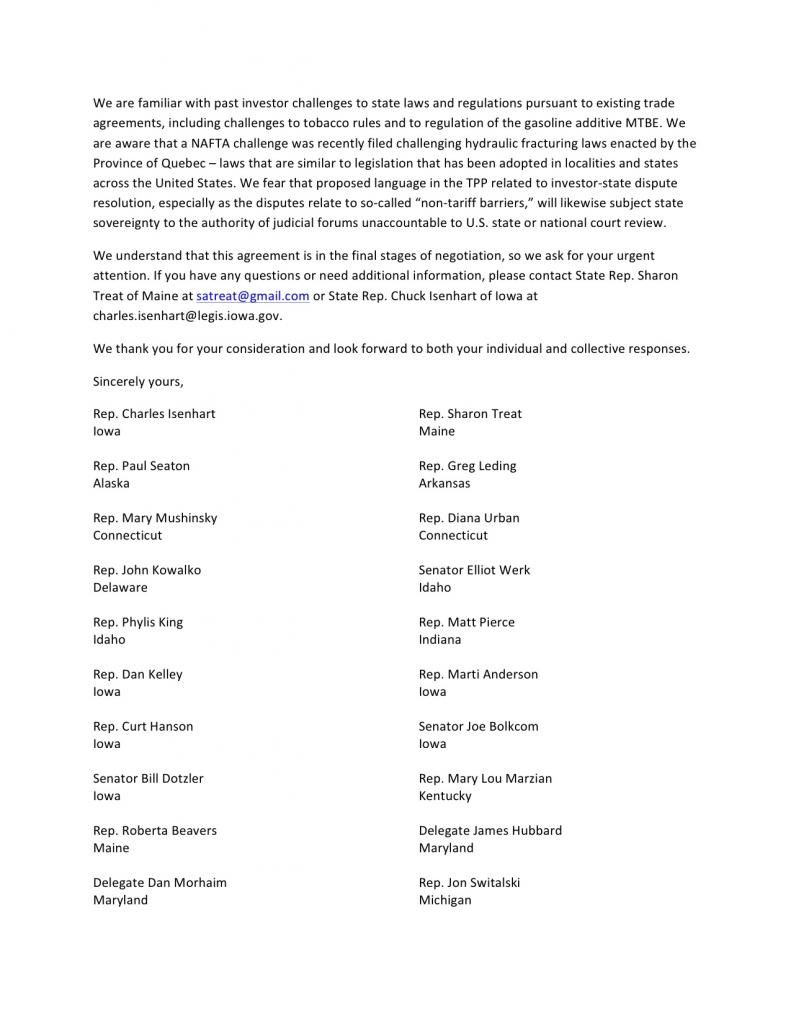 USTR Abandons Plan to Protect Tobacco Control Measures under Trans-Pacific Partnership Trade Agreement

Statement of Campaign for Tobacco-Free Kids, American Cancer Society Cancer Action Network, American Heart Association, American Lung Association and American Academy of Pediatrics

Aug. 19 2013

WASHINGTON, DC - It is disappointing that the United States Trade Representative (USTR) has retreated from a proposal to the pending Trans-Pacific Partnership (TPP) trade agreement that would have made it more difficult for tobacco companies to challenge domestic tobacco control measures under the terms of international trade agreements. The U.S. is negotiating the TPP with 11 other countries, with the next round of negotiations scheduled for August 23-30 in Brunei.

Previously, USTR in May 2012 had announced it would propose new language to the TPP that would have created a "safe harbor" protecting national tobacco control measures from being challenged under the agreement. USTR stated at the time that the proposal would "explicitly recognize the unique status of tobacco products from a health and regulatory perspective." Our organizations have urged - and continue to urge - USTR to move forward with this proposal and ensure nations can take effective action to reduce tobacco use, which is the number one cause of preventable death in the U.S. and around the world.

Instead, USTR is abandoning this proposal and has announced that it will offer language explicitly reaffirming that tobacco control measures are included in a provision of the General Agreement on Tariffs and Trade (GATT) that recognizes nations' authority to enact health and safety measures. This is the first time tobacco would be singled out as being included in the public health exception to the GATT. However, this language is far weaker than USTR's original proposal, would not cover lawsuits initiated by tobacco companies and would not provide nations that adopt strong tobacco control measures with the protection they need from tobacco industry challenges.

The new USTR proposal does not recognize tobacco as a uniquely harmful product or provide a safe harbor for nations to regulate in order to reduce tobacco use, as the initial proposal would have done. The new proposal states the obvious - that tobacco control measures involve public health - and then directs public health officials from the countries that are party to the trade agreement to consult each other before launching tobacco-related trade challenges.

The end result is that the Obama Administration's strong commitment to reducing tobacco use in the United States will remain vulnerable to international trade challenges, and other trading partners will remain vulnerable to such challenges as well.

The tobacco industry and its allies in government increasingly use trade and investment agreements to challenge legitimate tobacco control measures, and have done so specifically against laws adopted in the U.S., Australia, Uruguay, Ireland, Norway and Turkey. Indonesia filed a World Trade Organization challenge to a U.S. prohibition on fruit- and candy-flavored cigarettes. Tobacco companies and several countries have filed trade challenges to Australia's law requiring that cigarettes be sold in plain packaging, while Philip Morris International has used an investment agreement to challenge Uruguay's tobacco control laws, including its requirement for large, graphic health warnings. These costly challenges are aimed not only at defeating tobacco control measures, but also at discouraging governments from enacting them in the first place.

It is doubtful that the new USTR proposal would put a stop to these industry challenges. This proposal also disregards the global consensus that nations must act to reduce tobacco use pursuant to the world's only public health treaty, the Framework Convention on Tobacco Control (FCTC), and more recently the United Nations Political Declaration on Noncommunicable Diseases. To date, 177 countries are parties to the FCTC treaty, obligating them to implement measures to reduce tobacco use.

Unless nations take strong action, tobacco will kill one billion people worldwide this century. This is a missed opportunity for the United States to lead the fight against this global epidemic.