Republican State Representative Tom Shaw announced on Facebook last night that he will not seek re-election in Iowa House district 10. Defending his "no compromise" approach to serving in the legislature since his first election in 2010, Shaw quoted a retired California legislator as saying, "When we give in to liberals, even an inch, we're not compromising; we're abdicating our rights and our honor." Shaw and his close allies, State Representatives Kim Pearson and Glen Massie, were perhaps best known for helping to block in committee and later voting against a 20-week abortion ban bill, on the grounds that it did not go far enough to end abortions. Pearson and Massie both retired from the Iowa House rather than seek re-election in 2012. Last year, Shaw could persuade only ten of his Republican colleagues to co-sponsor his more extreme version of a "personhood" bill declaring life to start at conception.
Iowa House district 10 covers Humboldt, Pocahontas, and Calhoun counties, plus portions of Webster County (but not Fort Dodge). I've posted a map after the jump. It leans strongly Republican, with nearly 3,000 more registered Republicans than Democrats as of January 2014.
Shaw confirmed by telephone this morning that he is retiring from the state legislature and will not consider running against Democratic State Senator Daryl Beall in Iowa Senate district 5. Shaw's retirement may be good news for Beall, as the open Iowa House seat comprising half the district should draw more Republican interest than taking on a three-term incumbent in a much more competitive Senate district. Beall currently has one declared challenger, Fort Dodge-based financial adviser Tim Kraayenbrink.
UPDATE: The first candidate to declare for Shaw's seat was Mike Sexton, who was elected to the Iowa Senate in 1998 but retired after one term. I've posted background after the jump. I would guess that an experienced candidate and former legislator would have been a tougher challenger to Beall than Kraayenbrink. But not surprisingly, Sexton sees the open House seat as an easier path back to the statehouse. I would guess that at least one tea party oriented candidate will compete against Sexton in the House district 10 primary.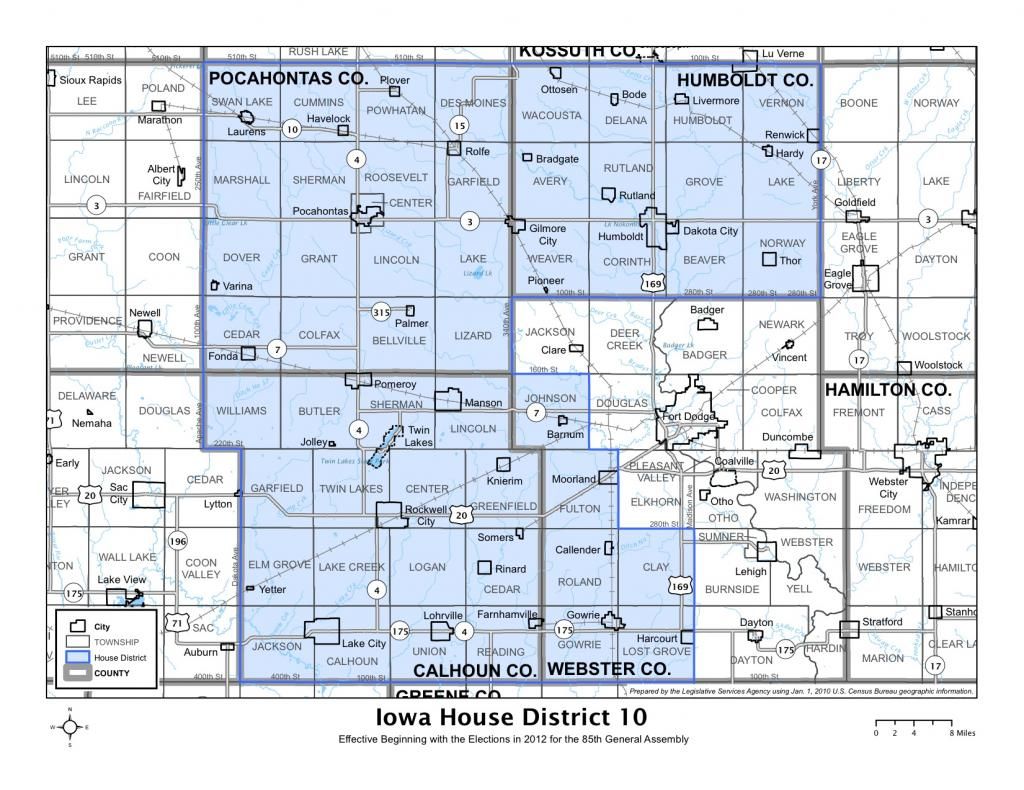 Excerpt from Tom Shaw's Facebook status update, January 20:
What started in 2009, as a "hair-brained" idea to run for the Iowa House, became a reality when I was elected in 2010. I would have to describe the faith and trust that you showed in me as overwhelming. Every time I asked for your assistance, be it making phone calls, walking in parades, or contributing funds, you always came through.

Honor to God, fidelity to the Constitution, as seen thru the prism of the stated purposes contained in the Declaration of Independence, is my foundation. These guiding principles helped me in determining my votes .. votes placed on behalf of 30,000 Iowans. No man is perfect, but I tried to serve ethically, honorably and truthfully during my tenure.

My "no compromise" approach did not always set well with others. However, in his book "Confrontational Politics", author H. L. Richardson, retired California State Senator, states, "When we give in to liberals, even an inch, we're not compromising; we're abdicating our rights and our honor. When our legislators do likewise, they are abdicating our rights and their honor."
UPDATE: The Fort Dodge Messenger's Bill Shea reported on January 23,
Former state Sen. Mike Sexton is seeking the seat in the Iowa House of Representatives that will be vacated by retiring state Rep. Tom Shaw.

Sexton, a Republican from Rockwell City, was a senator from 1999 to 2002. He is now the president of the Rockwell City-Lytton Board of Education. [...]

The candidate is a farmer who, along with his wife, Becky, also owns two agriculture-related businesses: Twin Lakes Environmental Services and Real Time Ag. He was named the 2013 Neal Smith Entrepreneur of the Year by the Iowa Small Business Development Center for starting Real Time Ag, a software company that makes a program to help farmers stay current with regulatory reporting.

Sexton first ran for the state House of Representatives in 1994. He was defeated by the late Norm Mundie, who was the Democratic incumbent.

In 1998, he ran for the Senate and defeated state Sen. Rod Halvorson, D-Fort Dodge.

He became the chairman of the Senate Natural Resources Commitee.

Sexton was the target of an ethics complaint by Iowa Citizens for Community Improvement. That group claimed that his chairmanship and his job as an environmental compliance officer for Swine Graphics Enterprises, of Webster City, constituted a conflict of interest. The Senate Ethics Commitee dismissed that complaint in 2002.

He decided not to seek re-election, citing the desire to spend more time with his children who were still in school.