Iowa's Resource Enhancement and Protection program (REAP) celebrates its 25th anniversary this year. Among the most successful conservation initiatives in Iowa history, REAP has cumulatively distributed about $300 million to thousands of projects across the state. It is mostly funded through gaming revenues that go into the state's Environment First Fund. In theory, REAP "is authorized to receive $20 million per year until 2021," but the state legislature has never fully funded REAP to the authorized level. This year's budget included $16 million for REAP, and Governor Terry Branstad kept that item at the same level in his draft budget for fiscal year 2015.
Today about three dozen non-profit organizations gathered at the State Capitol for the annual Environmental Lobby Day organized by the Iowa Environmental Council. I attended the event because I'm active in the IEC and in several of its member organizations. At a press conference organized by the IEC, four speakers emphasized the need to increase conservation funding: Republican State Senator David Johnson, Democratic State Senator Bob Dvorsky, Iowa Natural Resource Commission Chair Margo Underwood, and Rod Marlatt, executive director of the Fayette County Conservation Board. Dvorsky particularly emphasized his goal to secure $25 million in funding for REAP in the coming fiscal year, in honor of the program's 25th anniversary.
Because REAP-supported projects are often popular locally, the program has mostly escaped the partisan divisions that have led to the demise of some state initiatives. Today the Iowa House approved a resolution celebrating the 25th anniversary of REAP. Remarkably, 96 of the 100 state representatives co-sponsored this resolution, which House Democrat Chuck Isenhart proposed. Now that they're on record agreeing, "Iowans strongly believe that the Resource Enhancement and Protection Program is a successful venture worthy of the continued support of the General Assembly," let's hope they will put a lot of money where their mouths are. The $25 million in REAP funding has an excellent chance of clearing the Iowa Senate, since Dvorsky chairs the Appropriations Committee. Will the Iowa House go along? The many state lawmakers who spoke with Environmental Lobby Day exhibitors today included House Majority Leader Linda Upmeyer and several members of the House Appropriations Committee.
After the jump I've posted background on the REAP program from the Iowa Department of Natural Resources website, including a map showing how much REAP funding has gone to each of Iowa's 99 counties. I also enclosed a press release from the Iowa Environmental Council, with highlights from speakers at the conservation rally.
Background on REAP from the Iowa Department of Natural Resources website: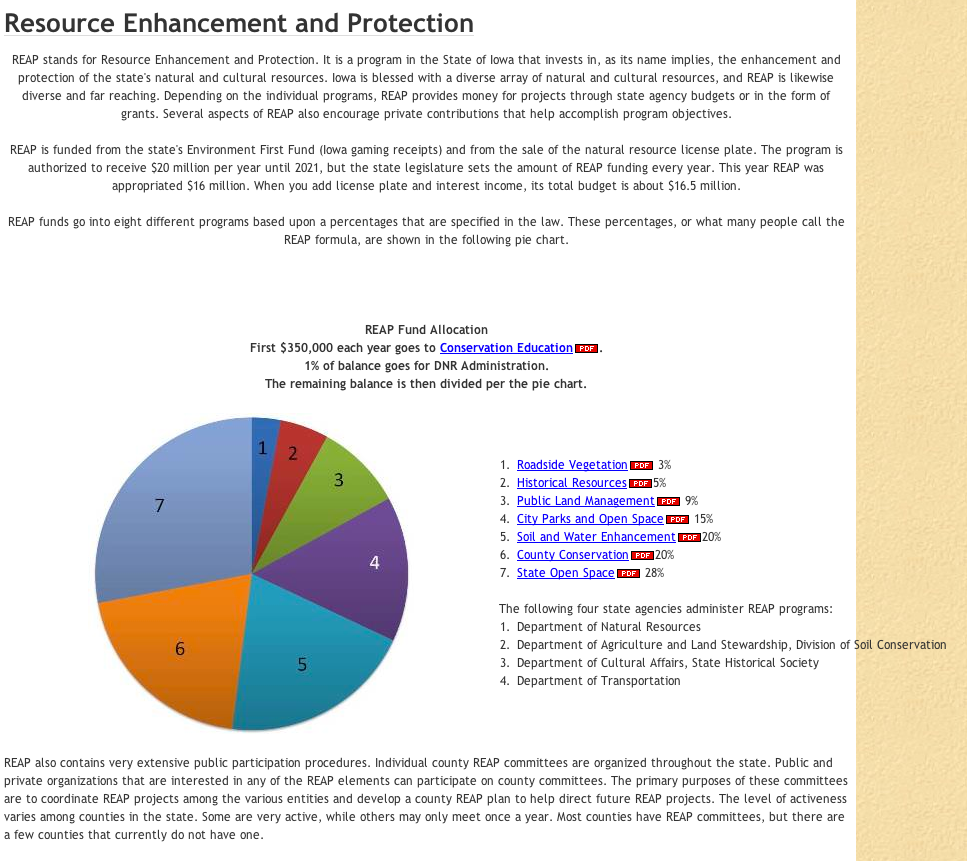 Map of REAP funding by Iowa county, also from the Iowa Department of Natural Resources website: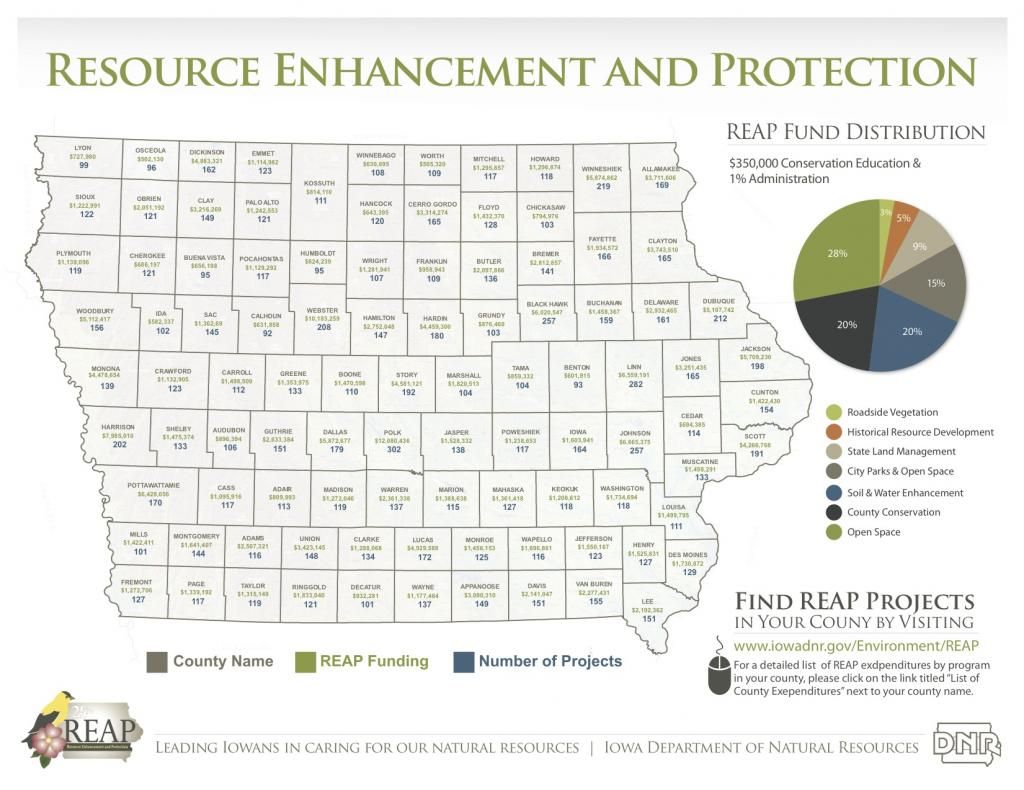 Iowa Environmental Council press release, March 18:
Iowans gather at statehouse to support clean water, conservation

About 150 conservation advocates representing over 35 organizations gathered at the statehouse Tuesday to call on lawmakers to do more to protect clean water and a healthy environment-and provide funding needed to get it done. The morning rally was co-sponsored by the Iowa REAP Alliance and the Iowa Environmental Council.

Conservation progress in Iowa could receive a big boost this year if legislators heed the call of Iowa's conservation community to provide Iowa's Resource Enhancement and Protection program, or REAP, a special $25 million appropriation in celebration of its 25th anniversary.

But with many Iowa lakes plagued by harmful algal blooms, and record levels of nitrate pollution last year a threat to safe drinking water for half a million Iowans, advocates also cautioned legislators that stiff oversight, goals, and measurement of progress are needed to protect Iowa's water resources.

In a morning press conference, Margo Underwood, chair of the state Natural Resource Commission, one of two oversight bodies for the Iowa Department of Natural Resources, said supporting REAP and conservation funding is one of the top priorities for the commission in 2014.

"I live in Clear Lake and water quality issues are near and dear to my heart," Underwood said. "The restoration of Clear Lake has improved water quality and clarity and has decreased excessive nutrient levels. As a result, it is now among the top five lakes in our state for visitors from across the country."

"The REAP program has been instrumental in these improvements and we must continue these efforts statewide," she said.

Funds provided to REAP are distributed to a variety of conservation projects in all of Iowa's 99 counties-with approximately $300 million distributed via the program throughout its history, yet legislators have never funded the program at its full authorized level.

Rod Marlatt, executive director of the Fayette County Conservation Board, listed numerous ways REAP funding has provided benefits in his county and said in the end, conservation investment results in a stronger local economy.

He told the story of two sisters who chose to locate a new restaurant in Elgin, Iowa, after they learned about local parks and water trail improvements along the Turkey River, among other amenities. The restaurant has hired 21 employees, 3 of whom Marlatt said have purchased homes in the area, and other businesses are opening their doors.

"That's how you connect the dots. Economic development is the result of natural resources, and natural resources will expand because of economic development," Marlatt said. Indeed, a 2012 study by Iowa State University identified 31,000 Iowa jobs and more than $3 billion in annual spending due to outdoor recreation in the state.

The Iowa House of Representatives, too, recognized the contributions of Iowa's REAP program Tuesday, adopting HR119, a resolution commemorating REAP's 25th anniversary, by voice vote. At the same time, decisions to match the resolution with a commitment of funds still lie ahead in the closing days of the legislative session.

State Senator Bob Dvorsky (D-Coralville), addressing the conservation rally, was optimistic about funding REAP at $25 million during this session.

"I think we can get it done, with your help," he said.

State Senator David Johnson (R-Ocheyedan), whose district includes Iowa's Great Lakes in Dickinson County, took a step further. He expressed a willingness to support the 3/8 cent sales tax necessary to fully fund Iowa's Natural Resource and Outdoor Recreation Trust Fund, which 63% of Iowans voted to create in 2010.