Iowa Senate Majority Leader Mike Gronstal celebrated his 65th birthday on January 29. The Des Moines Register's William Petroski caught up with Gronstal after fellow senators sang "Happy Birthday" and confirmed that the longtime Democratic leader has no plans to retire. He's up for re-election next year in Senate district 8, covering the Council Bluffs area and Carter Lake (scroll to the end of this post to view a detailed map).
Now that Tom Harkin has retired, Gronstal may be the Iowa Democrat whom Republicans most love to hate. But I have news for them: he's going to win another term in 2016, and here's why.
1. He takes nothing for granted.



Entrenched incumbents have a tendency to get complacent, but that will never be said about the second longest-serving current member of the Iowa Senate. Gronstal's commitment to direct voter contacts is legendary. I doubt any past or present Iowa legislator has knocked on more doors. Showing up at thousands of doorsteps every single year for one-on-one conversations about voters' concerns will always keep the Senate leader grounded in his district.
Gronstal's past campaigns have emphasized his connection to his community. His 2012 television commercials featured images of the candidate knocking on doors and Gronstal's own voice reminding viewers, "I grew up here. I had kids here." Direct mail pieces touted the Senate leader's efforts to bring jobs to Council Bluffs, such as a Google data center and a large Mid-American Energy power plant.
2. Gronstal won't be threatened by hot-button social issues this election cycle.
Going into the 2012 campaign, local Republicans had reason to be hopeful about getting rid of Gronstal. He had enthusiastically welcomed the 2009 Iowa Supreme Court Varnum v Brien ruling on same-sex marriage. He blocked efforts in 2009 and in 2010 to bring to the Iowa Senate floor a constitutional amendment that would have restricted marriage to one man and one woman. Democrats went on to lose six Iowa Senate seats in 2010, the same year Iowans (including a majority of Pottawattamie County voters) voted against retaining three Iowa Supreme Court justices who concurred in the marriage ruling. Yet Gronstal stuck to his guns, thwarting more Republican efforts to force an Iowa Senate vote on marriage rights in 2011. When pressed on the issue, he insisted that he would not allow any attempt to write discrimination into the state constitution.
Abortion was another issue Republicans planned to use against Gronstal in 2012. To put it mildly, pro-choice sentiment has never been strong in the Council Bluffs area, even among Democrats. In 2011, an Omaha-based doctor was reported to be planning to open a clinic in Council Bluffs for providing late-term abortions. The news prompted the Democratic mayor of Council Bluffs to lobby state senators to pass a 20-week abortion ban that had cleared the Iowa House. That bill could have passed the Senate if Gronstal had allowed a vote, as two Democrats and all 24 Republicans supported it. Politically, it would have been the easy choice for Gronstal. But he refused to limit women's rights. Instead, Senate Democrats took another tack on preventing a new clinic from locating in Council Bluffs. A legislative stalemate with Iowa House Republicans left the issue unresolved going into the 2012 campaign.
Social issues will likely be less salient for Council Bluffs voters in 2016. With each passing year, more Iowans accept marriage equality. Meanwhile, the Omaha doctor never did open a late-term abortion clinic across the river. The big battles in this year's legislative session will revolve around Democratic priorities such as K-12 school funding and wage theft. Those debates will put Gronstal on the same side as the majority of his constituents.
3. Hillary Clinton at the top of the ticket will be an asset in Pottawattamie County.
Thanks to Barack Obama's victory in the 2008 Iowa caucuses and years of media harping on "Hillary's Iowa problem," it's easy to forget that Clinton did quite well in many parts of our state. This map shows counties she carried in yellow. Pottawattamie County is the large yellow area directly east of Omaha, Nebraska: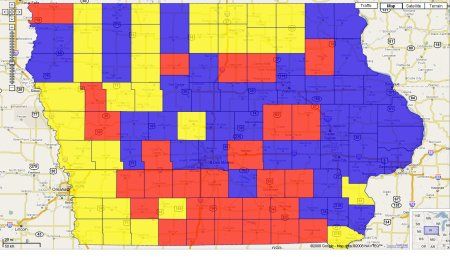 Not only was Pottawattamie one of the largest-population counties to go for Clinton in the caucuses, she won it by a convincing margin: about 43 percent of the Democratic delegates awarded in Pottawattamie on caucus night went to Hillary. Gronstal did not formally endorse a candidate before the caucuses, but several members of his family were deeply involved in Clinton's campaign.
Assuming Clinton is the Democratic nominee next year, I don't know whether she will carry Iowa, but I believe she will poll better in the Council Bluffs area than Barack Obama did. And while Obama didn't carry Pottawattamie County as a whole, he did beat Mitt Romney in the precincts that make up Iowa Senate district 8.
4. Republicans won't recruit a top-tier challenger against Gronstal.
One enduring mystery from the 2012 campaign was the GOP failure to find a better candidate for what should have been a marquee Iowa Senate race. According to the Iowa political rumor mill, Governor Terry Branstad reached out to some credible Republicans in Council Bluffs but found no takers. The eventual candidate, Al Ringgenberg, was little-known locally and ran an amateurish campaign from beginning to end.
The Iowa GOP spent a fair amount of money in Senate district 8, and Pottawattamie County Republicans wanted this one so badly that they resorted to "voter caging" tactics, which to my knowledge was unprecedented in Iowa. All was for naught as Gronstal won re-election by a comfortable margin of nearly 2,500 votes.
Looking to retake the majority in the upper chamber, Iowa Senate Republican Leader Bill Dix has several targets that should be more appealing than Senate district 8. Most of them lie in northeast Iowa counties that are part of the first Congressional district. Republicans will surely run someone against Gronstal, but I doubt this will become one of the most hotly contested races in 2016.
Any relevant comments are welcome in this thread.
UPDATE: Jake Porter, the two-time Libertarian Party candidate for Iowa Secretary of State, lives in Council Bluffs. He is considering running against Gronstal in 2016.
Here's a detailed map of Iowa Senate district 8: