Entrepreneur Ravi Patel made his Congressional bid official yesterday in Iowa's first district. His campaign is on the web at PatelforIowa.com, on Facebook here and on Twitter here. Pat Rynard profiled Patel at the Iowa Starting Line blog; excerpts are at the end of this post. Patel has indicated that his campaign will "be data-driven and heavy on social media." His biggest challenges will be convincing voters that he's not too young at age 29 to do this job, and connecting with voters in northeast Iowa, since he grew up and spent much of his adult life in cities that are part of Iowa's second district.
At least three Democrats are likely to compete for the chance to face first-term Representative Rod Blum. The front-runner will be Cedar Rapids City Council member Monica Vernon, who finished second in last year's IA-01 Democratic primary. She was the first to announce in this race and has been endorsed by some prominent Iowa politicians. UPDATE: Former State Senator Jack Hatch, who picked Vernon as his running mate in last year's gubernatorial race, officially endorsed her for Congress in a February 17 e-mail. I've added that to the end of this post.
Former "Saturday Night Live" cast member Gary Kroeger seems ready to enter the race too. I had to laugh when the Des Moines Register's Michael Morain reported this past weekend that Kroeger may run for Congress. The Register's article did not mention that Iowa Starting Line broke that news way back on January 19.
Former Governor Chet Culver has said he is thinking about running for Congress in the northeast Iowa district as well.
Any comments about this race are welcome in this thread. UPDATE: Online ads for Patel's campaign are already running on various websites. At the end of this post, I've enclosed an ad that appeared on a page with Iowa weather information.
Press release from Ravi Patel for Congress, February 16:
We need a fresh perspective

I am excited to announce that I am entering the race for Congress in Iowa's first congressional district!

Throughout this campaign you will often hear me say, "I am not a politician. I am a pro-growth progressive." This is because I have a track record of growing businesses that give back to their communities and provide good-paying jobs that Iowans need.

Our country is facing many complex challenges, and the solutions to those challenges include all of us. We need a fresh perspective and new leadership. We need a Congressman who is an innovative thinker; who is genuinely interested in serving our country and seeing it succeed.

My campaign will be about broadening economic opportunity for Iowa families. Right now, America is experiencing the dawn of the New Economy. In order for us to thrive and flourish, we need a compassionate agenda for Iowa's working families. This means we must stand up for pay equity, invest heavily in a robust education system, and work toward meaningful reforms to our immigration system.

As this campaign progresses, I will outline more of my ideas. I hope to have positive conversations with the voters in the district and demonstrate why I am the best choice to represent northeast Iowa. I hope you will join my campaign!
Excerpt from Patel's official bio at his campaign website:
Ravi was born in Mena, Arkansas after his family purchased a small roadside motel there. Ravi and his siblings learned the hotel business at an early age, working every job at the hotel from maintenance, to housekeeping, to night shifts at the front desk.

Eventually his family moved to Burlington, Iowa where they continued to grow their family business. Upon graduating from the University of Iowa, Ravi joined his family's company full-time and now serves as Principal and President. Today Hawkeye Hotels is one of the fastest growing, privately owned hotel companies in the country. Since joining Hawkeye Hotels, Patel has personally overseen more than forty acquisition and new development projects. Under Ravi's leadership, the company has grown to become a fully vertically integrated hospitality firm, offering a variety of services that range from design and construction to management and development.

It was a long road to success for Ravi's family, but they were able to make it. Through hard work, Ravi has been fortunate to go from very humble beginnings to a place where he's been able to help others start and grow their own businesses. Ravi has mentored and funded over a dozen companies around Iowa. These startups are transforming entire industries ranging from the education space to healthcare and philanthropy.

Ravi wants to make sure that the same opportunity to succeed is there for every other American family. To that end, Ravi co-founded Built By Iowa, an early and mid-stage business accelerator that launched in the fall of 2013. This accelerator brings growth capital, mentors, and technical infrastructure to Iowa-based startups looking to scale their companies and bring their products and services to wider markets. […]

Additionally, Ravi serves on several boards and committees throughout Iowa, including the Kirkwood College Hospitality Arts Advisory Board, the University of Iowa College of Business Alumni Board and the State of Iowa Hospitality and Tourism Careers Committee. Ravi graduated from the University of Iowa with degrees in Business Management and Entrepreneurship.
From Pat Rynard's profile of Patel at Iowa Starting Line:
The Patel brothers' first foray into politics came in Iowa City, when Raj – then a college student – ran for city council in 2011. Neither had run a campaign before, and Raj faced skepticism as a young candidate. "I've always thought good ideas shouldn't have a specific timeline for being put into action," Ravi Patel said of his brother, who would lose in the election by about 200 votes. Ravi campaigned heavily for his brother and says he learned a lot about the issues facing Iowans while talking to voters. One such issue was the need for a "start-up ecosystem in Iowa." […]

Between his funding initiatives and hotel business success, Patel started getting asked about his own political ambitions. He's hosted fundraisers for top Democratic candidates, kept involved in campaigns, and says he passed this last cycle on running for office. But this year will likely be different. Patel believes voters are ready for an "outside-the-box" candidate, saying, "I think we have a chance to do something different. We have a chance to innovate our politics. The system is broken, people in Congress don't want to work together … If we don't ever change the negative feedback loop we can't ever really get things done." […]

Patel has his eyes on the first congressional district, where he owns a home in Cedar Rapids. Doing so could fulfill his goal of getting more young people interested in politics, who he thinks "feel scared to get involved – the best and brightest aren't going to run for office." On what he sees as his advantage in such a race, Patel says, "One thing I think makes me different than anybody is I'm in the business of innovation. I'm new ideas and solutions-oriented."

During his brother's campaign, Patel recounts that he spoke with voters of all income levels and backgrounds. That experience helped form his current policy ideas. "I think we need a compassionate agenda for Iowa working families," Patel says. "That means raising the minimum wage and indexing it to inflation. I believe that no one who works full-time should live in poverty." On education issues, he believes, "Our colleges and universities are the envy of the world but the costs are spiraling out of control. If we have a generation of young people chained to insurmountable student debt, we'll miss out on opportunities to really aid our economic system. They won't be able to buy homes or automobiles or take risks like starting a business."
UPDATE: Screenshot taken on February 17, showing a Patel for Congress ad on a page showing average temperatures for Des Moines, Iowa.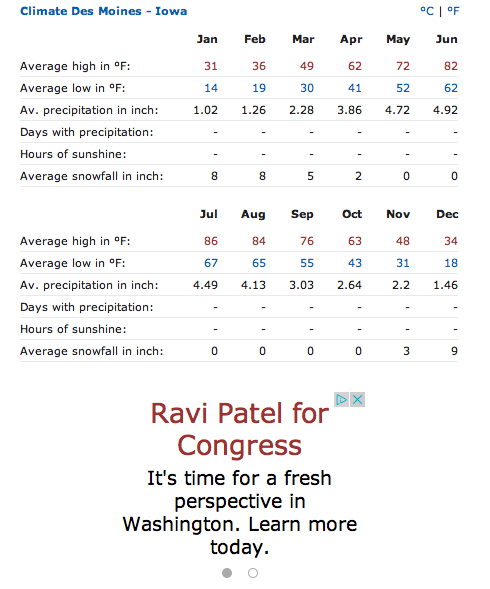 SECOND UPDATE: E-mail from Vernon's campaign on February 17:
[Name],

Throughout our time together over the past year, both on and off the campaign trail, Monica Vernon was an incredible force for good. Standing up for the middle class families of Iowa, I was so proud to have her by my side and on our Democratic ticket.

As we continue to digest the lessons of the last election, our concern only grows. With Republicans in control in Washington and in Des Moines, there is too much at stake for anyone to sit on the sidelines.

I'm proud to support Monica Vernon on this next journey as she runs for Congress to represent the people of northeast Iowa.

Join Jack Hatch in supporting Monica!

And I think you'll be proud of her too – but if you'd rather not receive updates from Monica and her team about their campaign, click here unsubscribe.

Monica said it best herself, "[t]here's no sense in pulling the covers back over yourself or pushing the 'ignore' button" – Iowa is at a crossroads and we need leaders like Monica Vernon.

From building her small business around her kitchen table to balancing a career and raising three daughters, Monica understands that the deck is stacked against Iowa's middle class families.

I for one, can't wait to see her put that gumption to work in Congress!

Thanks again,

Jack Hatch