State Senator Jason Schultz weighed in last night on the controversy over Confederate flag displays: "I'm now convinced the whole Confederate flag issue is simply about progressives teaching the establishment R's how to jump through hoops."
During our ensuing dialogue, Schultz revealed the level of nuanced thinking and temperate choice of words one would expect from a Ted Cruz endorser.
Schultz didn't appreciate my suggestion that he lacks an understanding of U.S. history.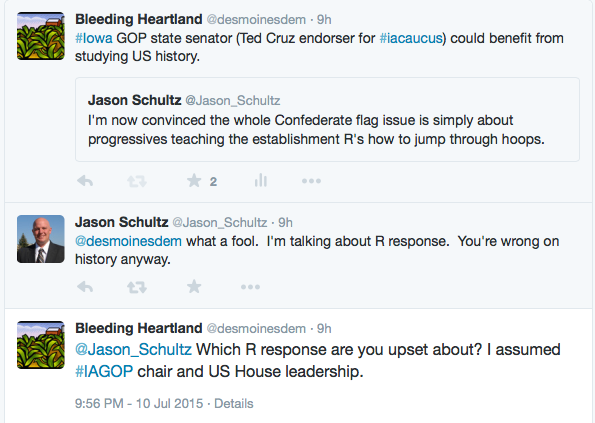 I was seeking to clarify which Republican reaction had upset Schultz: Iowa GOP Chair Jeff Kaufmann's blistering comments about local activists who displayed the Stars and Bars during a July 4 parade, or U.S. House leaders getting tripped up over the issue during debate over an appropriations bill this week.
Schultz indicated that he resents Republican leaders begging for forgiveness from fools like me, for whom the flag represents slavery, racial oppression, and white supremacy.
To be clear, no one owes me an apology for displaying the Confederate flag. That symbol insults not me but the millions of Americans who suffered oppression and violence under those who waved that banner, as well as those who lost lives or limbs fighting to save the Union during the Civil War.
At that point, our conversation took a new turn.
I was referring to the bill Schultz introduced as a member of the Iowa House in 2010, which stipulated that judges "shall not use judicial precedent, case law, penumbras, or international law as a basis for rulings."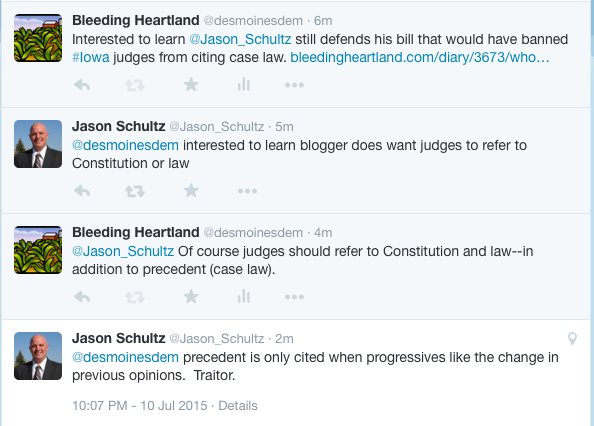 Note the irony: Schultz called me a "traitor" twice because I believe it's legitimate for judges to cite precedent in their rulings. Whereas in his mind, a flag representing those who literally seceded from the United States, then fought and died to break the Union apart, is just a symbol of "resistance."
In dialogue with another commenter, Schultz elaborated on his views about the "travesty" of precedent and how it is "anti-American" to believe judges should be able to cite case law.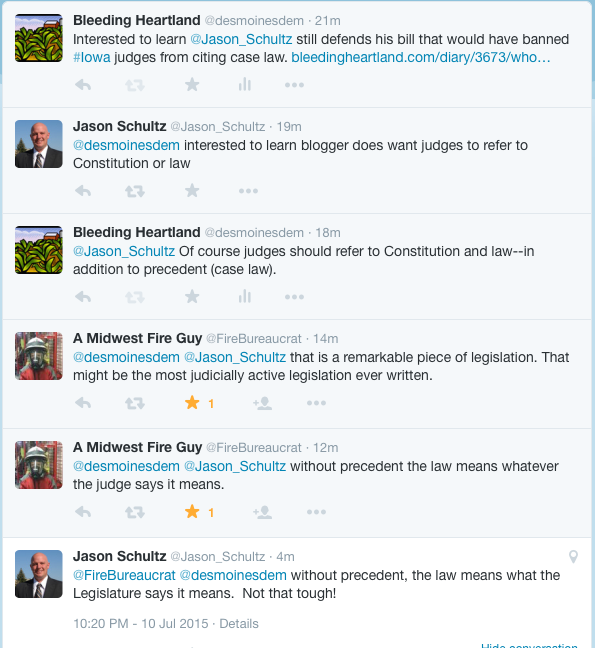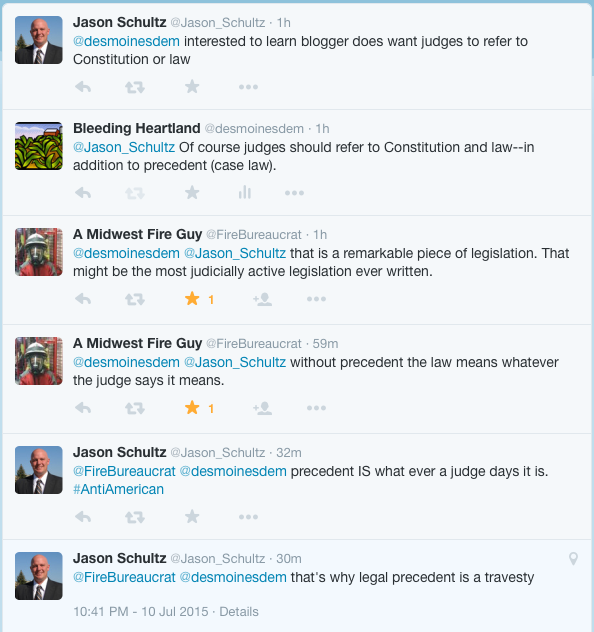 Shortly after our exchange, Schultz asked on his Facebook feed,
Is it me, or does legal precedent only get declared when progressives get à opinion to go their way. New precedent only means the progressives reversed what always has been. I want America back!!!
It's just you, Senator. Whatever their ideology, all judges routinely cite precedent in their opinions. For a recent example, see the conservative dissents from the U.S. Supreme Court's majority ruling in Obergefell v. Hodges, the marriage equality case. According to attorney Ryan Koopmans, who blogs about appellate law, 7th Circuit U.S. Appeals Court Judge Richard Posner is "the only judge I know of who, on occassion, writes an opinion with no citations to case law."
Any relevant comments are welcome in this thread.