Cedar Rapids City Council member Monica Vernon was the first Congressional candidate endorsed this cycle by the influential political action committee EMILY's List. The PAC's mission is straightforward: "We elect pro-choice Democratic women to office." EMILY's List did not get involved in the 2014 primary to represent Iowa's first district, in which three of the five candidates were pro-choice women. But the PAC's leaders have signaled they will fight to help Vernon win the IA-01 nomination in 2016.
As in the last election cycle, Vernon's main competition for the right to face Republican Rod Blum will be former Iowa House Speaker Pat Murphy. Even before Murphy officially entered the race last week, EMILY's List took the first shot at the 2014 Democratic nominee. Cristinia Crippes reported for the Waterloo-Cedar Falls Courier on July 20,
"Pat Murphy cannot be trusted to stand up for women and families across Iowa -- just look at his long record of trying to restrict women's access to health care and put politics in the middle of decisions that should be left between women and their doctors," Emily's List press secretary Rachel Thomas said in a statement.
On July 29, EMILY's List fleshed out that case with a graphic I've enclosed below, highlighting Murphy's "pro-life" votes and statements between 1996 and 2007.
This lifelong Democrat and third-generation supporter of reproductive rights in Iowa has one question for the EMILY's List strategists: Do you really want to go there?
Holding any legislator accountable for his voting record is 100 percent fair. Because I wasn't living in Iowa during the 1990s, I didn't remember that Murphy supported several bills pushed by anti-abortion activists and signed into law by Governor Terry Branstad: a 1996 parental notification bill, a 1997 measure on statistical reporting of abortions, and a 1998 ban on so-called "partial birth abortion." Informed voters who identify as pro-choice should take those votes into account.
My problem with the EMILY's List attack is twofold.
1. Why do they ignore Murphy's record on reproductive rights during the last decade, particularly at the peak of his political power, when he served as Iowa House speaker?
2. Why would they frame this race in terms of "long records" when Murphy has been pro-choice longer than Vernon has been a Democrat?
Murphy's record on women's access to health care
I don't agree with any of the votes that helped Murphy gain a perfect rating from Iowa Right to Life during the first half of his legislative career. But judging Murphy on those actions alone would be like bashing him and Senate Majority Leader Mike Gronstal for helping to pass Iowa's Defense of Marriage Act in 1996, ignoring the fact that they welcomed the Iowa Supreme Court's 2009 decision to strike down that law and repeatedly prevented a constitutional amendment to ban same-sex marriage from coming to the Iowa House or Senate floor afterwards.
A balanced assessment of Murphy's record on reproductive rights would cover what happened when he was in a position to set the legislative agenda as Iowa House speaker from 2007 through 2010.
Responding to the first salvo from EMILY's List, Murphy told the Waterloo-Cedar Falls Courier's Crippes,
"I've had a very strong record when I was speaker of the House of protecting women's rights," Murphy said Friday [July 17]. "We expanded stem-cell research. We expanded family planning services and we also passed legislation that required school districts to teach age-appropriate sex education, and those were all three things that women's groups wanted."
Murphy added that
he has had a strong record on abortion rights for the past "12 or 13 years" he was in the Legislature.
An e-mail blast from Murphy's campaign to supporters on July 24 expanded on that case. Excerpts:
In the past few days I've been told Monica Vernon and her allies are making phone calls and putting out press releases claiming I'm "anti-family" and "anti-woman". In fact, they attacked me before I even got in the race. You and I both know my record of standing up for middle class women is strong and her claims couldn't be farther from the truth.

So I need your help to set the record straight. I don't have the ability to self-fund my campaign like Monica (or Rod Blum) or have deep pockets like her DC allies, but I have you. [...]

In the Iowa House, I wrote the law that guarantees access to health insurance for every child in our state. I led the successful fight to raise the minimum wage, passed the nation's first pay equity law for women and voted to protect abortion rights for women across the state, no matter where they live. And as Speaker of the House, I stopped every attempt by right wing conservatives to affect women's healthcare choices.

Iowans deserve better than a campaign of misinformation, funded by an avalanche of outside cash. [...]

P.S. - Here's my real record on women and families. Help spread the word about it today:

1990 - Votes to require insurance coverage for newborns and well-baby care for first 6 months

1991 - Sponsors universal healthcare plan

1992 - Sponsors mandatory maternity leave bill

1995 - Co-sponsors Equal Rights Amendment Bill

1996 - Votes to make sure child care workers checked against sex offender registry

1997 - Again co-sponsors Equal Rights Amendment Bill

1998 - Votes for low income tax credit

1998 - Votes for increase to child tax credit

1999 - Advocates using tobacco trust fund money to increase medicaid reimbursements

2000 - Votes to prevent insurers from denying contraceptive coverage

2000 - Sponsors equal pay law

2000 - Sponsors bill to provide unemployment for women who miss work because of domestic violence

2002 - Writes Hawk-I bill to cover uninsured kids

2006 - Votes to increase the minimum wage

2007 - As Speaker, House increases the minimum wage

2007 - Votes to establish pre-kindergarten in Iowa

2007 - Votes to increase the earned income tax credit for all families

2008 - Worked to keep sex offenders away from daycare centers

2008 - Votes to extend health insurance coverage to all Iowa kids by 2011

2009 - As Speaker, House passes nation's first equal pay law

2006-2010 - As Speaker, stops every attempt by right wing conservatives to affect women's healthcare choices

2014 - Defends every Iowa woman's right to choose, no matter where they live
That last point refers to the Iowa House approving a ban on "telemedicine" abortions in February 2014. A few Democrats voted for that legislation, but Murphy stood with the majority of his caucus in voting against it. Incidentally, that bill died in the Iowa Senate, but even if it had reached Governor Terry Branstad's desk, the ban would not have lasted long. The Iowa Supreme Court has since unanimously declared unconstitutional an administrative rule banning Iowa women from using telemedicine to receive abortion services.
Murphy didn't mention it in his timeline, but to his credit, he voted against a 20-week abortion ban in 2011. Four of his fellow Iowa House Democrats supported that bill.
Other points Murphy didn't highlight in that timeline but noted while speaking to Crippes: under his leadership, the Iowa House supported stem-cell research, expanded contraception funding, and passed a law on age-appropriate sex education (not abstinence-only). As an active supporter of Planned Parenthood, I remember that the pro-choice community greatly appreciated those steps. To my knowledge, no legislation seeking to restrict abortion rights even got out of an Iowa House committee during Murphy's years as speaker.
Look at how EMILY's List annotated a Murphy campaign graphic for a July 29 e-mail to the PAC's supporters (subject line, "Pat Murphy's real record"):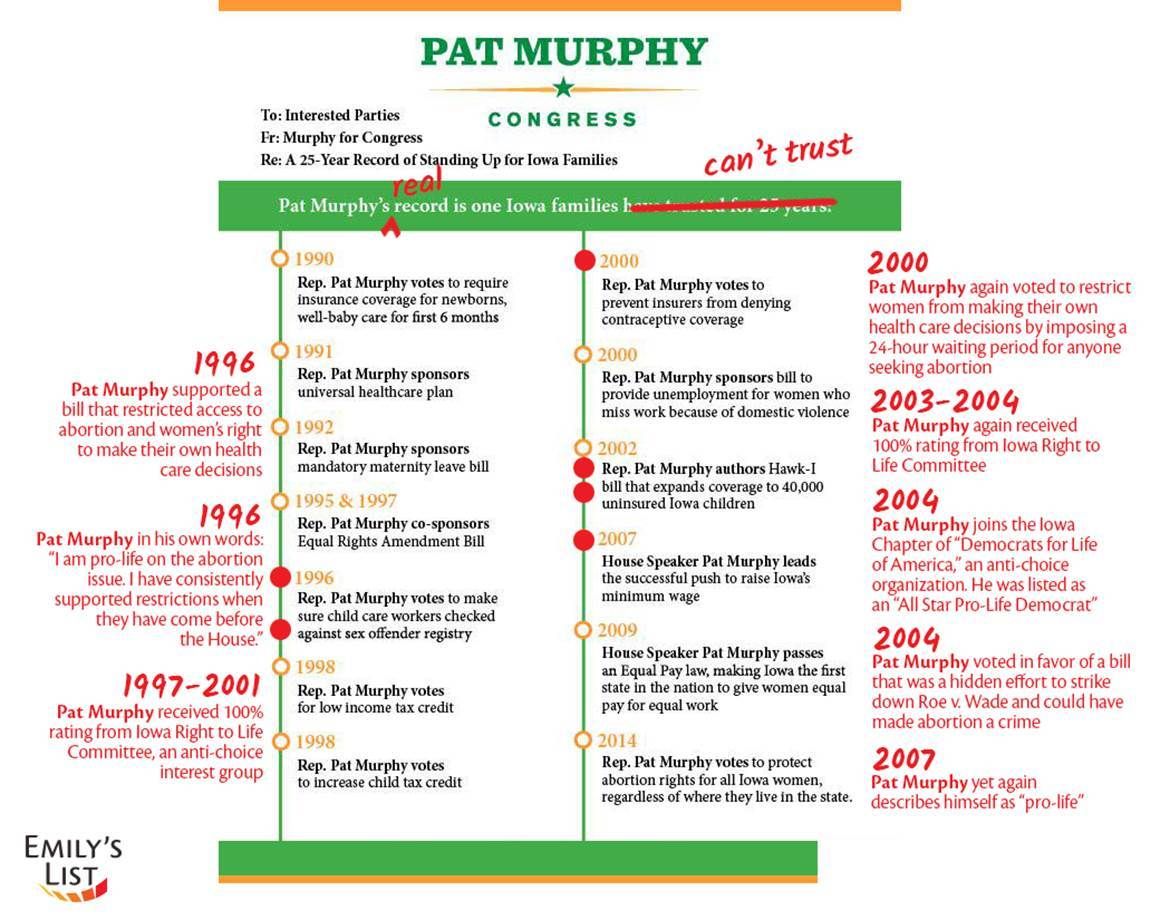 The notes in red are true, but they don't represent the whole truth. Deciding whether to trust someone is a personal decision, and reasonable Democrats will differ on what actions constitute deal-breakers. Those who would paint Murphy as untrustworthy on women's issues should highlight the inconsistencies, rather than cherry-picking the worst moments from his record.
EMILY's List strategists may not appreciate how much growing up in Dubuque and representing its residents shaped Murphy's early political views. Although I haven't spent much time in Dubuque, I have family roots in Sioux City, which has a similar political culture when it comes to reproductive rights. My grandmother was active in the Sioux City Maternal Women's Health League, which later became a founding organization for Planned Parenthood of Greater Iowa. During the 1940s, the Sioux City Maternal Women's Health League was mostly trying to educate married women about family planning and make contraception available to them. It's hard to imagine now how controversial--even radical--those ideas seemed to many Sioux Cityans a few generations ago.
Like Sioux City, Dubuque has always been a more difficult place for Planned Parenthood to operate than Cedar Rapids, where Vernon has spent most of her life.
Dubuque isn't an easy place to be a "loud and proud" supporter of women's access to abortion either. Murphy isn't the first Democrat from there to evolve from a "pro-life" to a "pro-choice" position. I still believe Iowa Attorney General Tom Miller would have won the 1990 gubernatorial nomination if he had not been against abortion rights at that time. (I also believe Miller would have had an excellent chance to beat Branstad that year, but that's a counter-factual discussion for another day.)
Bottom line: it's fair for EMILY's List to point out that Murphy hasn't always supported reproductive rights and recruited quite a few anti-abortion Democrats to run for the Iowa House, including after he changed his own views on the issue. To speak of Murphy's "long record of trying to restrict women's access to health care" overstates the case, though, to the point of misleading voters.
I also fail to comprehend why a group supporting Vernon would want to impose some lifelong purity test on Democratic candidates in IA-01.
The elephant in the room
EMILY's List exists to "elect pro-choice Democratic women to office."
Vernon was famously a registered Republican until 2009.
When Murphy was a "pro-life" Democrat in the Iowa House, Vernon was giving money to Republican candidates Phil Gramm and Tom Latham. Her husband has donated to many more GOP candidates and committees over the years, most recently to Representative Paul Ryan in 2014.
Murphy's supporters hammered at Vernon's political history during the 2014 primary. Every sign points to the same strategy this time around. In a July 29 e-mail to supporters, Murphy recalled door-knocking for Democrats with his dad at age 9 in 1968. The same e-mail included a photograph of Murphy's first voter registration card, showing his affiliation with the Democratic Party. A page on the campaign website lists all of Murphy's campaign contributions over the years, invariably to Democratic candidates or committees.
One point you won't hear from Murphy: two of the Democrats he recruited to run successfully for the Iowa House later defected to the Republican Party (Doug Struyk and Dawn Pettengill). Talk about a dubious distinction. CORRECTION: According to Murphy's campaign, then House Minority Leader Dick Myers recruited Struyk, not Murphy.
Anyway, I assume Murphy is emphasizing the "always been a Democrat" theme because of data gleaned from his recent poll of Democrats in the district. According to Murphy's campaign, that survey showed the 2014 nominee with "a double digit lead in a two-way race with Vernon (51% to 40%), and expanding that lead further after voters heard balanced negatives about both candidates (57% - 35%)." That poll's questionnaire has not been made public, so we can only guess what those "balanced negatives" were. Still, Murphy would likely come out of the gate with what he feels is his strongest argument against the front-runner for the 2016 primary.
As mentioned above, voters have vastly different beliefs on what matters in a candidate's past. Learning that Vernon continued to identify with the GOP throughout George W. Bush's presidency will no doubt hurt her with many Democrats.
In fairness to Vernon, candidates can't win elections only with Iowans who have always favored the same political party. Lots of former Republican moderates have joined the Democratic fold. I say the more, the merrier. During the fall of 2012, I knocked on doors and mailed postcards for Susan Judkins, the Democratic candidate in my Iowa House district. She had served on the Warren County GOP Central Committee a decade earlier.
As the Democratic Party's nominee for Iowa lieutenant governor in 2014, Vernon did plenty to show she has rejected her former party's views. So I'd rather hear a more substantive case for why Murphy's a better candidate for IA-01 than "she used to be a Republican."
The reality remains: as EMILY's List asks Democratic voters to hold a grudge over Murphy not always being pro-choice, the PAC's leaders should recognize the questions that strategy will raise about Vernon's former political status.
Final note: I didn't endorse a candidate in this district's 2014 Democratic primary, nor do I plan to do so this cycle. Let the candidates duke it out and let the best Democrat go on to beat Rod Blum.
Any comments about the IA-01 race are welcome in this thread.
P.S.- Speaking of questionable campaign rhetoric, I was disappointed by the Murphy campaign's fundraising e-mail from July 28:
We have great news to share. A new poll shows Pat with a resounding lead in the primary. One leading news site trumpeted that the numbers are, "certainly encouraging news for Murphy."

Despite six months of heavy campaigning by his opponents, Pat leads the field with 43% of the vote, nearly 10 points ahead of his nearest rival. And in a two-person race, Pat surges to an insurmountable 51% of the vote.

But only a well-funded campaign can finish the job and give Democrats the progressive voice they need against Rod Blum. Can you give today?

Pat is the only candidate, on either side of the aisle, who's been leading on Democratic causes for Iowans from day one. He's helped pass a raise in the minimum wage, wrote the law giving healthcare to Iowa children, stopped conservatives from dismantling the civil rights of LGBT Iowans and protected every Iowa woman's right to choose. You don't need to wonder if his progressive values are real or how he'd vote in Washington - just look at his record.

But the work's not done. Give today and send a resounding message that progressive Pat Murphy has the Democratic values we need to take on Rod Blum.

Thanks,

Murphy for Congress Team

P.S. Please help spread the good news. Forward this email to friends and family. And don't forget to donate to Pat's campaign today!
What poll? I hadn't seen anything in the news these past few days. Didn't take long to confirm that the "new poll" was the survey Murphy's own campaign commissioned while he was considering whether to run for Congress again. Murphy's team released partial findings from the internal poll (including the 10-point lead over Vernon and the 51 percent for Murphy in a hypothetical two-way race) two weeks ago. The "leading news site" refers to a post Pat Rynard published at Iowa Starting Line on July 15. Here's the full sentence:
Obviously any candidate-sponsored poll should be taken with a grain of salt, but the results are certainly encouraging news for Murphy.
A casual reader of Murphy's e-mail would assume the campaign was talking about an independent poll, just released. Ten demerits for trumpeting a poll that was in the field weeks ago as a "new poll." Another ten demerits for not disclosing that your own campaign commissioned that "new poll." Finally, ten demerits for selectively quoting an analyst about how "encouraging" that poll is for Murphy.