A generational battle is shaping up in the Democratic primary to replace State Senator Dick Dearden, who has represented parts of Des Moines in the legislature since 1995. Dearden recently disclosed plans to retire in 2016. Like last year's campaign to replace Jack Hatch in Iowa Senate district 17 on the south side of Des Moines, the June primary will determine Dearden's successor.
Senate district 16 covers heavily Democratic neighborhoods on the east side of Des Moines, and also the growing suburb of Pleasant Hill. A detailed map is after the jump. The latest figures from the Iowa Secretary of State's Office indicate that the district contains 14,624 active registered Democrats, 6,978 Republicans, and 10,106 no-party voters. Dearden was unopposed in 2004 and defeated his Republican challengers by wide margins in 2008 and in 2012.
More candidates may enter the race later, but for now the primary will pit the incumbent's daughter Pam Dearden Conner against labor attorney Nate Boulton. Iowa Labor Commissioner and former Secretary of State Michael Mauro endorsed Conner on Facebook this past weekend. She is his administrative assistant and also worked for him in the Polk County Election Office and the Secretary of State's Office. Many other longtime friends and backers of Senator Dearden have expressed their support for Conner's campaign on social media.
Nate Boulton is a partner in a law firm that has represented Iowa's largest pubic employee union (AFSCME) in several high-profile cases against Governor Terry Branstad's administration. Since last Friday, many Democratic activists in their 20s and 30s have promoted his candidacy on social media. Bouton's on Twitter here, and his campaign is on Facebook here.
I enclose below press releases from each candidate, containing short biographies and statements of values. Both Conner and Boulton have strong pro-labor credentials and are pledging to support consensus Democratic priorities like education. Boulton's statement hints at the case he will make in the primary, promising to "be an active and engaged representative of district interests" and to "bring bold progressive ideas and a fresh, energetic style of leadership to the Iowa Senate." Such phrases allude to the fact that Dearden, while a solid vote in the legislature, has never been at the forefront of progressive fights. In fact, I'm hard-pressed to think of a cause he has led on, besides bringing back dove hunting, which isn't a partisan issue. Dearden didn't accomplish that longstanding goal until Governor Terry Branstad was back in office.
Two (or perhaps more) committed candidates working hard to identify and turn out supporters next June can only help Democratic GOTV in the general election. Here's hoping for a competitive race that doesn't turn bitter and negative, as happened in Senate district 17 last spring.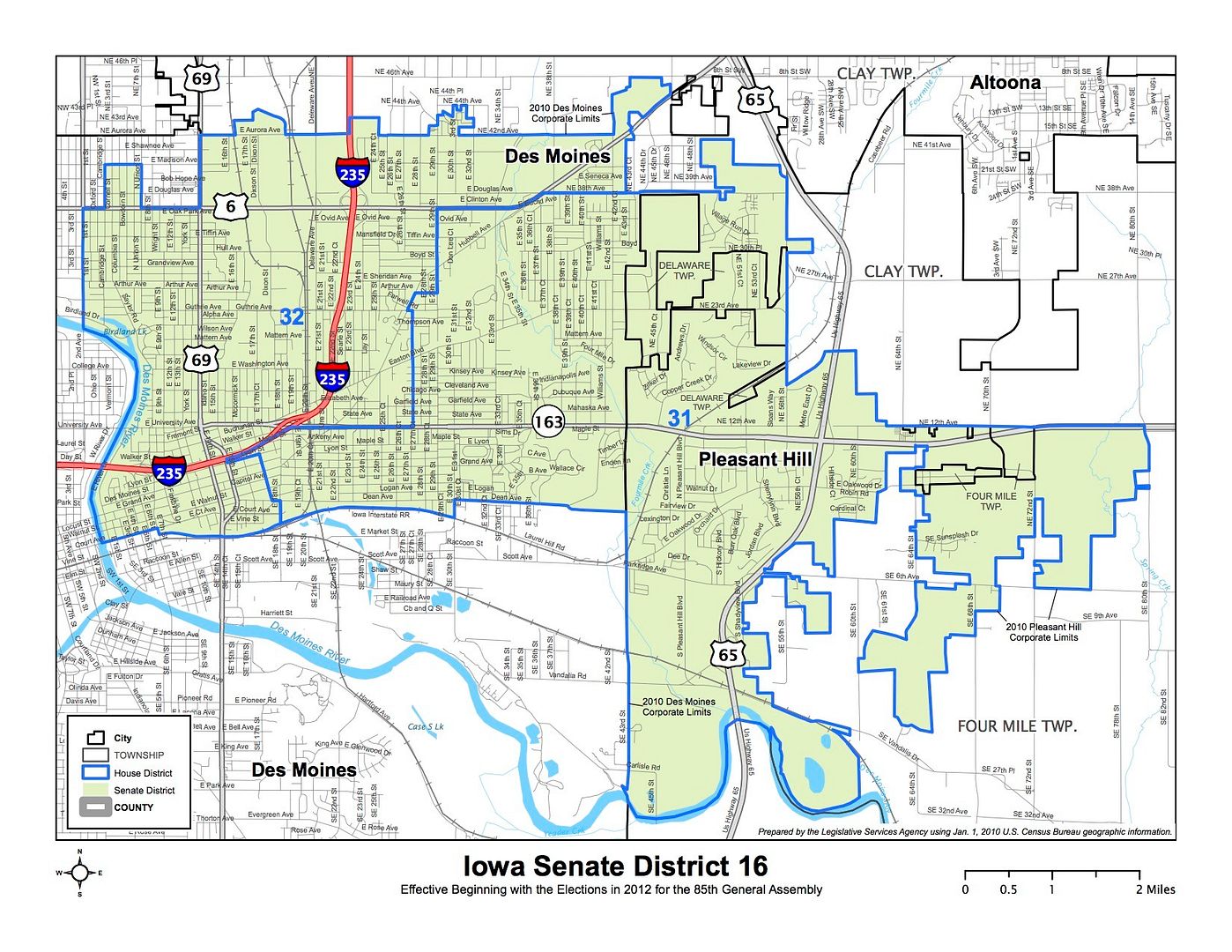 September 25 press release from Pam Dearden Conner:
Pam Dearden Conner Announces Run for State Senator

Des Moines, IA – Pam Dearden Conner, Democrat from Des Moines officially announced today she will seek the Senate Seat currently held by her father Dick Dearden. Senator Dearden has chosen to retire at the end of his current term that expires at the end of 2016.

Pam has worked in Public Service for over 35 years. She worked for the Polk County Clerk of Court and Polk County Auditor. She served as a Deputy in the Polk County Election Office and later served as the Deputy for the Secretary of State. She currently works as administrative assistant to the Iowa Labor Commissioner.

Pam's parents Senator Dick and Sharon Dearden raised her and her two brothers David and Mark Dearden to fight for workers and their families, whether it was through the union, civic involvement or the political arena.

Pam believes in supporting working families, increasing the minimum wage and providing a better workplace for all Iowans.

She believes in a strong investment in education and student achievement, job training, and ensuring the safety of students.

Pam's involvement in politics started at a young age with her parents and brothers and still continues today. She was elected a Delegate to the National Convention in 1980 for President Carter. She has served on the Iowa and Polk County Democratic Central Committees and has been a delegate for many years to the county, district and state Democratic conventions.

She belonged to AFSCME 1868 for fifteen years and served on the executive board. She was a delegate numerous times to AFSCME and Iowa Federation of Labor Conventions.

She volunteers for Family Promise and is a member of Lutheran Church of the Cross.

Pam Dearden Conner was born and raised on the Eastside of Des Moines and graduated from East High School. Her and her late husband Tracy continued to live on the eastside where she still resides. She has two step daughters and 9 step grandchildren.
Nate Boulton for Senate press release, September 25:
Workers' Rights Attorney Boulton Launches Iowa Senate Bid

Today, Nate Boulton announced that he is running for State Senate in Iowa Senate District 16, which includes part of east Des Moines and Pleasant Hill. Boulton is a workers' rights attorney, part-time college teacher who lives on the east side of Des Moines. His wife Andrea is the trails coordinator for the Iowa Natural Heritage Foundation, a non-profit organization dedicated to conservation of natural resources and expanding opportunities for outdoor recreation. He now plans to take that career-long advocacy for working families from Iowa's Courtrooms to Iowa's State Senate.

Boulton said he hopes to be an active and engaged representative of district interests in the Iowa Senate as he announced his candidacy. "Now more than ever, we need someone who will take the lead on progressive issues in the Iowa Senate. Someone who will stand up and advocate for expanding workers' rights, growing our economy with quality jobs, restoring educational excellence, and cleaning up our air and water in this state. I am running to be that advocate," said Boulton.

Boulton plans to bring bold progressive ideas and a fresh, energetic style of leadership to the Iowa Senate. "Too often state legislators and Governor Branstad spend time talking about 'values' and then take actions that underfunded education, protect polluters, strip away workers' rights to protect bad employers, and insulate the rich and powerful from responsibility and accountability. Those aren't the values of the Iowans I talk to, and it's time we stand up for our citizens' interests again."

In his law practice, Boulton and his firm have stood up to Governor Branstad when he has abused his veto powers and overstepped the limits of his authority. "When Governor Branstad has overstepped his authority, we've been there to push back. He's done it to hurt some of the people a good government should be there to help, and we've stood up for the unemployed Iowans, persons with mental disabilities, and at-risk adolescents who have been victimized by the unconstitutional implementation bad policy."

Boulton is an attorney at Hedberg & Boulton law firm and part-time college instructor who regularly teaches at Simpson College and has also taught for Drake Law School. He graduated from Simpson College with a degree in history and political science. He earned a Master of Public Administration degree from Drake University and law degree from Drake Law School. In addition to his business and teaching roles, Boulton serves as President of the Iowa Workers Compensation Advisory Committee and is active on numerous boards focused on workplace safety, post-secondary education, legal/judiciary issues and service to Drake University and Simpson College. He is also an avid marathon runner.

Boulton plans to run a grassroots campaign for the Iowa State senate and will engage voters one-by-one in their homes. "I want this campaign to be a direct, personal conversation with people about the changes they want and need from our state government. That starts here today with my friends and neighbors."