Former State Representative Ray Zirkelbach is officially exploring a candidacy for U.S. Senate in 2016, James Q. Lynch reported for the Cedar Rapids Gazette on November 7.
Although the field is getting crowded — former legislators Bob Krause of Fairfield and Tom Fiegen of Clarence, and State Sen. Rob Hogg of Cedar Rapids have all entered the race — Zirkelbach, 37, believes he'll be the Democratic Party's best candidate to defeat [Senator Chuck] Grassley. His ideas will set him apart from the others, Zirkelbach said. [...]

"It's about progress," he said.
First elected to the Iowa House in 2004, Zirkelbach served three terms before losing his 2010 re-election bid. He missed the 2006 and 2007 legislative sessions, because his Iowa Army National Guard unit had been called up to serve in Iraq.
I have not seen a website or Facebook page for Zirkelbach's U.S. Senate exploratory committee yet, but will update this post as needed. In lieu of an up to date official bio, I have posted the "member profile" that appeared on the Iowa House Democrats website during Zirkelbach's third term. Zirkelbach's Twitter account hasn't been active since 2009; his personal Facebook feed is here.
I struggle to understand why Zirkelbach would run for Senate when we already have three progressive Democrats in the field, including one (Hogg) with a much stronger background of legislative accomplishments.
Meanwhile, to my knowledge, Democrats have no declared candidate against GOP State Representative Lee Hein in Iowa House district 96, where Zirkelbach lives (a map is at the end of this post). Hein defeated Zirkelbach in the 2010 wave election, and Democrats didn't field a challenger against him in 2012 or 2014. Taking on the incoming House Agriculture Committee chair would be a long-shot race; House district 96 leans to the GOP with 4,386 active registered Democrats, 5,761 Republicans, and 8,483 no-party voters according to the latest figures from the Iowa Secretary of State's office. But Zirkelbach would be much better positioned to defeat Hein than Grassley.
UPDATE: Pat Rynard spoke to Zirkelbach about his Senate bid. Added excerpts to that post below.

From Iowa Starting Line's November 9 post about Zirkelbach's candidacy:
"I'm not a politician, I'm a worker, and I like to work," Zirkelbach told Starting Line last night, presenting himself as someone who can work across party lines to get things done. "I'm able to move above the whole left and right spectrum. That's the way I always legislated." [...]

"I was progressive before progressive was cool in the legislature," Zirkelbach says of his appeal for the primary campaign. "You see these people try to tag themselves as progressive, but I don't know if they fully understand what that means … it has to be absolutely organic."

Looking ahead to Grassley, the 37-year-old Zirkelbach who has two young children thinks he can offer a generational contrast.

"We're going to make it about ideas, and I'd like to see Senator Grassley bring his ideas to the table, fresh ideas, new ideas," he says. [...]

"We're going to bring Iowans with ideas, Iowans who have shown that they're proven progressives [to the campaign]," Zirkelbach says of how his campaign will compete in the primary to get his name across the state. "We're going to break away from the establishment, we're going to bring fresh faces into the game. I'm lining up advisers statewide right now, to be an Iowa-based, organically cultivated campaign. We don't want to run with the establishment, we want to run outside of the establishment and show that there is something new. Yeah, I'm a Democrat, I identify with Democrats for many, many reasons, however, it's just a label that unfortunately has to be placed on us in order to politically lead in this nation."
"Member profile" of Zirkelbach from the Iowa House Democrats website in 2009:
Ray was born in Manchester and raised in Scotch Grove, Iowa. Ray graduated from Monticello High School. He graduated from the University of Wyoming with a BA in Administration of Justice. After graduation, he began his career in corrections as a correctional officer at the Anamosa State Penitentiary.

Ray and Emily Hartkemeyer, who is a Registered Nurse at the University of Iowa Hospitals and Clinics, were married in December 2002. She attended Monticello High School and Northeast Iowa Community College. Emily is employed at the University of Iowa Hospitals and Clinics as a RN. Ray and Emily have two children, Claire and Owen.

In 2005, Ray was called to active duty by the US Army and began serving in Iraq, and consequently he missed the 2006 and 2007 legislative sessions. He is a retired Infantryman with CO A 1/133rd Infantry in Dubuque, IA. He is a Veteran of Operation Enduring Freedom. He received the Purple Heart for wounds received in Combat in August 2006 in the Al Anbar Province of Iraq. He retired from the National Guard in February 2009.

Ray attends Peace United Church of Christ in Monticello. He is a charter, and lifetime, member of the Monticello AMVETS. He is a part of Monticello's Drill Team, Olin American Legion and the VFW. He is also a charter member of the Monticello Eagles Club and a lifetime member of the Anamosa Penitentiary Museum.
Iowa House district 96 covers all of Delaware County and part of Jones County, including Monticello: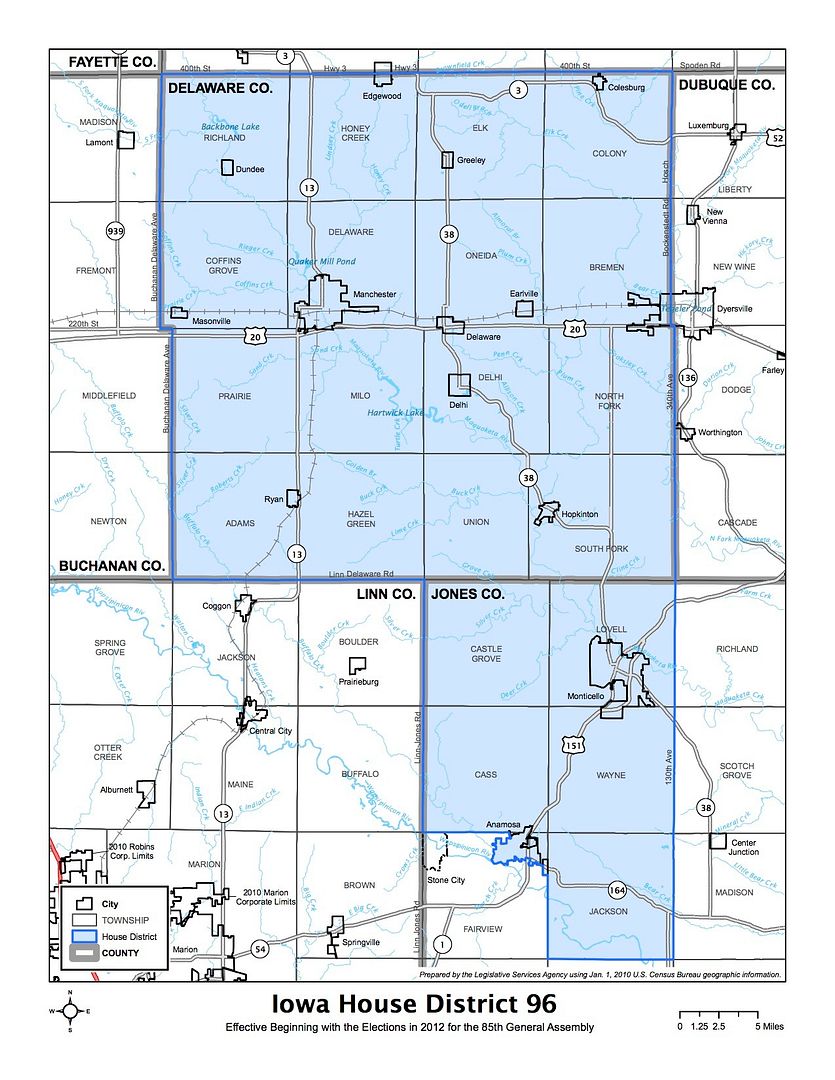 Photo credit: Greg Hauenstein