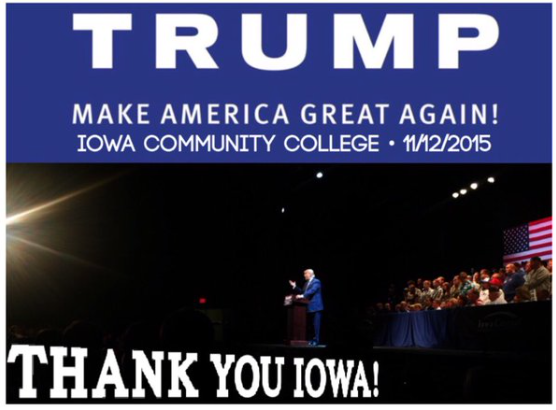 The lede of today's Washington Post front-pager by Philip Rucker and Robert Costa says it all: "Less than three months before the kickoff Iowa caucuses, there is growing anxiety bordering on panic among Republican elites about the dominance and durability of Donald Trump and Ben Carson and widespread bewilderment over how to defeat them."

GOP insiders have long fretted about the party base preferring non-viable candidates. But as Rucker and Costa report,
The apprehension among some party elites goes beyond electability, according to one Republican strategist who spoke on the condition of anonymity to talk candidly about the worries.

"We're potentially careening down this road of nominating somebody who frankly isn't fit to be president in terms of the basic ability and temperament to do the job," this strategist said. "It's not just that it could be somebody Hillary could destroy electorally, but what if Hillary hits a banana peel and this person becomes president?"

Angst about Trump intensified this week after he made two comments that could prove damaging in a general election. First, he explained his opposition to raising the minimum wage by saying "wages are too high." Second, he said he would create a federal "deportation force" to remove the more than 11 million immigrants living in the United States illegally.
Trump's inspiration for the deportation force came from the Eisenhower administration program "Operation Wetback." When Fox News host Bill O'Reilly thinks your proposal is too extreme, it's a bad sign.
"That was brutal what they did to those people to kick them back," O'Reilly said. "The stuff they did was really brutal, it could never happen today."

"We would do it in a very humane way," Trump said.

"I back you on the wall," O'Reilly said. "But I also don't think you could deport these people because the federal courts would stop you… each person has to have due process… you know that!"
Trump didn't seem fazed by O'Reilly, but Dr. Ben Carson's rise in the polls has rattled him. Yesterday, Trump ranted to CNN's Erin Burnett about Carson's self-described "pathological" tendencies:
"I'm not saying anything other than pathological is a very serious disease. And he said he's pathological, somebody said he has pathological disease," Trump said.

"It's in the book that he's got a pathological temper," Trump continued. "That's a big problem because you don't cure that."

Trump then offered the example of a child molester.

"You don't cure these people. You don't cure a child molester. There's no cure for it. Pathological, there's no cure for that," he said.
Trump's attacks on Carson reached another level at a campaign event in Fort Dodge last night.
"So I have a belt: Somebody hits me with a belt, it's going in because the belt moves this way. It moves this way, it moves that way," Trump told the crowd, which laughed in response. "He hit the belt buckle. Anybody have a knife? Want to try it on me? Believe me, it ain't gonna work. You're going to be successful, but he took the knife and went like this and he plunged it into the belt and, amazing, the belt stayed totally flat and the knife broke."

Moments later, Trump told the crowd in Fort Dodge that he could not possibly understand why anyone supports Carson, who is essentially tied with Trump for support in the first-voting state.

"How stupid are the people of Iowa? How stupid are the people of the country to believe this crap?" he asked.
The irony of Trump's rant: "How stupid are the people of the country to believe this crap?" is exactly what so many of us thought during the months that Trump led every poll.
The New York Times' Maggie Haberman speculated that Trump's "lack of experience [with the] rigors of campaign travel may be taking a toll"; he "looks and sounds exhausted in the video." Similarly, the Washington Post's Jenna Johnson observed,
As Donald Trump took the stage in a community college theater on Thursday night, something was off.

The usually punctual executive was nearly 40 minutes late. His voice was hoarse, his hair mussed, his tone defensive. He promised to take questions from the audience but instead launched into a 95-minute-long rant that at times sounded like the monologue of a man grappling with why he is running for president — and if it's really worth it or not. Even for a candidate full of surprises, the speech was surprising.

He scoffed at those who have accused him of not understanding foreign policy, saying he knows more about Islamic State terrorists "than the generals do." He took credit for predicting the threat of Osama bin Laden and being right on the "anchor baby situation," a position he says "these great geniuses from Harvard Law School" now back. He uttered the word "crap" at least three times, and promised to "bomb the s—" out of oil fields benefiting terrorists.
Logic suggests that calling the electorate "stupid" will backfire on Trump, rather than taking down Carson. Then again, all of Trump's ridiculous and offensive statements that "went too far" this summer served only to improve his favorability ratings with conservatives. I have no idea how rank-and-file Republicans will view the latest rant.
Meanwhile, Carson continues to demonstrate that he has neither a strong knowledge base nor a coherent political ideology. Pat Rynard covered some of Carson's recent missteps at Iowa Starting Line:
All of the red flags of Ben Carson being a horrible candidate and likely fraud are there for all to see:

• He makes nearly any incendiary statement a reporter leads him into, then occasionally apologizes afterward.
• He believes bizarre theories, like that the Egyptian pyramids were used for grain storage, an idea rejected by anyone who's actually, you know, studied the pyramids.
• His campaign purchased a very expensive tour bus once owned by Maya Angelou, yet barely ever uses it.
• Carson took off weeks from the campaign trail to do a book tour, right as he was gaining momentum.
• In fact, he rarely campaigns in person at all in the early states, gone from Iowa for nearly two months at one point in the early fall.
• He was involved for years with a medical supplier accused of false advertising.

None of these are hallmarks of a true-believer conservative warrior who can lead the movement to victory in either a primary or general election, much less someone who can articulate the message to the American people like Ronald Reagan once did. It's the calling cards of a con man. But it's all OK because he's under attack by the "liberal media?" Or because he was mean to Obama's face at the National Prayer Breakfast years ago?

Carson is not simply making a fool of himself, his candidacy is making a laughing stock of the entire conservative movement.
Speaking of con men, Michael Biesecker and Eileen Sullivan reported for the Associated Press yesterday that Carson and his wife "have kept millions invested with a close friend who admitted defrauding insurance companies."
Pittsburgh dentist Alfonso A. Costa pleaded guilty to a felony count of health care fraud after an FBI probe into his oral surgery practice found he had charged for procedures he never performed, according to court records.

Though the crime carries a potential sentence of up to 10 years in federal prison, Costa was sentenced to house arrest and probation after Carson helped petition a federal judge on behalf of the man he described as "one my closest, if not my very closest friend."

That's different from the position Carson later took as he prepared to launch his presidential campaign. In his 2013 political treatise, "America the Beautiful," Carson wrote that anyone found guilty of health care fraud should face the "Saudi Arabian Solution." […]

Despite that tough-on-crime message, records show Carson and his wife have maintained their business relationship with Costa in the years since the dentist's 2007 conviction. The breadth of the two men's business ties has not been previously reported, partly because details can be obscured in property and incorporation records.
The Democratic Party has some big problems in down-ballot races, as Eric Ostermeier and Matthew Yglesias recently noted. But I don't envy Republicans going into 2016. Three of their top four candidates according to most national polls would likely lose in landslides, potentially dragging down the whole GOP ticket in swing states.
Any comments about the presidential race are welcome in this thread, particularly thoughts about which Republican would win the fewest electoral votes against Hillary Clinton: Trump, Carson, or Ted Cruz.
Photo: screenshot from a Donald Trump tweet after his Fort Dodge event on November 12