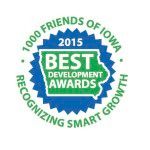 The deadline is approaching for Iowans to nominate projects for 1000 Friends of Iowa's Best Development Awards. Since 2005, the awards have recognized good development and planning practices by cities, companies, non-profit organizations, or local leaders.
I have long been involved with 1000 Friends of Iowa, though I have no role in selecting the award winners. The external panel of judges will look for buildings and projects that "help advance sustainability across our state by considering site placement, design, water efficiency, energy management, materials and resources used, indoor environmental quality, public use, and long-term benefits." There's no fee to apply for an award in any of the following categories: New Residential, Renovated Residential, New Commercial/Civic, Renovated Commercial/Civic, Mixed Use, Leadership, or Storm Water Management. Click here to download an application form to submit by December 15.
Every year I am inspired to read about the latest batch of Best Development Awards. After the jump I've posted summaries of the winning projects from 2014. You can find full descriptions and photos of them all here, including bullet points on "smart growth principles" that impressed the judges. Complete archives on all the Best Development Awards from the past decade are available at the 1000 Friends of Iowa website.
Bonus trivia for Iowa politics junkies: the Green Pilot Streetscape Project in West Union (Fayette County), which won the 2014 Best Development Award in the Renovated Commercial/Civic category, indirectly spawned the bogus "heated sidewalks" claim that became one of the big lies of the 2010 general election campaign.

Highlights from 1000 Friends of Iowa's 2014 Best Development Awards:
New Residential: Madison Flats, Des Moines
Neighborhood Development Corporation (NDC), with Ask Studio, cleaned up a contaminated site to build sustainable, affordable housing and spark further developments in a blighted neighborhood with potential. Located across the river from Principal Park, the 2014 Best Development Award jurors appreciated that Madison Flats is positioned to make a "catalytic impact in the Two Rivers District, encouraging other good projects in the area," as one juror stated.
Renovated Residential: (Co-Winners) 1924 Leyner Street, Des Moines & 4818 Urbandale Avenue, Des Moines
The restored Victorian-era bungalow located at 1924 Leyner Street in Des Moines is the co-winner of 1000 Friends of Iowa's 2014 Best Development Award in the Renovated Residential category. A project by Indigo Dawn, the dilapidated home was relocated and completely updated using multiple sustainable building practices. The house was transformed from a 750 square foot two bedroom to a beautiful 1,500 square foot home with a basement, porch and upgraded amenities. The ambitious, co-operative project revitalized a home in need, its surrounding area and its inhabitants' future. [...]

The home located at 4818 Urbandale Avenue in Des Moines [...] is a shining example of how one person's passion can make a difference that inspires a community. Not deterred by gaping holes in the roof, a crumbling garage, and a bathtub ready to fall through the floor, David Barzen of Sterling Investments recognized that the 1920 Beaverdale Craftsman home had "good bones." The neighborhood nuisance property is now home to a grateful family.
New Commercial/Civic: Viking Center, Stanton (Montgomery County)
A strong group of Stanton residents persevered over seven years to plan, build and dedicate the City's Viking Center, a public building featuring a preschool, library, wellness center, walking track, gymnasium, multi-purpose community room and 625-person tornado shelter. The community-led project in a town with a population of 700 attracted donations from 400 families, individuals, grants and foundations. A human chain, formed of over 400 persons, passed books from the old library to the new Viking Center. The line of school kids, senior citizens, parents, teachers and others stretched six blocks, with hands moving books from person to person. "There were many excellent nominations this year," states Best Development Awards program director Siobhan Spain. "The depth of collaborative, community impact resulting from the Viking Center project won over the jurors and exemplifies what these awards are all about."
Renovated Commercial/Civic: Green Pilot Streetscape Project, West Union (Fayette County)
A RAGBRAI event motivated community members to turn a standard streetscape infrastructure project into a transformational sustainable revitalization. With a population of less than 2500, West Union established their own "first principles" for the endeavor, which prioritizes a collaborative process, sustainable community investment, a vibrant economy for Northeast Iowa, and additional goals that align with smart growth development concepts. The project has clearly inspired West Union, and those beyond Iowa's boarders, about the possibilities small towns across the nation are able to access when pursuing smart growth initiatives as a community.
Mixed Use: 421 Main Street, Slater (Story County)
Small towns across Iowa are frequently forced to deal with abandoned buildings that pose environmental, economic and safety risks to their community. In 2006, a dilapidated vacant building in Slater collapsed leaving a large clean-up bill, public safety and health concerns, and an economic development void. With the help of Iowa Department of Natural Resources' Brownfield Redevelopment Program and Derelict Building Program, Story County Economic Development and Alliant Energy, Slater turned a nuisance into an impactful opportunity. The Best Development Award jurors were enthused about the project, which acts as a beacon for other communities faced with similar challenges.
Leadership: Woodbine Main Street District, Woodbine (Harrison County)
"The multifaceted, community-led project made an indelible impression on the jurors, who were quick to declare it the winner of this year's Leadership award," stated awards program director Siobhan Spain. Woodbine fulfilled numerous Main Street District projects in order to meet its ultimate goal of successfully serving the community another 150 years. The work began in 2007 when the western Iowa town of 1,500 residents acknowledged their downtown, comprised of three square blocks with 10 vacant and decaying buildings, must be addressed. Prioritizing collaboration, pursuing diverse funding sources and accomplishing project after project has enabled Woodbine to reap the economic and community-building benefits of revitalizing existing assets.