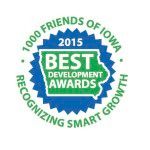 The deadline is approaching for Iowans to nominate projects for 1000 Friends of Iowa's Best Development Awards. Since 2005, the awards have recognized good development and planning practices by cities, companies, non-profit organizations, or local leaders.
I have long been involved with 1000 Friends of Iowa, though I have no role in selecting the award winners. The external panel of judges will look for buildings and projects that "help advance sustainability across our state by considering site placement, design, water efficiency, energy management, materials and resources used, indoor environmental quality, public use, and long-term benefits." There's no fee to apply for an award in any of the following categories: New Residential, Renovated Residential, New Commercial/Civic, Renovated Commercial/Civic, Mixed Use, Leadership, or Storm Water Management. Click here to download an application form to submit by December 15.
Every year I am inspired to read about the latest batch of Best Development Awards. After the jump I've posted summaries of the winning projects from 2014. You can find full descriptions and photos of them all here, including bullet points on "smart growth principles" that impressed the judges. Complete archives on all the Best Development Awards from the past decade are available at the 1000 Friends of Iowa website.
Bonus trivia for Iowa politics junkies: the Green Pilot Streetscape Project in West Union (Fayette County), which won the 2014 Best Development Award in the Renovated Commercial/Civic category, indirectly spawned the bogus "heated sidewalks" claim that became one of the big lies of the 2010 general election campaign.

Continue Reading...