Representative Steve King is among the leading Iowa Republicans basking in reflected glory from Ted Cruz's big win in the caucuses. His endorsement in mid-November was a catalyst for Cruz's rise in the Iowa polls. He ran interference when Cruz came under attack for his stands on the ethanol mandate and an amendment to a 2013 immigration bill. In the final hour before the Iowa caucuses convened, King tweeted, "[Dr. Ben] Carson looks like he is out. Iowans need to know before they vote. Most will go to Cruz, I hope." (Today King expressed regret for "any miscommunications" but pointed to a CNN story asserting that Carson was planning "a break from campaigning.")
Cruz's win after trailing in the last ten polls before the caucuses cements King's status as a hero to many Iowa Republicans. By the same token, King has disappointed some conservatives who supported him in the past.
In particular, King's efforts on behalf of Cruz made an enemy out of Nick Ryan, who has led various super-PACs and dark money groups. Ryan is looking for a credible candidate to challenge King in a GOP primary to represent Iowa's fourth Congressional district.

Quick background on IA-04: with its huge Republican voter registration advantage, Iowa's most GOP-leaning Congressional district is probably out of reach for any Democratic challenger. Former Iowa First Lady Christie Vilsack, considered a dream candidate by many Democrats, lost to King by more than 30,000 votes during the last presidential election year. Iraq War veteran Jim Mowrer raised more than $2 million for his 2014 challenge to King, but failed to win even 40 percent of the vote that Republican wave election. With all due respect for Kim Weaver, the residents of IA-04 are likely to keep re-electing King as long as he's on the GOP ballot line.
Since last March, Ryan has led the super-PAC Pursuing America's Greatness, which supported Mike Huckabee for president. Pursuing America's Greatness spent heavily before the Iowa caucuses; all of its FEC filings on independent expenditures are available here.
In addition to direct mail and radio or television advertising promoting Huckabee, Pursuing America's Greatness spent substantial amounts attacking Cruz. Three direct mail pieces costing $44,946.72, $22,473.36, and $46,847.16 attacked the Texas senator over issues including his stand on the ethanol mandate and same-sex marriage.
The super-PAC also paid for more than half a million dollars in negative radio or television commercials about Cruz (see filings disclosing $72,500, $31,000, and $427,500 for such advertising). In those spots, "two women bemoan how Cruz 'doesn't tithe' and his wife Heidi worked at Goldman Sachs before the candidate secured a crucial loan guarantee for his 2012 Senate bid." To my knowledge, no Iowa political commercial has focused on a candidate's tithing practices before.
Ryan has taken to Twitter regularly to complain about King since the congressman endorsed Cruz. For instance, "I've given thousands of dollars to Steve King. Spent hundreds of thousands to help him win. What a disappointing waste of money." In addition, he has made clear he will look for another Republican to support in Iowa's fourth district.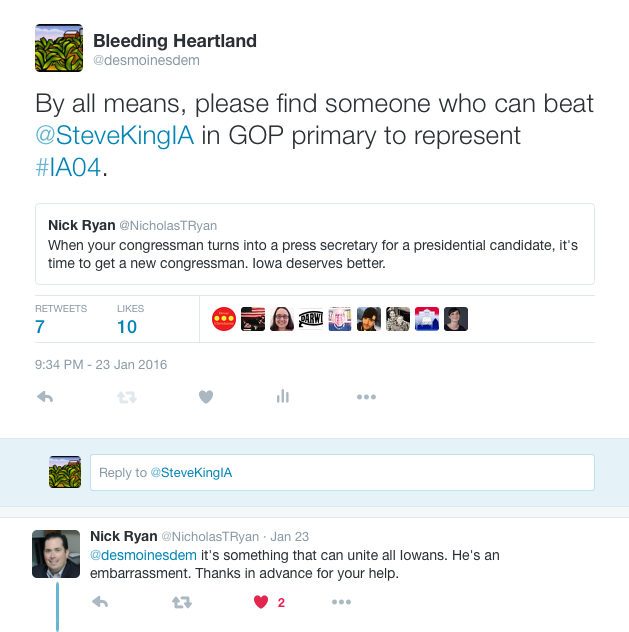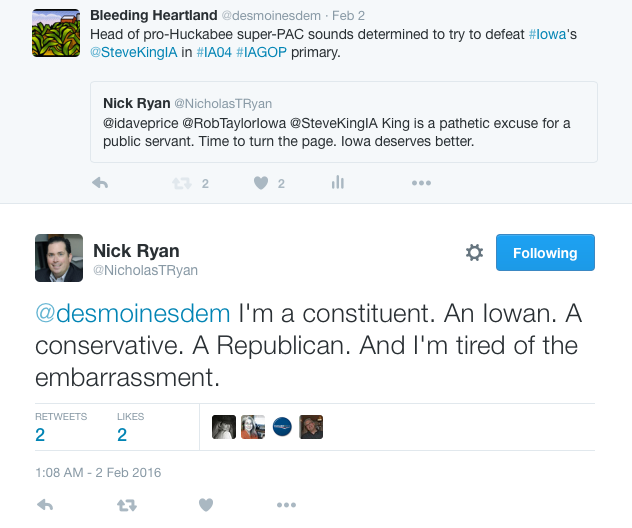 Huckabee ended his presidential campaign on Iowa caucus night, leaving Ryan free to focus his attention on King. Hours after the caucuses were over, Ryan tweeted about "the beginning of the Steve King retirement tour. A page turn is coming." This week he has repeatedly bashed what he calls King's "deceitful & dishonest" behavior on caucus night, when King helped the Cruz campaign spread rumors that Carson was leaving the race. On February 2, Ryan posted, "Ironic that Cruz campaign sends mailers to Iowans accusing them of election violations & it's Steve King who deceitfully commits one." Yesterday Ryan called attention to King missing some votes in the U.S. House.
Anyone can talk trash, but few people in politics have access to the kind of money Ryan does to back up that talk. As leader of the 501(c)4 organization American Future Fund, Ryan orchestrated raising and spending more than $10 million on Congressional races in 2010 and more than $25 million during the 2012 cycle.
In Iowa's first Congressional district alone, the American Future Fund spent more than $1.5 million trying to defeat Representative Bruce Braley in 2010. Republican candidate Ben Lange (whom I viewed as the "luckiest challenger in America" at the time) didn't quite manage the upset. But arguably, Ryan's attacks did lasting damage to Braley's reputation, contributing to the Democrat underperforming in his own Congressional district during his 2014 U.S. Senate bid against Joni Ernst.
I am skeptical any Republican of stature would be willing to run against King in a primary.
I also find it hard to imagine any Republican challenger beating King. After reviewing King's year-end campaign finance report, Ryan tweeted, "Here's some good news…Steve King starts the election year with only $118k cash on hand. Spent $33k hunting pheasants w/campaign $." King's rarely put a lot of energy into fundraising, but he turned up the dial when he needed to against Christie Vilsack. Donations from around the country would pour in if he faced a real threat in this year's primary. Cruz has raised a ton of money since the caucuses, and I believe many of his grassroots supporters would get behind King.
Also worth noting: Ryan's attacks haven't always hit the mark. When the latest round of redistricting threw GOP State Representatives Pat Grassley and Annette Sweeney into the same Iowa House district, the Ryan-led Team Iowa PAC paid for mail and advertising against Grassley before the 2012 GOP primary. However, Senator Chuck Grassley's grandson easily won that race.
Nevertheless, a primary with Ryan backing some challenger to King could become quite a spectacle. Plenty of wealthy establishment types loathe Cruz and feel King's history of offensive comments about immigration hurt the Republican Party.
Final note: speaking to Radio Iowa's O.Kay Henderson yesterday, Governor Terry Branstad slammed the Cruz campaign's "unethical and unfair" tactics regarding the Carson rumors. He added that King's behavior was "inappropriate" and that the congressman "should apologize" for what he said about Carson. Asked whether King should have a primary challenger, Branstad said he's "not recruiting anybody" but added that "a number of people in the renewable fuels industry" are "not happy" with King. If a competitive race develops for the GOP nomination in IA-04, I don't see the governor getting involved. Cruz's big victory already took a toll on his clout. Upsetting King's fans could do collateral damage to Kim Reynolds' prospects in the 2018 gubernatorial primary, whether Reynolds is still lieutenant governor or has succeeded Branstad by that time.
UPDATE: In the comments, Bleeding Heartland user iowavoter notes that David Kruse, "widely known as a commodities broker and speaker to agricultural audiences in Iowa," published a column in a farm newspaper criticizing King on several policy stands and arguing that King hurts the fourth district by being ineffective in Washington.