Who else is sad that the Olympics are ending today? Although we're not big sports fans, all screen time limits in our household go out the window during the winter or summer Olympics. We've been watching for hours every day, despite the poor quality of NBC's broadcasts. I was spoiled by living in Europe during the 1996 and 2000 Olympics. State broadcast networks provided remarkably thorough coverage, not only of their own country's athletes, with no commercial breaks. I was also able to watch some of the more obscure events, which don't receive a lot of attention here. Viewership of the Rio Olympics on NBC was reportedly down 17 percent from the London Olympics in 2012, a "nightmare" for the network. Here's an idea: try more live coverage of more competitors in more events, with less schlock passing for "human interest" features.
While the Olympics are arguably the greatest show on earth, the greatest show in Iowa is certainly the state fair, which also wraps up today. A summer cold kept my family away from the fairgrounds last week, so my kids and I only visited the fair once this year. We still enjoyed the day enormously, and I have no regrets about not trying to follow Republican vice presidential candidate Mike Pence around. I enclose a few photos below. I didn't attempt to take a picture of the guy on the midway wearing a "Hillary Clinton for Prison 2016" t-shirt.
This is an open thread: all topics welcome, especially any favorite moments from the Olympics or the state fair. The huge model train display near the giant slide is one of the most under-rated fair attractions in my opinion. Well worth $2 a person. Looking at a toy train set might not sound that interesting, but the scenes are elaborately constructed, and as you move along, there are lists of things to find in the model (a boy flying a kite, a beekeeper, Superman, a waterfall, etc.). It's a fun game, and the air-conditioned building provides a nice refuge on a hot day. I recently learned that the central Iowa railroad group opens up this exhibit for free on the last Friday of every month from 7 to 9 pm.

The Iowa Democratic Party's booth displayed only positive signs and messages about Democratic candidates for office this year.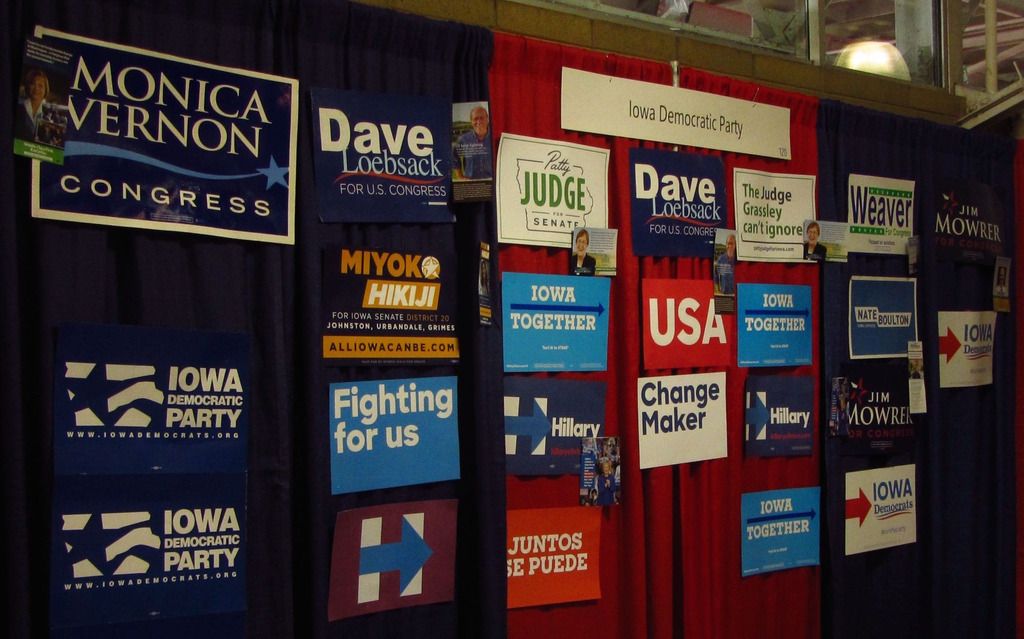 The Republican Party of Iowa's booth had life-sized displays of Donald Trump and "Crooked Hillary." My 13-year-old noticed that some people posing for shots here were pretending to have their hands around Hillary Clinton's neck, as if to choke her. Lovely.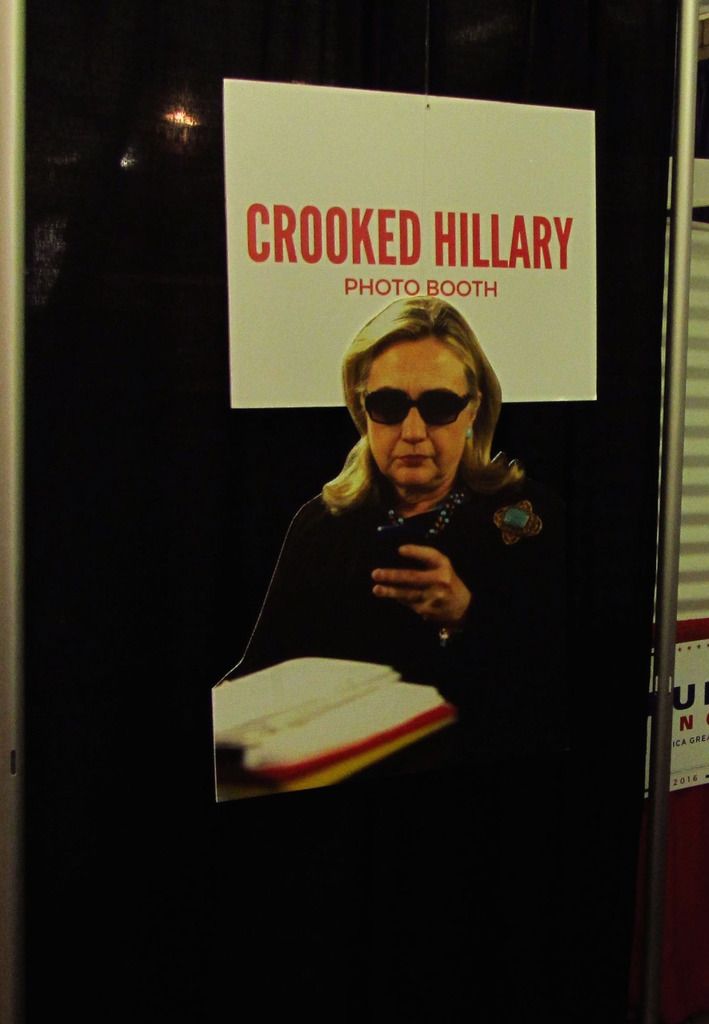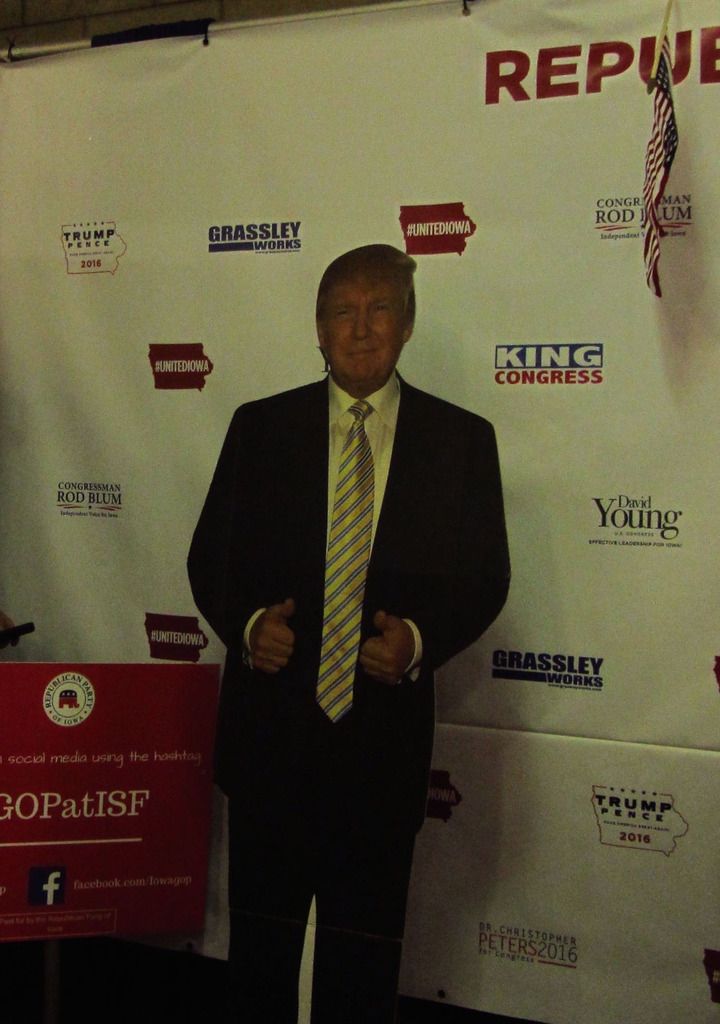 This weekend I noticed this sign on display in a Windsor Heights yard. I know "yard signs don't vote," as campaign staffers will tell you, but this one is eye-catching.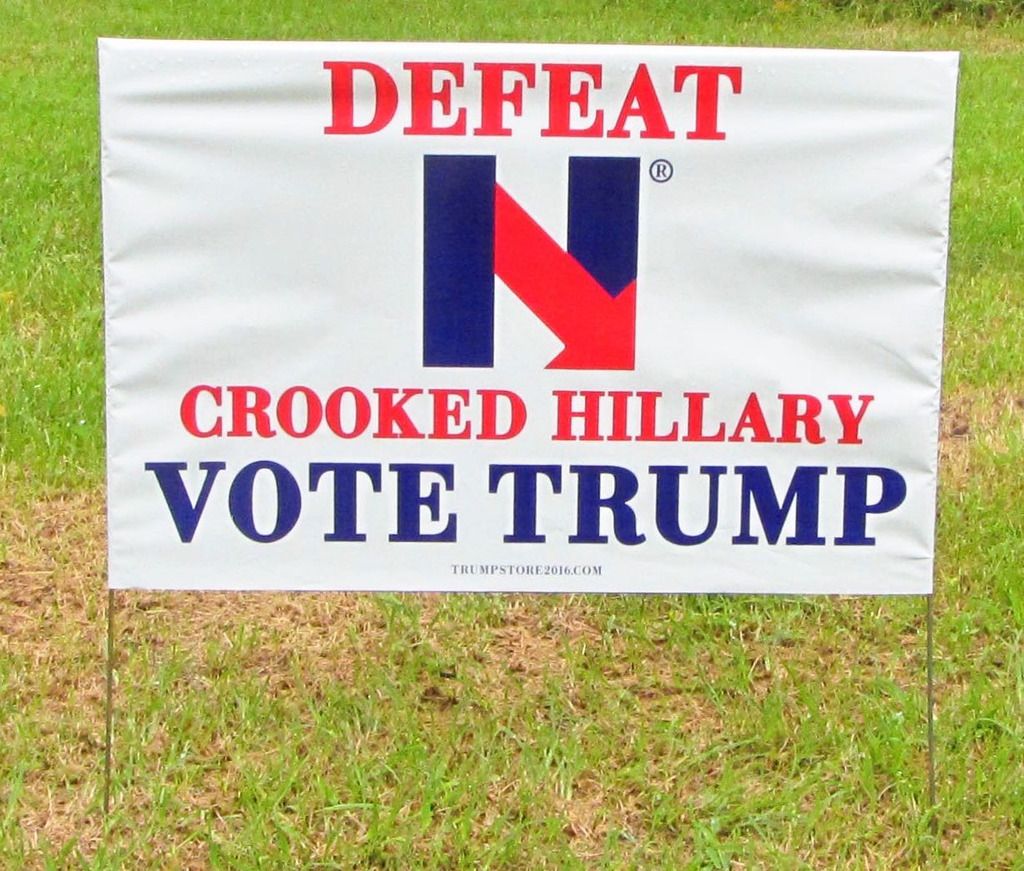 Back to the state fair. Outside the Varied Industries Building, a booth was selling this shirt in several colors and styles: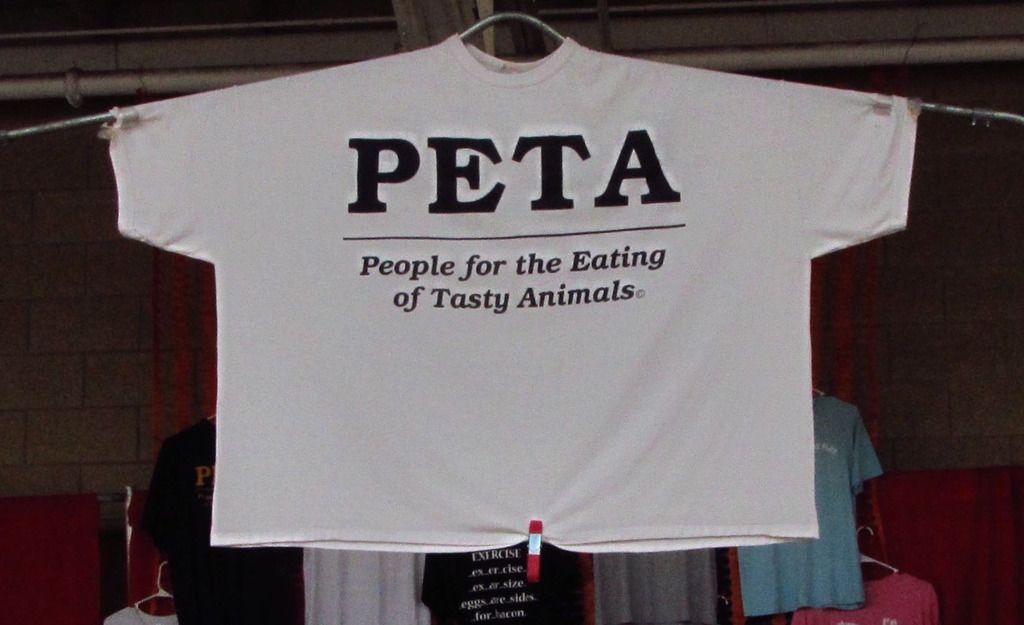 Although I'm not a vegetarian, nor do I find PETA's messaging effective, I've never understood why some people enjoy flaunting that they eat meat. If vegetarians and vegans believe it's ethically wrong to eat animals, I applaud them for walking their talk and living their truth.
top image: Signs on display in the Iowa Democratic Party's booth at the Iowa State Fair.