Who could have predicted that after his poor performance in Monday night's debate, Donald Trump would spend most of the past week re-litigating his fat-shaming of former Miss Universe Alicia Machado, culminating in an overnight tweet-storm that Hillary Clinton described as "unhinged, even for Trump"?
Trump's "aggressive bullying" is textbook behavior for a narcissist--so much that many survivors of domestic violence and emotional abuse found his behavior during the first debate triggering their traumatic memories. Even more disturbing: look how easily Trump fell for the "trap" Clinton set during the debate, validating the narrative that he "lacks the temperament and emotional stability to be president." Foreign adversaries would have a field day manipulating this guy.
No wonder the Arizona Republic, which had never supported a Democrat for president since its creation in 1890, endorsed Clinton this week, saying Trump is "not conservative" and "not qualified."
Today's New York Times features tax documents showing Trump declared a $916 million loss in 1995, which "would have been large enough to wipe out more than $50 million a year in taxable income over 18 years." The Trump campaign did not deny the authenticity of what they called "illegally obtained" documents but said in a statement,
Mr. Trump is a highly-skilled businessman who has a fiduciary responsibility to his business, his family and his employees to pay no more tax than legally required. That being said, Mr. Trump has paid hundreds of millions of dollars in property taxes, sales and excise taxes, real estate taxes, city taxes, state taxes, employee taxes and federal taxes."

Mr. Trump knows the tax code far better than anyone who has ever run for President and he is the only one that [sic] knows how to fix it.
The New York Times scoop doesn't point to any illegal tax avoidance by Trump, but David Fahrenthold's reporting for the Washington Post has uncovered several Trump Foundation practices that appear to violate federal and state law.
Clinton was already gaining ground in some polls before the first debate. As of September 30, she led Trump in all eleven swing-state polls that were in the field after the debate. None were from Iowa, where Trump has led the latest public surveys and is slightly favored, according to various election forecasters. I wonder whether Clinton will get a bounce here as well. I'm disappointed not to see a new Iowa poll by Selzer & Co this weekend. Usually during election years, the Des Moines Register commissions a Selzer poll to run in late September.
Speaking of public opinion, Charles Franklin of PollsandVotes.com gave me permission to post below graphs he created, comparing President Barack Obama's second-term job approval rating with that of Presidents Ronald Reagan and George W. Bush.
This is an open thread: all topics welcome.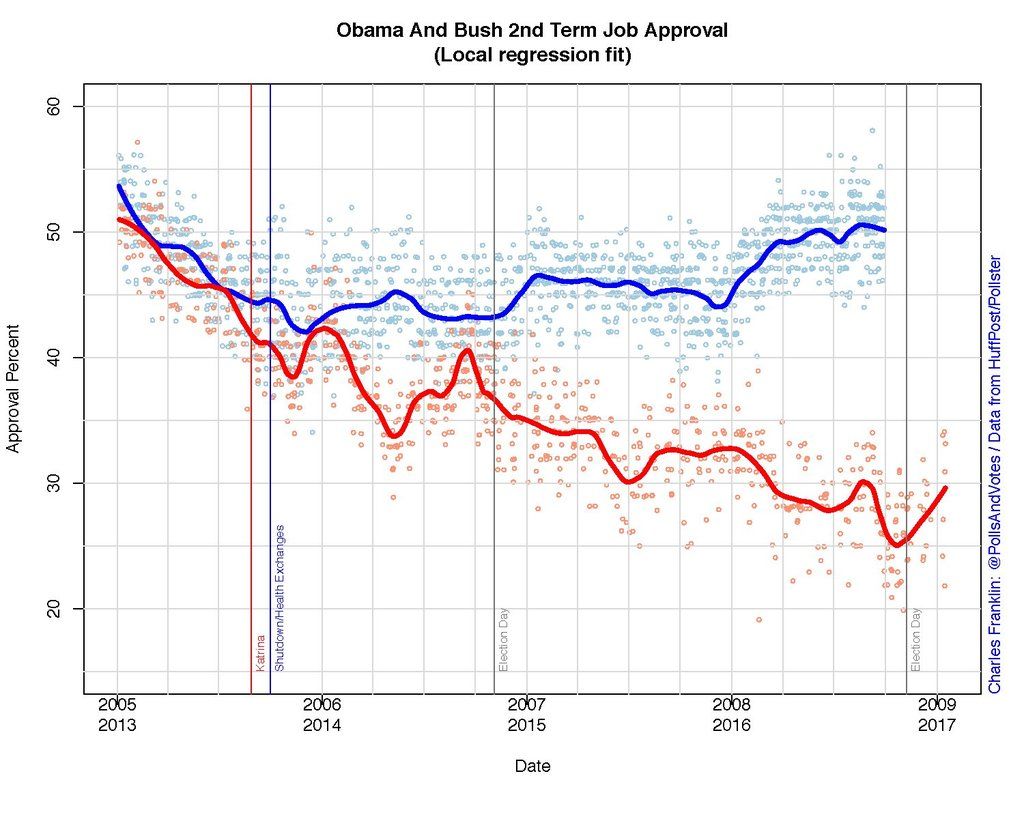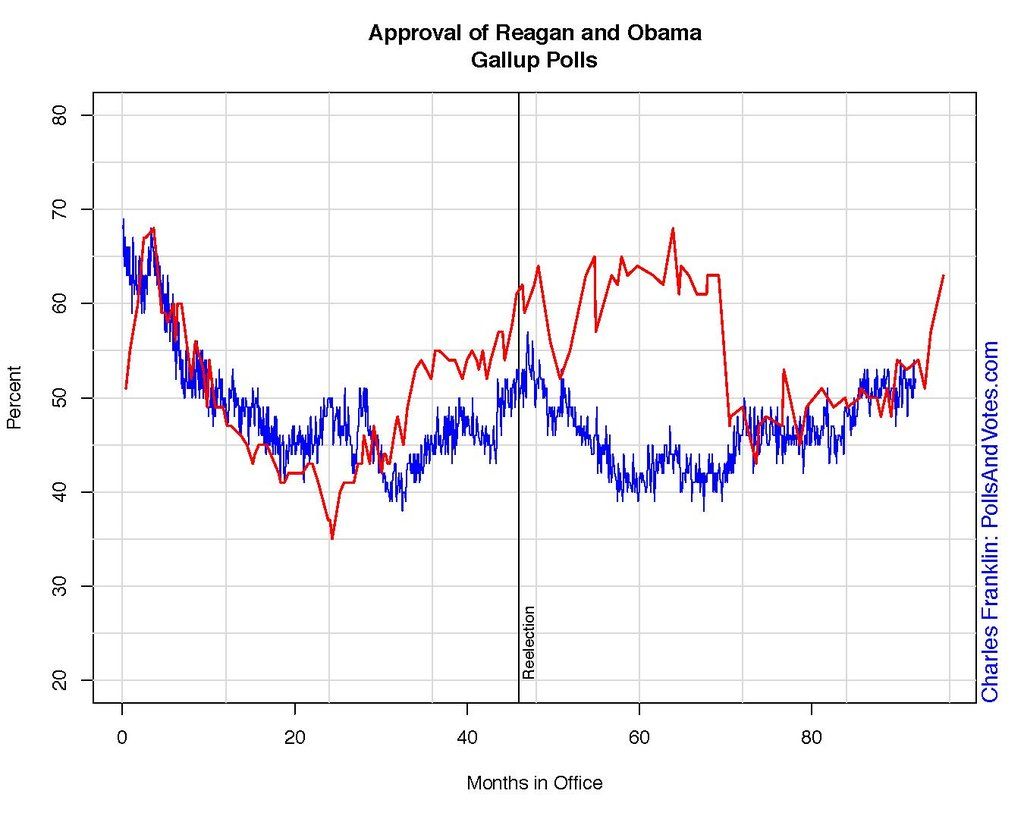 Top image: Trump supporters holding signs during Hillary Clinton's September 29 rally in Des Moines. Photo credit to Sean Bagniewski.