Iowa State University finally released its aviation insurance policy and some other documents related to President Steven Leath's use of university-owned aircraft on October 12, a week after Leath promised to be "open and transparent" about the controversy.
While I work my way through those incomplete materials, let's take a closer look at one of the least plausible narratives ISU has floated in connection with this scandal: en route to and from an NCAA Sweet Sixteen basketball game in March 2014, pilots of the university's King Air 350 200 "unilaterally decided" to refuel at the Elmira Corning Regional Airport in Horseheads, New York. The stops supposedly chosen by the pilots allowed Leath's brother and sister-in-law to hitch a ride at no additional cost to ISU.

FOUR VERSIONS OF ISU'S STORY PINNING THE DECISION ON THE PILOTS
A three-page document initially provided to the Associated Press, which ISU later sent to other reporters, explained the purpose of some flights Leath took on the university's King Air. You can read the full document here. A portion of Ryan Foley's October 4 scoop for the AP was based on this excerpt (emphasis in original):
March 27 [2014] Ames to Elmira/Corning, NY. Then to Teterboro, NJ. Then back to Elmira. Appears this was transporting Ken and Trish Leath
Trip was from Ames to Teterboro, NJ (near NYC) enroute to NCAA basketball tournament. Pilots did not want to enter NYC airspace without a full tank of fuel (as holding patterns in NYC are common for small planes), and therefore unilaterally decided to schedule a fuel stop in Elmira, NY. President Leath's brother and sister-in-law boarded the plane in Elmira. On the return trip, March 29, the plane again stopped in Elmira for fuel, and Ken and Trish Leath were dropped off. They had originally rented a car with the intent they would drive themselves home earlier, but since the team didn't advance, President and Mrs. Leath were returning to Ames anyway, with a planned fuel stop in Elmira.
This account never sounded convincing, because the Beechcraft King Air 350 is known for its "large fuel capacity" and ability to cover great distances without refueling. The Ames Municipal Airport and the Teterboro Airport are about 880 nautical miles apart. Various charter company websites list the range of a King Air 350 at 1,700 to 1,800 nautical miles, or on the lower end at 1,440 to 1,500 nautical miles. (CORRECTION: The March 2014 trip happened on the university's older King Air. But that 1977 airplane had the same fuel capacity as later models.)
Prevailing winds, temperature, number of passengers, or cargo weight can influence an airplane's range, and weather conditions might prompt pilots to choose a flight plan that deviates from the shortest route between two points. That said, ISU's plane should not have needed to refuel twice on an Ames-Teterboro round trip shorter than 2,000 nautical miles--especially not if the pilots had entered New York City airspace on March 27 with "a full tank of fuel," as ISU's document stated.
Invoices that would show whether pilots filled the King Air's tank in Elmira Corning or bought only a small amount of fuel on the way to the NCAA tournament were not among the materials ISU posted online this week.
The Ditchwalk blog observed in typically blunt fashion: "The idea that Leath himself had nothing to do with stopping at Horseheads, NY, before and after the big game, specifically to pick up and drop off his relatives, is idiotic. So idiotic, in fact, that it calls into question why a presumably intelligent person would attempt to sell such a lie [...]."
My hunch: ISU maintains Leath did not tell the pilots to make an unnecessary stop at a convenient location for his relatives, because
1) if he did, he would be putting university property to personal use, which is illegal; and
2) incurring extra costs on behalf of his brother and sister-in-law could be considered an "excess benefit transaction" by ISU's Foundation, as Bleeding Heartland discussed here.
For now, we will suspend our disbelief to take in an expanded version of the official line from Leath's October 5 interview with the Iowa State Daily.
ISD: One of the things reported yesterday was you flying to a basketball game and picking up some relatives on the way, and apparently that was for a refuel at that airport. But then you also have to drop them off on the way back. So can you explain — that makes it look like you picked them up, took them to the game and took them back. Can you clarify that one?

Leath: In hindsight, I wish they would have never gotten on the plane, but the truth is this: The pilots came to me and said, "You're gonna want to go right to New York City for the game. You're gonna be disappointed, but we're gonna have to stop for fuel. We're not gonna get in complex New York City airspace low on fuel, and if we get put in a hole or something, it becomes a dangerous situation." I said, "OK, fine, if we have to land, we have to land."

ISD: And it happened to be where you could pick up relatives?

Leath: Yeah, it was about 30 minutes from where my brother and his significant other lives. So they were on the plane, 20, 30 minutes at the most.

ISD: But then on the way, they said it was for a refuel again, but you're already in New York, so would you have to refuel again?

Leath: The thing is, buying fuel in New York City is exorbitantly expensive for planes. So it makes sense to land, buy cheap fuel somewhere else.

ISD: But even on the way back, you couldn't—

Leath: Well you can't make it all the way back into the headwinds. Going there, you could have made it but you didn't we didn't want to get into the traffic low on fuel. Coming back, into the wind, you probably couldn't have made it to Ames, so you've got to buy fuel somewhere. We could have bought it anywhere. It's just as easy to get out of the city, get it there, but then jump and come the rest of the way. They were on the plane for a very short time and there was no cost to the university for that. But in hindsight, I wish they wouldn't have gotten on the plane.

ISD: Would your relatives have to pay for some sort of reimbursement because they did get an hour plane trip? Or is that something you would cover?

Leath: Well, there was no cost to the university. The plane was going and it had extra seats in it.

So there was no cost to them being on the plane.
Leath took questions from Iowa State Student Government senators for about an hour on the evening of October 5. Here's my transcript of his comments, beginning around the 1:00:30 mark of this video, when Senate Vice Speaker Conner Tillo asked whose decision it was to stop in Elmira:
Leath: University Flight Service's. They were looking for a place that, when they filled up, they'd have plenty of fuel for the air, and they were also, they always look for cheap fuel. So they make a combination based on distance, ease of landing, are there any landing fees, what's the price of the fuel. So Flight Services always makes all those calculations.

Tillo: OK. Alright.

Leath: Yeah, it wasn't until I found out where they were going that I thought, geez, I wonder whether my brother could jump on.
Shortly after, Senator Abhijit Patwa pointed out the King Air 350 holds about 540 gallons of fuel, and the Elmira airport wasn't that far from Teterboro. Why did they stop there on the way back? (Later during the same meeting, Patwa introduced the resolution calling for the Iowa Board of Regents to investigate Leath's airplane use.) Here's my rendering of Leath's answer, beginning around the 1:03:00 mark:
It's a good question. It's a fair question. We wouldn't have had to land in Elmira on the way back. We probably would have had to land somewhere, because we were going to buck a big wind going west. So the pilots made a calculated decision that if they could pick up fuel at Elmira, do all our approaches at New York, get out of New York airspace and top off completely full right there [at Elmira], they could probably make it [back to Ames]. And since we'd already landed there once, it was easy to drop these people off.

You know, there was no cost, we were probably going to land somewhere to refuel, we weren't going to make it all the way back. Well--we might. You know, it depends what the wind's doing--we might have, we might not have. So it was a decision made. And it's one of those things, I've said, I regret that we ever did it. It didn't cost the university anything, but I wish we hadn't done it.
Whereas ISU's first iteration said pilots "did not want to enter NYC airspace without a full tank of fuel," Leath implied on October 5 that ISU purchased some fuel on the way into the busy New York airspace but didn't "top off completely" at Elmira until the return journey. Invoices for the March 2014 trip would show which story corresponds to reality.
ISU's latest version, from the new web page for "frequently asked questions" about Leath's airplane use, was vague on whether the King Air tank was entirely filled on the way to New York.
17. Was the King Air ever used to fly members of President Leath's family, and if so, why?

Janet Leath plays an extremely important role for the university. While her position is unpaid, she has an appointment from the Board of Regents and works tirelessly to promote the university and its mission. In this role, Mrs. Leath has flown on university aircraft.

On one occasion, in March 2014, President Leath's brother and his significant other rode on the university plane from Elmira, New York, enroute to the NCAA basketball tournament in New York City. During that trip, the pilot informed President Leath that he wanted to stop for fuel before entering New York City airspace. The pilot was concerned that the plane may be put in a holding pattern and he didn't want to risk running low on fuel. The pilot made the independent decision to stop for fuel in Elmira, New York, which happened to be about thirty minutes from where President Leath's brother lived at the time. President Leath decided that since the plane had to land there anyway, it would be appropriate to offer them a ride into New York City; there were empty seats on the plane and they were already planning to attend the Cyclones' first round [sic] game.

As it turns out, the Cyclones lost in the first round [sic] and the President and Mrs. Leath were set to return to Ames the next day. President Leath's brother had rented a car to drive home, but the pilot informed President Leath that he again wanted to fill up on fuel before making the trip back to Ames. It was much less expensive to fill up in Elmira than it was in New York City, so the decision was made to stop in Elmira for fuel, drop off the President's brother and significant other, and continue on to Ames. This did not cost the university any extra money; therefore, no reimbursement was warranted.
That wording implies the pilot told Leath of his "independent decision" on where the plane "had to land" at the last minute "during that trip." Other information from ISU makes clear the stop was planned in advance. Speaking to the student senators (around the 1:01:30 mark), Leath confirmed the flight plan filed before leaving Ames called for a stop in Elmira.
As mentioned above, a King Air 350 200 should not have needed to refuel again on the way home if pilots filled the tank at Elmira Corning on the front end of the trip.
But let's set that aside and examine another assertion made twice by ISU communications staff and twice by Leath himself: it cost nothing extra to pick up and drop off the president's relatives.
If stopping in Elmira made the March 2014 trip more expensive, ISU's narrative collapses.
REFUELING AT ELMIRA CORNING WAS MORE EXPENSIVE
ISU officials have ignored my repeated requests for details on university guidance for professional pilots planning fuel stops. The fuel purchase policy relates to motor vehicles, not planes. Policy on "cost-efficient travel" refers to staff planning trips on commercial airlines, not the ISU Flight Service.
Each of the four statements cited above indicates that pilots try to choose less expensive fuel, when practical. The document initially provided to the AP noted that the King Air stopped in Jefferson, North Carolina (near a home belonging to the Leaths) on March 24, 2014, en route from San Antonio to Washington, D.C. "due to competitive fuel pricing."
Leath told reporters for the Iowa State Daily, "The thing is, buying fuel in New York City is exorbitantly expensive for planes. So it makes sense to land, buy cheap fuel somewhere else."
Leath told the ISU student senators that the professional pilots "always look for cheap fuel" and consider fuel price along with distance, ease of landing, and airport fees when deciding where to stop.
ISU's new FAQ page stated, "It was much less expensive to fill up in Elmira than it was in New York City, so the decision was made to stop in Elmira for fuel [...]."
A pilot recommended the AirNav website for looking up current fuel prices at any location. A King Air runs on Jet A fuel. Here are this week's Jet A prices for airports within 50 miles of Elmira Corning. The facility at Horseheads is tied for the most expensive at $5.59 per gallon: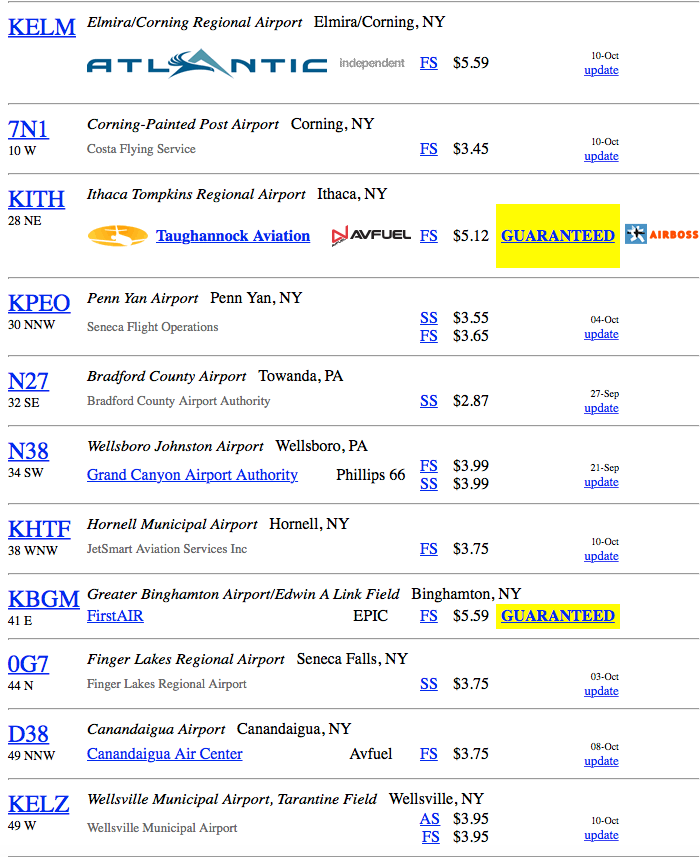 But surely Elmira Corning is still a cheaper place to refuel than any airport in the New York City metro, right?
Wrong. One of the six fixed base operators (FBOs) at Teterboro is now listing Jet A for $5.02--at this writing, more than 50 cents less per gallon than Elmira Corning.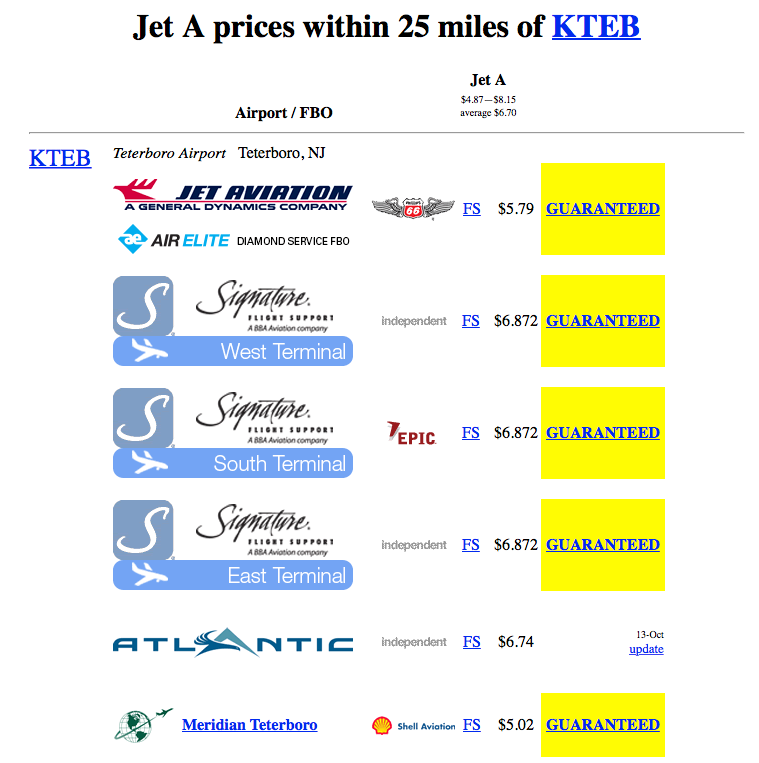 Staff at Meridian Teterboro informed me this week that customers buying 100 or more gallons get discounts of at least 25 cents per gallon on the retail price. To provide more incentive for visitors to fill up, Meridian waives ramp fees for planes whose owners buy a certain number of gallons of Jet A.
OK, it would be cheaper to refuel at Teterboro today. But ISU's King Air took Leath and family to the NCAA tournament two and a half years ago. After failing to find historical data for Jet A prices online, I called FBOs at a dozen airports in the Elmira or Teterboro area this week. In most cases, staff were cooperative once I assured them I wasn't seeking confidential client information. It didn't take long to pull up a few invoices from the last week of March 2014.
Elmira staff refused to confirm that ISU's King Air purchased Jet A on March 27 and 29. But I was quoted an approximate retail price of $6.65 per gallon for those dates.
Meridian Teterboro was selling Jet A for $6.29 per gallon in March 2014.
So what, desmoinesdem? ISU and Leath said the professional pilots wanted to refuel before getting to New York City airspace, in case they got stuck in a lengthy holding pattern before landing.
I called all of the FBOs for airports within a 50-mile radius of Elmira Corning. The ones selling cheaper fuel today were also selling cheaper fuel in late March 2014. As one employee of a smaller FBO explained, larger regional airports like Elmira Corning and Greater Binghamton can set higher prices because more customers want to fly there as a final destination. (Most people who can afford a private plane won't land in a less convenient location to save a few bucks on Jet A.) In addition, Elmira Corning has navigational aids such as approach lighting that other nearby airports lack.
Smaller FBOs like the ones at Penn Yan Airport in New York or Bradford County Airport in Pennsylvania have to be "very aggressive" on fuel price to compete, another employee told me. They generate a large share of their business on transit flights; pilots who are just refueling don't care that a certain airport is farther from tourist attractions in the Finger Lakes area.
Among the FBOs that provided information on their retail price for Jet A during the last week of March 2014, only the one at Ithaca Tompkins Regional Airport was selling for about the same price as Elmira Corning ($6.68 in Ithaca, $6.65 in Horseheads). Jet A was available for $5.40 per gallon at the Finger Lakes Regional Airport, $5.27 at Bradford County, $4.95 at Penn Yan, and in the "high 4s or low 5s" at Wellsville Municipal Airport.
So if ISU's pilots were planning ahead of time to stop close to New York City to refuel on March 27, 2014, and if they were looking for "competitive fuel pricing" (which supposedly informed their choice to stop in Jefferson, North Carolina earlier the same week), they wouldn't have selected Elmira Corning over other options in the area.
Incidentally, the AirNav website has a tool to help pilots decide where to plan fuel stops. I tried to use it to find recommended sites between the Ames Municipal Airport (code KAMW) and Teterboro (KTEB). However, the site kept proposing a direct flight when I entered the airplane range at 1,400 nautical miles, the lower end for a King Air.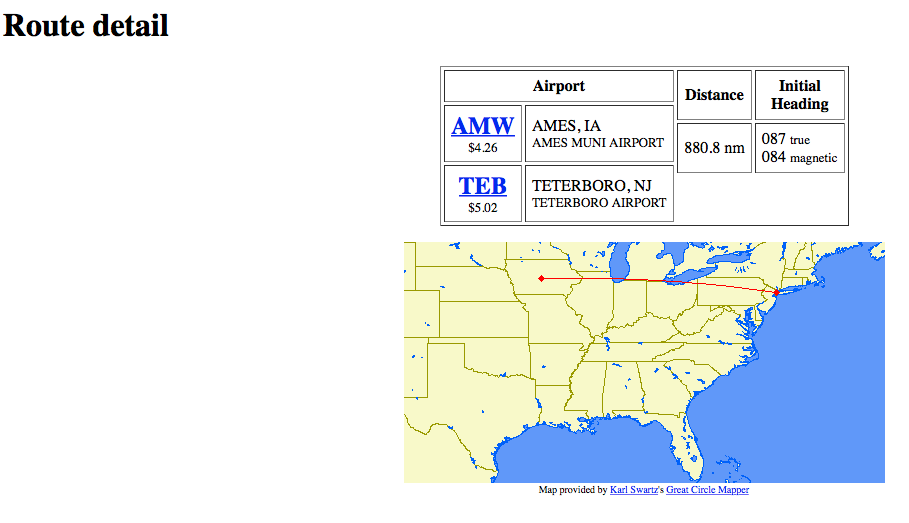 Finally I got the planning tool to work by reducing the aircraft's range to 800 nautical miles. AirNav will recommend fuel stops based on three different criteria: a "safe" plan to "always depart with as much fuel as possible," a "light" plan to "always depart with minimum fuel to reach next stop plus reserves," and a "frugal" plan to "always buy the amount of fuel that will minimize total cost." Elmira Corning did not turn up as a top ten recommendation under any of those options.
Leath's remarks to Iowa State Daily suggested that ISU's pilots wanted to depart with as much fuel as possible, so here are the ten airports recommended when I selected the "safe" plan. The Corning, NY airport is Corning-Painted Post, which is currently selling Jet A fuel for $2 per gallon less than Elmira Corning.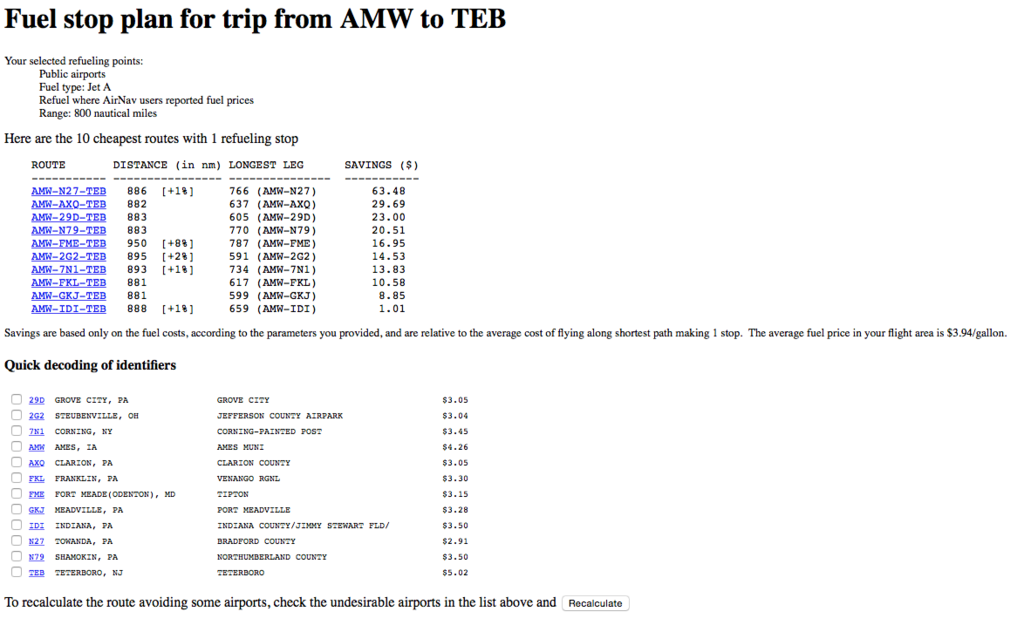 If saving money is the top priority, here are AirNav's "frugal" recommendations.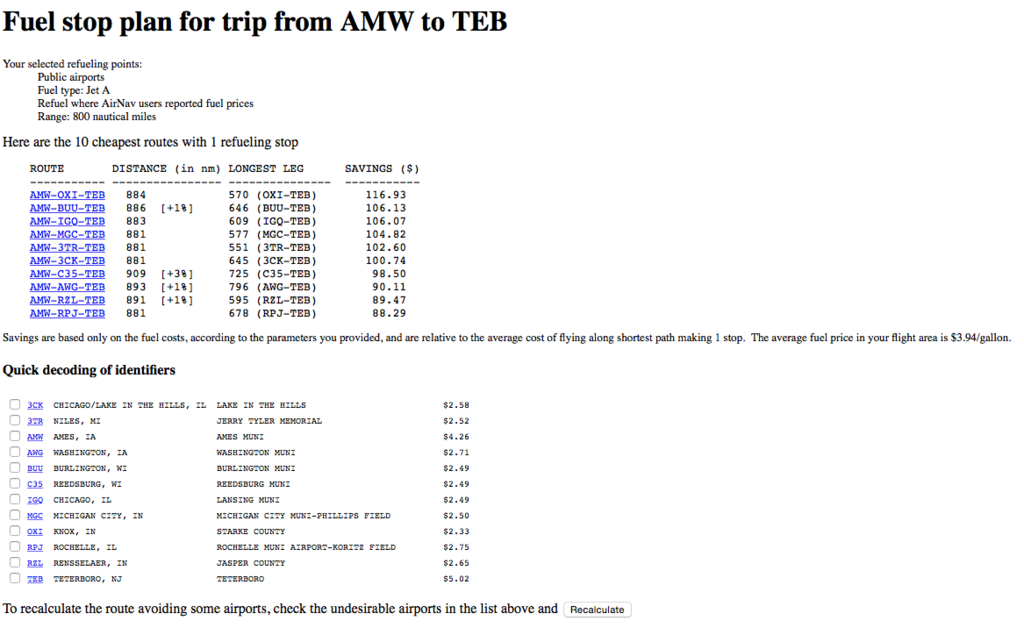 AirNav's "light" plan produced an almost identical list.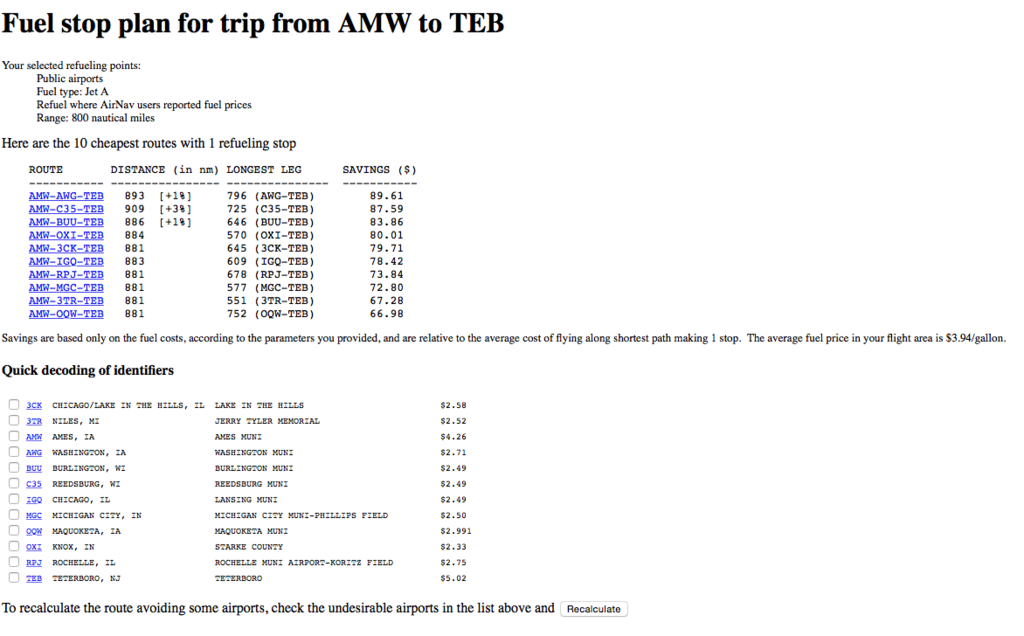 So if ISU's pilots were planning to refuel on the way to Teterboro and were looking for "competitive fuel prices," they would have no reason to select Elmira Corning among the many available options.
Once the plane was on the ground in Teterboro, ISU's pilots could have avoided an extra fuel stop on the way back to Ames on March 29. Although some New York City airports are "exorbitantly expensive for planes," as Leath told ISU's student journalists, the most economical FBO at Teterboro (Meridian) could have filled up the King Air for $6.29 per gallon, or for a lower price if the purchase exceeded 100 gallons. That's at minimum 35 cents a gallon less than what ISU paid to refuel at Elmira Corning on the way home.
Refueling in Teterboro could theoretically have saved ISU money on ramp fees there, thanks to Meridian's policy of waiving such fees for customers buying a certain volume of Jet A.
Whatever it cost to land and take off in Elmira Corning on the return trip would have been saved as well.
All things considered, I have trouble believing ISU's professional pilots "unilaterally" chose to land in Horseheads on the way to New York, having no idea the stop would be convenient for Leath's relatives.
Nor is it likely the pilots needed to refuel the King Air on both legs of that trip.
Contrary to what ISU states on its new FAQ page, it was not "much less expensive to fill up in Elmira" than in Teterboro (depending on which FBO the pilots selected).
Documents currently available to the public do not support the claim that stopping at Elmira Corning on the way back to Ames "did not cost the university any extra money." According to staff at other FBOs, refueling at other airports near the Finger Lakes region would have been cheaper.
Any relevant comments are welcome in this thread or via private message to the e-mail address near the lower right corner of this page. I would particularly appreciate feedback from pilots or others with private air travel experience. I'm also looking for a few good attorneys to help me understand the finer points of ISU's aviation insurance policy.
UPDATE: A pilot who is familiar with the King Air commented via e-mail,
An issue that hasn't been mentioned is the significant operational cost of a landing "cycle"- that is, descending, landing, and then departing. Turboprop and jet aircraft are most efficient at high altitudes- therefore, going to the ground and then climbing back up FROM the ground wastes fuel compared to just staying up at a high, efficient altitude. Think about all the energy spent getting TO altitude- you lose all that every time you land. It's analogous to getting onto the interstate, accelerating up the on ramp, vs the cruising efficiency ON the interstate. Also, very few pilots will choose to land, period, if they have enough fuel to make it with IFR [instrument flight rules] reserves.
Federal rules stipulate how much fuel must be carried to operate a civil aircraft in instrument flight rules conditions.
Like other pilots I've consulted, today's correspondent is convinced a
King Air would have plenty of fuel to make to Ames-Teterboro nonstop, assuming they left Ames with full fuel and no headwind (usually, tailwinds are common on west-to-east flights- I've assumed ZERO tailwinds to be conservative)). Even if the fuel costs at Teterboro were far higher than average, the landing "cycle" costs would outweigh the difference in fuel costs. Also, larger FBO's (and larger airports) have a "Ramp fee"- this is a charge assessed to utilize their infrastructure, like pilot lounges, etc... These fees are almost-always waived if you purchase fuel from the FBO you're parked at. Otherwise, you get hit with a major fee just for landing, parking, and using the restroom/TV room/flight planning. Signature FBO, the biggest at Teterboro, has a $255/day ramp fee, waived with purchase of 100 gallons per day you're there. So, if you refuel on the way to Teterboro in order to save money by buying cheap fuel at...well, Corning, you get hit with a big ramp fee at Teterboro because you don't buy fuel there (or don't have enough room to buy the required amount of fuel). YOU PAY ONE WAY OR THE OTHER, plus you've got all the hassle and cost of landing at Corning. [...]

Simply put: Assuming an Ames departure with full tanks (3611 pounds of fuel, or 531 gallons), and a flight plan that avoided overwater flight (hugging the south shore of lake erie to stay over land), the distance to Teterboro is ~900 nautical miles. Cruise speed of the King Air 350 is between 235 (max range) and 312 (max speed) NM/hour. Let's split the difference and say 270nm per hour. Fuel burn is between 362 pph (max range) and 773pph (max speed). Again, lets split the difference and use a real fuel burn rate of 567pph (this is most likely HIGHER than actual fuel burn, but I'm being very conservative).
So:
900nm @ 270nm/hour= 3.33hours of flight time Ames-Teterboro
3.33 hours @ 567pph= 1889pounds of fuel used, plus a little for startup and taxi- call it 2000 pounds of fuel total planned usage.
Now, to meet IFR minimums, you need to plan for an alternate airport in case your destination airport is below "minimums" and you can't land there. Looking at the NYC regional chart, the WORST-CASE (meaning farthest "rational choice" away from KTEB) alternate would be Westchester County (KHPN), which is 21NM away. For alternate purposes, you use your highest fuel burn, so we'll use .2 hours (12 minutes extra time to get to KHPN)@ 773PPH, which equals 154 additional pounds of fuel. Now we're at ~2155 pounds of fuel.
On top of the alternate required fuel, we need 45 minutes of fuel in reserve (see the IFR reserves link above): We once again will use worst-case, .75 hour @ 773PPH, so 580 pounds of fuel. Let's round that to 600 pounds for simplicity.
Grand total for fuel planning, to go nonstop Ames-Teterboro, avoiding overwater, AND in full IFR compliance: 2755 pounds of fuel.

Max fuel capacity in a King Air 350 is 3611 pounds of fuel, so again, assuming a full fuel departure from Ames, that leaves 856 pounds of fuel in the tank upon arrival Teterboro ABSOLUTE WORST-CASE.

Now, the claim is that the pilots wanted to fuel in Corning because they frequently encounter holds in NYC airspace- that's a legitimate concern. But...go back to our (very aggressively calculated on the side of caution) 856 pounds of fuel extra. If you're placed in a hold, the normal procedure is to stay in the hold as efficiently as possible, so a rational calculation of "hold burn" would be the lower end of King Air fuel burn, AND it's "selectable" by the pilots (IE: Air traffic control will rarely specify the speed you need to maintain in a hold- you ask for the speed you want (with commensurate fuel burn), and they give you that speed). So, looking at our 856 pounds of fuel that's extra, we can hold for over 2 hours using a 400pph fuel burn "in hold". That's a hell of a lot of holding. In fact, that's "unheard of except in a 9/11 sort of event" holding. Holds are usually 10-30 minutes WORST-CASE.
How long will ISU cling to the story that the pilots would have stopped to refuel at Elmira Corning if Leath had not wanted to pick up his relatives there?
Meanwhile, Foley reported for the Associated Press on October 14,
Flight records released this week show that university pilots flew Leath and his wife from Ames to Des Moines on Feb. 17 in the school's Beechcraft King Air.

Iowa State's flight services program billed $380 for the 84-mile roundtrip — the standard charge of $4.52 per mile — to the "Greater University Fund," a pot of unrestricted donations that Leath controls.

University officials claimed the 18-minute flight didn't cost extra because the plane was already going to the Des Moines airport for maintenance that day. However, ISU flight services manager Dave Hurst said the work ultimately wasn't performed and the plane had to return the following day. [...]

The university's flight records posted online, in response to records requests, show a number of other King Air flights between Ames and Des Moines that are listed as maintenance-related. The university hasn't responded to questions about whether Leath has been flown to the Des Moines airport — a roughly 45-minute drive — for any other commercial flights.
Another amazing coincidence: a flight that suited Leath just happened not to cost ISU anything extra.
Clearly driving to Des Moines would be cheaper than flying the King Air, even if you factor in the cost of leaving Leath's car at the airport until the end of that business trip ($13 per day in long-term parking, less in the economy lot).
SECOND UPDATE: Dr. Subhash Sahai, one of nine members of the Iowa Board of Regents, told Jeff Charis-Carlson on October 14 that he plans to question Leath during the regents' next board meeting on October 19 and 20.
"I think there are questions that still have not been answered about what has transpired over the past few years concerning the use of aircraft at Iowa State," Subhash Sahai, who has served on the board since 2013, said in a phone interview. "(ISU President Steve Leath) assures me that he will come clean and answer all of those questions in addition to the information that has been provided to the board."

In a five-page letter dated Oct. 11, Leath wrote to all nine board members and defended his use of university-owned aircraft during the nearly five years he has been president of the Ames-based university. He stressed that university officials have been "strategic" in their use of university-owned aircraft and always worked "to ensure it will generate a strong return on investment."
Remember, Leath told no one on the board about his July 2015 hard landing incident until after the regents had approved a new contract extension giving him a raise. Sometime in the late summer or fall of last year, Leath told Board of Regents President Bruce Rastetter, who did not pass along the information to other regents.