The last three Iowa Supreme Court justices involved in the landmark 2009 marriage equality ruling are on the ballot this year: Chief Justice Mark Cady (author of the Varnum v Brien decision) and Justices Brent Appel and Daryl Hecht. However, this year's Iowa judicial retention elections aren't getting much attention, largely because social conservative groups decided not to engage heavily in the fight.
By this point in 2010, television commercials calling for a "no" vote on three Iowa Supreme Court justices had been on the air for six weeks. Bob Vander Plaats and allies were holding "Judge Bus" events across Iowa. In a radio ad, Representative Steve King urged listeners to "vote 'no' on Judges [Marsha] Ternus, [Michael] Streit and [David] Baker" to "send a message against judicial arrogance." For about a month before the 2012 general election, conservative groups paid for tv ads asking Iowans to "hold [Justice] David Wiggins accountable for redefining marriage and legislating from the bench."
In contrast, Vander Plaats and like-minded Iowans have made a lower-key case against Cady, Appel, and Hecht, largely relying on e-mail, social media postings, and letters to the editor. They probably realized a full-court press was unlikely to succeed in a presidential election year. Nor did they have a way to fund a more extensive anti-retention campaign, with the biggest donor from 2010 and 2012 staying on the sidelines this year.
Supporters of retaining the Supreme Court justices are taking no chances, though. Two groups are leading the fight to persuade and remind voters to mark "yes" for all Iowa judges, especially Cady, Appel, and Hecht. I enclose below a sampling of messages from the Justice Not Politics coalition and the Iowa State Bar Association.

Several organizations formed Justice Not Politics in late September 2010, vowing to defend "Iowa's merit selection and retention process" from those who would punish judges over controversial decisions. By that time, groups including the National Organization for Marriage had pumped hundreds of thousands of dollars into statewide advertising for the campaign launched against the justices in the summer.
The targeted Iowa Supreme Court justices declined to campaign for themselves in 2010. Similarly, Cady, Appel, and Hecht chose not to raise money to promote their own retention this year. The only appeal to voters I've seen from any of the justices was this op-ed column by Cady, describing his "commitment to justice."
My vision is for Iowa to have the best court system in the nation. It is for the process of justice to be felt by all. It is for injustice to be understood and left in the past.

I am proud of the work of Iowa's judges and court staff. I am also proud of the new ways justice in Iowa is being enhanced and delivered. We have implemented a comprehensive response to the serious problem of domestic violence to protect more Iowans. We have modernized our civil justice system to make it more efficient and more responsive to the needs of Iowans. We are working with communities to address racial disparity and implicit bias in our criminal justice system.

I am equally proud of the Supreme Court's initiative to hold oral arguments in communities across Iowa. In the last five years, the Supreme Court has held court in more than 20 communities and visited more than 150 high schools and colleges. […]

All these efforts, and more, have helped Iowa achieve a national reputation for operating a fair, impartial and reasonable court system. The Iowa court system is ranked the 4th best in the country. […]

With the best interests of Iowa's justice system in mind, I decided long ago not to exercise my right to campaign to keep my job. I feel even stronger about this decision today. I believe campaigns for judicial office only open the door of a court system to the influence of politics and money. This door must never swing open. Everyone can agree that judicial decisions should only be based on the law and facts of the case, and not made to satisfy critics or to appeal to special interests or donors.

My decision to participate in the public discourse over retention now was not made to change the course of fair and impartial courts in Iowa in any way, but to keep Iowa on its course.
The core of the Justice Not Politics mission is keeping "politics and campaign money out of our courts, safeguarding its fairness and impartiality." The group commissioned a statewide survey last month to gauge public opinion about the Iowa Supreme Court, the justices on the ballot, and some hot-button issues that have come before the high court. Last week, Justice Not Politics disclosed that the poll found "More than 40 percent of Iowans favor retaining the three justices, while just 16 percent oppose retention." Other data collected through that survey informed messages now being used to reach voters through direct mail, phone banking, and promoted Facebook posts like these.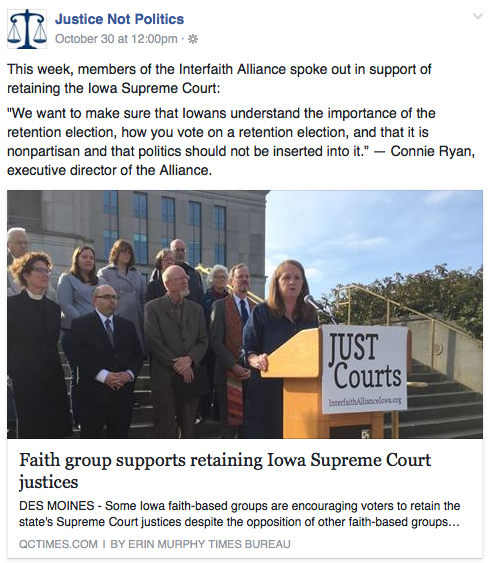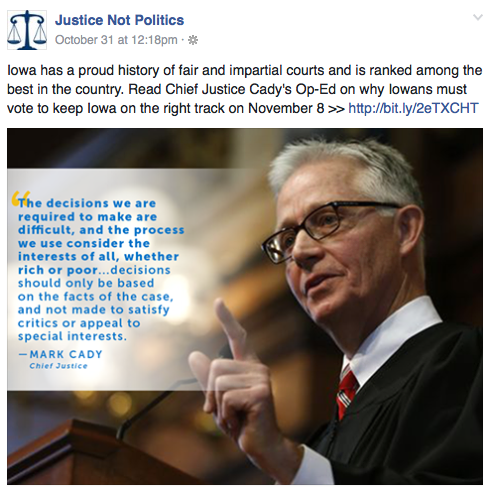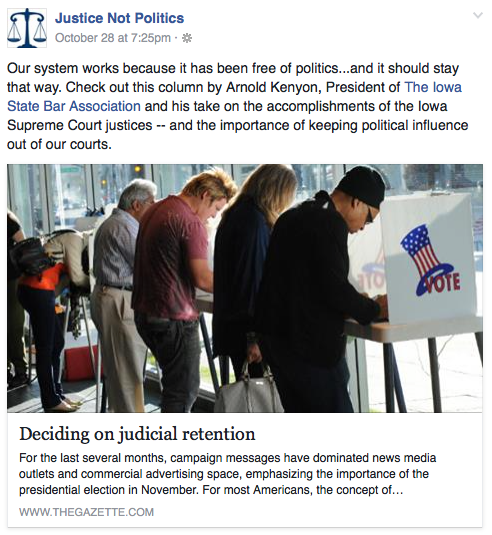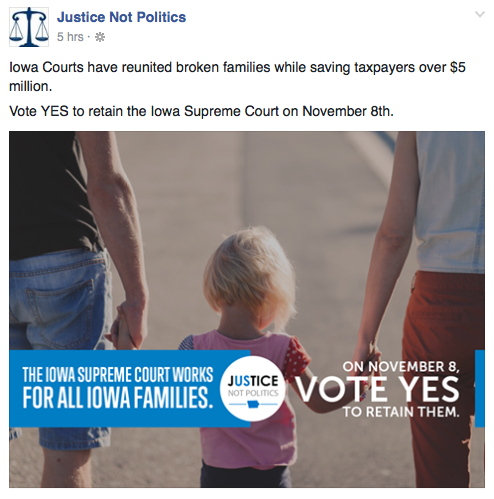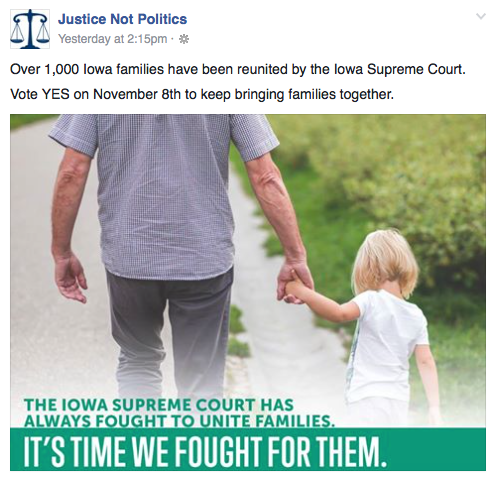 The Iowa State Bar Association explained its stake in the retention elections at its companion website JudicialFacts.org:
Iowa voters often wonder how they should vote when they see the names of state judges on the general election ballot. To help guide them, The Iowa State Bar Association surveys lawyers who have regular contact with those judges in the courtroom.

Practicing lawyers are asked to rate judges they appear before on a number of factors, such as knowledge of the law and treatment of litigants. Then they are asked whether these judges should be retained.

The overwhelming majority of the 1,495 Iowa lawyers who participated in the Bar Association's Judicial Performance Review in August said the 66 judges on the Nov. 8 ballot should be retained.

View the 2016 Iowa Judicial Performance Evaluation
Historical Performance Evaluations results can be viewed here

Iowa's judicial system is one of the finest in the country. Iowa's merit selection and retention process keeps politics and campaign money out of our courts, safeguarding its fairness and impartiality. To keep it that way, Iowans from all political spectrums should resist efforts by out-of-state extremist groups who are funding efforts to politicize our courts. If politics and campaign money are allowed into the courts, justice will be for sale.
The bar association's site also includes background information about the three Supreme Court justices on this year's ballot, explainers on the merit selection system for judges and retention elections, as well as qualities that make a "good judge."
I've seen promoted posts from the Iowa State Bar Association in my Facebook feed almost every day lately. A few examples: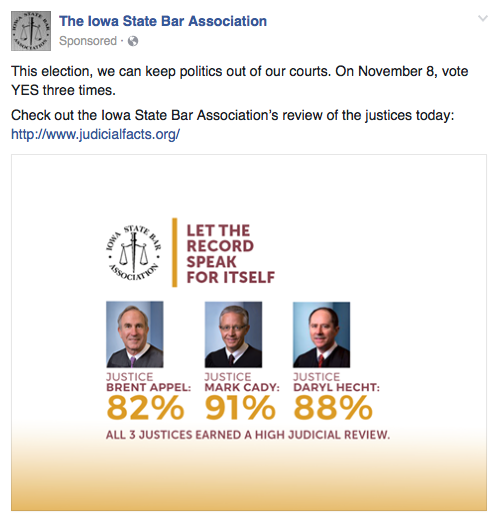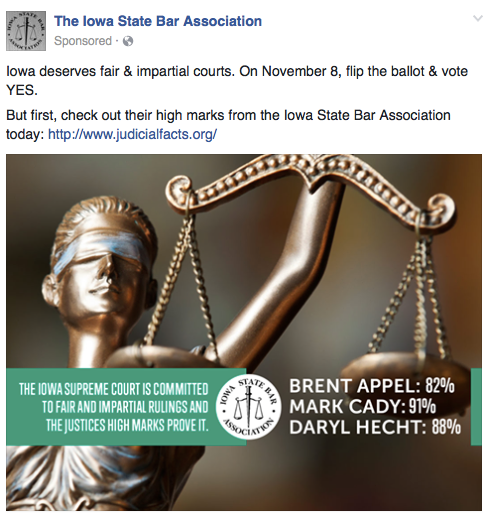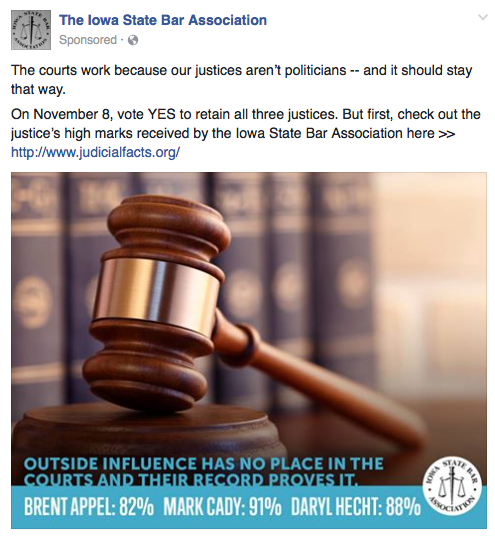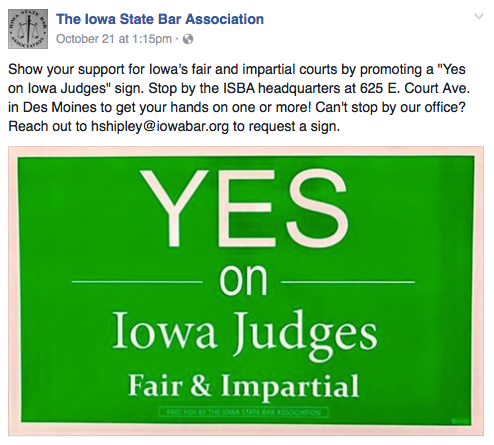 I always vote to retain all judges, unless I hear from attorneys that a particular judge is incompetent (which has rarely happened). Sometimes filling out that part of the ballot is a pleasure. Last month, I voted to retain Polk County District Court Judge Robert Hanson, who ruled in favor of the Varnum plaintiffs seeking the right to marry.
Sometimes it's a struggle to mark that "yes" oval. I also voted this year to retain Polk County District Court Judge Jeffrey Farrell, who upheld Iowa's ban on the use of telemedicine for abortions two years ago. The Iowa Supreme Court later ruled unanimously that the proposed rule was unconstitutional, because it would have imposed an "undue burden" on women seeking an abortion.
Why vote to retain judges who sometimes decide cases wrongly, or reach a conclusion with which I strongly disagree? Roxanne Conlin, who has argued many cases before the Iowa Supreme Court, explained in her own recent promoted Facebook post,

Well said. Please turn your ballot over and vote yes on all the judges.
P.S.-Although his majority opinion on voting rights for Iowans convicted of felonies was disappointing and surprising, Chief Justice Cady is still one of Governor Terry Branstad's all-time best appointees.
Top image: Yard sign paid for by the Iowa State Bar Association to promote retaining all judges on the ballot this year