Tanya Keith has volunteered for many Democratic campaigns in Des Moines and was a precinct captain for Barack Obama before the 2008 Iowa caucuses. -promoted by desmoinesdem
We're into the last two days of this campaign and as Hillary released her "Story of the Campaign" video, I began to think about my journey through this campaign. The lead up to the Iowa Caucus was a turning point in my life. My third and likely final child, a daughter, was born in April of 2015, just as my oldest was becoming a teenager. I realized that this was the last Presidential election that my oldest will not vote in, and I decided to push myself to show her how to engage in politics, even through the fog of early motherhood. My first venture on this mission was a trip to Newton, Iowa when the baby was 12 weeks old.
When my first was born, I was starting my own company, and with my second my company was going strong and I barely took any time off. My third born gave me the opportunity to indulge in staying home with her without the immediate pressure of working. Reaching 12 weeks, when American families who qualify for FMLA must return to work after unpaid leave was taking an emotional toll on me. My daughter was still so small, and I felt a personal responsibility to take advantage of the Iowa Caucus stage to shine a light on the absurdity of United States being the only industrialized nation to not offer paid family leave.
As Clinton wrapped up her speech and began taking questions, I stood up with my baby girl in my arms.

I asked Hillary Clinton to look at my 12 week old baby and remember her. She was still so small, and she was the oldest US policy offers job protection for working parents. I motioned to my soon-to-be teen daughter and talked about her interest in tech, and how I was worried we would lose her and other top quality workers to other countries with better family policy. For me, paid family leave is good family policy and good economic policy. I asked the she remember my family, and do better for families like mine and families who cannot afford the luxury of unpaid leave.
It was an intense moment for me, standing in front of my daughters and advocating for them through the hormones and emotion of early motherhood, and I could tell it struck an immediate chord with Hillary. She spoke with heartfelt emotion about her experience as a working mother and watching her daughter parent her granddaughter. It made me crave a mother in the presidency in a way that was so visceral, it overwhelmed me.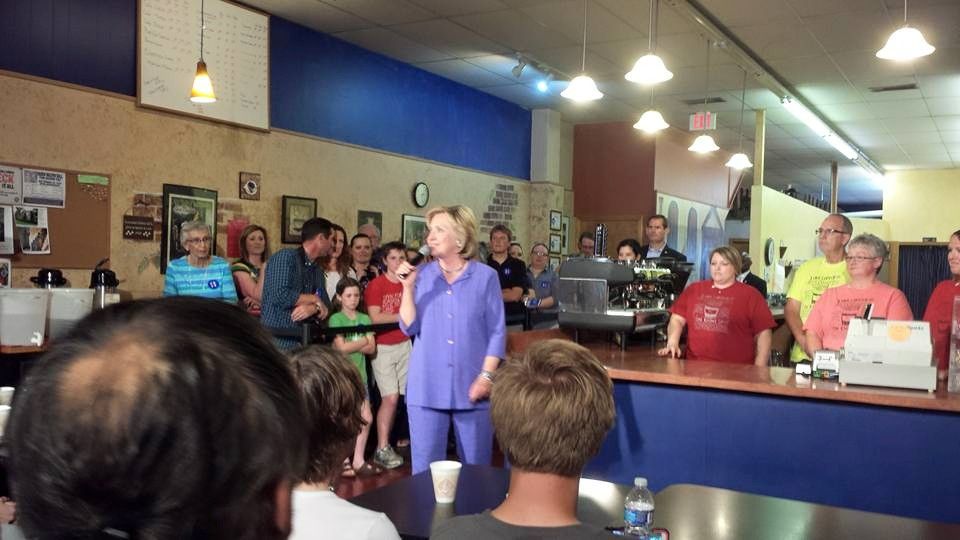 As we walked out of the coffee shop, my teen gushed about how we should elect Clinton. She was 100% sold from the start, but I was more guarded. We had not heard any other candidates, and I was still dealing the pregnancy hormones…not the best decision making aids. As we went through the caucus season, my daughter kept after me. When she heard all three Democrats speak at the Jefferson Jackson Dinner in Iowa, her response was emphatic: "We would be OK with any of these people, but Hillary is still the best."
She wore me down and I caucused for Hillary, and started campaigning for her. My daughter learned to phone bank, and started spending 2 hours a week making calls for Heather Matson because at her phone bank, they had "old timey phones," the kind you can hang up on a receiver. She learned what a busy signal is (adventures in parenting a teen today!) And when Hillary came back to Des Moines at the end of September, I brought my daughters to see her (my son had a school field trip). As Hillary turned in her speech to family policy, I heard something astonishing.
"Last year, in Newton, a mom said to me, 'I'm counting on you to know what it's like trying to take care of a newborn and having to go right back to work."
My teen whipped around and exclaimed, "Is she talking about you?" A ripple of several people turned to look at me as I screamed "That was me!" loud enough to get picked up on the YouTube recording. My heart raced. I had already voted for Clinton when voting opened that morning, but now I knew I had to do anything in my power to get her elected. I couldn't believe it….she'd actually kept her word that she would remember our story and fight for paid family leave. I was thrilled with her authenticity, and but it was such a beautiful teachable moment for my daughter. She saw the direct impact she could have on public policy by just caring enough to show up and speak out. I couldn't be with Hillary Clinton any more.
I have door knocked almost every single day since then. I have written things on social media and recruited volunteers. My daughter, now a phone banking pro, called three packets of people this weekend, even though the Clinton campaign doesn't have the cool phones that hang up. Last night, when I said good night to her, she said "Hillary has to win. She just has to." Then she asked if she could skip school (this is a child who hates missing school). She wants to cut school to volunteer. "Mom, this is going to have a huge impact on the next four years of my life."
Indeed it will, dear girl. Let's go turn out the vote for Hillary.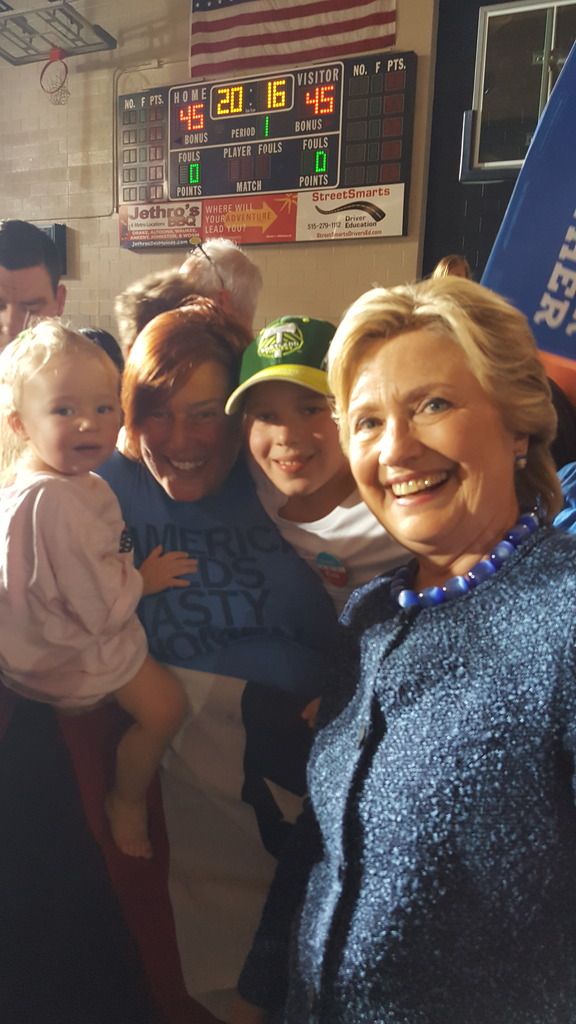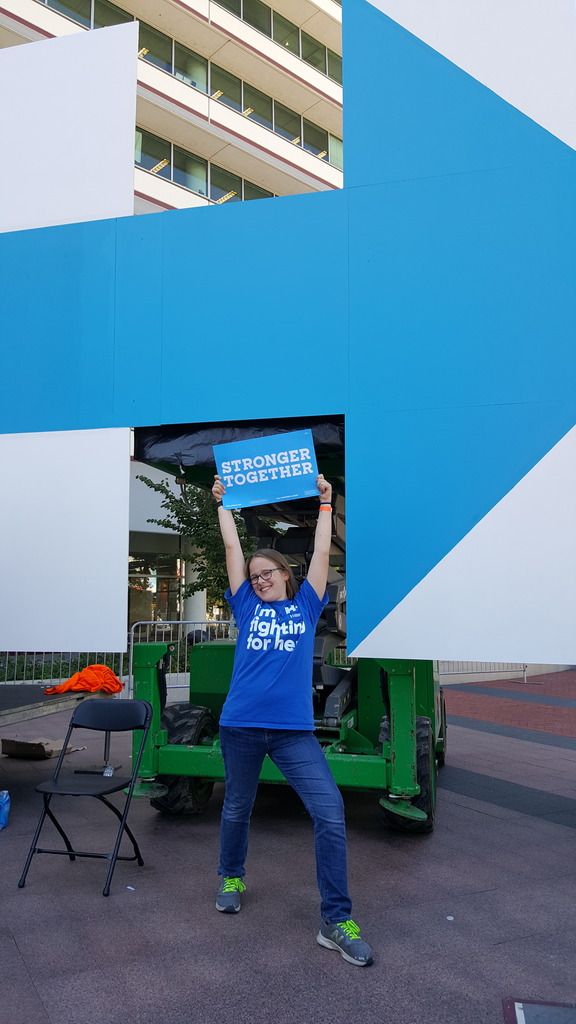 Top photo: The author's daughters in the foreground with Hillary Clinton in the background at Uncle Nancy's Coffee Shop in Newton, summer 2015.