When I planned to feature these wildflowers the day after the presidential election, I was hoping the country–if not Iowa–would have something to celebrate today. Prairie blazing star (Liatris pycnostachya) is a spectacular plant and seemed fitting for the occasion of Americans electing the first woman president.
I stuck with the plan because beautiful things will continue to exist, even after a narcissist with ugly impulses becomes the world's most powerful man.
Prairie blazing star is native to a bunch of states that voted for Donald Trump yesterday and a few that voted for Hillary Clinton.

The Illinois Wildflowers and Minnesota Wildflowers websites are good resources for botanically accurate descriptions of prairie blazing star foliage, flowers, and seeds.
The Lady Bird Johnson Wildflower Center's website comments on Liatris pycnostachya,
One of the most popular of the blazing stars, this is sometimes grown as an ornamental. The species name, from the Greek for crowded, describes both the leaves and the flower heads.
Rough blazing star flowers look like distinct buttons along the stem, but prairie blazing star flowers cluster so close to one another that in full bloom, they look like a solid mass.
The flowers start blooming from the top of the spike and work their way down: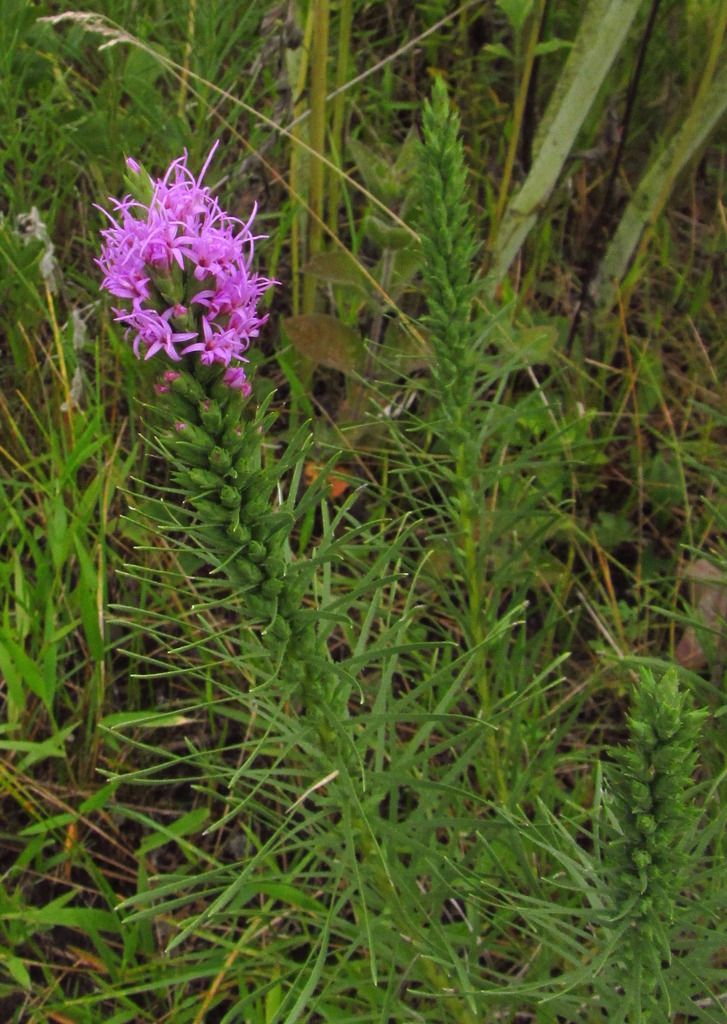 At Whiterock Conservancy in late July, the prairie blazing stars were approaching their peak blooming period: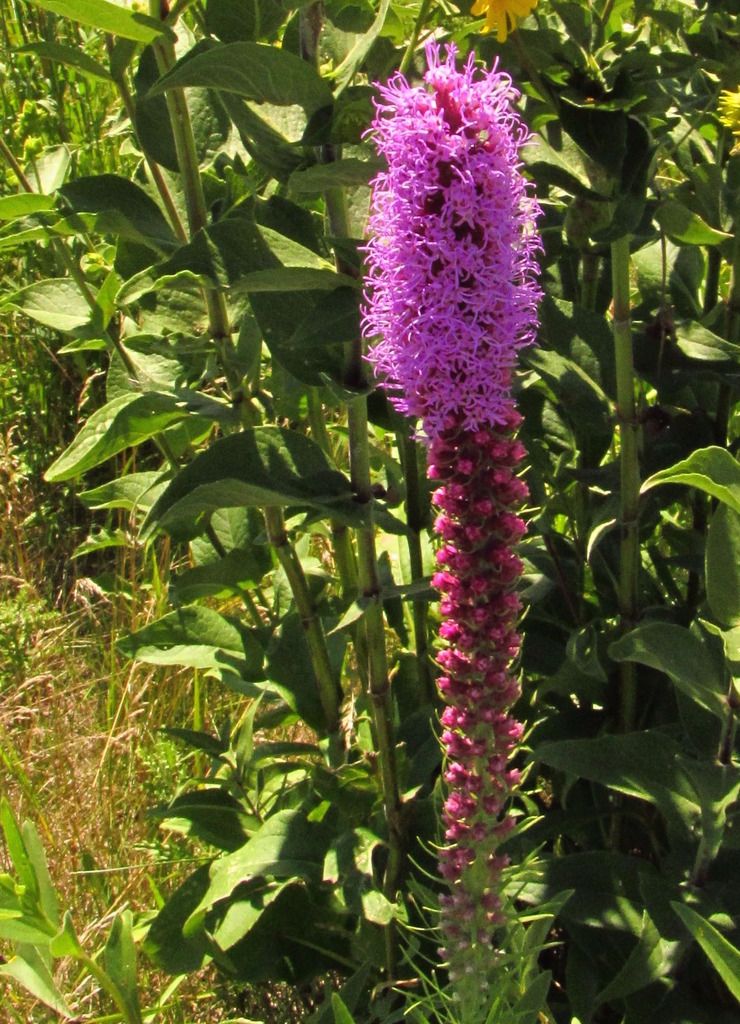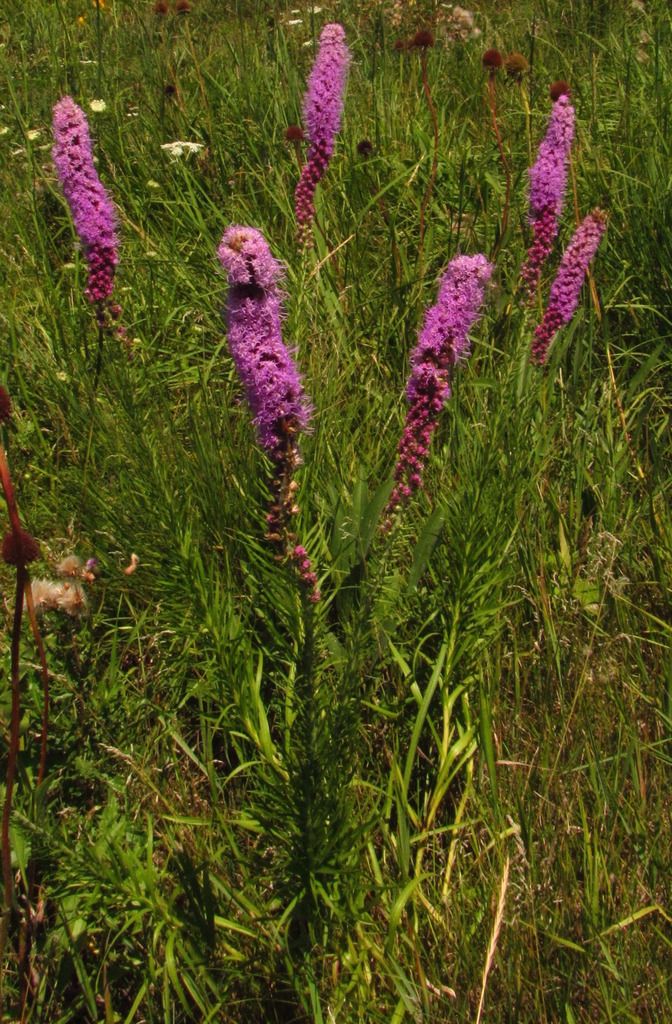 But along the Meredith bike trail between Gray's Lake and downtown Des Moines, some prairie blazing star plants were just starting to flower in late August.
According to Wildflowers of the Tallgrass Prairie by Sylvan Runkel and Dean Roosa, "The roots of blazing star have been described as having the flavor of carrots." I've never dug them up.
The flowers attract a wide range of pollinators, so would be perfect for a butterfly garden. I saw lots of insects on these prairie blazing stars in late September, but they didn't stay put long enough for me to photograph them.
Some of the plants were still in full flower: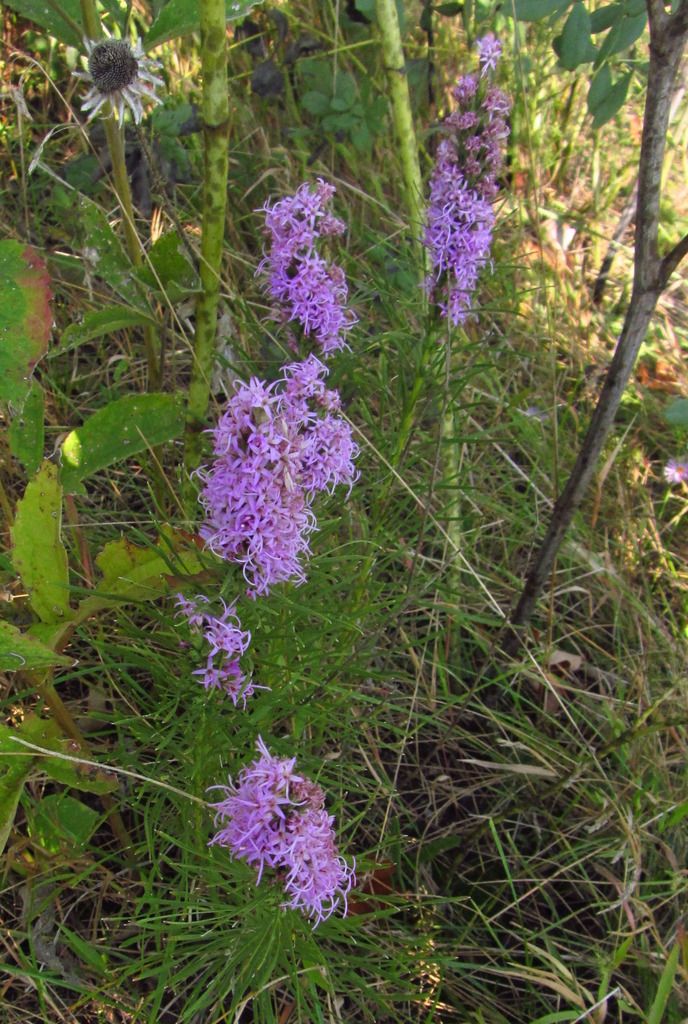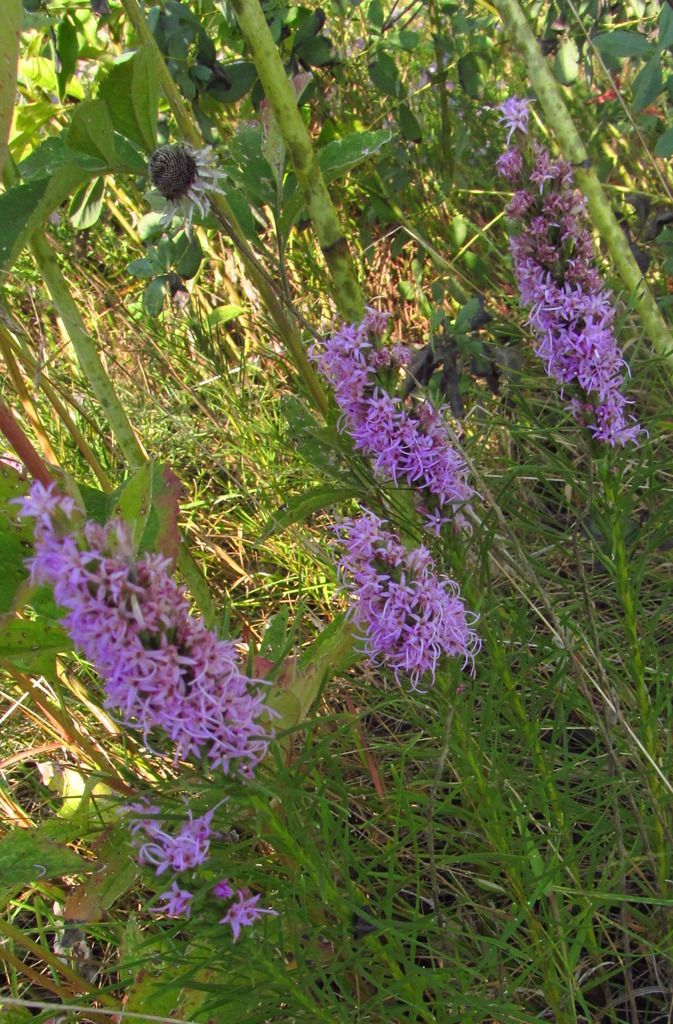 Others had nearly finished the blooming period. In these shots you can see seeds forming near the top of the spike and new flowers near the bottom.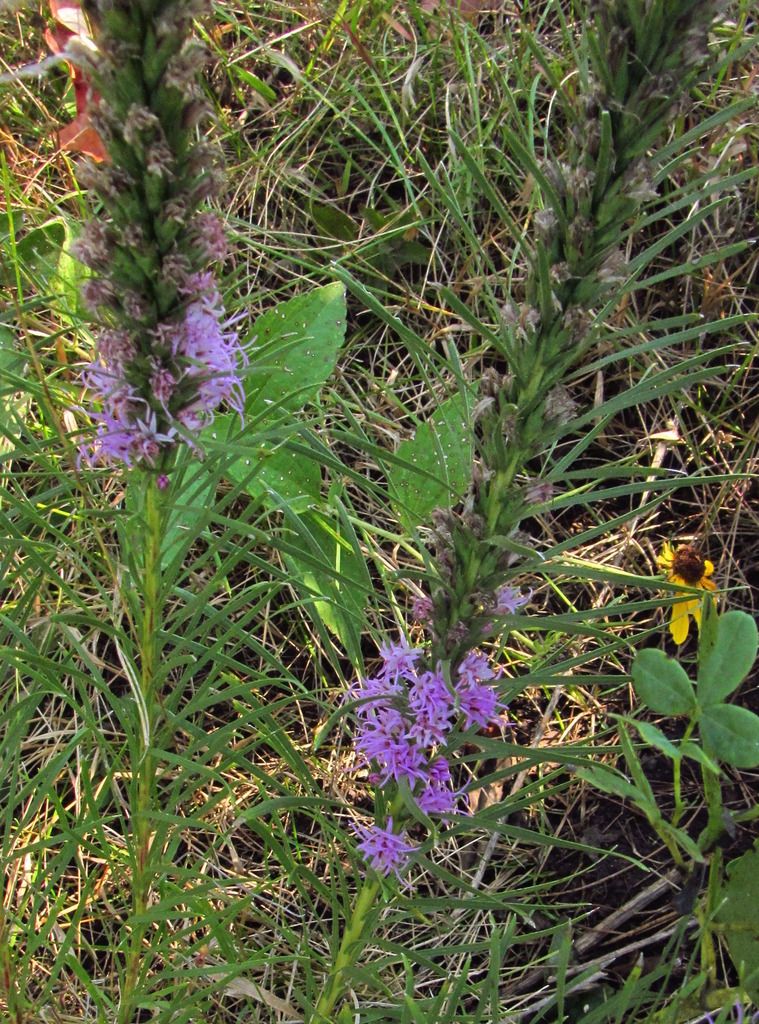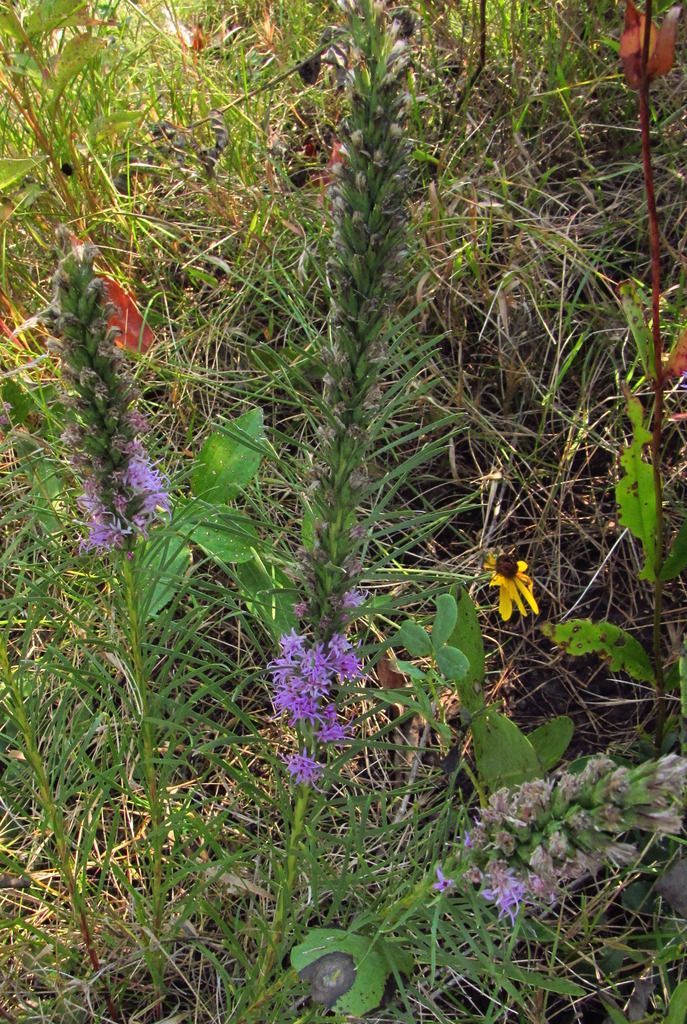 Prairie blazing star next to rattlesnake master, with some yellow or gray-headed coneflower to the right.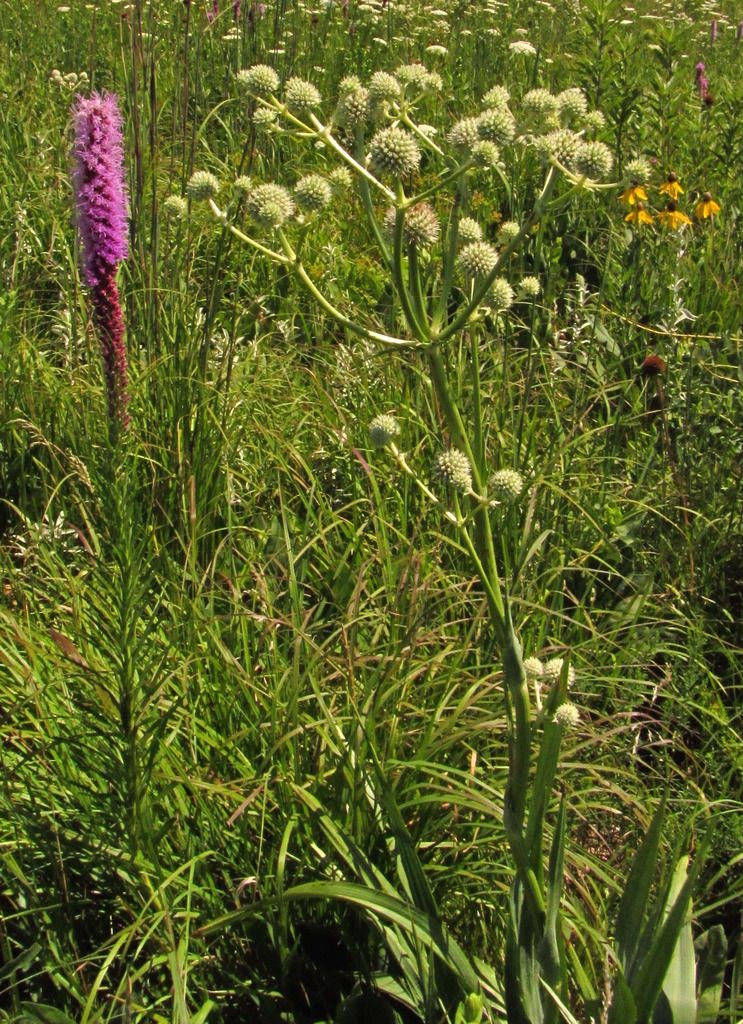 Prairie blazing star with rosinweed, which blooms in the summer: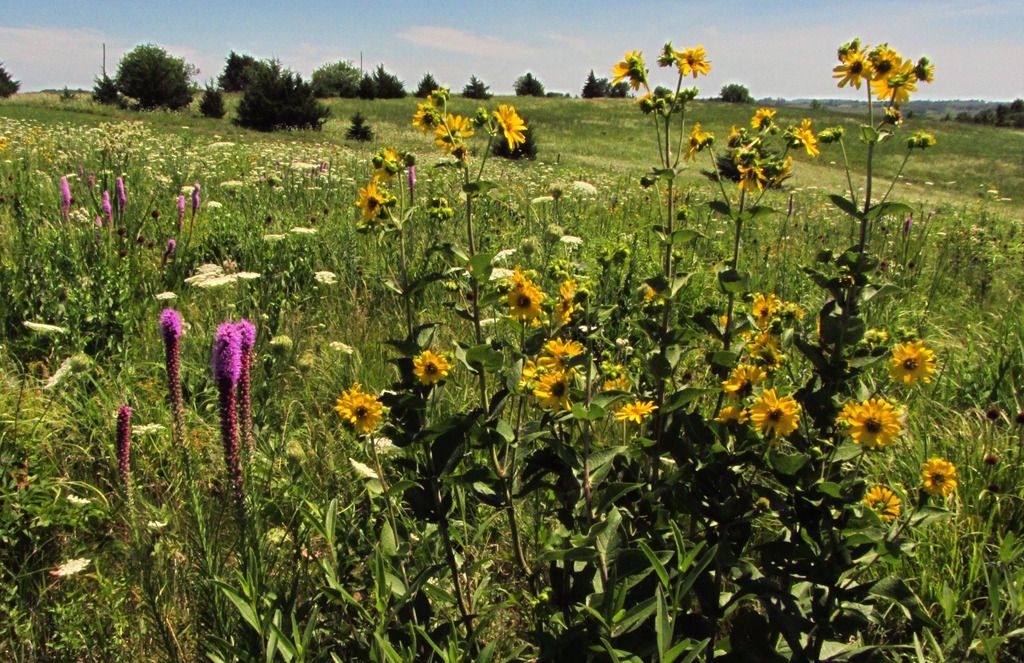 Prairie blazing star with New England aster, which blooms in the fall: