Grant Gregory is a recent graduate who has worked on several Iowa campaigns. -promoted by desmoinesdem
Donald Trump won the presidency on November 8 because independent and Democratic voters who supported President Barack Obama in 2012 shifted their vote for Donald in 2016. Middle-class Americans flipped the switch on party identity and flocked to the anti-establishment candidate in a fantastic fashion. In fact, 37 states shifted to the right from 2012 in 2016, despite Obama approval ratings hovering around 56 percent, according to Gallup.
A combination of race, education, and incomes all likely determined the tremendous swing from Democratic strongholds, but Iowa was unique in that it demographically aligned almost perfectly with the Trump brand. Iowa shifted more than any other swing state in the country, voting +5.8 percent Obama in 2012 and +9.4 percent Trump in 2016, a total margin shift of 15.2 percent, according to David Wasserman of the Cook Political Report.

With a population that is 91 percent white, the share of the population with a bachelor's degree 17 percent below the national average, 15 percent of the civilian workforce employed in manufacturing (5th in the nation only behind Indiana, Wisconsin, Michigan, and Ohio) and income growth rates below the national average, Iowa was the perfect social and economic storm for Trump to turn a purple state deep red. So red, in fact, that Iowa voted for Trump by a wider margin than Texas did in 2016. Iowa's tremendous shifts can then help us understand why previously considered "Democratically safe" Wisconsin and Michigan were so quick to switch to Donald as well.
Ultimately, Ohio, Wisconsin and Michigan shifted approximately 12, 8 and 10 points in Trump's direction, respectively – delivering Trump those unexpected and decisive rust-belt victories.
The data do not point to any one demographic group that account for an Obama-Trump flip. Women, who were expected to define the election following the release of the sexually explicit "Trump tapes," didn't end up providing much of a shift away from Donald; some 53 percent of white women voted for Trump, according to a New York Times exit poll.
An analysis conducted by Nate Silver determined that education was the defining factor of this election. Silver indicated that controlling for all other variables, level of education is the largest explanatory variable for Trump's surge in the Midwest across ethnic and income groups.
When considered carefully, the data suggest that party allegiances Democrats expected to carry Democrats across the finish line were nothing more than smoke and mirrors. This race was ultimately about the educated coasts and cities vs. the less educated middle-rural class, which flipped what we know about conventional politics and campaign strategy on its head.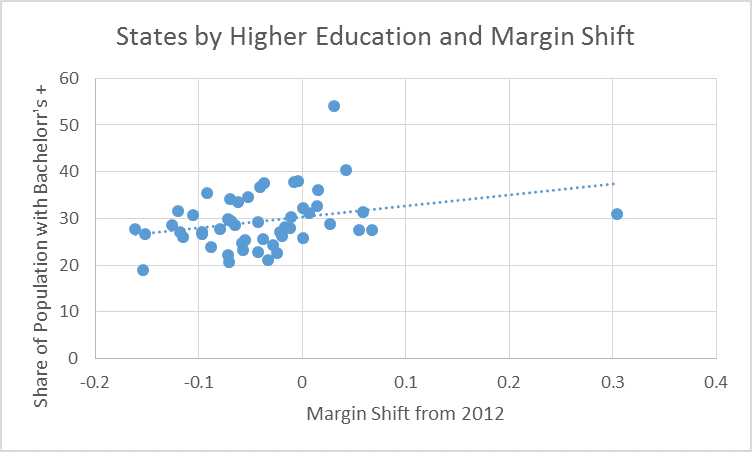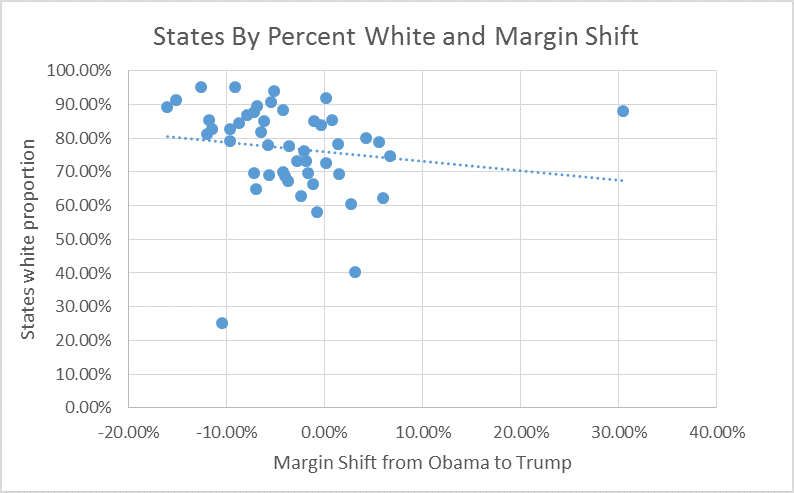 Graphs created by Grant Gregory. Margin Shift values from David Wasserman's vote tracker and Education/Race data from the U.S. Census Bureau's 2015 American Community Survey 5-year estimates.