Tracy Leone follows up on an intense and probably unprecedented local power struggle in Iowa. For background, read her post from last June, "Take Back Muscatine." -promoted by desmoinesdem
"This is a witch hunt" – Ann Burnback
"Good old boys club" – Roger Strong
"Not a wise use of our [tax] money" – Osmond Malcolm
"Corporate sugar daddies" – Taylor Williams
"Truly sickened. We've elected someone, and you guys have spit on that" – Nathan Baker
"This is the first time in my seventy years that I am ashamed to be from Muscatine" – Judy Rivera
"I fought to have a fair democracy… [not to] have a kangaroo court after election oust our elected officials." – US Veteran Max Kauffman
These were some of the testimony of the more than 60 people who attended last night's city council meeting in Muscatine in which the council voted unanimously to begin the process of removing Mayor Diana Broderson from office, just nine months before the next election when the citizens could make such a decision for themselves.

There is no precedent I could find in Iowa history in which a city council initiated and removed a sitting mayor from office. There were rumblings recently in 2014 from the citizens of Hartley, Iowa, related to a fight between the mayor and police chief, and in that case the council supported the mayor, and the petition never manifested.
In other cities and states where a mayor has been removed, council action was preceded by public outrage, typically following public scandal, drug use, or other infamous crimes. Think Washington, DC Mayor Marion Barry or Toronto Mayor Rob Ford. Other impeachments or resignations have emerged from sex scandals–think Bill Clinton or Anthony Weiner. Two recent Illinois governors have been removed from office: George Ryan for corruption that ultimately led to a fatal car wreck involving an illegally licensed driver, and Rod Blagojevich for attempting to sell a U.S. Senate seat. High crimes indeed.
Mayor Broderson has not being accused of any of these. Scour through the papers, the blogs, the online comments, and you will find no citizen rumbling related to historically impeachable offenses.
What you will find is a political power struggle between the Democratic mayor and mostly Republican/Corporate Council. I've covered the background to the story in Bleeding Heartland when the council stripped the mayor of appointment powers in August 2016, and more recently in Blog for Iowa, when the mayor questioned whether the council had the right to remove her powers to appoint to the Civil Service Commission.
An opinion from the state Attorney General's Office, dated October 2016, indicated city council members have "no authority" to diverge from the governing statute, and that not complying with its provisions "constitutes a crime." But when Mayor Broderson presented that opinion to Muscatine County Attorney Alan Ostergren, the county attorney declined to take any action in a letter dated December 2016. (Both letters are enclosed below.)
One month later, the council is taking these impeachment actions.
These proceedings are entirely driven by the council which has yet to give any specifics – a fact not overlooked by the public at last night's council meeting.
When the mayor walked into the room, it was to resounding applause from the crowd. The lower gallery was mostly filled and some watched from the upper gallery. The council moved swiftly through other actions with no discussion or debate, including approval of the annual TIF (tax-increment financing) payment to HON Corporation.
Within minutes of gaveling in, the council brought up the motion to ask the City Attorney to draw up charges. Councilman J. Michael Rehwaldt read the parts of Iowa Code that pertain to removal from office, focusing on "criticism" of city council or staff that "erodes" public confidence in the city. If these are indeed the standards by which duly elected officials are to be removed from office, U.S. Congressman Wilson who shouted "You lie" at President Obama during the 2009 State of the Union speech should have been removed. Colorado Congressman Doug Lamborn remained in office despite saying during a radio interview that associating with President Obama was like "touching a tar baby." Certainly eight years of Obama's presidency, in which the Congress and President agreed on little to nothing, should have warranted 536 removals from office by Rehwaldt's standards.
But Iowa Code is very specific in its requirements for removal from office:
1. For willful or habitual neglect or refusal to perform the duties of the office.
2. For willful misconduct or maladministration in office.
3. For corruption.
4. For extortion.
5. Upon conviction of a felony.
6. For intoxication, or upon conviction of being intoxicated.
7. Upon conviction of violating the provisions of chapter 68A.
Aside from the fact that most Americans, including our estimable elected officials, are guilty of #6, the other requirements of the code have set a high bar. I can only venture to guess that they will convolute #2. We shall see. At this point, only the city manager and city council members know to what ends they will go to avoid a simple electoral solution.
One comment came from the crowd, though, was interesting. Should they succeed with impeachment, who shall be the interim mayor? A council lackey? The previous mayor, whom the citizens ousted when they voted instead for Diana? And while this court intrigue proceeds, the actual business of government, in which millions of tax dollars are siphoned into corporate profits (such as a TIF benefiting the HON Corporation) takes backstage.
UPDATE from desmoinesdem: The Muscatine city administrator's office provided a copy of the motion passed at the January 12 city council meeting, which I enclosed below. I sought further information about what the mayor is accused of doing that would justify removal from office, but was told they are "not at that point yet" and have nothing "releasable."
The motion does not cite any specific objectionable behavior but includes this strange passage: "It appears the Mayor may have engaged in some of the foregoing conduct to the detriment of the City and in contravention of her established duties and, as such, written charges for removal should be filed to determine if the Mayor should be removed from office as a result of such conduct."
Council members are instructing the city attorney to file charges to remove Broderson in order to determine whether she should be removed, for conduct she "may have" engaged in? We're in banana republic territory.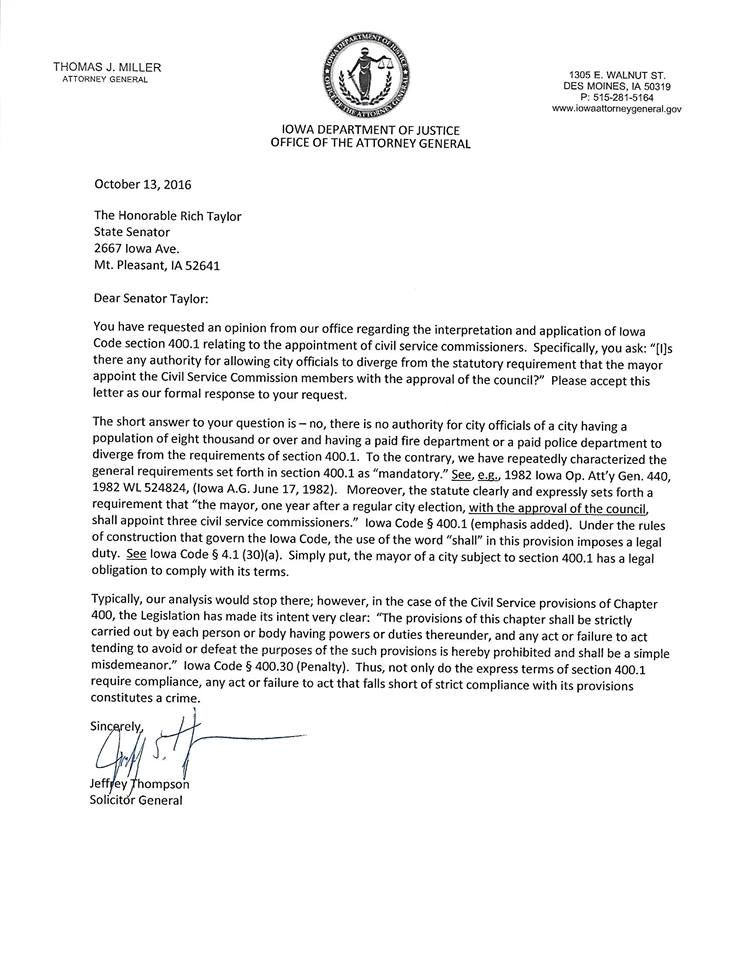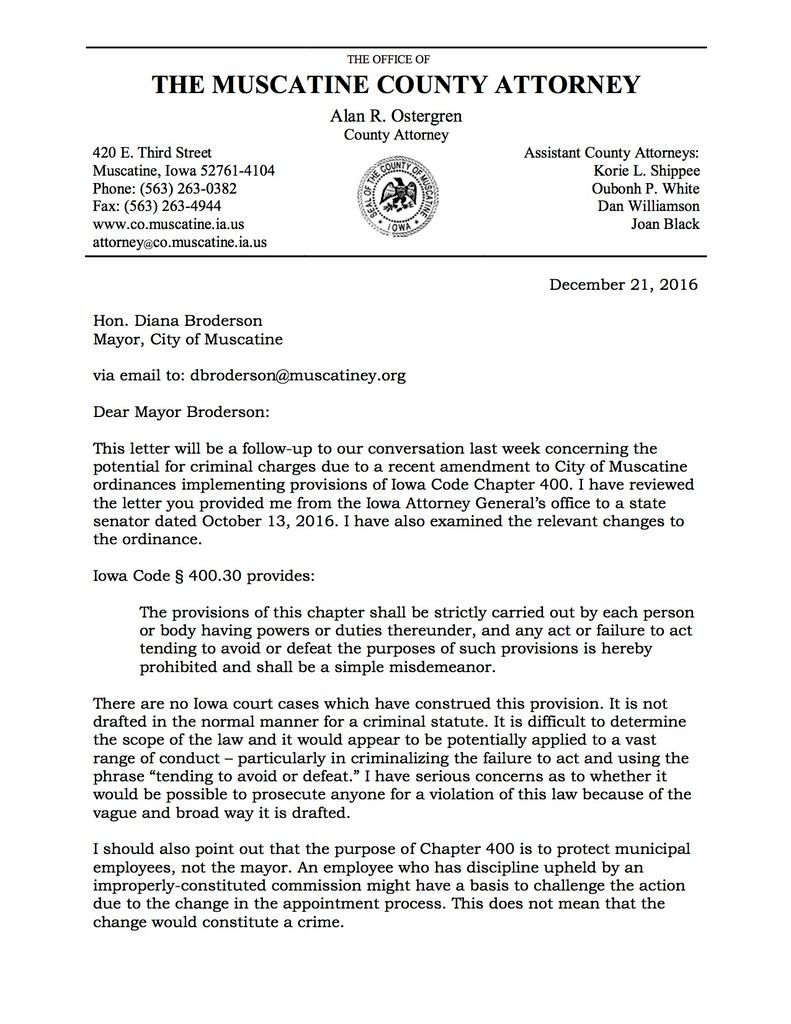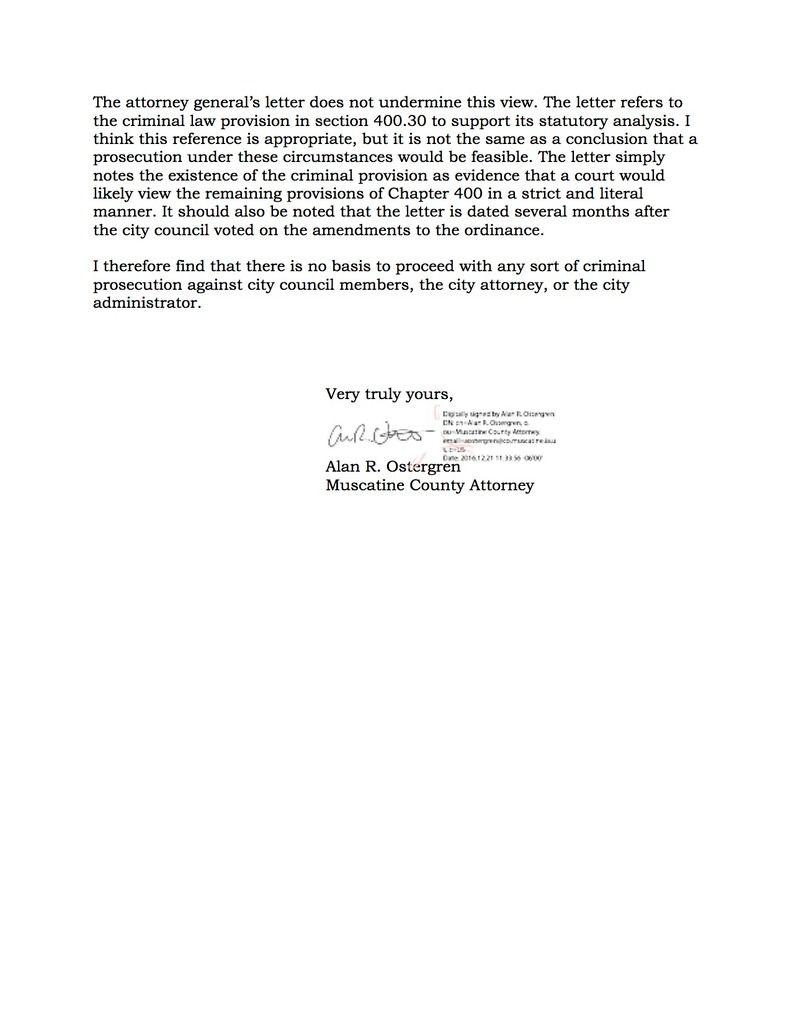 Motion approved at the January 12, 2017 city council meeting: