Turnout for the Women's March in Washington and companion events around the world shattered expectations on Saturday, far exceeding the number of people who showed up to watch Donald Trump be sworn in as president the previous day. Trump and White House press secretary Sean Spicer had a right royal meltdown over media coverage of attendance at the inauguration. The president must have been seething to see yesterday's news about more than 2.5 million people marching, including at least half a million in Washington and massive numbers in city after city: 750,000 in Los Angeles, 250,000 in Chicago, 100,000 in Denver, and so on.
Before the weekend, I heard predictions that 10,000 people might come to the Iowa Women's March outside the Capitol in Des Moines. Instead, an estimated 26,000 people were there--impressive turnout for a state with about 3 million residents.
I spent most of Saturday at the Iowa Democratic Party State Central Committee meeting, so I'm grateful to Bleeding Heartland readers who gave me permission to share their Iowa Women's March photos below (click on any image to enlarge). The only problem was choosing what to post among scores of inspiring images from the rally.
This is an open thread: all topics welcome. The Iowa City Press-Citizen published a photo gallery from the women's march in the "people's republic."

Professional photographer Nate Ward gave me permission to use his aerial shot: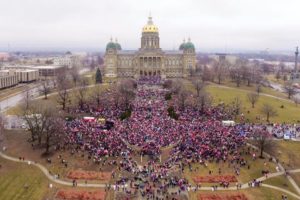 Here are some other crowd pictures. From Jordan Oster: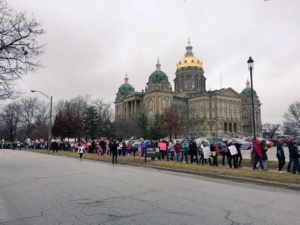 From Jill Gilbert (a cropped version appears at the top of this post):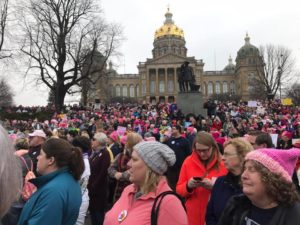 From Will Oppermann: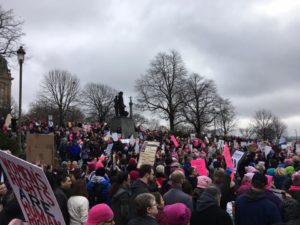 From Jeffrey Bruner: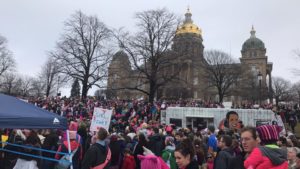 From Doug Potter: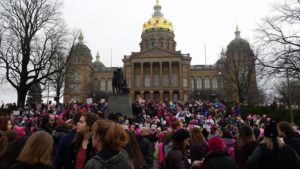 Looking west toward downtown Des Moines, from Jordan Oster: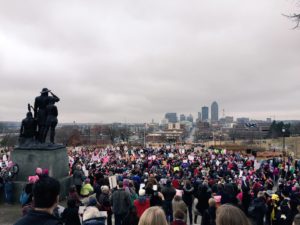 From Greta Anderson: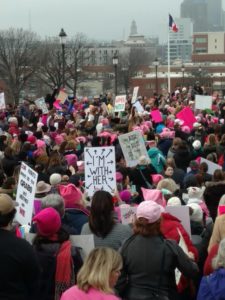 From Katie Rock: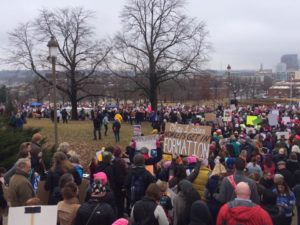 From former Iowa House candidate Molly Donahue: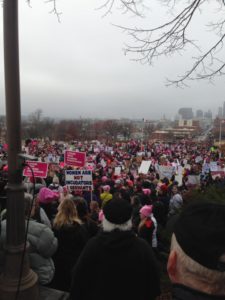 From Chris Cronbaugh: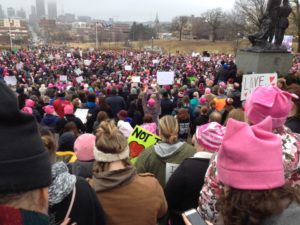 Looking south toward the Iowa Supreme Court building, from Molly Donahue: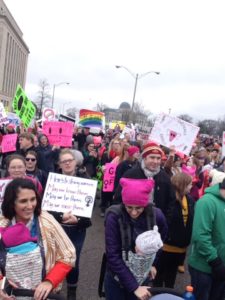 Looking north toward Grand Avenue, from Christopher Matson: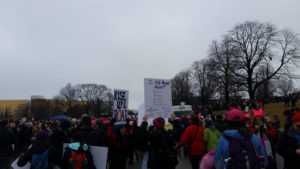 Hand-made political signs are the best political signs. From Katie Rock: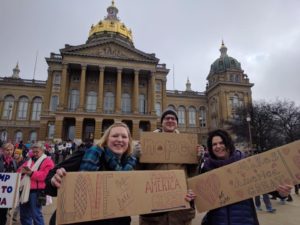 Also from Katie Rock: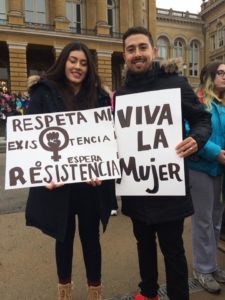 From Tanya Keith: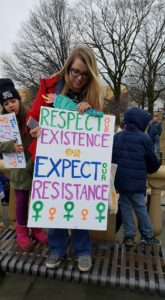 From Susie Oleson: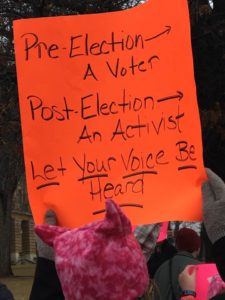 From Nicole Kosby:
Some sign-makers used the American flag (from Claire Celsi):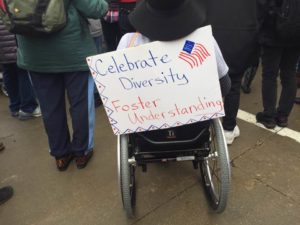 Barack Obama has left the building, but his campaign logo endures (from Claire Celsi):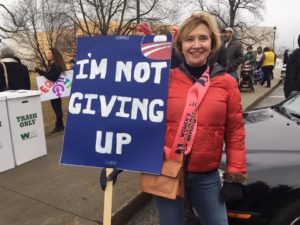 Maridith Morris, a nurse and former Iowa House candidate who is passionate about women's health care: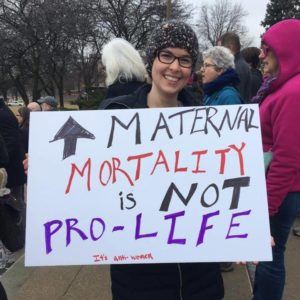 Heather Matson, a former Iowa House candidate who is passionate about civil rights: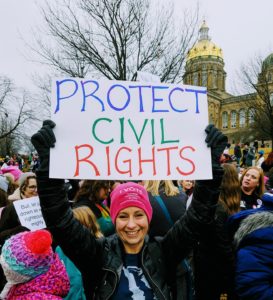 Reproductive rights was a popular theme for marchers (from Seth Andersen):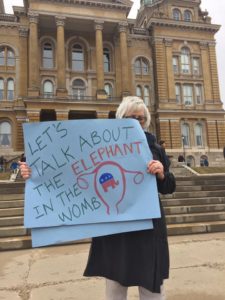 From Claire Celsi: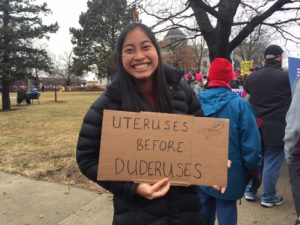 From Tanya Keith: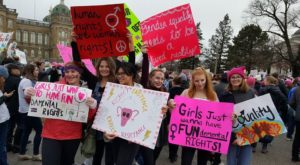 But the Women's March wasn't just about "women's issues" (from Claire Celsi):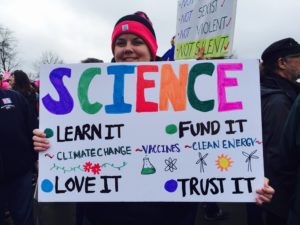 And the Women's March wasn't just for women (from Toby O'Berry):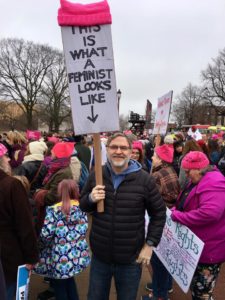 From Claire Celsi: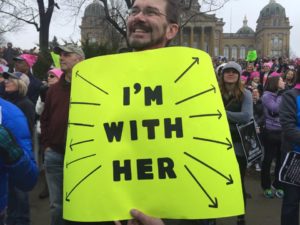 Also from Claire Celsi: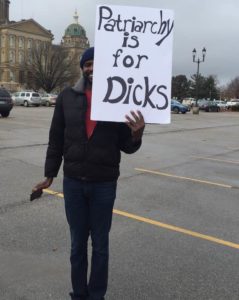 A variant on "love trumps hate," with a statement for human rights (from Danny Homan):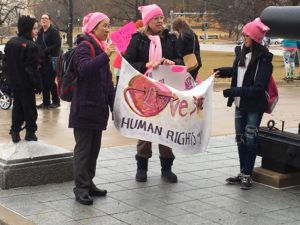 Many negative signs were directed at Trump (from Susan Gunnink):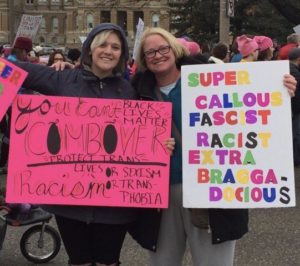 Iowa Republicans took some heat as well (from Claire Celsi):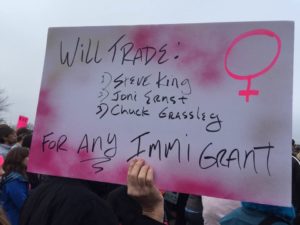 Welcoming immigrants was another popular theme (from Bruce Koeppl):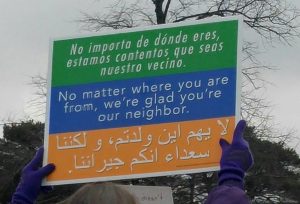 Many people marched with their children or grandchildren. From Toby O'Berry: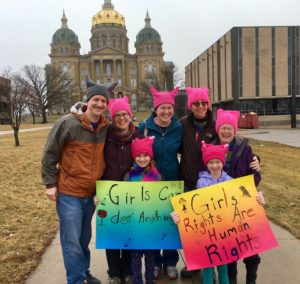 Tanya Keith and family: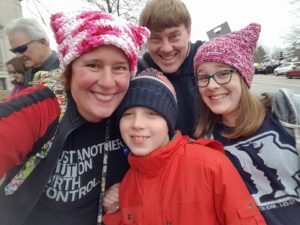 One of my favorite kid photos (from Marian Kuper):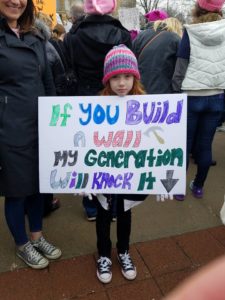 Young activists (from Jill Gilbert):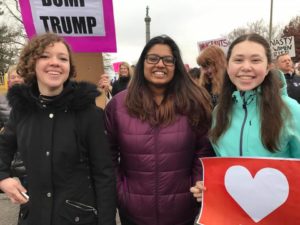 More young activists (from Claire Celsi):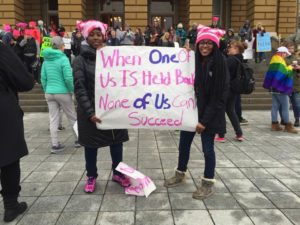 Toward the other end of the life experience bell curve (from Katie Rock):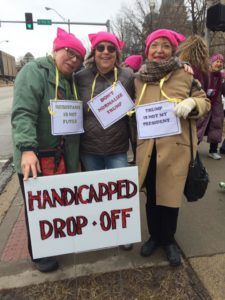 From Michael Anderson: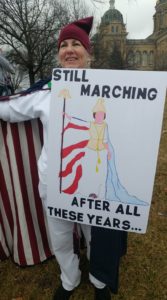 From Claire Celsi: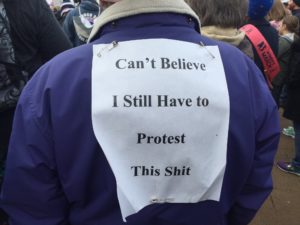 Three generations in William Staplin's family: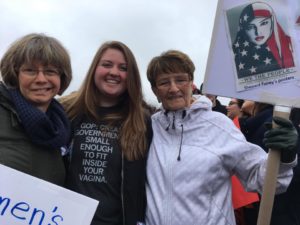 Some people sang or gave speeches. Photo by Greg Hauenstein--his whole album on Flickr is wonderful.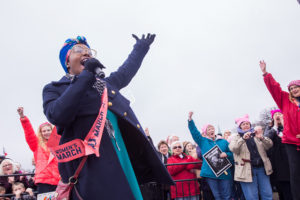 The cold weather didn't deter these women from making a statement (from Lauren Whitehead):