Republican State Senator Mark Chelgren has a history of grabbing headlines by filing unworkable bills or making offensive statements. This year, his attention-seeking behavior backfired in a big way.
Corky Siemaszko reported for NBC News yesterday that Chelgren's official bio wrongly claimed he had a "business degree" from the "Forbco Management school." In reality, Chelgren took a management course while working for the Sizzler restaurant chain. The story went viral, not just in Iowa.
Chelgren denied any "attempt to inflate" his resume. But although the Iowa Senate Republicans have removed any reference to the so-called business degree from their website, Chelgren's corporate website still misleads regarding his college education.

Siemaszko reported,
In a telephone interview last week, Chelgren was vague about Forbco. He said it was located outside of Los Angeles and that he got his business degree "around '88 or '89. It's going back a ways so I don't remember."

The school is not listed on the federal National Center for Education Statistics' list of accredited colleges or universities. And the only Forbco Management in California, records show, is a company that used to operate a Sizzler steakhouse in Torrance, California.

"I don't know if they are still in business or not," Chelgren said. "The school was created by Forbco Management, and I got a degree in hotel restaurant management."
NBC News posted a screenshot of the previous version of Chelgren's bio on the Iowa Senate Republicans website. The new version doesn't mention Forbco or any business degree, saying only of the senator's education,
Senator Mark Chelgren was elected to the Iowa Senate in 2010. He attended the University of California at Riverside majoring in astro-physics, geo-physics and mathematics.
The bio on the website of Chelgren's company Frog Legs, which manufactures wheelchair shock absorbers, makes bolder claims (hat tip to Mark Langgin):
Mark Chelgren completed his education in Astro- and Geo-Physics at the University of California in Riverside. Chelgren worked through college as a Manager and Auditor for Forbco Management in Anaheim, Ca. and then as a Geo-Physist [sic] for GeoSoils in Temecula.
I contacted UC Riverside to check out Chelgren's history as a student there. According to John Warren, director of media relations for the university, "Eric Mark Chelgren attended the University of California, Riverside from fall 1992 – fall 1993 with a major in physics. He did not graduate from UCR."
Chelgren wants us to believe that he was not trying "to inflate anything" and "didn't concern myself about" how his education credentials were described online. Yet his corporate website implies that he "completed his education" at UC Riverside, where he was a student for just one year.
Why was a national reporter looking into an Iowa senator's background? Because last month, Chelgren introduced a stupid (and probably unconstitutional) bill related to Iowa's three state universities. Senate File 288 would direct the Iowa Board of Regents to stop the universities from hiring any faculty members "if the person's political party affiliation on the date of hire would cause the percentage of the faculty belonging to one political party to exceed by ten percent the percentage of the faculty belonging to the other political party."
The bill was never going to pass, and didn't even receive a subcommittee hearing in the Iowa Senate Education Committee, but Chelgren's publicity stunt generated national news coverage, leading to awkward questions from Siemaszko and this week's embarrassing revelations.
If Chelgren hadn't taken a cheap shot at university faculty, Iowans would be unaware of his tendency to exaggerate his own schooling. As Pat Rynard commented today, "Chelgren has no one to blame but himself for his current misfortunes that could undermine his looming reelection campaign in 2018."
It couldn't have happened to a nicer guy.
MARCH 3 UPDATE: A reader pointed out that Chelgren's Facebook profile says he studied logic at UC Riverside.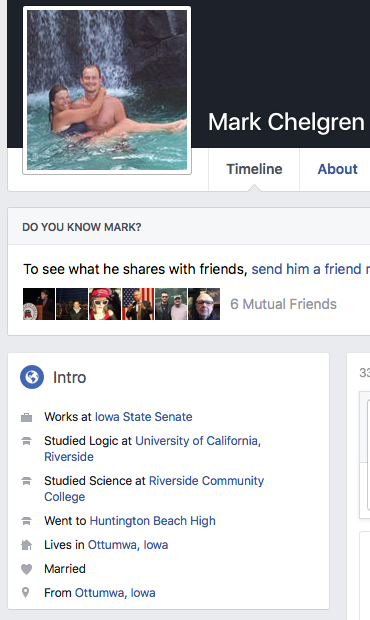 MARCH 4 UPDATE: Chelgren's hometown newspaper, the Ottumwa Courier, posted a devastating staff editorial calling for the senator to resign.
What is stunning is that Chelgren invited such attention to his views on education policy with the full knowledge that his educational credentials were falsified.

It was the latest example of Chelgren's sense of self-importance getting the best of him to the detriment of his ability to represent his constituents.

He has gotten into shouting matches on the Senate floor. He sulks like a spoiled child when reminded that he represents this area and that it deserves better. Those incidents already undermined his reputation at the state level.

Now, he has made Ottumwa a national punch line. [...]

Chelgren sells himself as a true believer, a crusader for conservative values who will stand up to his own party. But he's not. He's a sham, an attention-seeking braggart.

Chelgren's reputation lies in tatters. His integrity is gone. He needs to resign.
LATER UPDATE: Chelgren skipped a legislative forum on the morning of March 4 to address a friendly crowd at the "Spirit of America" rally in Ottumwa. Photo by Miriam Kenning (shared with permission):
Not surprisingly, Chelgren depicted himself as the victim of unfair media reports. From Mark Newman's report for the Ottumwa Courier:
The state senator said to attendees [President Donald] Trump offers a vision of how a conservative plan to improve the nation can move forward. It's something he is fighting to do as well, he said.

But it won't be easy, he added. In fact, he is facing a battle in which he says NBC news, fearing the changes Republicans like Chelgren could bring about, went into attack mode, questioning his honesty and his background: He explained his management training, then disputed NBC's presentation, calling them the dishonest ones: "I have an associate's degree. They say I don't have a degree. Anybody with an associate's degree should be offended," he said.

But that's not his most important battle, he added, nor is an activity like going around campaigning for office: He said his mission in Des Moines has been saving babies — thousands of them, he said, if his bill becomes law. [...]

"Saving babies is more important than getting reelected," he said.
Chelgren has co-sponsored many anti-abortion bills in the Iowa Senate, including this year's version of "personhood," which did not advance. He also voted for the latest version of a 20-week abortion ban, which remains alive.