President Donald Trump can be called many things, but subtle will never be one of them. Within 24 hours of journalists reporting that Donald Trump, Jr. had agreed to a private, transcribed interview with the U.S. Senate Judiciary Committee, the president picked up the phone to let Judiciary Chair Chuck Grassley know that he's very pro-ethanol.
Iowa's senior senator was delighted.

Biofuels advocates have had reason to worry after Trump picked Scott Pruitt, an opponent of the Renewable Fuels Standard, to lead the Environmental Protection Agency, and made Carl Icahn, the majority owner of a petroleum refining company, a special adviser to the president. Icahn wasted no time in trying to overturn a rule that is important to the ethanol industry but costs his company money, as Patrick Radden Keefe reported at length for the New Yorker's August 28 issue.
Meanwhile, Trump has been able to count on Grassley for cover on the Russia collusion story. The Judiciary Committee chair dismissed the need for a special prosecutor to investigate, instead making excuses for Trump firing FBI Director James Comey and revealing classified information to high-ranking Russian officials at the White House. Grassley then laid the groundwork for a different storyline by pursuing "investigations into tangential subjects" that "deflect attention from the core issues" of the president's Russia connections, "undermining the credibility of agencies or people who have uncovered information on Trump," Dan Friedman reported for Mother Jones in July.
The president's eldest son is a key figure for investigators because he participated a June 2016 meeting with the expectation of receiving damaging information from Russians about Hillary Clinton. Trump, Jr. initially failed to disclose that meeting, which experts consider a likely Russian intelligence operation, and later lied about it. So it was a big news on August 29 that the Judiciary Committee had worked out a deal to interview Trump, Jr. in private sometime this month.
What do you know, the president suddenly felt inspired to reach out to Grassley.
Just had ph call from Pres Trump + he assured me he's pro ethanol +I'm free 2 the ppl of Iowa he's standing by his campaign PROMISE

— ChuckGrassley (@ChuckGrassley) August 30, 2017
Tlkd 2 @realDonaldTrump about ethanol +he knows that ethanol is good good good

— ChuckGrassley (@ChuckGrassley) August 30, 2017
When Pres Trump called me I thanked him 4his continued attention + response to hurricane Harvey @realDonaldTrump

— ChuckGrassley (@ChuckGrassley) August 30, 2017
The Washington Post's Karoun Demirjian and Philip Rucker asked some questions.
Russia, and the committee's ongoing investigation of alleged coordination between the president's campaign and Kremlin officials, did not come up during the call, according to Taylor Foy, Grassley's committee spokesman.

Foy said that it was Trump who called Grassley, and that Grassley told the president he would tweet about their conversations and the president's support for ethanol. The call was approximately two minutes long, Foy said, and the only other subjects that came up were Hurricane Harvey and U.S. Ambassador to China Terry Branstad, the former governor of Iowa. […]

Though Grassley has long championed ethanol, matters such as subsidies and renewable fuel standards are not an integral feature of any major bill currently before the Senate.

A White House official said Wednesday [August 30] that in recent days, Trump has heard from a few outside advisers about rumors within the ethanol industry that the president was abandoning his campaign pledge on ethanol. Trump's tweet on Sunday threatening to terminate the North American Free Trade Agreement, which would have an impact on the ethanol industry, apparently helped feed the rumors.

Trump decided to call Grassley on Wednesday to kill the rumors and reassure Iowa's senior senator that he supported ethanol and would not walk away from his campaign promise, the official said.
If you don't find that explanation credible, you're in good company. Sarah Posner followed up for the Washington Post:
To understand the significance of this episode, I talked to Andy Wright, a founding editor of the Just Security legal blog and a former congressional investigator and legal counsel in the Obama White House. He stressed to me that it's possible there's an innocent explanation — that Trump is just now being responsive to Grassley's efforts to communicate with him on policy issues.

But, Wright says, "with his son facing down a showdown with the committee and all of a sudden he's answering Chuck Grassley's mail," the "subtext is, as president, I have ability to withhold things you need as deliverables for your district."

Wright emphasized that senators "need to be able to walk and chew gum at the same time." By this, he means that although Grassley is performing an investigative role, he needs to be able to also carry out his other functions on unrelated policy and legislative issues. But, Wright added, in a "normal White House," a discussion about a subject such as ethanol policy would have involved White House and congressional staff with expertise in agriculture and energy, not a two-minute phone call directly between the president and a senator. It would not be carried out unilaterally by "the person who's under investigation potentially" and who also has control over the regulatory policy in question, Wright said, referring to reports that the president's own conduct is being examined for possible obstruction of justice.

Trump's call to Grassley, then, "removes any sort of institutional efforts to safeguard the investigative interests of the committee," said Wright.
Wright also mentioned Grassley's complaints earlier in the year that White House staff weren't responsive to his inquiries about H1B visas.
Given Grassley's pattern of downplaying or deflecting incriminating news related to the Trump/Russian investigation, he should bend over backwards to avoid giving the impression that he can be manipulated by the president.
Walter Shaub, who was director of the U.S. Office of Government Ethics until July, suggested that Grassley look into Carl Icahn's "efforts as a Presidential advisor to influence govt against the interests of ethanol in favor of his own interests," as shown here. Shaub noted that Grassley has "advocated for reining in uses of Special Govt Employees. Using unappointed Pres. Advisors is the same thing but on steroids," adding that he'd "be happy to help" if the Judiciary Committee examines whether Icahn qualifies as a "special government employee." In Shaub's view, special government employees "are covered by most, though not all ethics rules, unappointed Pres Advisors are covered by none. So pretty clear which is worse."
Keefe discussed other legal questions surrounding Icahn's actions in his must-read New Yorker piece.
UPDATE: Kyle Griffin pointed out a "curious timeline": on August 30, Trump called Grassley. The next day, Grassley wrote to the FBI, after "Transcripts reviewed by the Senate Judiciary Committee reveal that former FBI Director James Comey began drafting an exoneration statement in the Clinton email investigation before the FBI had interviewed key witnesses." Grassley's letter appears to have inspired a presidential tweet the following day.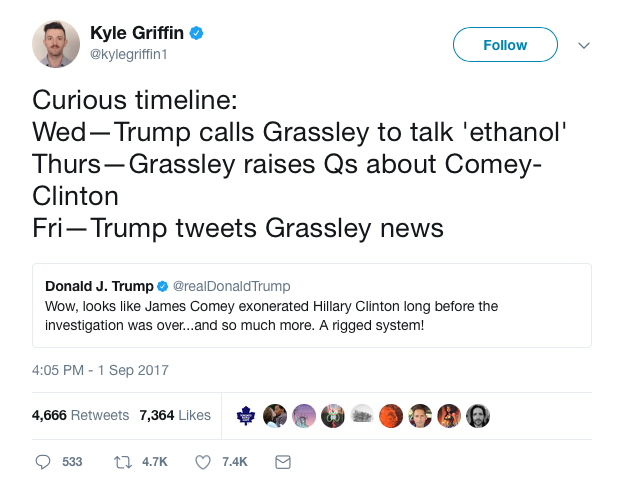 Raising suspicion about Comey's treatment of Clinton is consistent with the alternative investigation tactic Friedman identified earlier this summer.