Who could have guessed that privatizing Medicaid would lead to for-profit companies cutting essential services to Iowans with disabilities? Aside from anyone who spent five minutes reading how the same approach had played out in Kansas?
When Iowa Democratic lawmakers sounded the alarm two and a half years ago, Governor Terry Branstad and his aides dismissed the warnings as "Washington D.C.-style partisan attacks." They insisted privatization would allow Iowa patients to "enjoy the increased quality of service and care that comes with modern plans administering Medicaid."
Instead, thousands received less in-home care or had trouble accessing medications and services after private insurance companies began managing their cases. The state now faces a class action lawsuit on behalf of 15,000 Iowans with disabilities.
Iowa Department of Human Services Director Jerry Foxhoven admitted yesterday what should have been obvious from the start: letting for-profit companies control access to health care for people with disabilities makes no sense.

Tony Leys reported for the Des Moines Register on Foxhoven's September 13 briefing.
"We are examining patients that may not be the right mix" for managed care-companies to oversee, Department of Human Services Director Jerry Foxhoven told an advisory council for his agency Wednesday.

Foxhoven, who recently became the department's director, said the Medicaid management companies could succeed at saving money by helping many other Iowans improve their health, such as by encouraging them to quit smoking. "But somebody who's a quadriplegic and is on a ventilator, there's probably not much you're going to do to improve their health or bring costs down," Foxhoven told the Council on Human Services. […]

Although severely disabled Iowans make up a relatively small share of those on Medicaid, they account for a large share of the costs, because many need several hours of care each day.
The high cost of caring for people with disabilities is reflected in this table, part of Iowa's "shameful" request to scale back retroactive coverage to new Medicaid recipients. People with disabilities account for less than 5 percent of the estimated number who would be affected by that cutback, but nearly 19 percent of the projected savings to state government.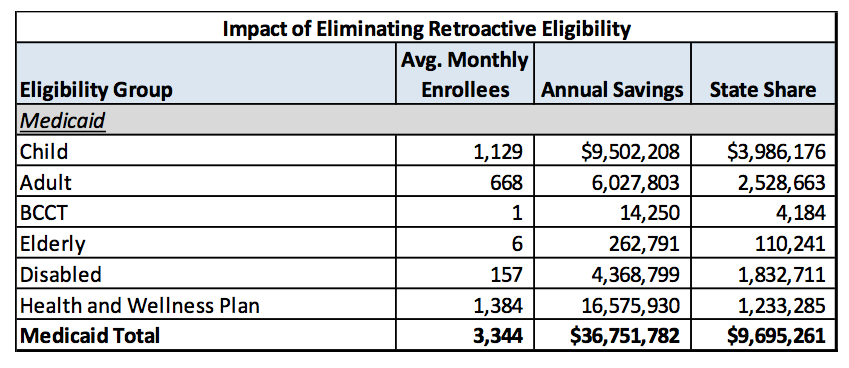 A lawsuit filed in June
asks that a federal judge order the state to stop letting its contractors arbitrarily deny or cut services allowing Iowans with disabilities to live in their homes. […]

[Disability Rights Iowa Executive Director Jane] Hudson said one possible outcome could be to have the state stop using management companies to oversee the care for 15,000 recipients who are on "waiver" programs for people with serious disabilities.

She said the state Department of Human Services could resume direct oversight of benefits for those people, who have some of the most complicated needs of any of the approximately 600,000 Iowans on Medicaid.

The lawsuit says when state administrators directly ran the Medicaid program, they often granted "exceptions to policy," allowing service levels that were beyond what formal rules called for.
Foxhoven told Leys that the lawsuit didn't drive him toward the idea of taking people with disabilities out of the managed-care model. Rather, he said he's thinking about "How do we best serve this population?"
Too bad no one in the Branstad administration asked that question before the governor sprung his Medicaid privatization proposal on the public and state lawmakers in early 2015. (Top executives and lobbyists for some insurance companies had known the plan was in the works long before then.) Minimal online searches would have revealed big problems after Kansas adopted a similar approach.
Then Iowa Senate President Pam Jochum laid out in detail how privatization had been an "absolute disaster for those with a disability in Kansas" during an April 2015 press conference. Drawing on her research and first-hand experience as a caregiver to an adult with intellectual disabilities, she urged then DHS Director Chuck Palmer to rethink the policy. But the governor was determined to forge ahead. His successor Kim Reynolds has joined in the happy talk about how well privatization is going.
In an ideal world, the Reynolds administration would scrap the entire Medicaid "modernization," but Foxhoven has already said, "I don't see it going away."
The DHS still hasn't signed contracts specifying how much the state will pay the three insurance companies to manage Medicaid during the current fiscal year. Those terms should have been finalized by July 1. Leys reported yesterday,
Foxhoven said the negotiations have included whether some Iowa Medicaid recipients should be withdrawn from the private companies' caseloads and put back under direct state oversight. "That's part of what's dragging this out," he told the council. He said the management companies are open to the idea.
Sure they are open to getting more Medicaid money from the state and federal government while dumping some of the most expensive patients from their caseloads. Ironically, corporate leaders worried about "catastrophic" losses may accomplish what disability rights advocates were unable to do: get some of the most vulnerable Iowans out of a privatized system that will never suit their needs.
UPDATE: Reader Arianne Waseen commented,
What makes me really mad is the multiple info sessions they held before the rollout where disabled Iowans and their families repeatedly said that this wouldn't be a good idea, and we were all brushed off as histrionic and overly worried. Turns out we were right-getting reminders to eat broccoli or go to the gym somehow doesn't cut the healthcare costs associated with things like Down Syndrome, autism, or quadriplegia.
Fact-check: true. Branstad and representatives of the insurance companies dismissed those concerns, saying some people "always fear change." Rhonda Shouse helped organize worried Medicaid recipients and family members who opposed the privatization plan and documented the many disruptions to health services after the shift to managed care.