President Donald Trump showed yet again this week that he lies freely and is unable to behave appropriately in almost any situation calling for empathy.
Republican politicians in Washington and Iowa were silent, as usual, about Trump's false comments and disrespectful actions.

For twelve days, Trump made no public comments about the four American soldiers killed in Niger earlier this month. The president went golfing instead of attending the return of remains ceremony for Sgt. La David Johnson. That's not surprising; since being inaugurated, Trump has spent all or part of 94 days at his own properties, 74 of them at golf clubs. He has golfed on 56 days, approximately 20 percent of his presidency. UPDATE: Make that 95 days at Trump properties, 75 at golf clubs. Here's a graphic produced by the Washington Post: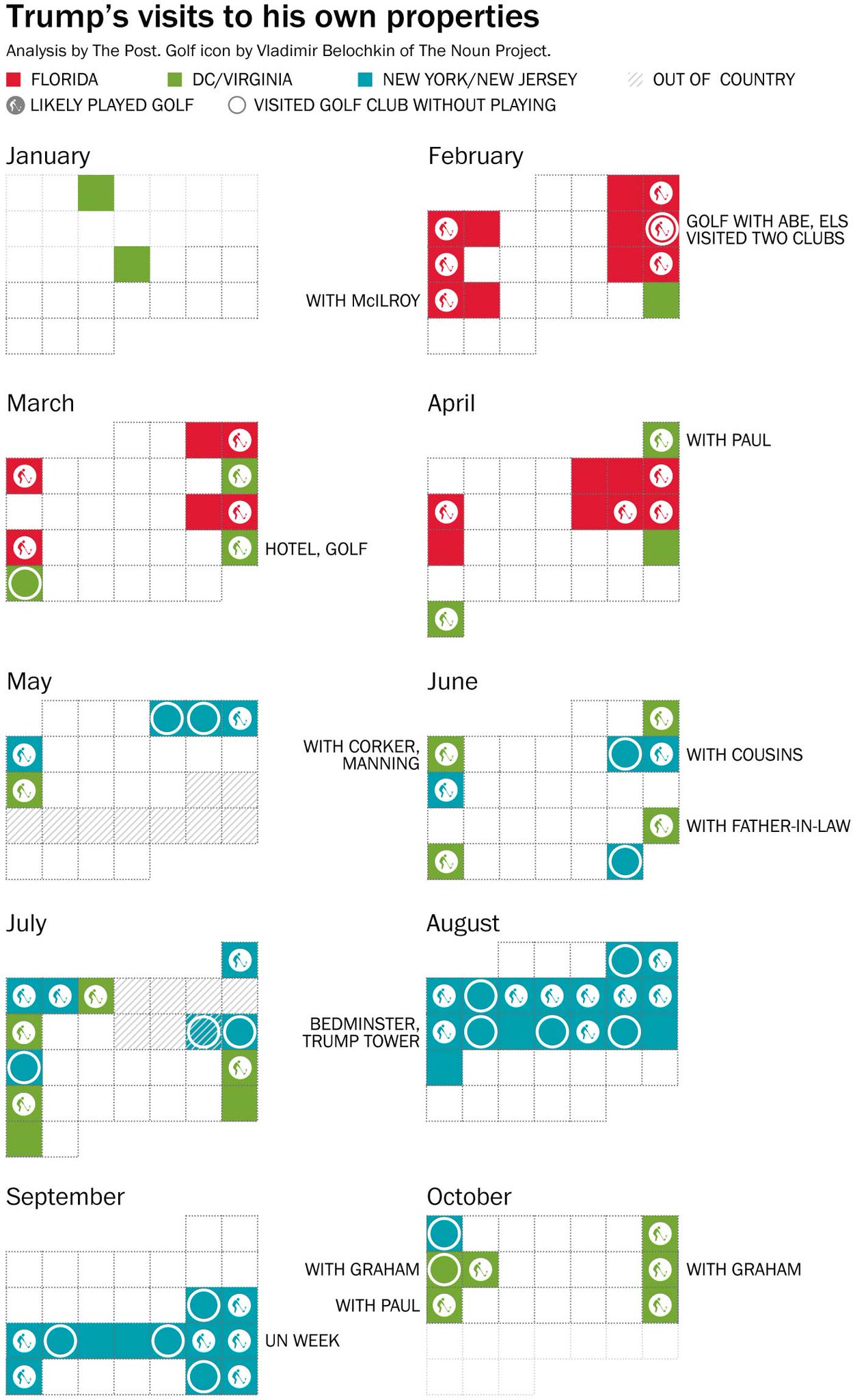 Asked about the fatal ambush in Niger during an October 16 press conference and a Fox News Radio interview the following day, Trump falsely said he had called almost all the families of fallen service members ("I can tell you my policy is, I've called every one of them.") In addition, Trump wrongly claimed past presidents had not routinely made such calls.
Associated Press correspondents Calvin Woodward and Tom Davies quickly found many families Trump had never contacted: "Despite Trump's boast that he reaches out personally to all families of the fallen, interviews with families members did not support his claim."
John Donnelly of Roll Call later obtained e-mail correspondence between White House and Pentagon officials showing that "Not only had the president not contacted virtually all the families of military personnel killed this year, the White House did not even have an up-to-date list of those who had been killed."
Dan Lamothe, Lindsey Bever and Eli Rosenberg reported for the Washington Post, "President Trump, in a personal phone call to a grieving military father, offered him $25,000 and said he would direct his staff to establish an online fundraiser for the family, but neither happened, the father said." CNN later confirmed a personal check from Trump was mailed to the family the same day the Washington Post story was published.
Also on October 18, disturbing details emerged about Trump's phone call with Myeshia Johnson, Sgt. Johnson's widow and the mother of his two young children and third on the way. The president "said that her husband 'knew what he signed up for,' referring to the soldier only as 'your guy,' according to Sergeant Johnson's mother and a Democratic congresswoman, who both listened to the call." Although Trump denied making such comments, Chief of Staff John Kelly later acknowledged what Trump had said.
Brandon Friedman explained in a tweetstorm (later turned into a commentary for the New York Daily News) that Trump's approach to that phone call "shows he has no idea how the military works."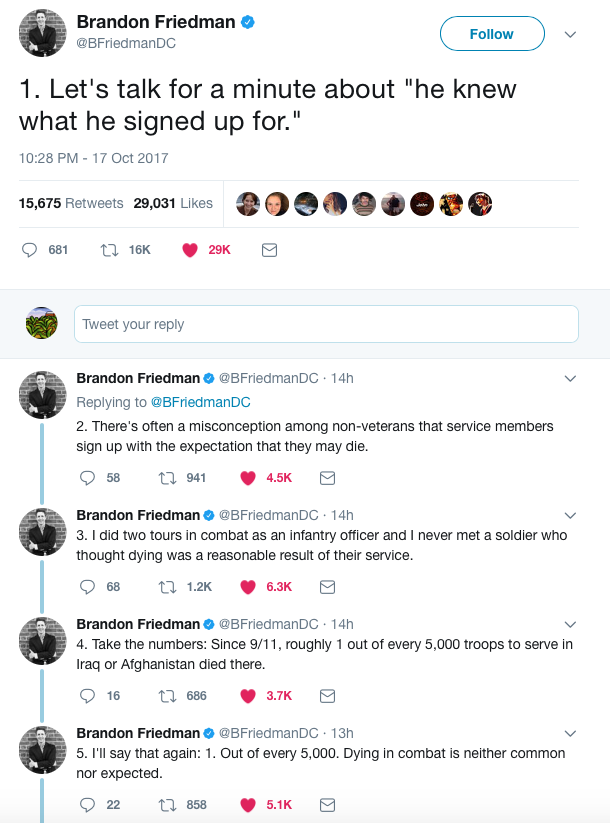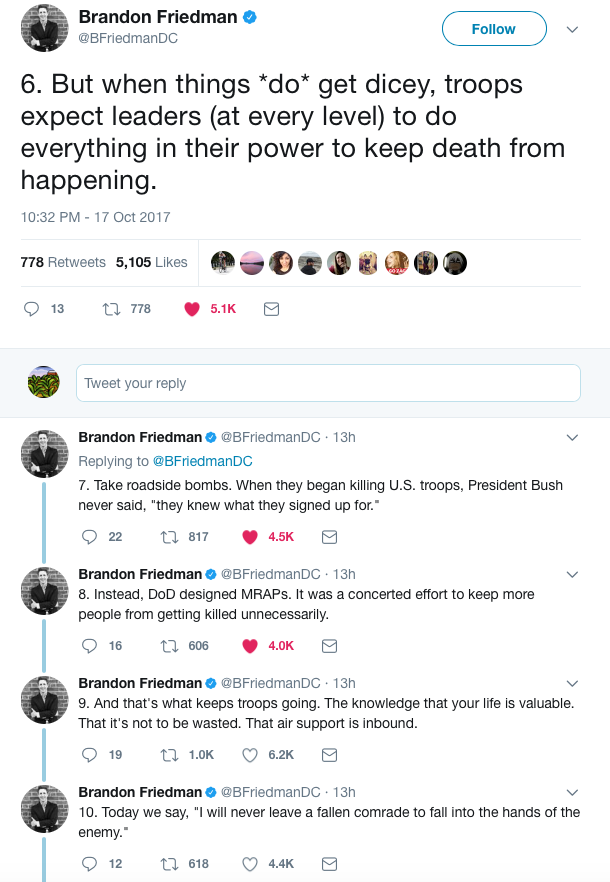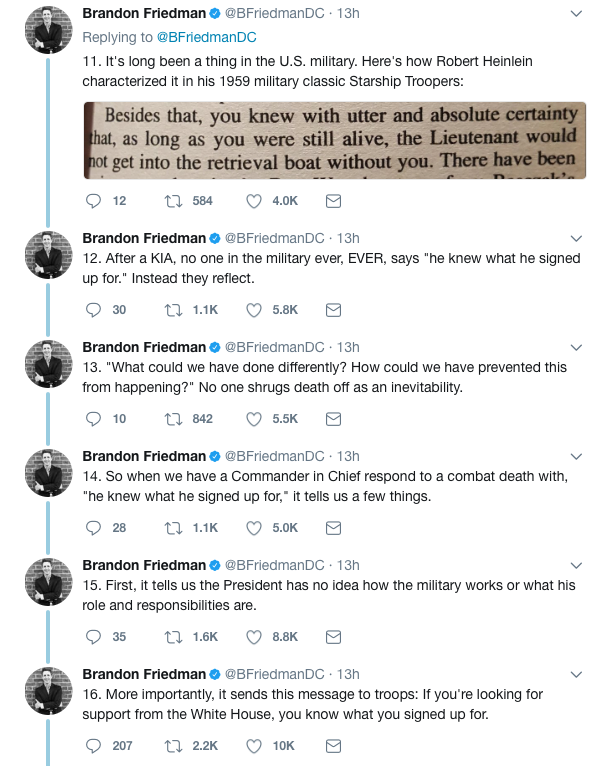 In rare public comments, White House Chief of Staff John Kelly defended the president. Even as he confirmed what Trump said to Johnson's widow, Kelly disparaged a member of Congress from Florida who had corroborated the family's account of the phone call. Video of a 2015 speech by Representative Frederica Wilson showed Kelly's account was false. Yet the White House doubled down on his lie. Press secretary Sarah Huckabee Sanders deflected journalists' questions: "If you want to go after General Kelly, if you want to go after a four-star Marine General, that's highly inappropriate."
Meanwhile, Lena Felton and Taylor Hosking reported for The Atlantic on October 21 that the White House was "Rush-Shipping Condolences to Military Families" as the controversy expanded: "Three families of fallen servicemembers received next-day UPS letters from President Trump after a turbulent week in which Trump falsely claimed he had called 'virtually all' of the families."
Timothy Eckels Sr. hadn't heard anything from President Trump since his son Timothy Eckels Jr. was killed after a collision involving the USS John S. McCain on August 21. But then, on October 20, two days into the controversy over the president's handling of a condolence call with an American soldier's widow, Eckels Sr. received a United Parcel Service package dated October 18 with a letter from the White House. [...]

He added that the letter "seemed genuine and even mentioned Timothy's siblings." It was "a respectful letter," Eckels wrote. The family of Corey Ingram, another Navy systems technician who died in the collision on the USS John McCain, also confirmed to The Atlantic they received a rush-delivered letter from the White House on October 20. A third family, of another sailor who perished in the accident, John M. Hoagland III, said they, too, received a rush-delivery letter this week. It was not immediately clear whether White House condolence letters are typically sent via this expedited shipping. But one former official who served in both Republican and Democratic administrations said that it would be unusual for condolence letters to be sent weeks after the fact, because they were seen as "priority correspondence, to get to the family in a week or two if possible."
Many unanswered questions remain about the events leading up to the ambush in Niger. But there's no doubt Trump handled the situation badly, reverting to lies his staff tried in vain to clean up. On the day Sgt. Johnson was buried, Trump was golfing and posting angry tweets.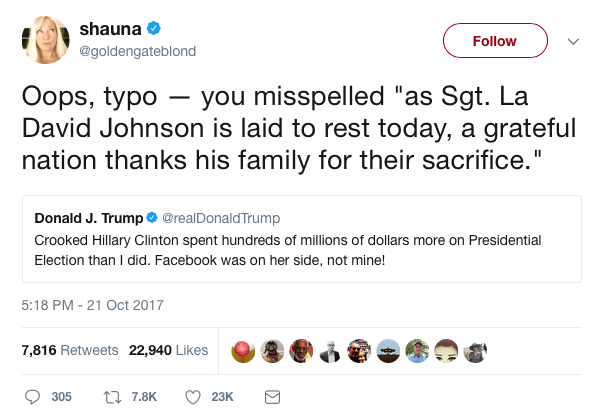 A couple of reactions to Kelly's press conference are worth reading: Masha Gessen on "the language of the military coup," and Phillip Carter on the danger of deepening "America's civil-military divide."
As is typical when Trump disgraces himself, we heard no words of condemnation this week from any well-known Iowa Republicans, including Governor Kim Reynolds and Senator Joni Ernst, the first female combat veteran elected to the U.S. Senate.
Speaking at a big fundraiser for Reynolds on October 21, Missouri Governor Eric Greitens voiced an unsubtle attack on the patriotism of athletes who protest systemic racism.
Although he didn't mention the ongoing protests that have been roiling the NFL specifically, Greitens made clear his opposition to players kneeling during the anthem.

"We have an obligation to see that (service members') values of service and sacrifice, to see that their values of honor and courage and patriotism live on," Greitens said. "And that is why it is so important to have not just elected officials but also cultural leaders who, like Kim Reynolds, are willing to stand up for military families and patriotic values."
Pointing the finger at African Americans is a nice security blanket for Republicans. Last month, Reynolds and her campaign staff jumped at the chance to score political points (and raise campaign cash) off NFL players kneeling ("so disrespectful" to veterans, Reynolds said).
When the president lied about how he's dealt with Gold Star families, Reynolds was silent.
This is an open thread: all topics welcome. Eric Lipton's latest story for the New York Times is a depressing must-read on how "A scientist who worked for the chemical industry now shapes policy on hazardous chemicals. Within the E.P.A., there is fear that public health is at risk."