Less than two weeks ago, Iowa Senate Majority Leader Bill Dix led journalists to believe there was no written report from the internal investigation of sexual harassment in the Senate GOP caucus.
Senate leaders arranged to have a redacted version of that report (addressed to Dix's attention and dated August 15) published the day after Thanksgiving, when few Iowans would be paying attention to political news.
No wonder the original plan was to keep these findings secret: they reveal ongoing problems in the workplace as well as inherent flaws of an in-house investigation.

I recommend reading the full "Fact-Finding Investigation Report" by Secretary of the Senate Charlie Smithson and Mary Earnhardt, senior aide to Senate President Jack Whitver. It won't take long: the main text is not quite two pages, and a supplement just two short paragraphs.
Dix indicated on November 13 that some interviews with staff were in the process of being transcribed. Senate Republicans have not clarified whether a longer report including those transcripts will ever be produced or released.
In the same disastrous press conference, Dix assured reporters, "No one has brought to me any new complaints. None," since Anderson's harassment and discrimination suit went to trial, eventually leading to a $1.75 million settlement. Yet the brief dispatch from Smithson and Earnhardt points to a hostile workplace environment for some, even now:
• "Both current and past harassment training is [sic] ineffective."
• "There is some confusion as to the phrase 'zero tolerance policy' for harassment [...]."
• Though no one on the Secretary of the Senate's staff "reported feeling personally harassed," one subordinate of Smithson "had overheard what could possibly be considered harassment" but "declined to give any specifics." (Not surprising, since Anderson was fired the same day she documented harassment at work, and Dix continues to insist her dismissal was not retaliation.)
• "Many of the Senate Republican staff members said that there is an environment on the Senate Floor with senators making sexually suggestive comments or about sexual preferences." (I assume by "sexual preferences" Smithson and Earnhardt are referring to sexual orientation.) Most of those staffers declined to name the senators involved or provide other details, though one person documented an incident that occurred during the 2017 legislative session.
• Another described "sexually suggestive comments" in connection to "proposed legislation on dense breast tissue." That person "did not remember the exact date but believed that it occurred prior to the 2017 legislative session." Unfortunately, Smithson and Earnhardt did not go the extra mile to figure out when that incident occurred. Advocates have proposed legislation on mammogram reporting since at least 2013; lawmakers in both chambers approved a version of that bill this year.
• "Other incidents mentioned by Senate Republican Caucus Staff members involved former Iowa Senate members." Educated guess: likely suspects include Shawn Hamerlinck and Merlin Bartz, named in Anderson's lawsuit for making inappropriate comments. Both lost their 2012 re-election bids, before Anderson was fired and went public about sexual harassment.
The final two paragraphs reflected badly on both the workplace environment and the insight of the investigators:
V. Retaliation:
a. Several of the staff members interviewed indicated they possess a fear of retaliation, which is why they did not feel comfortable reporting any instances of harassment. Further, they would be unlikely to report any future incidents, should they arise due to this fear. Other staff members reported that they were comfortable in reporting instances of potential harassment.

We conclude these findings and observations with a note that the task was a very delicate matter that involved colleagues and subordinates. While this may have had a chilling effect on some responses, it does not appear that bringing in yet another entity to conduct further investigation would be productive.
Let me get this straight: Smithson and Earnhardt know that some staff members remain afraid of retaliation. They talked to several who declined to provide specifics about troubling incidents. They recognize that interviewing their own colleagues and subordinates "may have had a chilling effect on some responses." Nevertheless, they conclude it would not be "productive" to allow further independent review.
Isn't it obvious that staff would feel less inhibited talking to outsiders about what they have experienced or witnessed?
In a November 24 statement, Dix said, "As this review shows, the workplace culture needs to improve, it can improve, and with a lot of hard work, it will improve." A few days earlier, he had announced plans to bring in former Senate President Mary Kramer as a volunteer adviser "to assist in Senate efforts in workplace reform." Kramer used to be a human resources professional in the corporate world. Barbara Rodriguez reported for the Associated Press,
It's unclear whether the office still plans to hire an outside counsel to assist the office or if Kramer's involvement concludes that search. Dix told reporters earlier this month he would seek outside counsel to review the issue and it would involve a bidding process. [...]

In his press release Tuesday [November 21], Dix also said his office would work with House leadership again to hire a joint human resources manager to oversee harassment complaints. That plan had been put on hold amid concerns raised by Dix's staff about the position.
Dix really wanted people to know about Kramer's appointment. That announcement was his caucus's first press release to be linked on the Iowa Senate GOP website since a mid-August comment from Dix about Obamacare. (For reasons that elude me, Senate GOP communications staff do not post most official statements online.)
In contrast, Dix utilized the ever-popular holiday weekend news dump for evidence of a lingering hostile work environment for his staff. The Senate Republican website didn't publish the Smithson/Earnhardt memo or the majority leader's comments about it, sticking with a generic Thanksgiving message instead.
Senate leaders may hope this story will be "old news" by Monday, but journalists should keep pressing for more information. The Register's Clayworth highlighted some gaps:
It's difficult for readers of the report to assess the gravity or the degree of the alleged misconduct because of a lack of description, said Kevin Pokorny of Pokorny Consulting, a Des Moines-based firm that helps .

Incidents where employees say they have knowledge about harassment but decline to provide names or details of those involved could indicate a lack of trust and the possibility that the employer doesn't know the full universe of the alleged misconduct, Pokorny said.
Senate Minority Leader Janet Petersen isn't satisfied with steps Dix has taken so far. In a written statement, she described Kramer's appointment as
"another partisan response to the serious problem of sexual harassment in the Iowa Capitol. Senator Dix, Senator Whitver and other Senate Republicans still have not apologized to Kirsten Anderson for the sexual harassment she experienced and they refuse to acknowledge that she was fired for being a whistleblower.

"Because the only information we have about this new proposal is coming from the news media, it is hard to assess whether this will make the Legislature a safe and welcoming environment for all employees, whether Iowa taxpayers will be protected in the future, and whether the Legislature will take steps necessary to protect the rights of those who raise concerns about harassment."
On November 24, Petersen called the internal investigation findings "deeply troubling" and faulted top Senate Republicans who "ignored the calls for action by refusing to fire any of their staff or to make any changes in their leadership."
Iowans haven't heard the last about this scandal.
P.S.- Kirsten Anderson gave a presentation on "Standing Up for What's Right in the Workplace" to a packed room in Des Moines on November 20. Her suggestions for anyone who might be harassed at work:
• "Document everything." Anderson now keeps a notebook with her at all times, in case she needs to write down details of an interaction.
• Know your policies and know your rights. Anderson said she didn't read the employee handbook when she started working for the Iowa Senate GOP caucus--she was "too excited" about having the job. Later, when she "knew I was being bullied and retaliated against," she tried to read the policy and realized "every other page was missing." On a related note, Anderson advised the audience to "know what you're up against": pushing back against workplace harassment can get you fired or demoted, so "think about whether you could live" without your current income.
• Self-confidence can be an effective weapon against bullies. A Republican state senator (whom Anderson did not name) used to criticize her hair, clothing, or shoes regularly. Finally, she got the courage to talk back to him after he said didn't like her hairstyle: "I don't care if you don't like my hair. I like it this way, and I'm going to continue to wear it this way. He was flabbergasted. He didn't know what to say. So that tells me he's doing it to see how far he could go."
• Cultivate a strong support system. Sympathetic colleagues, friends, and relatives helped Anderson get through the most challenging times of her life.
UPDATE: I pulled up records of Kramer's Iowa political donations, all of which went to Republican candidates and committees. The Iowa Ethics and Campaign Disclosure Board's online database only goes back to 2003, the same year Kramer left the Iowa Senate to become ambassador to Barbados and the Eastern Caribbean. The only sitting Republican state senator who has received direct contributions from Kramer is Majority Whip Charles Schneider. Kramer also donated to the Team Iowa PAC in 2012, when that PAC supported various GOP state Senate candidates.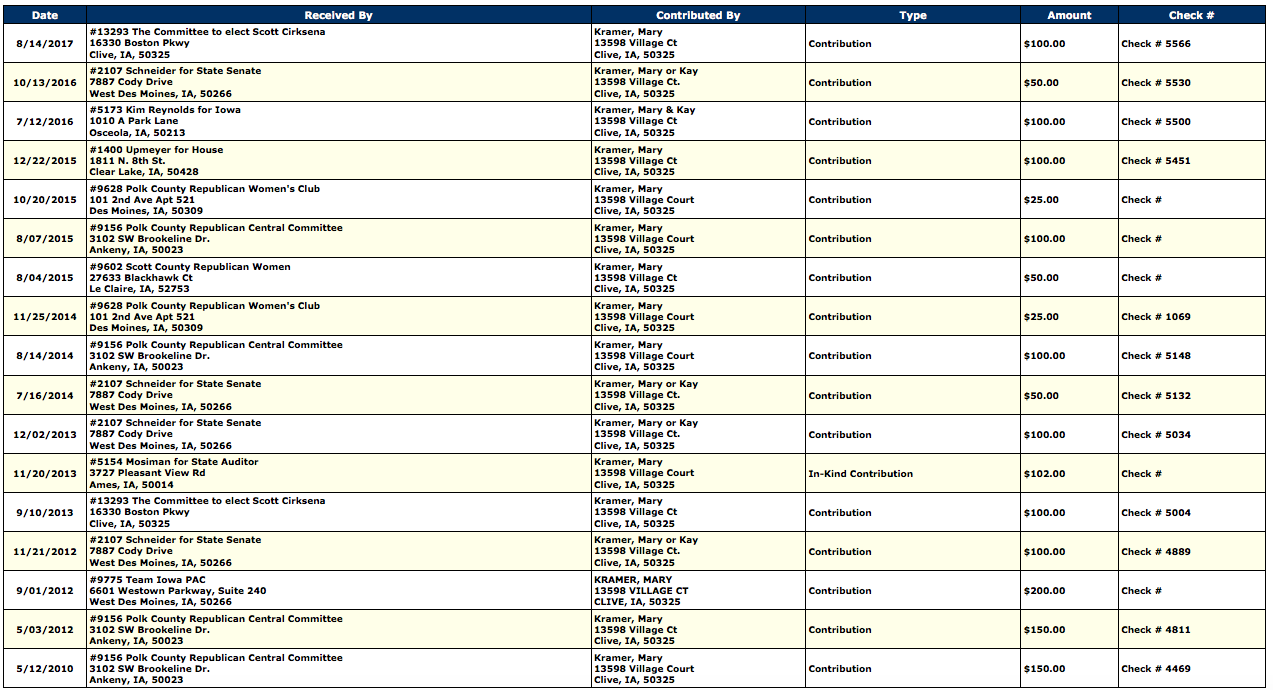 LATER UPDATE: Not reassured by this comment from Kramer's interview with Kathie Obradovich of the Des Moines Register.
Kramer said when she was Senate president, she dealt with harassment or similar complaints by threatening to make them public if the behavior continued. That approach always worked.
Would any private-sector human resources professional handle a report about harassment that way? Instead of warning individuals that they might be shamed, why didn't Kramer apply lessons from the corporate world to address misconduct through better policies and clear expectations for all staff and senators?