Iowa taxpayers are on the hook for $2.2 million dollars after former Senate Republican communications director Kirsten Anderson won a huge sexual harassment lawsuit last week.
If Senate Republican leaders had any sense of accountability, they would resign, or at least offer to raise money to cover the cost of the verdict, so the general fund doesn't take another hit while the state budget is in terrible shape.
But Majority Leader Bill Dix refuses to admit any wrongdoing by his colleagues or his staff. He is sticking to his story: "Kirsten Anderson was terminated for her work product and for no other reason." Dix's top aide Ed Failor, Jr. has been saying the same thing for years.
The jury didn't buy the official line, and you shouldn't either.

BACKGROUND
Anderson was fired in May 2013, hours after documenting a hostile work environment over several years. Within weeks, she filed a civil rights complaint detailing how "the male-dominated workplace allowed sexism and fraternity house chatter to flourish," with one senior analyst often referring to women "in the most derogatory and vile terms." She filed suit the following year, claiming she was subjected to "sex discrimination, sexual harassment, and retaliation in violation of the Iowa Civil Rights Act."
Jurors awarded Anderson about $1 million more in damages than she had sought after hearing testimony about appalling behavior by some Republican senators and staffers. Former staff director Peter Matthes claimed not to remember Anderson and another female staffer complaining about Jim Friedrich, who is still a senior analyst for the caucus.
Current Senate Republican lawmakers and staff supervisors appear to have taken a "see no evil, hear no evil" approach to the problem. Analyst Tom Ashworth testified "neither his boss nor Senate leaders have ever asked him 'a single question' about what he's experienced in the office, despite all the publicity over Anderson's litigation," Grant Rodgers reported for the Des Moines Register. Ashworth went on to describe "gay-bashing," objectifying, and racially offensive comments from Friedrich.
WHO Radio host Jeff Angelo, who served three terms in the Iowa Senate, contrasted how lawmakers and legislative staff conduct themselves with how people in the business world are expected to interact with colleagues. As a manager in the private sector, Angelo went through sexual harassment training every year. One point that was drilled into his head: "If an employee complains of harassment, you must, must, must, must, must, must, take action. And you have to demonstrate to that employee that action was taken, that there was a follow-up to that complaint." In Anderson's case, no follow-up occurred.
The Des Moines Register's political columnist Kathie Obradovich slammed the "incompetence" of "oblivious" senators who failed "to provide a professional work environment and even minimally competent management."
For a party that often insists it wants to run government like a business, this crew wouldn't have lasted a week in corporate management. Smart companies don't just train their employees about unacceptable behavior in the workplace.

They train their managers how to set clear, written expectations for employees and to document performance. They follow appropriate procedures for any termination for cause. They train managers how to correctly record and respond to employee complaints. They do not fire workers the same day they present a list of harassment complaints to supervisors.
But isn't it possible that Dix and Failor are telling the truth?
For the sake of argument, let's set aside all the testimony by other Republican staffers who backed up Anderson's account.
If senior staff fired Anderson over substandard performance, you'd expect later Senate GOP communications directors to operate on a higher level. That isn't happening.
HINT ONE: THE WEBSITE'S FRONT PAGE
When Anderson lost her job in May 2013, I commented that the Senate Republican website wasn't particularly fresh. Maintaining that site was among the communications director's responsibilities.
Did staff director Eric Johansen put someone in charge of updating the website on a more regular basis? No. When I went looking for information on the day State Senator Kent Sorenson resigned in October 2013, the "Latest News" in the middle of the front page was more than four months old.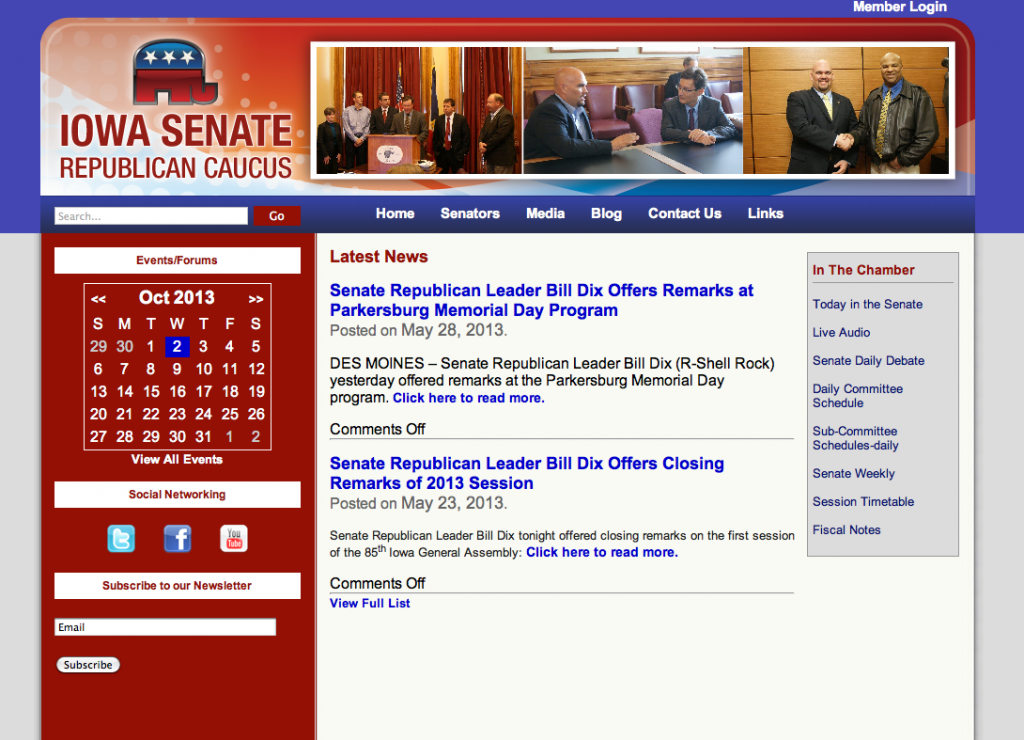 Things aren't much better under current communications director Caleb Hunter and deputy communications director Larissa Wurm. At this writing, the front page features a Twitter feed that hasn't been updated since April (more on that below) and links to five "Recent Posts": two from April, two from January, and one from April 2016.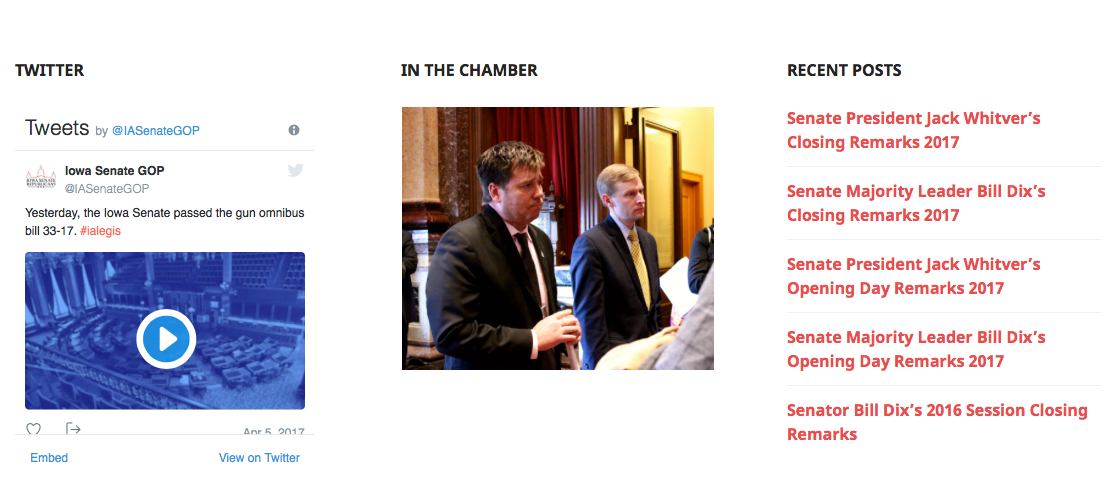 HINT TWO: THE PRESS RELEASES
Iowa Senate GOP staff don't include me on their press distribution list or respond to any of my inquiries. Failor has informed me that they reply only to "legitimate media." For years, I've received similar treatment from a few other Republicans, such as U.S. Representative David Young and his predecessor, Tom Latham. Being excluded from their press lists has been only a minor inconvenience, though, because in a typical political communications operation, staff add news releases to the website soon after distribution to reporters via e-mail.
No so for Iowa Senate Republicans.
The "Media" page of the official website now shows only the following ten press releases. The statements are not current and don't even tout accomplishments from the 2017 session, the first time in more than a decade that the GOP had the majority in the upper chamber.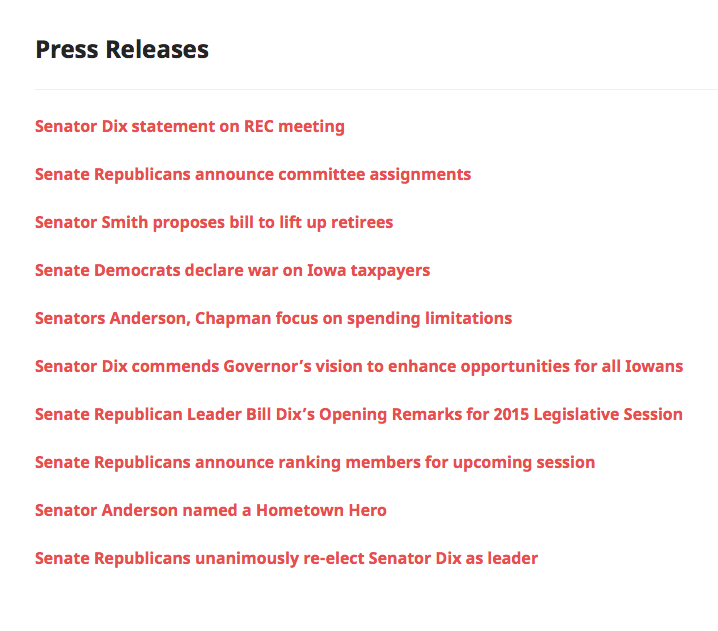 The most recent release, "Senator Dix statement on REC meeting," came out in mid-March, when Iowa's Revenue Estimating Conference projected that the state budget would end the 2017 fiscal year another $131 million in the red.
Next up, a December 6, 2016 statement about GOP committee assignments for the upcoming legislative session.
We go back in time more than a year in a half for the third press release, about a bill State Senator Roby Smith introduced in March 2015. Republicans were still in the minority then, so most bills they brought to the upper chamber went nowhere.
Next, a February 2015 statement with a typo in the headline: "Senator [sic] Democrats declare war on Iowa property taxpayers and our rural communities."
Fifth from the top: a January 2015 rollout of two GOP senators' proposal for "additional road construction dollars without raising taxes."
Then we see that Dix "commended Governor Terry Branstad for the vision he has for Iowa's future," as laid out in his 2015 Condition of the State address. Dix's comments on the governor's 2016 and 2017 speeches to state lawmakers are nowhere to be found.
The next two press releases provide Dix's opening remarks for the 2015 legislative session and ranking member assignments released in December 2014.
A November 2014 statement reports, "State Senator Bill Anderson, R-Pierson, was honored Friday as a Hometown Hero by the Autism Society of Iowa." I was genuinely curious to know how he had "gone above and beyond to improve the lives of those with autism spectrum disorders." Alas, the piece (less than 150 words long) says nothing about why the non-profit selected Anderson.
Finally, someone looking for information on the Iowa Senate Republicans media page will find a November 2014 press release on the caucus unanimously re-electing Dix and Senator Jack Whitver to the top two leadership positions.
I will say this for Kirsten Anderson's successors: from 2013 through 2016, they remembered to call Dix "Senate Republican leader." Former staffer Tracie Gibler testified during the recent trial that higher-ups weren't happy Anderson kept referring to Dix as "the Senate minority leader. Well, we don't need to broadcast that we're in the minority, certainly, so we asked her to rephrase it."
HINT THREE: THE TWITTER FEED
Handling social media is a daily part of most communications work. Yet for reasons that elude me, the @IASenateGOP Twitter feed is updated rarely and with no apparent logic.
As of July 25, 2017, the most recent tweet from Iowa Senate Republicans mentions passage of the omnibus gun bill in early April.
That post appeared nearly three weeks after the second tweet on the feed, about Senate Republicans voting on March 16 to add "a 99 percent expenditure limit amendment to the Iowa Constitution."
On March 13, the account re-tweeted Senate President Whitver's comments about House File 203, a "bill to bring efficiency to local road projects." The real purposes of the bill were to lower wages for construction workers and limit the scope of environmental compliance and historic preservation on some transportation projects.
Fourth tweet from the top of the page: a video clip of Dix speaking in favor of Senate File 376, which in his rendering would "preserve the resources for future victims, victims who don't have a voice." (March 8) The short video didn't indicate that this bill limited asbestos lawsuits and was pushed by business groups and insurance companies, not people with asbestos-related illnesses.
A short video was posted on February 28 to explain the concept of "funnel week," when most non-appropriations bills die if they have not cleared at least one Iowa House or Senate committee.
Twitter followers of @IASenateGOP learned on February 21 that senators approved a resolution "honoring the Boy Scouts of America and their dedication to community service & leadership development."
On Friday of the legislature's second work week, the Twitter feed linked to a calendar listing forums some senators were holding in their districts the next day, January 21.
Eighth from the top comes a January 9 tweet linking to Dix's opening day remarks.
That's right: staff updated the Iowa Senate GOP Twitter feed only eight times during the historic 2017 session.
Some of the most far-reaching bills Republicans passed were not even mentioned: taking away most public employee collective bargaining rights, ending local government power to set the minimum wage, dramatically reducing workers' compensation benefits, imposing new restrictions on voting, defunding Planned Parenthood, or banning almost all abortions after 20 weeks of pregnancy. They didn't use Twitter to promote their spin on K-12 school funding or other state spending, or to hail votes for expanding the use of medical cannabis and private insurance coverage of autism therapy. They didn't mention the unanimous Senate Republican vote to legalize fireworks sales in Iowa for the first time in nearly 80 years.
Before January 9, the Twitter feed had been idle since someone re-tweeted Senator Charles Schneider on November 11, 2016. He had shared a Des Moines Register article about caucus leadership elections.
The Senate GOP's feed was only slightly more active last year, updated twice before the 2016 legislative session began, 28 times during the session (sometimes re-tweets rather than original content), and eleven times from May through November.
In contrast, communications staff working for Iowa House Republicans, Senate Democrats, and House Democrats routinely post on Twitter multiple times a day, even when the legislature's not in session.
HINT FOUR: THE FACEBOOK PAGE
Were you wondering whether Senate GOP staff mostly ignore Twitter because they've found Facebook to be a more effective social media platform?
Nope.
Only seven posts from 2017 can be found on the Iowa Senate Republicans Facebook page. They are identical to the Twitter posts mentioned above, minus the re-tweet of Whitver's comment on the road construction bill.
Staff have uploaded only six videos to the Senate GOP Facebook page during the last two and a half years, none of them longer than two minutes.
Meanwhile, the Iowa Senate Democrats' Facebook page includes dozens of videos from this year's legislative session alone, some of them including hours of footage from committee hearings or floor debate on important bills.
In fact, Senate Democrats' communications staff update their Facebook page many more times in any given week than their Republican counterparts have done in the first seven months of the year. Sometimes new content goes up on that page more than seven times in a single day. The Iowa House Democrats' Facebook page is also very active, not only when lawmakers are working at the Capitol.
The House Republican Facebook page doesn't include many videos but is updated fairly regularly throughout the year.
HINT FIVE: THE BLOG
In the top right corner and again near the bottom of the front page, the Iowa Senate Republicans website links to an official blog. Like the social media feeds, this blog could use more attention from the two communications staffers.
As of July 25, 2017, here are the most recent blog posts, with dates:
Senate President Jack Whitver's closing remarks (April 22, 2017)
Senate Majority Leader Bill Dix's closing remarks (April 22, 2017)
Whitver's opening day remarks (January 9, 2017)
Dix's opening day remarks (January 9, 2017)
Dix's closing remarks from the 2016 legislative session (April 29, 2016)
Photos from a Future Farmers of America day at the Iowa legislature, with no text (January 27, 2016)
Dix's opening day remarks (January 11, 2016)
"Happy Small Business Week 2015" (May 6, 2015)
"No Place Like Home: Senate District 38," listing notable sites in the district State Senator Tim Kapucian represents (April 16, 2015)
"Week Ten in Photos," with no accompanying text and no captions on the pictures identifying Senate Republicans (March 20, 2015)
So, that's ten "blog posts" (mostly press releases and collections of photographs) published during more than two years.
HINT SIX: THE EVENTS PAGE
Near the top of the website's front page, you'll see a link for events. Since the 2015 legislative session, monthly calendars have shown when Iowans can meet their Republican senators in the district on a Friday or Saturday. It's a handy resource.
However, while the legislature is not in session, six or more months may go by when no events are posted on the website. Surely GOP lawmakers are out and about in their communities throughout the year. An effective communications staffer would keep track of planned appearances and use the online calendar (as well as social media) to spread the word.
The events calendar also fails to list anything newsworthy happening at the Capitol, either during or outside the legislative session. For example, Senate Appropriations Committee Chair Schneider will preside over a "Public Retirement Systems Senate Information Meeting" for several hours today. The Senate Democrats posted about the event on their blog and will livestream the meeting. Although proposed changes to the IPERS system could affect hundreds of thousands of current and retired public employees, you won't find any reference to this event on any public page or social media feed maintained by Senate Republicans.
Even if several other Senate GOP staffers hadn't corroborated claims about shoddy treatment of women in the caucus, the Dix/Failor excuse would not be convincing.
For years, they and staff director Johansen have tolerated lazy and haphazard communications work. Now we're supposed to believe Anderson was let go–the same day she detailed her experiences of a hostile work environment–solely because of the quality of her writing.
Final note: as powerful messages go, it's hard to beat this drawing by a five-year-old girl, who was inspired by this case. The artist's mother is a personal friend of Anderson's and gave me permission to share the image.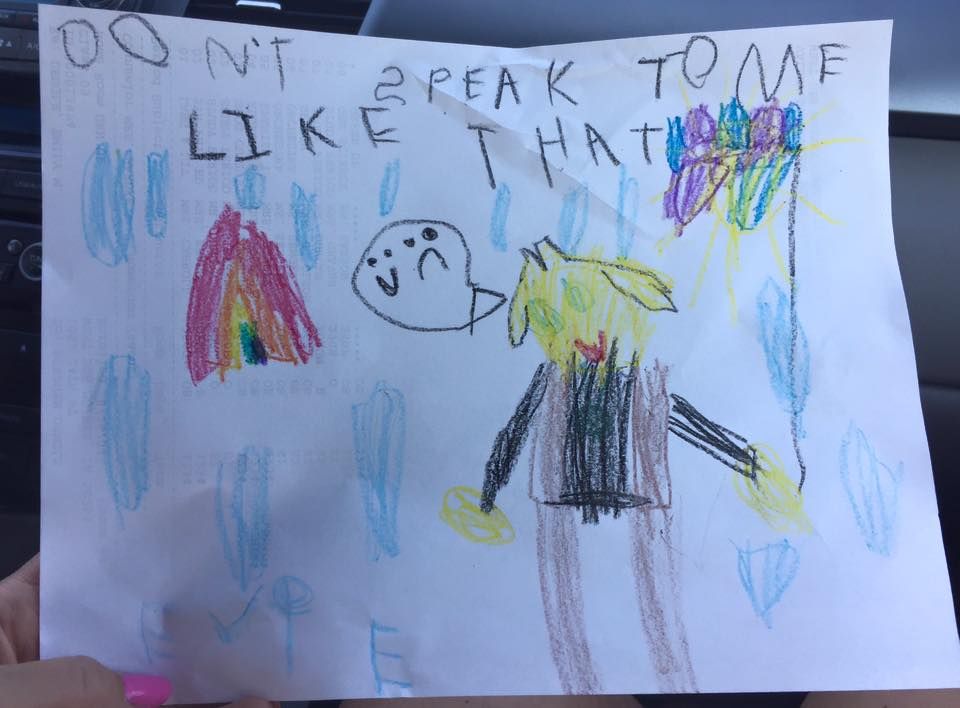 Top image: Screen shot taken on July 24, 2017, showing part of the front page of the Iowa Senate Republicans website.