Independent State Senator David Johnson has asked Secretary of the Iowa Senate Charlie Smithson, the chamber's chief parliamentarian, to instruct Republican leaders to grant him full committee assignments during the upcoming legislative session. Johnson argued that current rules and 95-year-old precedent support giving his 60,000 constituents "their rightful place at the committee table as well as the Senate floor."
Johnson faces long odds, because while Smithson is a non-partisan official, he serves at the pleasure of Senate Majority Leader Bill Dix. And Dix has every incentive to keep his former Republican colleague from fully participating in legislative business.

"A SITUATION THAT SCREAMS LEGISLATION WITHOUT REPRESENTATION"
In the middle of his fourth term in the Iowa Senate, lifelong Republican Johnson left his party to protest the nomination of Donald Trump. Senate GOP leaders rebuffed his "repeated requests" to be assigned to standing committees during the 2017 legislative session, when Republicans had a majority in the upper chamber for the first time in more than a decade.
Johnson isn't accepting no for an answer quietly this year. He laid out his case in a November 25 letter to Smithson and a December 4 press release, both enclosed in full at the end of this post. The condensed version:
• Blocking Johnson's participation in committee work denies his 60,000 constituents full representation. While Johnson can introduce bills and participate in Senate floor votes, "Republican leaders have blocked that very critical middle step, voting in committee to determine whether proposed legislation advances to the full Senate."
• The chamber rules Senate Republicans adopted in January 2017 allow the minority leader to make committee assignments for members of the minority. Neither those chamber rules nor the Iowa Constitution "define 'majority' and 'minority' to mean a system of only two political parties […]." Johnson contends that as a registered independent, he constitutes a third caucus and is therefore "entitled, under Rule 34, to serve on up to six standing committees."
• Precedent for independent Iowa lawmakers "to serve on committees is well-established in legislative archives." Johnson enclosed evidence that the last state senator affiliated with neither major party was a "fully engaged member of the Ways and Means, Departmental Affairs and Drainage committees" after winning a 1923 special election.
Rod Boshart reported, "Johnson said he has not ruled out pursuing legal action if Senate officials do not comply."
They have no intention of complying.
SMITHSON TO LET SENATE REPUBLICANS DECIDE
One of Smithson's roles as secretary of the Senate is advising top lawmakers on chamber rules and parliamentary procedures, he told an audience in March. Another part of his job is to serve as a "concierge of sorts," doing whatever the senators "need to make their lives easier." While he assists all senators, his future employment depends on the majority leader.
As of December 4, Smithson had not replied to Johnson's letter. Instead of offering an independent assessment of the senator's arguments, the secretary kicked questions about the matter over to Senate President Jack Whitver, William Petroski reported for the Des Moines Register. A written statement from Whitver
said that during the 2017 session, the Senate's rules were updated to assure the minority leader will appoint minority members to committees and the majority leader will appoint majority members to Senate committees. That appeared to leave no room to accommodate Johnson unless Democrats decide to appoint him to additional committees, which hasn't happened.

"We will continue this practice for the 2018 session," Whitver said.

Caleb Hunter, a spokesman for Senate Republicans, said Johnson's criticisms of Senate Majority Leader Bill Dix, R-Shell Rock, are without merit.

"Since Senator Johnson chose not to be a Republican, he is not a member of the majority and is a member of the minority," Hunter said. "… His complaints regarding committee assignments should be addressed to the individual with authority to appoint minority members to committee assignments: the Minority Leader."
Johnson did not join the minority caucus, though.
For what it's worth, Senate Minority Leader Janet Petersen agrees that Johnson should have full committee assignments "because he represents 60,000 Iowans, just like the other 49 Senators," Senate Democratic staff told me on December 4.
Barring that outcome, Democrats are willing to give the independent one of their seats on the Natural Resources Committee, as they did following the 2016 election. In his press release, Johnson said "that committee slot should go back to a Democrat," because rules require Senate leaders to let him "serve on up to six standing committees."
WHAT REPUBLICANS GAIN FROM KEEPING JOHNSON OFF COMMITTEES
A person who started following Iowa legislative happenings in 2017 would never have guessed that just a few years earlier, Johnson was an assistant minority leader on Dix's leadership team. He voted with his former GOP colleagues on very few high-profile bills–most notably new restrictions on abortion–during the monumental 2017 session.
The independent opposed and in some cases delivered passionate floor speeches against the Republican budget and legislation to impose new barriers on voting, eliminate most public employee collective bargaining rights, lower the minimum wage in several counties, reduce workers' compensation benefits, and allow Iowans to carry concealed weapons in the state Capitol.
Republicans will continue to control all Iowa Senate committees next year, because they will hold at least 28 out of the chamber's 50 seats (possibly 29 following the December 12 special election in Senate district 3). Even so, granting Johnson a seat on more committees could create problems for leaders if any Republicans on a panel balk at sending controversial bills to the floor.
Keeping Johnson from fully representing his constituents will also provide Republicans with a talking point during next year's election in Senate district 1. Johnson has not clarified whether he plans to seek a fifth term. If he does, it would be as an independent in one of the state's most Republican districts.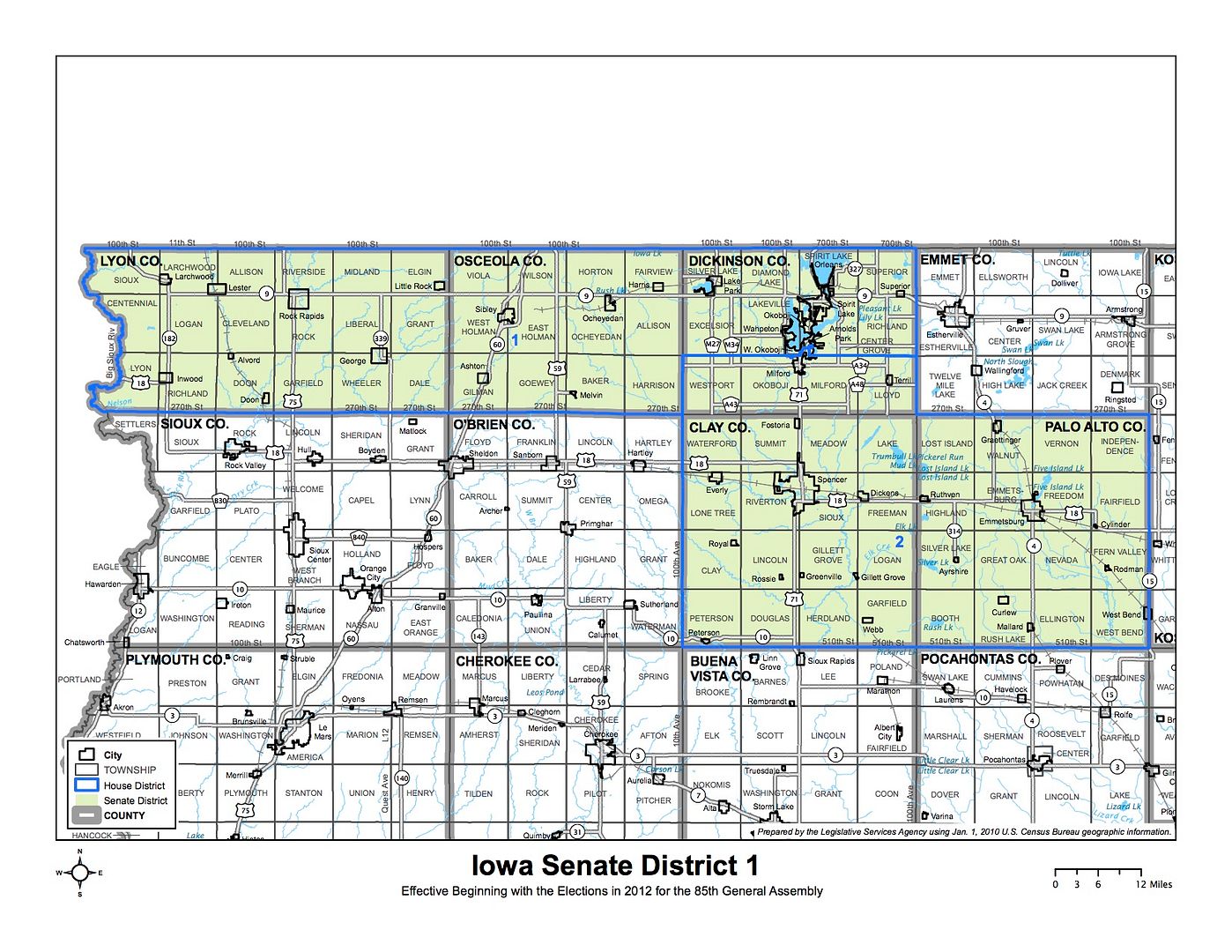 The latest figures from the Iowa Secretary of State's office show that the five counties Johnson represents contain as many registered Republicans as Democrats and no-party voters combined.
When leaving his party in June 2016, Johnson compared Trump's campaign strategy to that of fascists and expressed concern about the "innate bigotry" of some Trump supporters. But voters in Senate district 1 favored Trump over Hillary Clinton last November by 70.9 percent to 24.7 percent.
Residents of these counties have elected Johnson to the statehouse repeatedly. If the incumbent can retain support from those who are not hard-line conservatives or Trump fans, he could put together a winning coalition with no-party and Democratic voters next November. However, the eventual GOP nominee will be able to claim that Johnson can't represent the district adequately as an independent, compared to a lawmaker who could serve on committees.
Near the end of his letter to Smithson, Johnson wrote that his change in party affiliation "was based on principle and conscience in these hyper-partisan and petty political times." Unfortunately for him, partisan leaders call the shots in the Iowa legislature, and there is no sign the secretary of the Senate will intercede on Johnson's behalf.
Any relevant thoughts are welcome in this thread.
December 4 press release from Senator David Johnson:
Charging "legislation without representation," the Iowa Senate's only independent is pressing for full committee participation in the upcoming legislative session. And he said precedent for Senate and House independent members to serve on committees is well-established in legislative archives.

"Like every one of my Senate colleagues, I represent about 60,000 Iowans, yet last session Republican leadership rejected my repeated requests to be appointed to vote on standing committees," said state Sen. David Johnson of Ocheyedan, a Republican until changing his voter registration to "No Party" in June 2016. "Those are votes denied to my constituents, who have been largely left waiting at the committee altar."

Johnson noted that Senate Democrats gave up one voting seat so he could serve on the Natural Resources and Environment Committee during the 2017 session. But that committee slot should go back to a Democrat, the veteran lawmaker said. Senate leaders need to follow a rule allowing him, like any senator, to serve on up to six standing committees, which mostly deal with policy matters, he said.

"I can introduce legislation and can vote on the Senate floor," Johnson said. "But Republican leaders have blocked that very critical middle step, voting in committee to determine whether proposed legislation advances to the full Senate."

In a letter to Senate Secretary Charles Smithson, the chamber's nonpartisan administrative officer, Johnson argues his independent status creates a "third caucus" with minority standing. "Our chamber rules do not define 'majority' and 'minority' to mean a system of only two political parties," Johnson wrote. "Neither does the Iowa Constitution."

Johnson wrote the letter on Nov. 25. There had been no official response as of Monday, Johnson said. The 2018 session convenes on Jan. 8.

The last independent elected to the Iowa Senate was William Schmedika of Hardin County in 1923. "Included with my letter to the secretary are scores of pages copied from legislative documents showing that Senator Schmedika was appointed to committees, was given bills to consider in subcommittee and voted in committee," Johnson said. "My constituents are entitled to the same."

"The situation screams of legislation without representation," he said.

Johnson has previously served as chair of the Senate Agriculture Committee and the Senate Health and Human Services Budget Subcommittee, as ranking member of the Human Resources Committee, and as a member of the Appropriations, Business and Labor, Commerce, Education, Government Oversight, Natural Resources and Environment, State Government and Transportation committees in the House and Senate. He served 10 years as assistant Senate Republican leader.
Letter from State Senator David Johnson to Secretary of the Senate Charlie Smithson: