Dan Guild argues that the swings we have seen in recent special U.S. House elections "are a sign that something very big may be about to happen." -promoted by desmoinesdem
It is fair to say the stakes have seldom been higher in a mid-term election. Obamacare survived by a margin of one vote in the U.S. Senate. It is likely the Republicans will gain the one Senate seat they need to undo Obamacare. The Republicans have finished their report on Russian involvement in the 2016 election. The only real way for true public hearings into Russia and our elections is for the Democrats to retake the House.
2016 was in many ways a VERY unusual election. Some of those ways are as obvious as a Trump tweet, others are less obvious. Essentially there were two large swings, each in opposite directions:
Among those making under $30,000 a year, Republicans improved their share of the vote by 16 points
Among those making between $100,000 to $200,000, Democrats improved their margin by 9 points
It is very rare to find swings like that – when they occur they are usually indicative of a political re-alignment. I have NEVER seen swings like that in the same election in opposite directions.

You can characterize the swings in other ways, but in general:
Republican gains were among white, less educated, and rural voters
Democratic gains were among white better educated urban voters

In this context, the swings we have seen in the special elections since the beginning of 2017 are a sign that something very big may be about to happen. Some have reviewed the swings in state elections and noticed a huge trend towards Democrats. I want to focus on a smaller set of elections – they are in the table below. What sets these elections apart is that each garnered significant national focus. The parties and outside groups spent large amounts of money in each of them.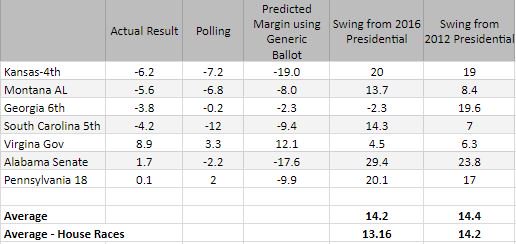 Let's start with the race in Georgia's 6th District. That district was one of the few where Hillary Clinton's percentage was significantly higher than Barack Obama's. It is educated and upper income. The Democrats lost GA-6 – but the story is better understood by comparing the 2016 to the 2012 numbers. What is critical to understand is the Democrats held onto the gains Clinton made among upscale and better-educated voters.
Now to this week's election, Pennsylvania's 18th. Like the races in Montana and Kansas, the race in Pennsyvlania was in a deep red district. These were voters who had either been part of the Republican base or converts in 2016. In each case, the scale of the Democratic gains are enormous.
The implications are equally significant: fundamentally they suggest at this point in time that Democrats are holding their gains among upscale voters and winning back votes they lost among downscale voters.
In the aftermath of 2016, where confident predictions were as plentiful as dandelions in the summer and as consistently wrong, it would be a mistake to draw too much from a small number of elections. While history suggests that in fact special elections ARE predictive, they are few enough to make one skeptical. Those familiar with British elections know frequently the Party out of power wins the British equivalent of special elections only to lose again in the general election.
But what if these special elections are a predictions are right? This chart shows the implications. I will explore the model that makes these predictions in another post (while it is simple, it has been within six seats of the result in the last three midterm elections). But for now the lesson to learn is just how big the potential Democratic win could be.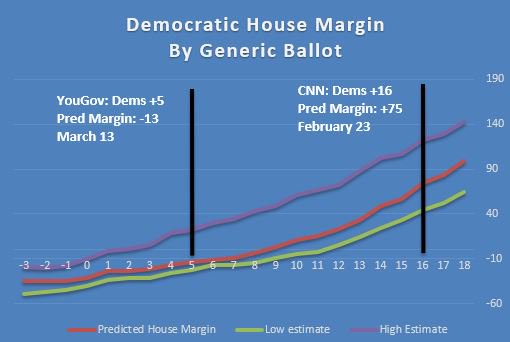 In the 36 House elections since 1948, a party has won the House popular vote by more than 10 points only seven times. In the GOP landslides of 1994, 2010, and 2014 the Republicans never had more than a 7.1 percent lead in the popular vote.