On average, women employed full-time, year-round earn less than men in every part of the U.S., but the "gender-based wage gap" is larger in Iowa than in most other states. I enclose below some depressing numbers to mark "Equal Pay Day," a concept representing "the date when working women's wages catch up to what men were paid the previous year."

An average Iowa woman's annual wages are only 77 percent of the average wage for a man.
The latest figures from the American Association of University Women, based on 2016 data, indicate that the median annual earnings for an Iowa man working full-time was $49,385. For women, the comparable figure was $37,791.
Nationally, a typical woman working full time is "paid just 80 cents for every dollar paid to a man," according to the latest report from the National Partnership for Women & Families.
This interactive map shows that the median Iowa woman earns $11,594 less than the median Iowa man over the course of a year--a larger deficit than in most other states, including our Midwest neighbors.
The pay gap is much larger for Iowa women who are African American, Latinas, or Asian American.
When you hover over Iowa on the National Partnership for Women & Families interactive map, you learn that the median Asian-American woman working full time in Iowa is paid $17,132 less than a man. The comparable figure for Latinas or African Americans exceeds $20,000.
The numbers in this graphic show how much less purchasing power Iowa women and especially women of color have because of this disparity.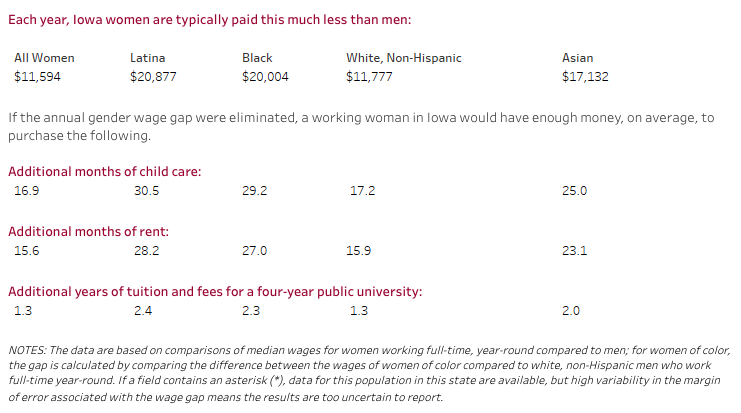 This fact sheet from April 2017 notes, "Among Iowa women who hold fulltime, year-round jobs, Black women are paid 61 cents, Latinas are paid 57 cents and Asian women are paid 67 cents for every dollar paid to white, non-Hispanic men."
The wage gap is highest in Iowa's first Congressional district and lowest in the third.
The National Partnership for Women & Families compiled data on men and women's wages for all 435 Congressional districts.
In IA-01, the median annual wage for women was $36,894, which works out to 74 percent of the $49,578 median wage for men. The comparable figures for IA-02 were $36,108 and $47,054 (77 percent). IA-03 had both the highest median wages for both genders and the smallest pay gap: $42,296 for women and $52,070 for men (81 percent). IA-04 had the lowest overall wages for both genders: $35,968 for women and $46,336 for men (78 percent).
Women comprise a majority of Iowa's minimum-wage earners who received a pay cut in 2017.
The Iowa Policy Project prepared this graphic last year before Republican lawmakers approved and Governor Terry Branstad signed legislation to prohibit local governments from raising the minimum wage. Women made up an estimated 56 percent of the Iowans who would have benefited from higher wages. In some counties, they were already earning higher wages, which were rolled back after the law went into effect.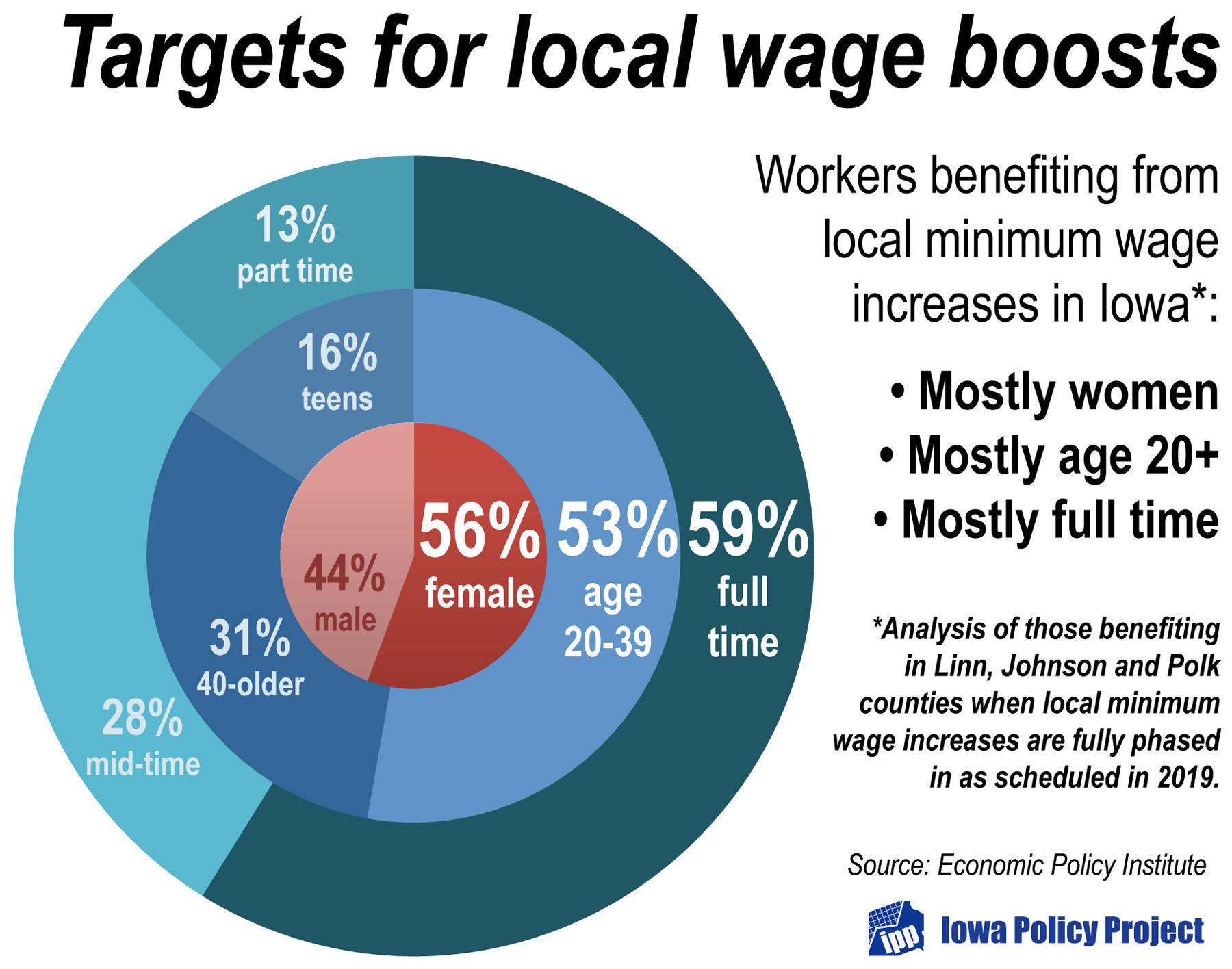 Since Iowa's minimum wage has been stuck at $7.25 since 2007, every minimum wage earner gets a pay cut in real terms every year, as wages fail to keep up with the rising cost of living. Again, women comprise a majority of those affected.
Wage inequality is a persistent problem in the public sector.
If you think systemic gender-based discrepancies in pay don't happen in government jobs, think again. Jason Clayworth's in-depth report for the Des Moines Register in January is worth reading in full. Excerpts:
In fiscal year 2017, median pay for male government workers was $55,879, about 11 percent more than the $50,537 median for female workers.

While the gap in median salaries between the two genders has dropped in the last decade from 15 percent to 11 percent as pay for both rose, the dollar gap remains virtually unchanged.

A typical male worker earned $5,476 more than a female worker in 2007 and $5,342 more in 2017.

The pay gap is much larger in several university jobs, such as assistant and associate professors and lecturers, where men make 25 percent to 33 percent more than their female co-workers, the Register found. [...]

"This is what I view as a systemic problem, when it comes to women and pay," said Des Moines attorney Thomas Newkirk, who last year helped former University of Iowa associate athletic director Jane Meyer win a $1.43 million jury award against the university for gender discrimination, unequal pay, and retaliation and whistleblower violations. [...]

But the true measure of inequity, critics such as Newkirk say, lies in specific job titles held by the state's 59,400 employees.

Female nurse clinicians, for example — positions held at multiple state departments — make on average $73,074 — $18,113 less than men who hold the same title.

And female clinical assistant professors at the University of Iowa make $158,469 on average — $52,145 less than their male counterparts, according to the Register's analysis.
Sexual harassment can exacerbate the wage gap.
A new fact sheet from the National Partnership or Women & Families underscored the many ways sexual harassment "can impede a woman's job performance, workplace advancement and earnings." These findings are not specific to our state but certainly affect thousands of Iowa women, particularly women of color.
 Many women who experience sexual harassment at work report increased anxiety and depression, which is associated with lower productivity and poorer performance at work.4 Some report experiencing a decline in job involvement and satisfaction, as well as increases in absenteeism, turnover, early retirement and a range of negative health outcomes.5

 Women in workplaces that do not address sexual harassment may feel less empowered to negotiate salaries and raises, depressing their long-term earnings and advancement.
Sexual harassment can affect women's career choices directly and indirectly, reinforcing occupational segregation and perpetuating the wage gap.

 A recent study found that women who say they've experienced sexual harassment at work are 6.5 times more likely to change jobs than women who have not – often to a job of lower quality or with lower pay.6 [...]

 Many women take pay cuts and make sacrifices that harm their careers to escape sexual harassment.10 [...]

For women of color, the consequences of workplace sexual harassment can be even more devastating.

 Women of color often face intersecting forms of discrimination and harassment. Many avoid disclosing workplace sexual harassment because of the heightened risk of retaliation, doubt, victim-blaming and other harmful, prejudiced responses.12 [...]

 The financial consequences of reporting harassment and facing retaliation, or leaving a job due to harassment, can be even more severe for women of color because they face greater wage gaps than white, non-Hispanic women.