Iowans planning to vote in the June 5 primary, either on election day or by absentee ballot, should know about two deadlines coming up on Friday, May 25.

ELECTION-DAY VOTERS
Under the new election law Iowa Republicans passed last year, May 25 is the deadline for voters to pre-register in their precinct. If you have moved since the last time you voted, it's worth checking your registration to see if you are listed at your current address. You can check online or call your county auditor's office to confirm you are pre-registered at the correct address.
Being pre-registered increases the chance things will go smoothly at your polling place on June 5. Pre-registered voters can show up at their precinct and vote either by presenting a valid form of ID or by signing an oath verifying their identity. This infographic prepared by the League of Women Voters shows the allowable forms of ID.
Note: if you are pre-registered, your driver's license or other ID is used only to confirm your identity. The address on that driver's license does not need to match the address where you are pre-registered.
In addition, if your name has changed because of a marriage or divorce, the surname on your driver's license does not need to match the name under which you are pre-registered.
Voters who miss the May 25 pre-registration deadline will need to bring proof of residence as well as an ID in order to vote on June 5. This slide from a PowerPoint prepared by the Iowa Secretary of State's office lists documents that can provide proof of residence: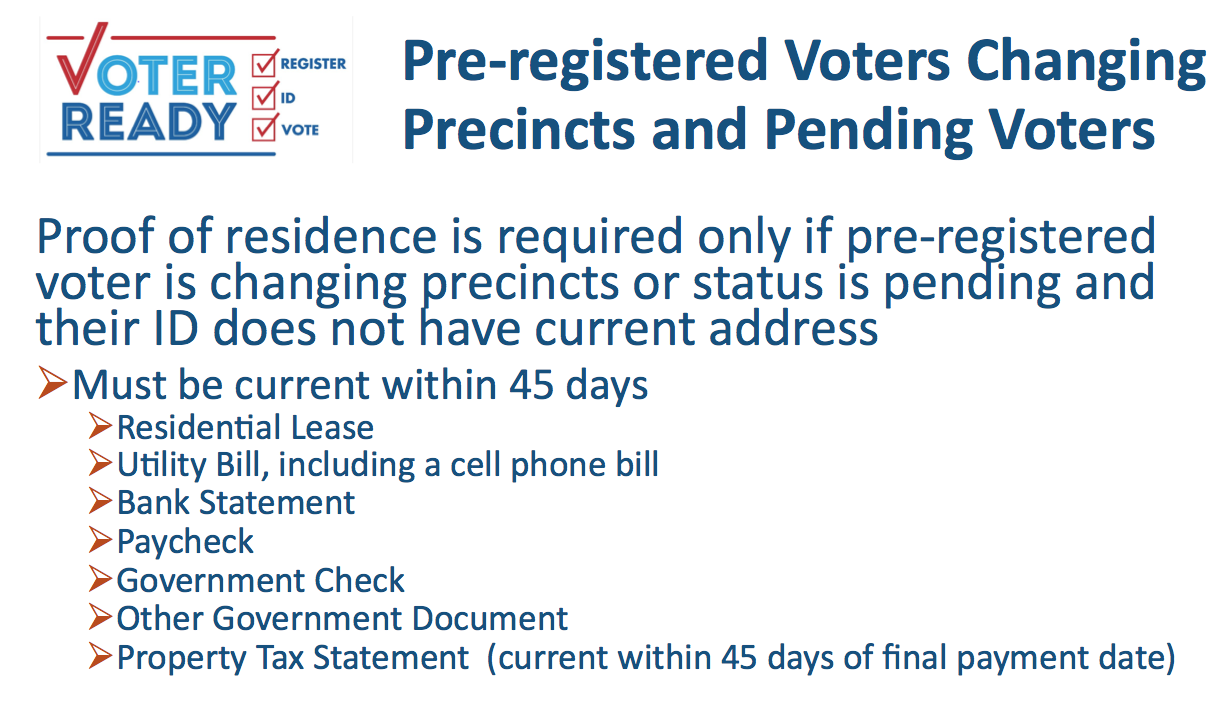 Under a law passed during this year's legislative session, voters can provide proof of residence documents "in an electronic format, such as on a cell phone."
Also note: Iowans who are not registered to vote and miss the pre-registration deadline can still register to vote on election day. They will need to bring both ID and proof of residence.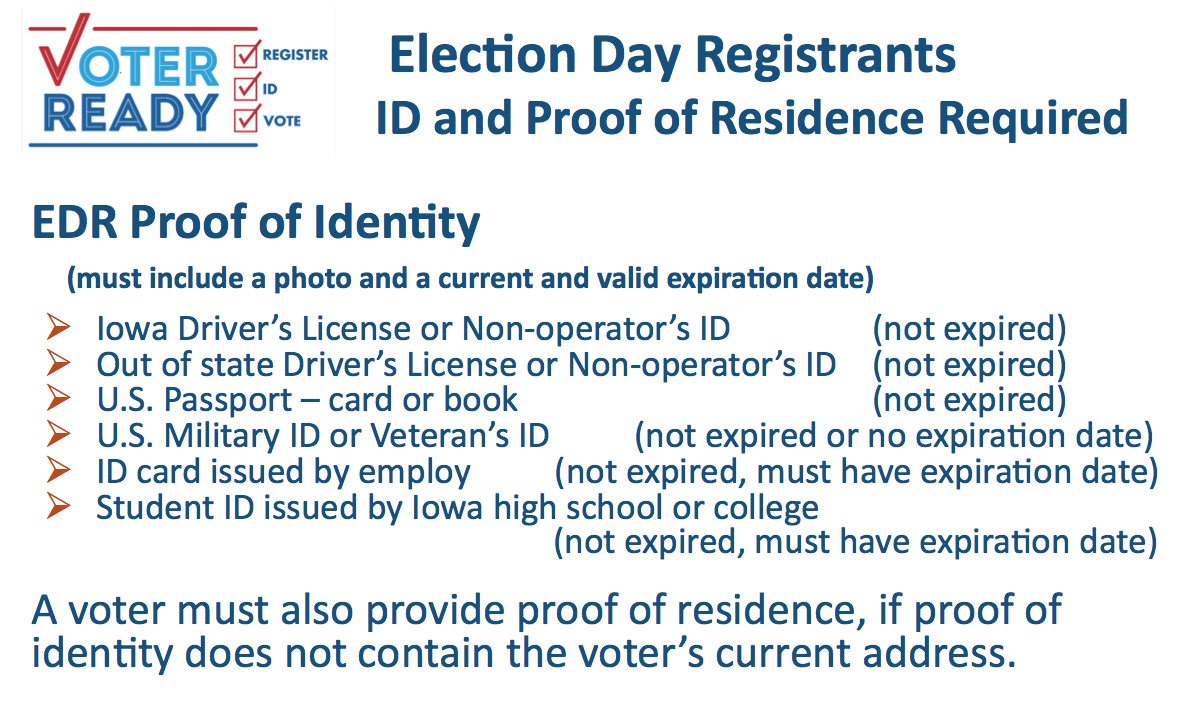 EARLY VOTERS
Iowans planning to vote by mail must get their absentee ballot request form to their county auditor's office by 5:00 pm on May 25. Do not attempt to mail the request form now. The auditor's office must receive it by the close of business on May 25, so hand-deliver if necessary. Auditors cannot mail ballots to anyone who submitted a request after this deadline.
In-person early voting will continue at county auditors' offices during regular business hours through June 4, so if you don't manage to request an absentee ballot by May 25, you can still cast an early ballot.
Voters who have already received absentee ballots in the mail have some time to return them, but it's best not to leave it too late. Ballots arriving after June 5 can be counted only if they are postmarked on June 4 or earlier. Post offices do not routinely put a postmark on envelopes anymore.
Final note: some people have asked if there is any way to nullify the ballot they cast for Nate Boulton, so they can vote for a viable candidate in the primary. Unfortunately, Iowa Code 53.21(3)(b) states that an absentee ballot returned to the county auditor "shall not be replaced" unless the voter marked the outside of the return envelope "SPOILED BALLOT" before submitting.