A newly-formed political non-profit sent two mass mailings to Iowa Democrats this week in support of Eddie Mauro, one of three candidates seeking the nomination in the third Congressional district. The website and Facebook page for Iowans for a Progressive Tomorrow do not indicate who is funding the effort, nor has the group filed 24-hour independent expenditure reports with the Federal Election Commission. UPDATE: The group belatedly submitted reports; added details below.

Few Iowans had heard of this organization before receiving the following mail pieces, which reached many Democratic households on May 30 and 31.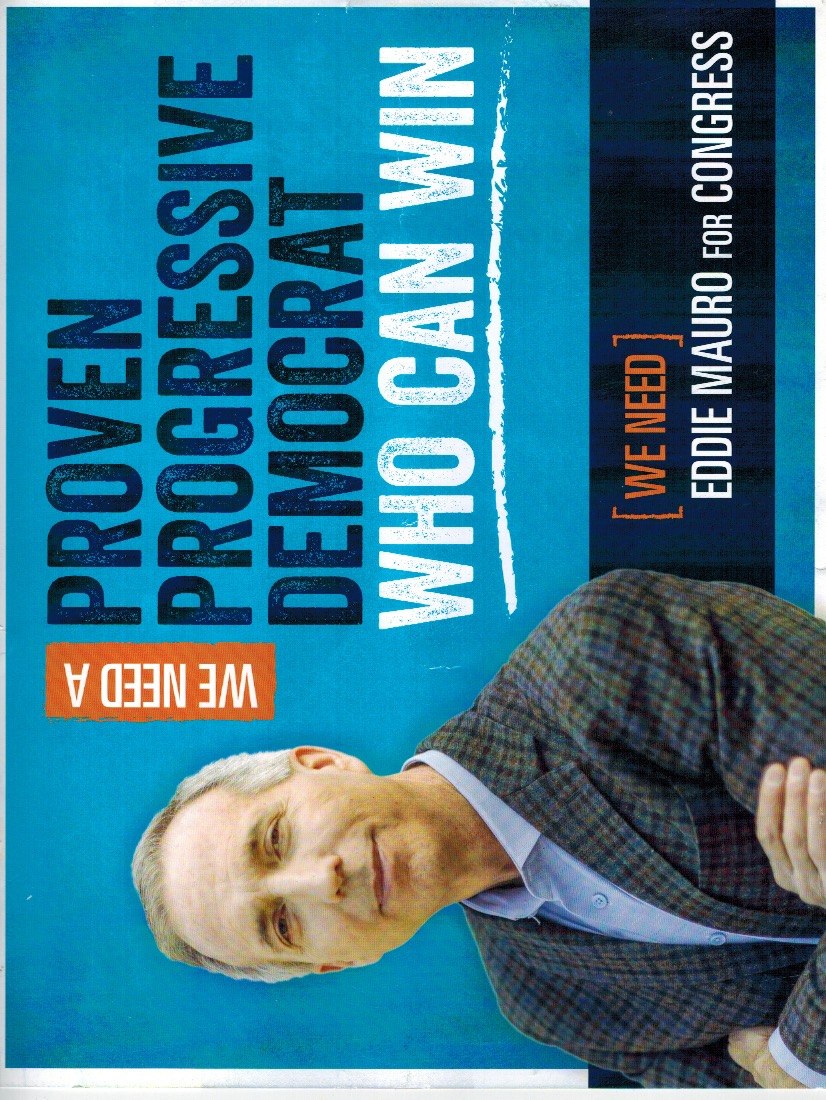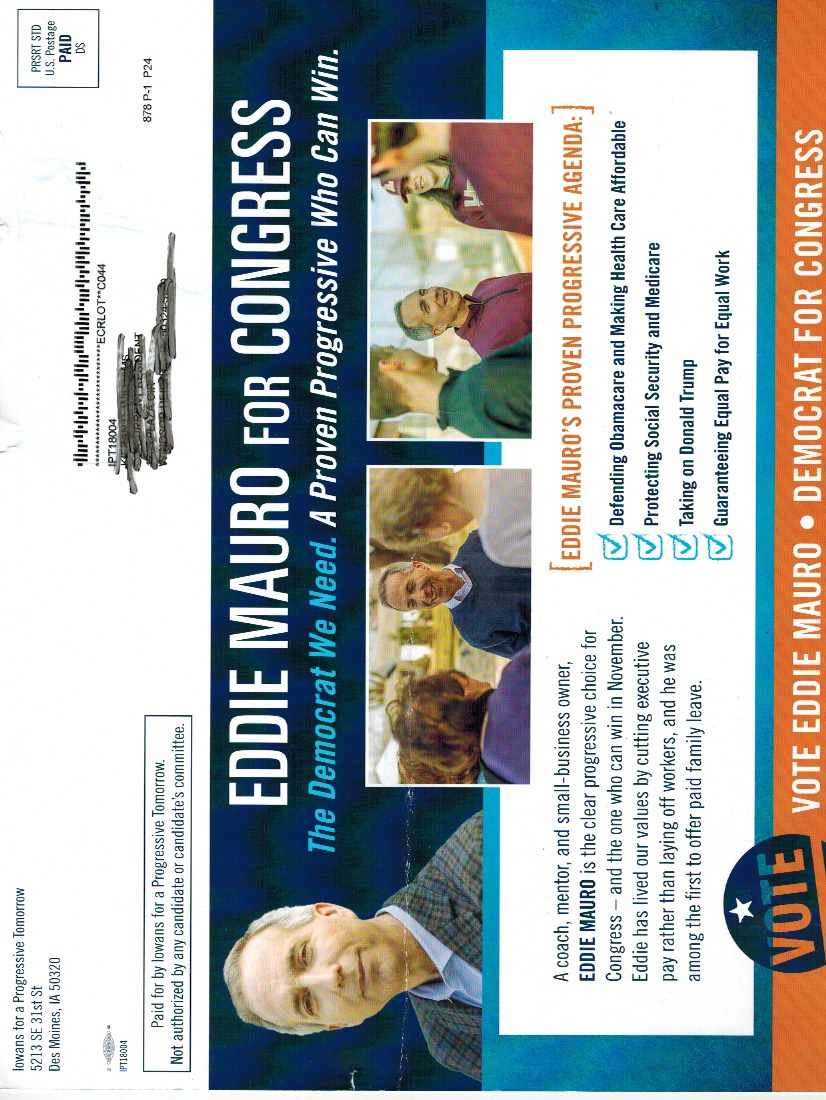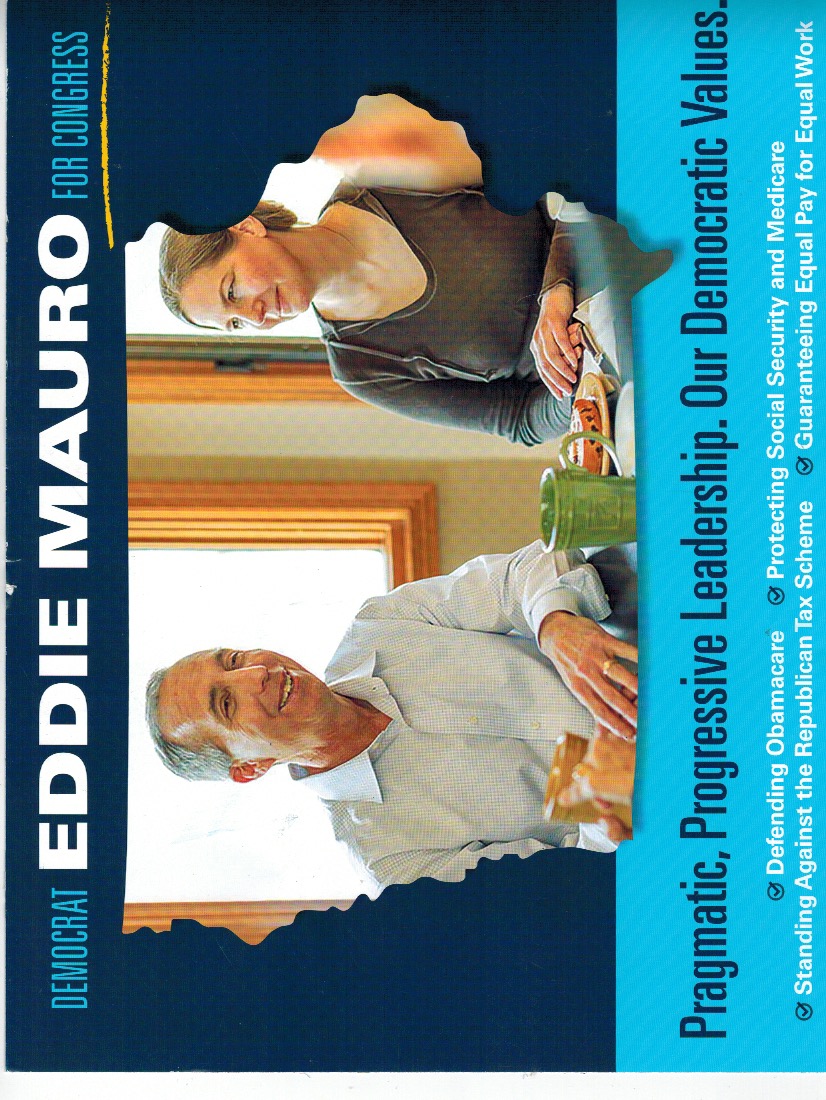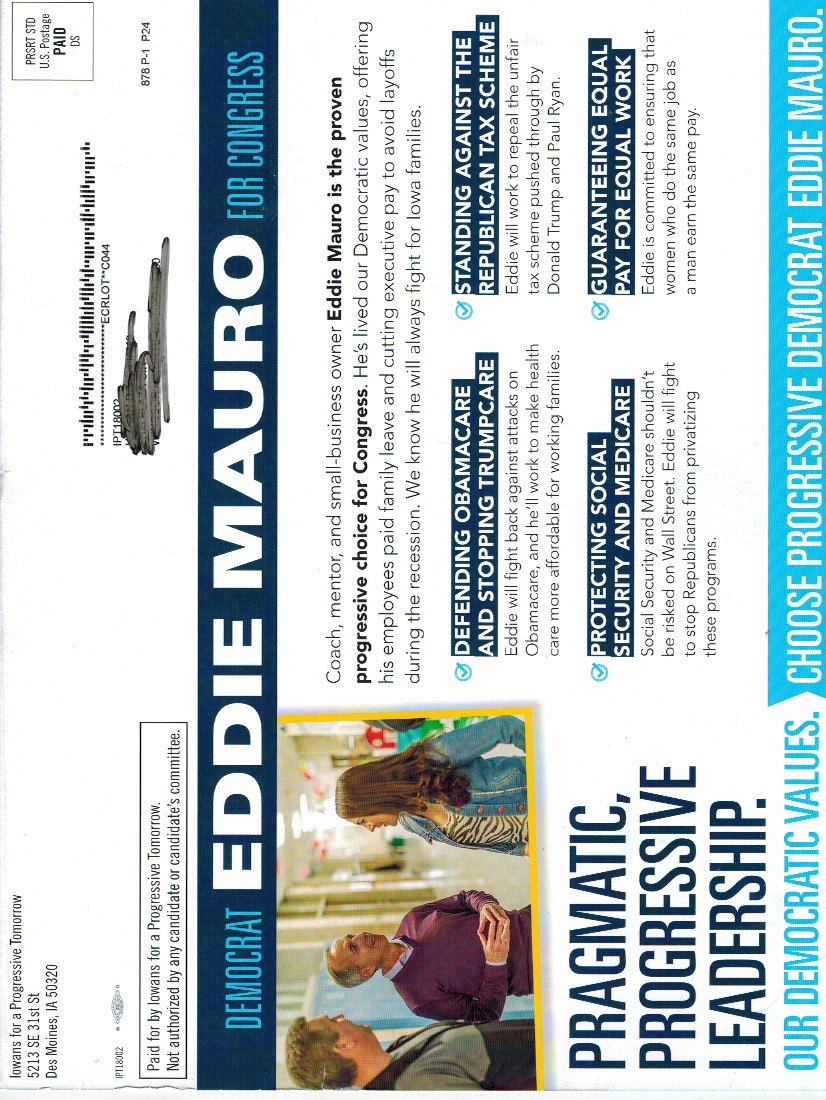 Like many election-related materials funded by outside groups, the pieces echo talking points the candidate has used in stump speeches and advertising. The "paid for" statement indicates Iowans for a Progressive Tomorrow financed the mail.
U.S. law requires people or political groups to report independent expenditures related to a federal race to the Federal Election Commission. Any group that spends at least $1,000 within 20 days of the election (in this case, the June 5 primary) must "ensure that the Commission receives the report or signed statement by 11:59 p.m. Eastern Standard/Daylight Time on the day following the date on which a communication is publicly distributed or otherwise publicly disseminated."
A search of recent independent expenditure reports on the FEC's website shows no report on spending supporting Mauro and nothing related to Iowans for a Progressive Tomorrow.
Speaking with Bleeding Heartland by phone this morning, Myles Martin of the FEC press office said his search turned up no raw, unprocessed filings by Iowans for a Progressive Tomorrow and no faxed independent expenditure reports from the group. He also confirmed that within the 20-day window, groups must report spending for or against a candidate the day after the information was publicly disseminated. In other words, Iowans for a Progressive Tomorrow cannot legally put off reporting this direct mail expenditure by delaying payment to the vendor until after the primary. UPDATE: Three FEC reports signed on May 31 now detail independent expenditures totaling more than $49,000. Scroll to the end of this post for details.
These pro-Mauro pieces must have cost substantially more than $1,000 to produce and send. Filings by Women Vote!, which is affiliated with EMILY's List, indicate that mailings in support of IA-03 Democratic candidate Cindy Axne have cost more than $10,000 apiece.
I have been unable to reach Iowans for a Progressive Tomorrow for comment on who is funding the mail campaign and how much the group has spent so far. The website does not include e-mail or phone contact information. No one has responded to a message sent through the organization's Facebook page.
According to the Iowa Secretary of State's records, Iowans for a Progressive Tomorrow was created on May 8 as a non-profit corporation under Iowa Code Chapter 504. Des Moines attorney Gary Dickey is listed as the registered agent. When I asked him about the funding sources and whether the group plans to disclose its donors before or after the primary, Dickey replied by e-mail, "I was retained to organize the nonprofit corporation. I am not a member, officer, or employee of IFPT or otherwise involved in the fundraising." He further noted that he was "not involved in the design or messaging" of the mailers.
This group exemplifies the lack of transparency in our current campaign finance system. Iowans for a Progressive Tomorrow appears to have been formed solely to promote one candidate for one office. Yet its website and Facebook page don't mention Mauro or reveal who is leading this "nonprofit organization dedicated to advancing progressive policy through public education using new as well as traditional media." The only content visible to the public are generic statements about policy issues or progressive values.
I will continue to check the FEC's independent expenditure filings and update this post as needed. UPDATE: Rocky Joseph Sposato signed independent expenditure reports on May 31, which became available on the FEC's website this morning.
• $17,447.38 for direct mail disseminated on May 22
• $15,992.25 for direct mail disseminated on May 25
• $15,992.25 for direct mail disseminated on May 29
Oddly, those filings are still not showing up on this page.
Still no word from Iowans for a Progressive Tomorrow on who is funding the mail campaign.
SECOND UPDATE: The FEC's Martin could not explain why these reports appear only on the "classic" FEC website and not on the current site's section listing independent expenditures. He said the agency's IT department is looking into the problem.
A reader sent photographs of the third direct mail piece from this group.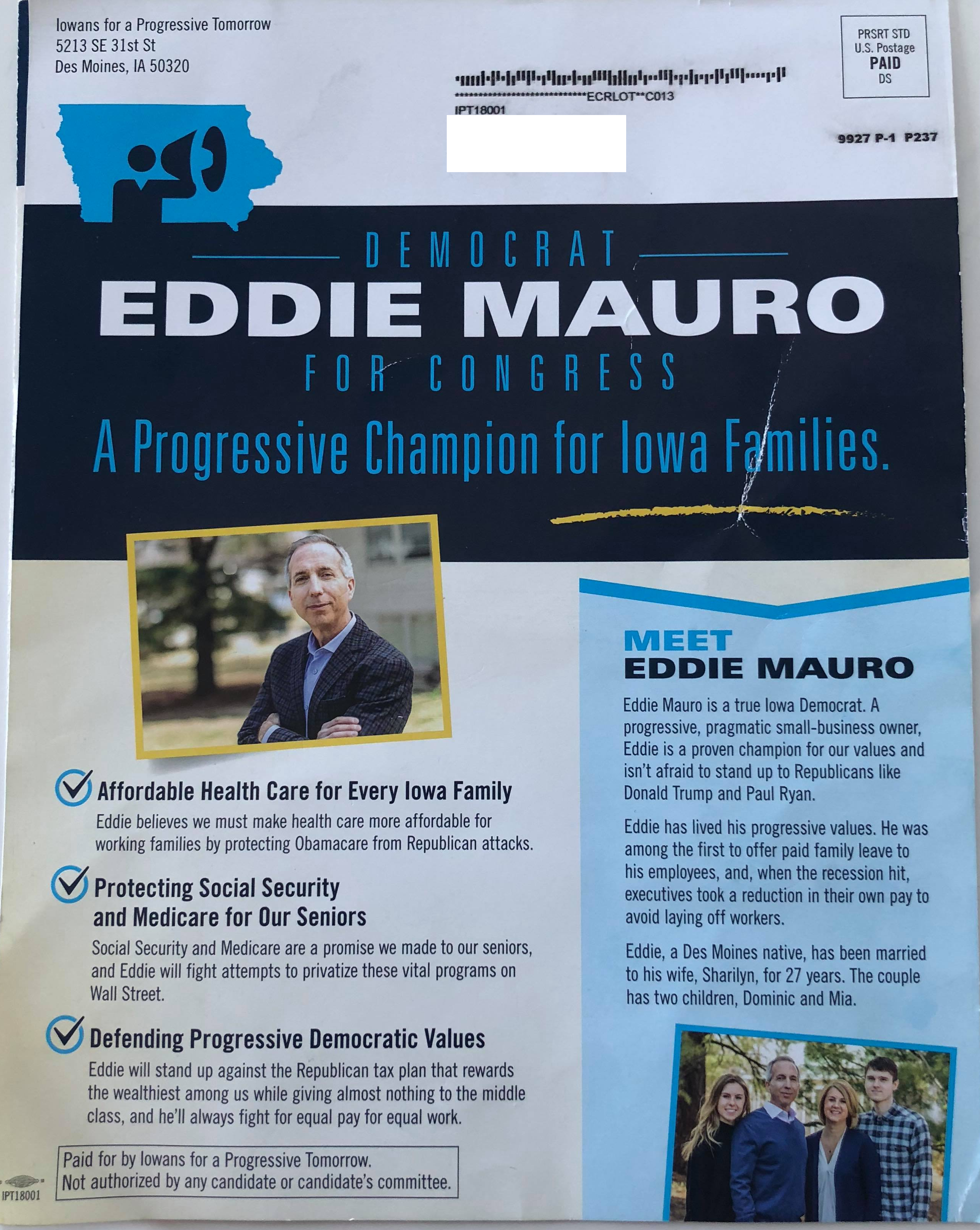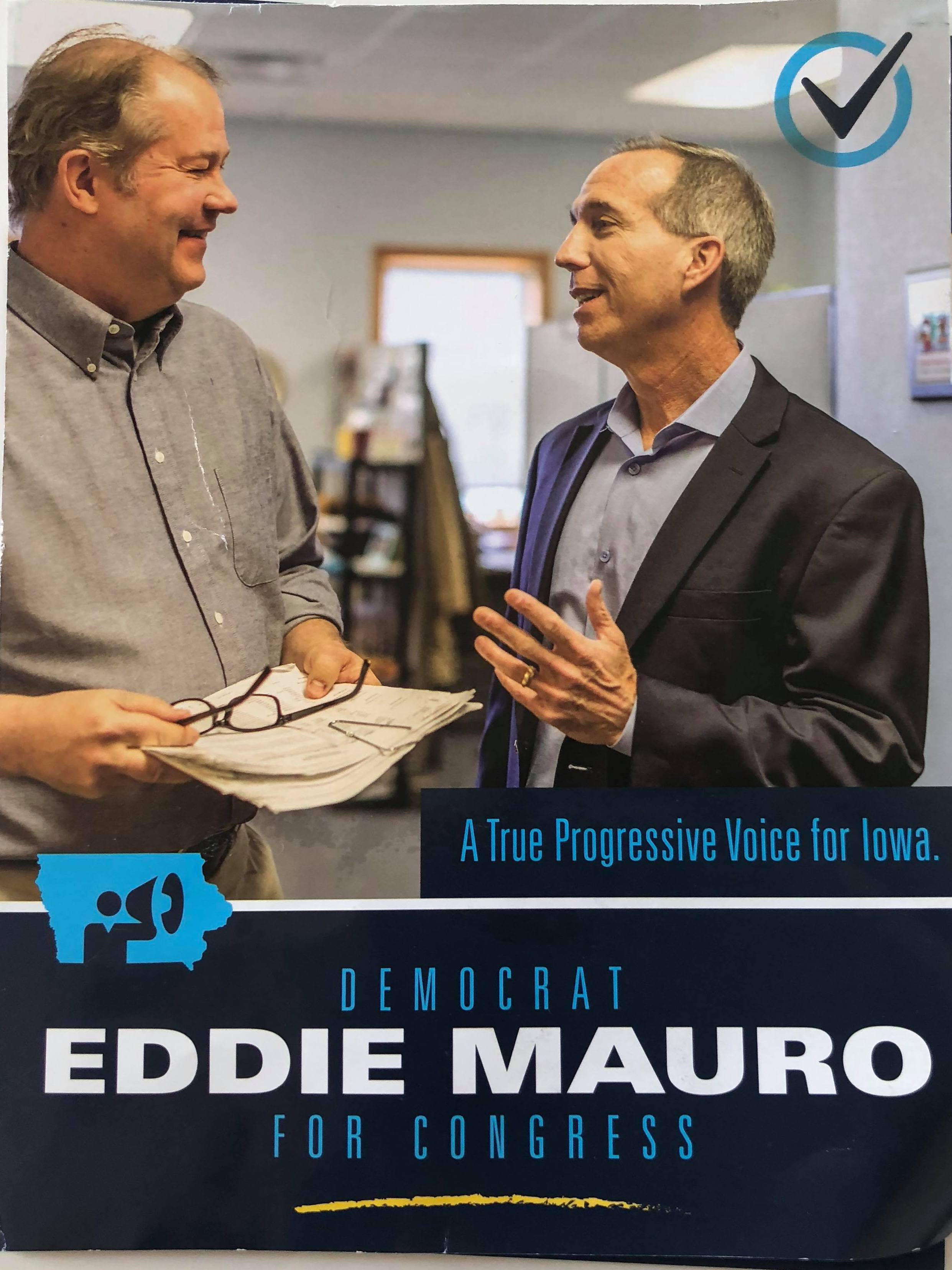 LATER UPDATE: Rocky Sposato got in touch by e-mail to let me know,
We are an in state organization who supports the development of progressive polices that improve the lives of Iowans. We have made expenditures in the 3rd Congressional Primary in the same way other social welfare groups have supported candidates in the same race. In the future we will continue to support candidates that align with progressive policies and our vision for a better Iowa.
He answered a few follow-up questions. Will the group ever disclose the names of its donors? "We are going to follow all the current laws around having a 501(C)(4) and independent expenditures."
If Mauro is not the Democratic nominee in IA-03, will the group support any other candidates this fall? "Yes, our primary purpose is to advocate for progressive policy."
A reader noticed that Iowans for a Progressive Tomorrow is registered at the same Des Moines address as the firm GOTV, LLC, which provided $7,500 in "consulting services" for Eddie Mauro's 2016 Iowa House campaign. Was Sposato involved with that work?
Yes, I have been fortunate enough to work on many local campaigns over the last five years. I really enjoy organizing, knocking doors and other GOTV efforts. Unfortunately, my personal and professional life does not afford me the time that I would like to commit to those efforts. Thus was born, Iowans For A Progressive Tomorrow.
Why was the group late to file your 24-hour independent expenditure reports with the FEC? "It was a complete oversight on my part. As communicated above this is a very busy time for me. As soon as I realized the oversight I rectified the situation and set up procedures so that this would not happen moving forward."
I sought further comment: is this organization a 501(c)(4) under federal law? The document on the Secretary of State's website says it is an Iowa 504 non-profit. Sposato clarified, "We are organized in Iowa as a non-profit under 504 and treated as a social welfare group under 501(C)(4) for IRS purposes."
Top image: Screen shot from the Iowans for a Progressive Tomorrow website.