Editor's note: Des Moines Democratic activist Robert Niederklopfer drew the cartoon posted above.
The crisis of some 2,300 children separated from their parents after crossing the southern border of the U.S. reached a tipping point this week. The "zero-tolerance policy" is two months old, but new images of kids locked in cages and heartbreaking sounds of children crying for their parents outraged millions of Americans.
A new national poll suggests voters oppose taking children away from their parents by a two to one margin. Thousands have called their members of Congress to demand action. Former acting Director of U.S. Immigration and Customs Enforcement during the Obama administration John Sandweg has warned that many of the separations will end up becoming permanent. Several "tender age" shelters are housing very young children, some unable to talk or remember their parents' names.
I enclose below comments from leading Iowa politicians on the issue. Most predate the executive order Trump signed today, which will do nothing for families already separated and may not help new arrivals either.

Although U.S. Attorney General Jeff Sessions and Homeland Security Secretary Kirstjen Nielsen could end this policy immediately, Trump and other officials have dishonestly claimed their hands are tied by current law and the 1997 Flores Settlement Agreement, which limits how long children can be held in custody.
Iowa Republicans have generally run with that spin, asserting that Congress needs to act.
All 49 Senate Democrats have signed on to the Keep Families Together Act, "which would prohibit children from being separated from their parents within 100 miles of the U.S. border except for instances of abuse, neglect or other specific circumstances." Most House Democrats, including Iowa's Representative Dave Loebsack (IA-02), support similar legislation called the Keeping Families Together Act. Loebsack released the following statement on June 17:
Separating children from their families and holding them in detention centers is disgraceful and unworthy of our nation. As a father, and especially as we celebrate Father's Day, I can't begin to imagine having my children taken and held in those conditions. I am very concerned about what long-term impact this separation and detention will have on these children's mental health and wellbeing. An immediate solution is needed to reunite these children with their family and end this process.
No Republicans in either chamber of Congress are backing the Democratic bills. U.S. Senators Chuck Grassley and Joni Ernst have endorsed slightly different GOP approaches. Ernst lent support to legislation Senator Ted Cruz is spearheading. She tweeted on June 19, "I am co-sponsoring @SenTedCruz Protect Kids and Family Act because I believe that we can, and should, treat children and families in our immigration system with compassion, while enforcing our nation's immigration laws." Ernst linked to this infographic explaining the concept: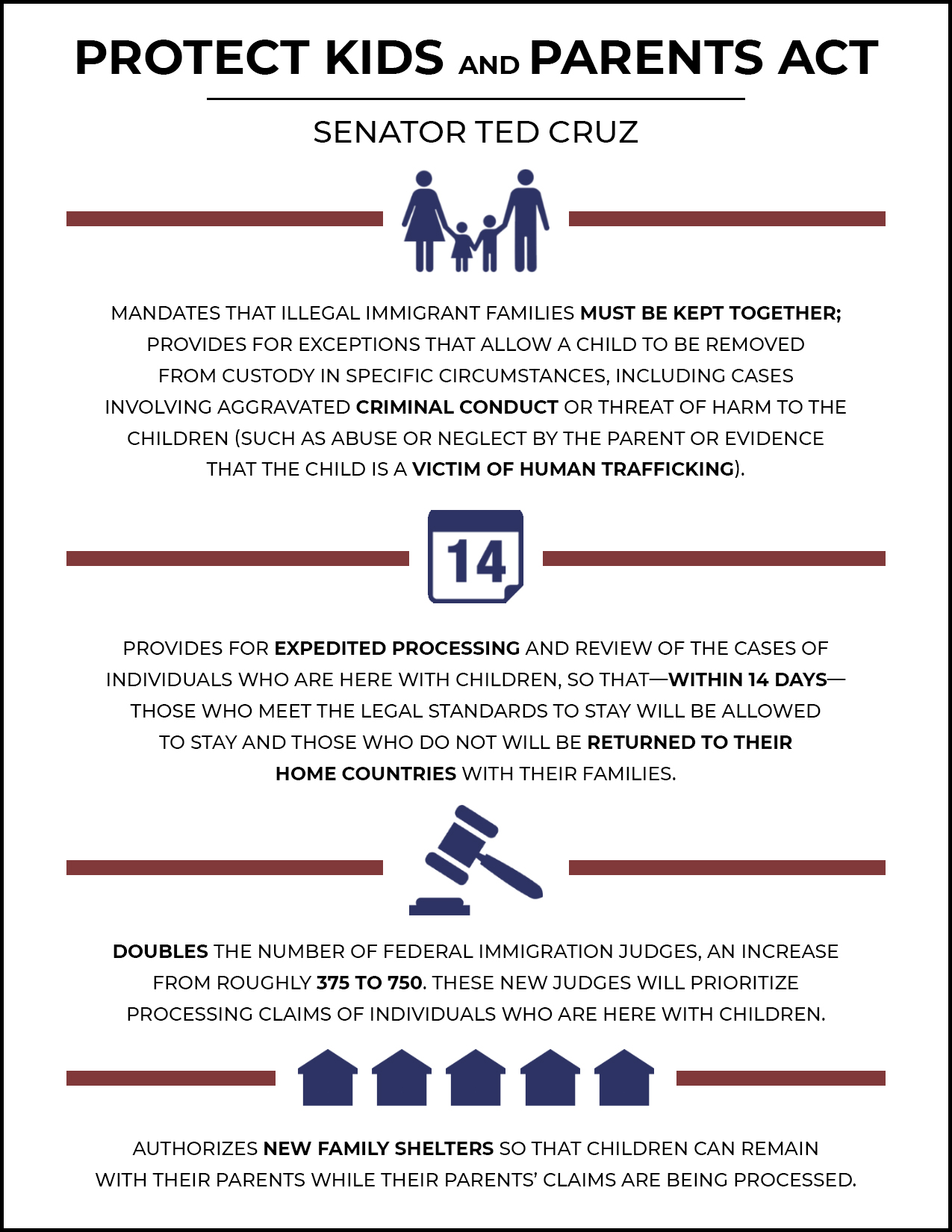 This bill looks like a classic attempt to create the appearance of solving a problem. Immigration law experts say it's "impossible" to put together an asylum case in just fourteen days.
Grassley's staff have been telling constituents that he is working on repealing the Flores agreement. The senator told WHO-TV's Dave Price on June 20 that the president's executive order may not be legal, and that Congress should settle the matter. In a press release the same day, Grassley touted his work on a new bill:
WASHINGTON – Senator Chuck Grassley (R-Iowa), chairman of the Senate Judiciary Committee, today joined several of his colleagues in introducing the Keep Families Together and Enforce the Law Act. The legislation requires that children and their parents remain together during their legal proceedings, and incorporates many of Grassley's suggested legislative fixes to resolve this crisis.

"This is a simple, straight-forward solution to a problem we all agree needs fixing," Grassley said. "It reflects the American people's humanity and respects the rule of law by permanently ensuring that families can stay together in family residential centers while their cases are pending. This is exactly our purview as members of the legislative branch: make laws to address pressing issues. There is an urgent need to end the crisis, so I look forward to the bill's rapid consideration."

Grassley is an early advocate of keeping children and families together following recent reports of families being separated pending their immigration or asylum proceedings. In remarks at a recent Judiciary Committee hearing and in a letter to his Democratic committee colleagues, Grassley reiterated the need for swift and permanent action by Congress to address the matter. Furthermore, Grassley introduced in February of this year the Secure and Succeed Act, which would have would have prevented family separations.

Background on the Keep Families Together and Enforce the Law Act:

Requires the Department of Homeland Security (DHS) to keep immigrant families together at residential centers pending the outcome of their immigration proceedings.
Sets mandatory standards of care for family residential centers.
Authorizes over 200 new immigration judges and requires the DHS Secretary and Attorney General to expedite the court proceedings of children and families.
Keeps children safe by requiring a child be removed from the care of an individual in the following cases:
The individual presents a clear danger to the health and safety of the child;
DHS cannot verify that the individual is actually the parent of the child;
The parent of the child has a violent history of committing aggravated felonies;
The child has been a victim of sexual or domestic abuse; or
The child has been a victim of trafficking.
The bill was led by Senator Thom Tillis (R-N.C.). Grassley, alongside Judiciary Subcommittee on Border Security and Immigration Chairman John Cornyn (R-Texas), authored significant portions of the legislation.

Other original cosponsors of the legislation include Marco Rubio (R-Fla.), Lindsey Graham (R-S.C.), Ron Johnson (R-Wis.), Tom Cotton (R-Ark.), Ted Cruz (R-Texas), Dean Heller (R-Nev.), James Lankford (R-Okla.), Deb Fischer (R-Neb.), Joni Ernst (R-Iowa), Jerry Moran (R-Kan.), Ben Sasse (R-Neb.), Pat Roberts (R-Kan.), Steve Daines (R-Mont.), Johnny Isakson (R-Ga.), Jeff Flake (R-Ariz.), Orrin Hatch (R-Utah), Jim Inhofe (R-Okla.), John Thune (R-S.D.), Bob Corker (R-Tenn.), Mike Crapo (R-Idaho), John Hoeven (R-N.D.), John Boozman (R-Ark.), Rob Portman (R-Ohio) and Mitch McConnell (R-Ky.).
GOP Representatives Rod Blum (IA-01) and David Young (IA-03) have not released statements on the family separation policy or posted about the issue on their social media feeds, to my knowledge. Iowans calling Young's office were told he was working on GOP legislation to address the problem. CORRECTION: Although no statement about this issue appears on Young's Congressional website, he sent the Des Moines Register this statement last week:
"Iowans sent me to Congress to represent their values and Iowa values don't include separating families and putting children at risk. This is all the more reason Congress should act to find a solution which protects our borders and citizens, and ensures those families coming in, albeit illegally, aren't separated."
Young posted the link to that June 13 Des Moines Register editorial on Twitter, saying "Congress should act to keep families together."
UPDATE: The Dubuque Telegraph-Herald reported on June 17,
In an emailed statement Saturday, Blum said he hopes to work with "our Democrat colleagues" to fix out-of-date immigration laws.

"I never want to see children taken from their parents because their parents broke our laws," Blum wrote. "Illegal aliens are gaming our system — both parents and their children should be denied entry at our border if (entering) illegally."
Then there's Representative Steve King (IA-04), never known to have compassion for immigrants from south of the border. He is fine with leaving the policy as is, based on what he saw when visiting a facility for immigrant children in 2014. (That camp was set up for kids who came to the country as unaccompanied minors, not children taken away from their parents after coming to the U.S. as a family.) Speaking to TMZ, King asserted, "There's nothing cruel about this. These are children that are cared for with better care than they get in their home country. They get everything they need." I can only imagine how he would react if someone took his grandchildren away from their parents, promising that they'd get three square meals a day and plenty of exercise in a fenced-off tent facility.
King's biggest concern is that the current sense of urgency will boost a broad immigration bill, which could include protection for DREAMers. On June 20, his office released a statement highlighting a new commentary by John and Andy Schlafly. The sons of the right-wing icon Phyllis Schlafly proclaimed, "No bill on immigration is worth supporting unless Representatives King and Barletta are on board."
At least you can count on consistency from King. Republican Party of Iowa chair Jeff Kaufmann urged GOP state convention delegates to stand and cheer for Trump on June 16, saying nothing about the plight of immigrants under this administration. Three days later, the state GOP leader tweeted, "We are a nation of laws, but separating families is just bad policy. It's cruel and unfair to the children. There's a lot that needs to be done – I'm confident that POTUS and Congress will come together to resolve this issue as soon as humanly possible."
While some governors have said they will not allow their state's National Guard or other resources to be used to enforce the family separation policy, Governor Kim Reynolds has avoided taking a firm stand. Asked about the issue at her weekly press conference on June 19, she pulled out the old political trick of using passive voice to avoid assigning blame: "It's just horrific that, you know, children are being used as a pawn in this situation […] So, my request would be that Congress gets back and gets something done this week and we stop what's going on."
Who's using the kids as pawns, Governor? The president? The Justice Department? Homeland Security?
Reynolds' office released this statement after Trump signed his executive order on June 20:
"What was happening at the southern border was horrific. Children were being separated from their families to be used as pawns. That is not who we are as a nation.

"While the president's action today is progress, the work is not done. Congress cannot use this executive order as an excuse not to act.

"Our nation's immigration system is still broken, and our border is not secure. It is time for Washington to get the job done."
Again with the passive voice. Whom does Reynolds hold responsible for these "horrific" scenes? What does she mean by getting the job done? Does fixing the immigration system require funding a wall along the Mexican border? What about legal status or citizenship for the DREAMers?
Incidentally, WHO-TV's Price asked the governor's office whether any children separated from their parents are being housed in Iowa. "Not to our knowledge," staff told him.
Finally, Iowa Attorney General Tom Miller and 20 other state attorneys general signed a June 19 letter demanding an end to "the cruel and illegal actions against children and families lawfully seeking asylum in the United States as they seek protection from domestic, sexual and gang violence."
In recent weeks, the federal government has separated thousands of asylum-seeking children from their parents and reclassified the protective status of international domestic violence survivors. The attorneys general ask Sessions to immediately stop putting children in danger by separating them from their families.

"Put simply, the deliberate separation of children and their parents who seek lawful asylum in America is wrong," the letter reads. "This practice is contrary to American values and must be stopped."

Miller and the coalition of attorneys general argues that in addition to being cruel and dangerous, these policies are, at their core violations of international, federal and state law, as well as of judicial precedent. Almost universally, those laws and precedents state that children's best interests are in remaining with their parents, absent a rigorous judicial inquiry. The Department of Justice is ignoring those best interests, putting politics ahead of children.

The letter also reads, "These practices directly interfere with the efforts of our offices and other law enforcement officials — locally, nationally, and internationally — to prevent and prosecute crime. In most states, attorneys general are responsible for enforcing laws that include human trafficking, drug trafficking, and gang violence offenses. As you are keenly aware, these issues are rarely local in context, rather they require the efforts and collaboration of law enforcement officials across both state and international borders to prevent the widespread and syndicated perpetration of these crimes."
I sought further comment from Miller today. Communications director Lynn Hicks told me he hadn't talked to the attorney general, who is out of town, about Trump's executive order. But Hicks noted, "The letter we signed raises several concerns about the administration's zero-tolerance policy, and modifying the Flores decree fails to fully address those concerns."
UPDATE: Hicks confirmed on June 21 that Miller is signing on to a multi-state lawsuit challenging the Trump administration's "zero tolerance" policy for parents crossing the border with their children.
Top image: Cartoon by Robert Niederklopfer, a lifelong Democrat who became became more involved in politics after the 2016 election. He is a member of the Downtown Des Moines Democrats.