Jeani Murray managed Leonard Boswell's 1998 campaign and served on his Congressional staff. -promoted by desmoinesdem
Leonard Boswell was mortally wounded from Agent Orange poisoning in February of 1969 while serving as an assault helicopter pilot in the Mekong Delta of Vietnam.
Retired Colonel Charles Teague, a longtime colleague and dear friend of Leonard, shared that revelation with us while giving an impressive eulogy last Saturday.
It took 50 years and six months to take his life, but that flight sealed his fate. And the astonishing thing is he didn't have to go on that mission. He was the commander; he could have sent any one of his airmen to do the job. But as a leader, Leonard Boswell would never ask his pilots to do something he wouldn't do himself.
So many times Leonard said the same thing to me when I worked for him. Never ask your team to do something you are unwilling to do yourself. That lesson on leadership has remained with me to this day.

Colonel Teague's comments also helped me gain a new perspective on Leonard's commitment to service.
"The wonder of all this is the amount of good Leonard Boswell was able to accomplish while he was in the process of dying," said Colonel Teague.
I'd never thought about Leonard's Vietnam service in that way before. For the next 50 years, after being mortally wounded, Leonard Boswell began the slow and painful process of dying, all the while continuing to serve others and do a tremendous amount of good. Several cancers, chemo treatments and surgeries did not stop him.
Look what Leonard Boswell did with those dying days: helped save local farmers from going bust as the president of his local co-op during the 1980s Farm Crisis, kept Iowa from facing financial ruin as a state senator, brought a dignity and commitment to finding common ground on policies and getting things done for his constituents while serving as a Member of Congress. And I'll note, when he left Congress in 2013, he was one of, if not the most decorated veteran in the House, something he never would have mentioned himself, but as a point of personal privilege I tell you that now.
Most people know these topline points about Leonard, and those were impressive feats, but what I want to share here is what I witnessed while serving on his staff.
Leonard could be a tough person to work for, and he admitted as much. He understood he demanded a lot from us (refer back to the last line of the third paragraph above), but he also taught me things that have made me a better team member and person. Sometimes those lessons were tough for a 20-something kid to realize, but with time I've grown to appreciate his guiding hand.
Commitment. Abiding love for his neighbors, Iowans and fellow Americans. Hard work. Honesty. Bringing people together. These values define Leonard Boswell the public servant.
This might come as a surprise to those not entrenched in governmental affairs, and this isn't a criticism given their workload, but most members of Congress don't answer their own mail. Secret's out. They generally use staff to write them, approved via some process that ensures the boss is good with the work. Staff often use an autopen for a signature. Never had I heard of a member of Congress actually reading and signing EVERY constituent letter. That is, until Leonard Boswell. When I worked for him, he signed every single letter. Literally thousands of letters are sent to Congressional offices. Leonard signed each and every one, often adding a personal note. That was unheard of on Capitol Hill. As you can imagine, this took some time. Which leads me to my next point.
Leonard was a bit competitive and found great pleasure in being the first in the office and the last to leave. Being competitive myself, there were times I'd try to outdo him on that front, often falling short. Those extra hours, while still dark outside, were often used to look at these letters, see what Iowans cared about and personally recognize each one. That special touch was a hallmark of his. Leonard truly cared about people.
He also had a rule. He would do his best to meet with every Iowan that came to the DC office. Mind you, he only represented a portion of the state, but he felt if Iowans came all that way to see him, he'd do his best to return the favor. And if it was a constituent from the third district, he absolutely would take that meeting, except on rare occasions when it wasn't possible. I know, again, this might sound like something everyone in Congress does. Nope. Not even close. Staffers handle so much of this work. The demands of an elected official's time are such that it gets difficult to meet with everyone or see every letter, but Leonard had a visceral belief in serving the people and that meant handling many of the details other elected officials delegate to staff.
And when Leonard was back in the district, that rule was followed even more. From the beginning of his time in Congress, he started holding "Listening Posts," where we'd send postcards out notifying folks that he would be in their town to hear from them and to please join him while he was there. Usually while Leonard was doing this on the weekends, I was home exhausted from the workweek on the Hill. I think Leonard really fed off the energy of being with and hearing from people. He was almost three times our age and had more stamina than we did.
What made Leonard's Listening Posts different was that it wasn't a town hall where he'd stand up, give a speech and take a few questions. No. Not Leonard. We'd arrange with a grocery store, library or some other public place for him to be in their space for several hours at a time, standing at a card table and greeting folks as they came in asking them how he could be of service to them. Leonard listened to them all and didn't shrink from those folks who disagreed with him. He took in what they had to say.
Very few elected officials would invite this type of access and feedback. Leonard was in that rarified air, he knew his mission was to be of service to these constituents and to be their voice in Congress.
I cannot tell you how many times he would return to DC to give us numerous notes and follow ups. He'd come back with many tasks for us to undertake to help Iowans. It could be anything from someone having an issue with their Social Security or Medicare, to a veteran needing help with services, to a family whose child was on the organ transplant list needing an advocate, to a policy someone cared deeply about, and everything in between. His Listening Posts and numerous meetings with constituents also allowed him to continue to have a deep understanding of what Iowans were going through, their challenges and what they needed from their government.
No issue was too big or too small for Leonard to take on when it came to constituents. His line was always, "I can't promise results, but I can promise effort." And Leonard was always a man of his word. He put in a heck of an effort for so many. These behind-the-scenes constituent services are things you don't always hear about members of Congress, and I can attest, they were of the utmost importance to Leonard.
He also had a unique philosophy about issues. He certainly had a point of view and belief in issues, but he was more interested in moving issues forward to help people, not sitting in stalemate over ideology. Leonard would often say when going to the negotiating table, it was an elected official's duty to fight for the whole loaf of bread (meaning go for all of what you want), but be okay with getting a slice or two at a time. Then you get the issue moving forward. You can come back to make fixes, "get more slices" later. But first get something done.
Our democracy is based on compromise and bringing diverse philosophies, people and policies together to form one union. Leonard knew – and I agree – we have to find common ground with those that do not hold our same political views in order to actually move forward on issues. If we do not, nothing gets done.
A few years ago I ran into a lobbyist who used to work for the dairy industry. When he learned I had worked for Leonard, he pulled me aside because he had a story about Congressman Boswell during his time chairing the House Agriculture Subcommittee on Livestock, Dairy and Poultry, and it was something this lobbyist had never witnessed in his entire time in Washington.
Long story short, the big dairy producers and the smaller, mostly family dairy producers could not agree on a piece of the Farm Bill. Their dispute was holding up the bill. You would think that since they were both representing dairy producers, they'd likely agree, but as in many things in Washington, often the big guys and the little guys are at odds, and on Capitol Hill these days the little guys can get the short end of the stick.
Leonard called the leaders of both groups to his office. He sat them down and told these folks they needed to come to agreement on their portion of the bill. He said this issue affected all of their members, big and small, and he wasn't going to let them leave his office until they found common ground and a policy they could agree upon that helped all the dairy farmers. Apparently, he gave them a set amount of time and said he'd be back to check on their progress. What's more, he would continue this process (leaving, letting them work, checking their progress) for as long as it took. It was their issue, and he demanded they come together. That was Congressman Leonard Boswell in a nutshell. Bring people together, find solutions, move the ball forward.
Leonard was planning to have all of us former staffers on his farm for a gathering Sept. 9. He knew his time here was nearing an end and wanted to see us. I was really looking forward to seeing him and the other members of the Boswell Team. I really wanted to share the dairy story with him, and most importantly, thank him for his service and all he taught me.
I'm so sad I didn't get to see him one last time to tell him that, but appreciate my chance to do that now. And, I am so grateful he and his wife Dody departed together and started their next journey side-by-side.
———————————-
Jeani Murray served on Leonard's first two Congressional campaigns, managing his 1998 re-election bid, when he was one of the top-targeted House Democrats in the country. She worked on his early Hill staff, starting out as press secretary, then moving to chief of staff. Jeani commented, "I have a lot of other great memories from my time with the congressman that make me proud to have been on his team, and many that will forever bring a smile."
The image at the top of this post, of Leonard with his wife Dody, is a still from a television commercial that aired during the 1996 or 1998 campaign. This picture from a parade was part of a video compiled by former Polk County Democrats executive director Tamyra Harrison.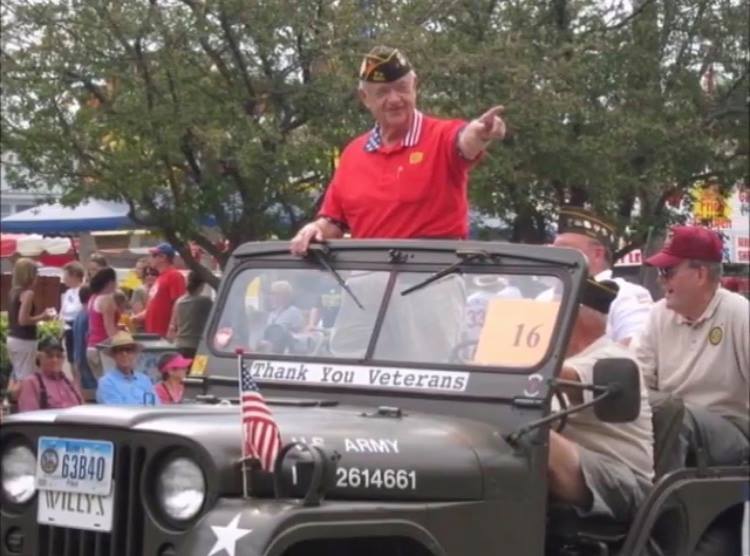 Jeani Murray took this picture of Boswell's flight suit.