Luther College Associate Professor Beth Lynch shares her knowledge and photographs of a native vine related to cultivated squashes, gourds, and cucumbers. -promoted by desmoinesdem
In August I received a phone call from a woman I did not know asking about a plant. It turned out that she was sitting in my friend Phil's kitchen, having just made the drive from the Twin Cities to Decorah. On the drive, she had seen massive mounds of a flowering vine clinging to trees and shrubs along the roadside and was sure it must be the first wave of an invasion.
In fact, what she and many others noticed this summer was the exuberant growth of the native wild cucumber (Echinocystis lobata). This plant is native to eastern North America, but for some reason people seemed to really take note of it this year. It has likely become more common because it is well suited to nutrient-rich, disturbed landscapes created by humans.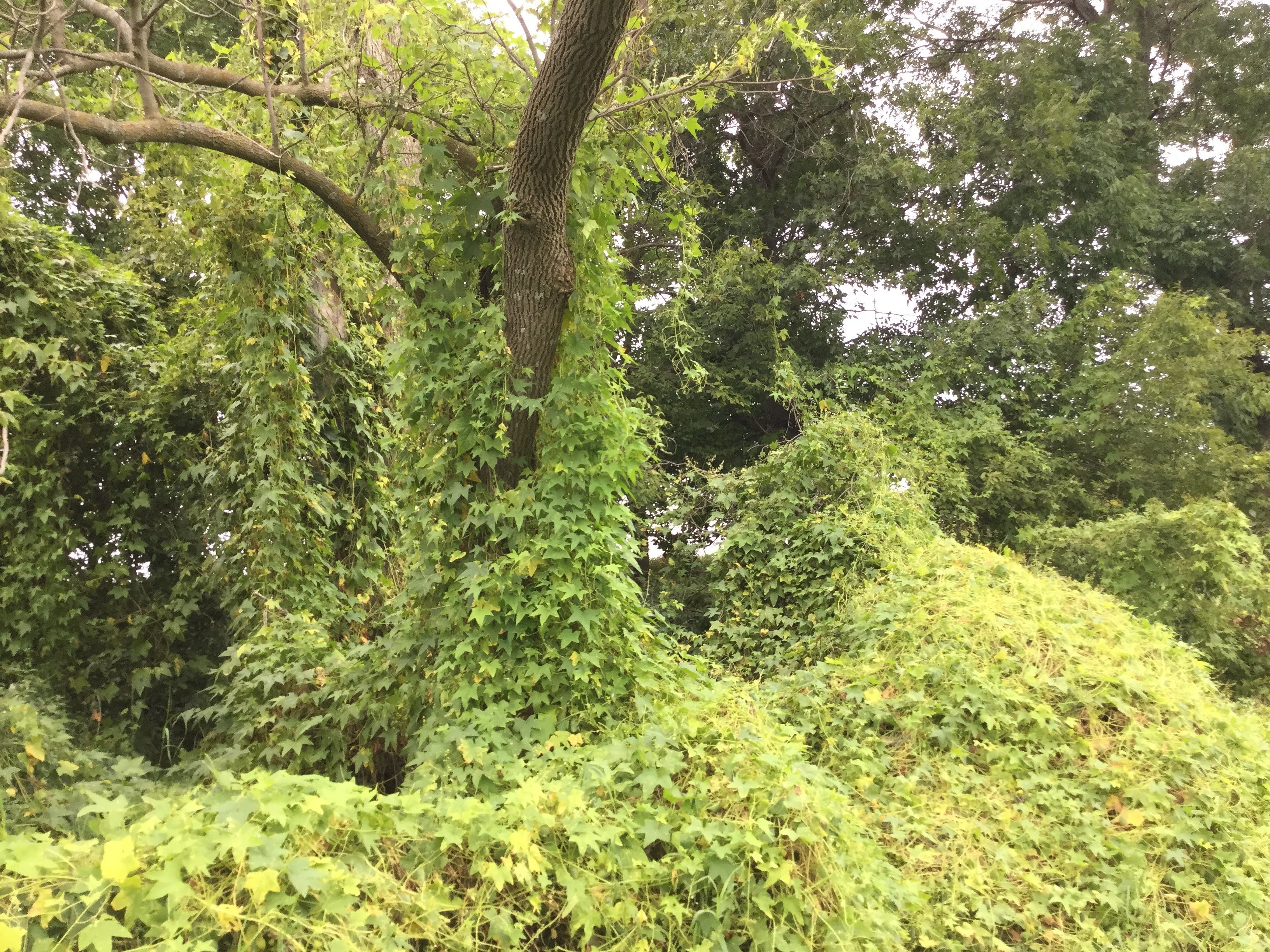 Wild cucumber is an annual vine related to squashes, gourds, and cucumbers cultivated in our gardens. It is particularly well-adapted to sunny openings in rich soils along forest edges and rivers. Each year a new plant germinates from a large white and brown speckled seed, grows into a sprawling vine 30-50 feet tall, and then dies by the end of October. It has beautiful five-lobed leaves that resemble stars, and delicate tendrils that help it climb over everything — fences, trees, bushes, old cars.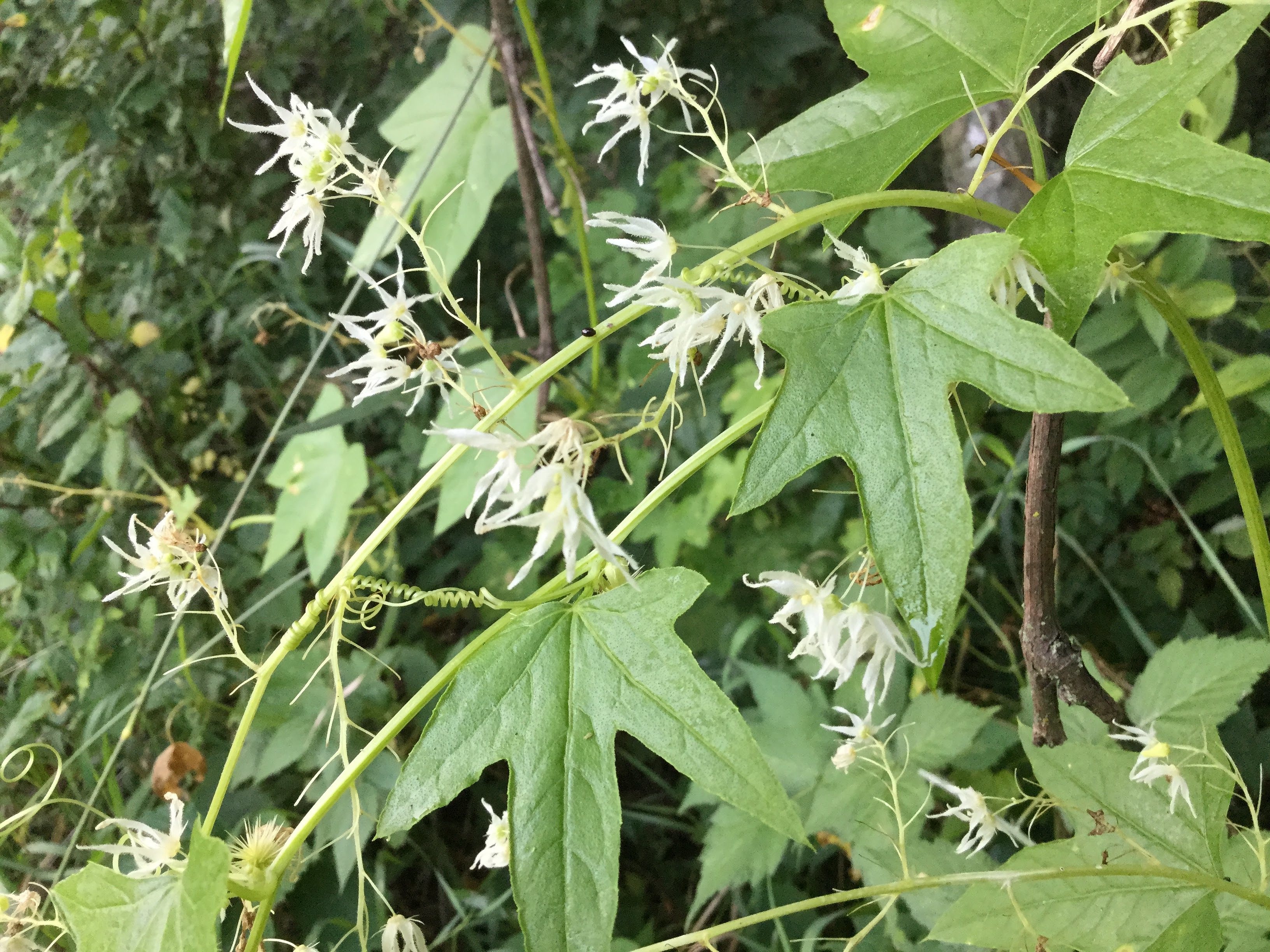 When wild cucumber blooms, the vines are covered with spikes of delicate white flowers. The flowers are what makes the plants so conspicuous at highway speeds. If you take a very close look at the flowers, you can see that most of them are male flowers, containing only petals and anthers, but no pistil. There are fewer female flowers, and they are placed closer to the stem; their most conspicuous feature is their tiny, very spiny ovaries.
The spiny ovaries will be no surprise if you have already spotted the developing fruits, which look like a kiwi fruit crossed with a sea urchin. Picture a green oblong fruit with very long spines.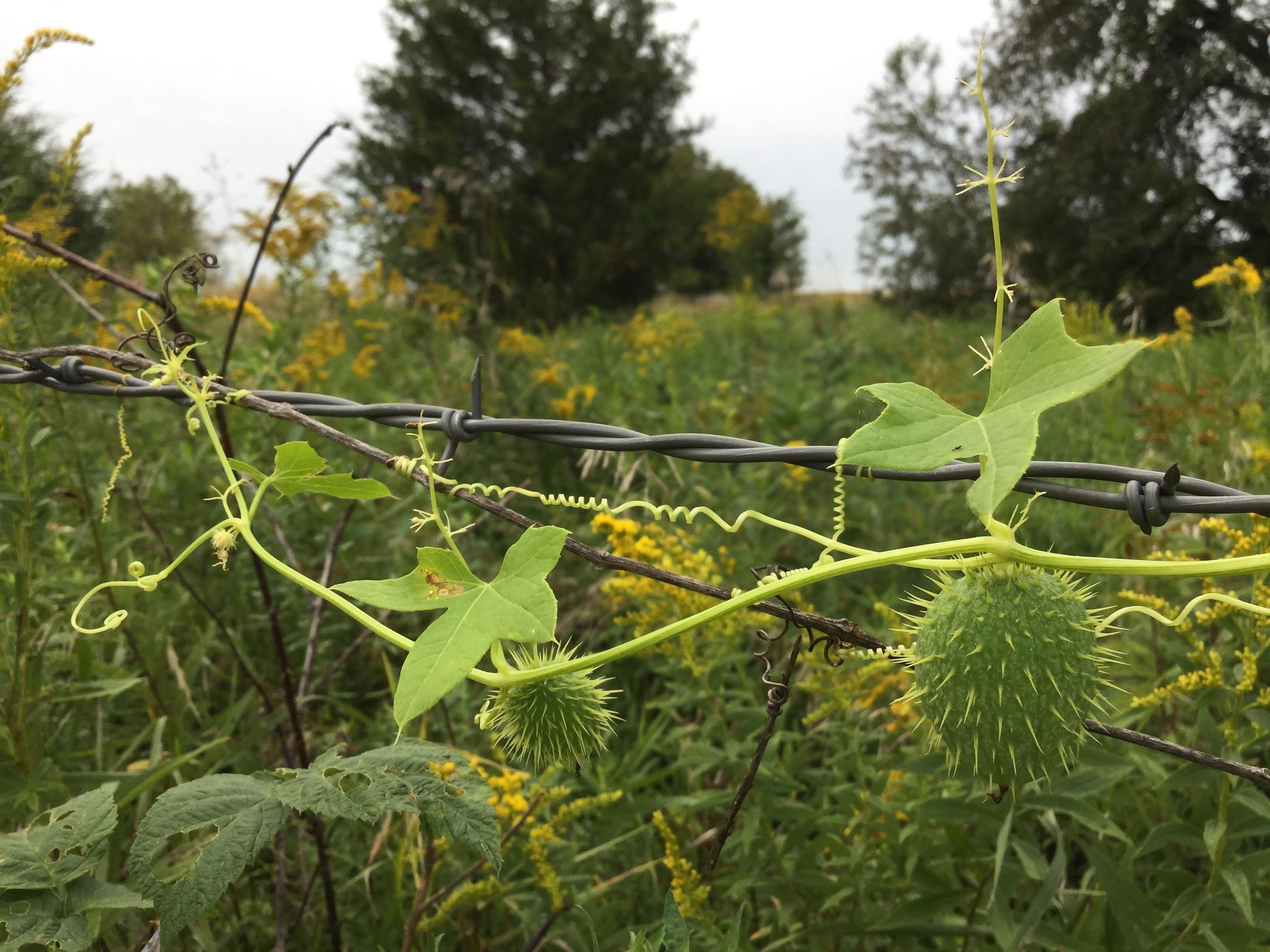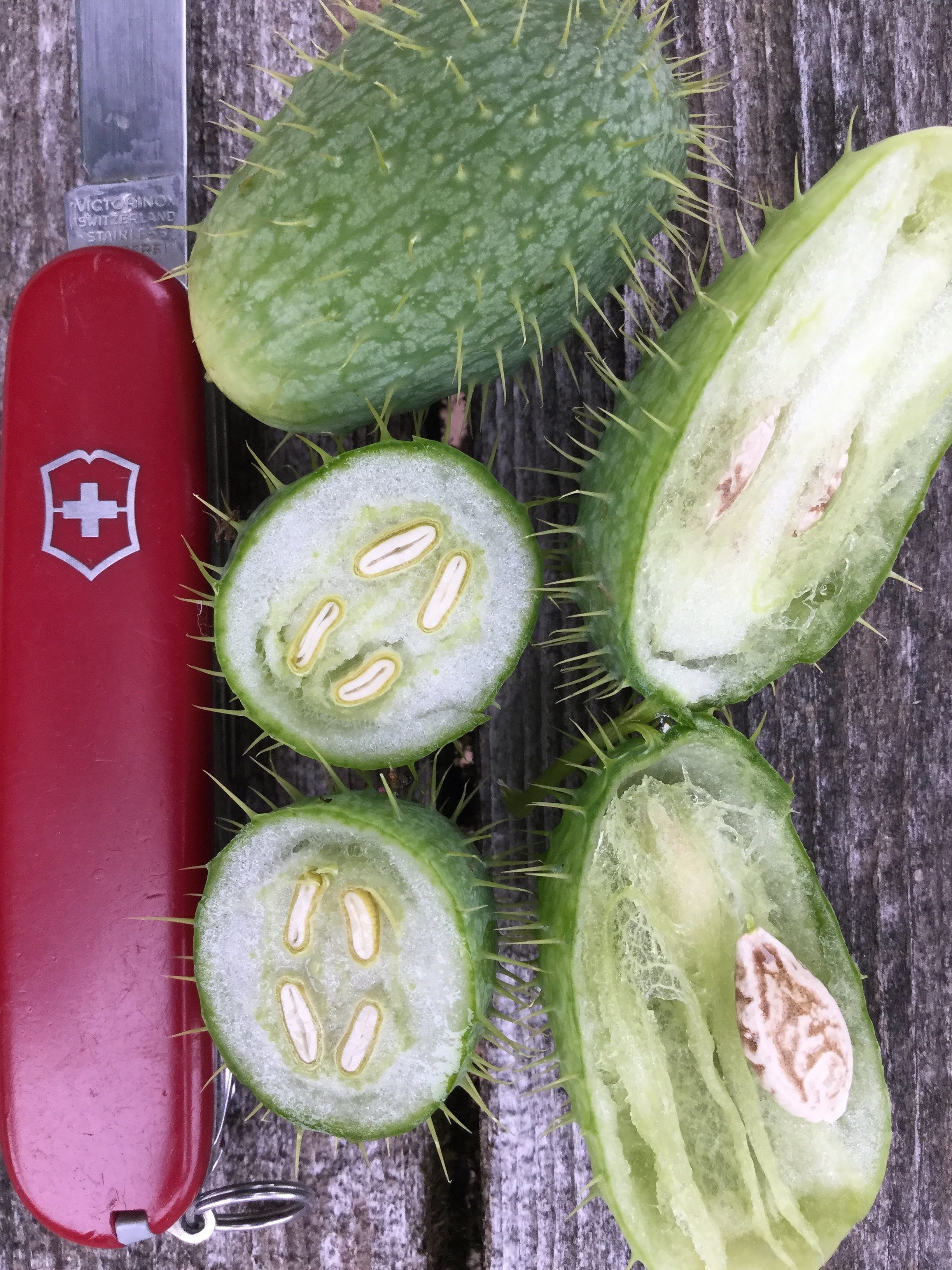 Later on in the summer the fruits become dry and mostly hollow. I imagine that if a fruit were to fall into a stream or river it could float along with the current and be dispersed quite far. However, most of the seeds will just drop to the ground and start a new plant in the same spot next year. In early November, all that remains of the past summer's lush mounds of wild cucumber are wispy vines with a few dried husks of fruits still hanging on.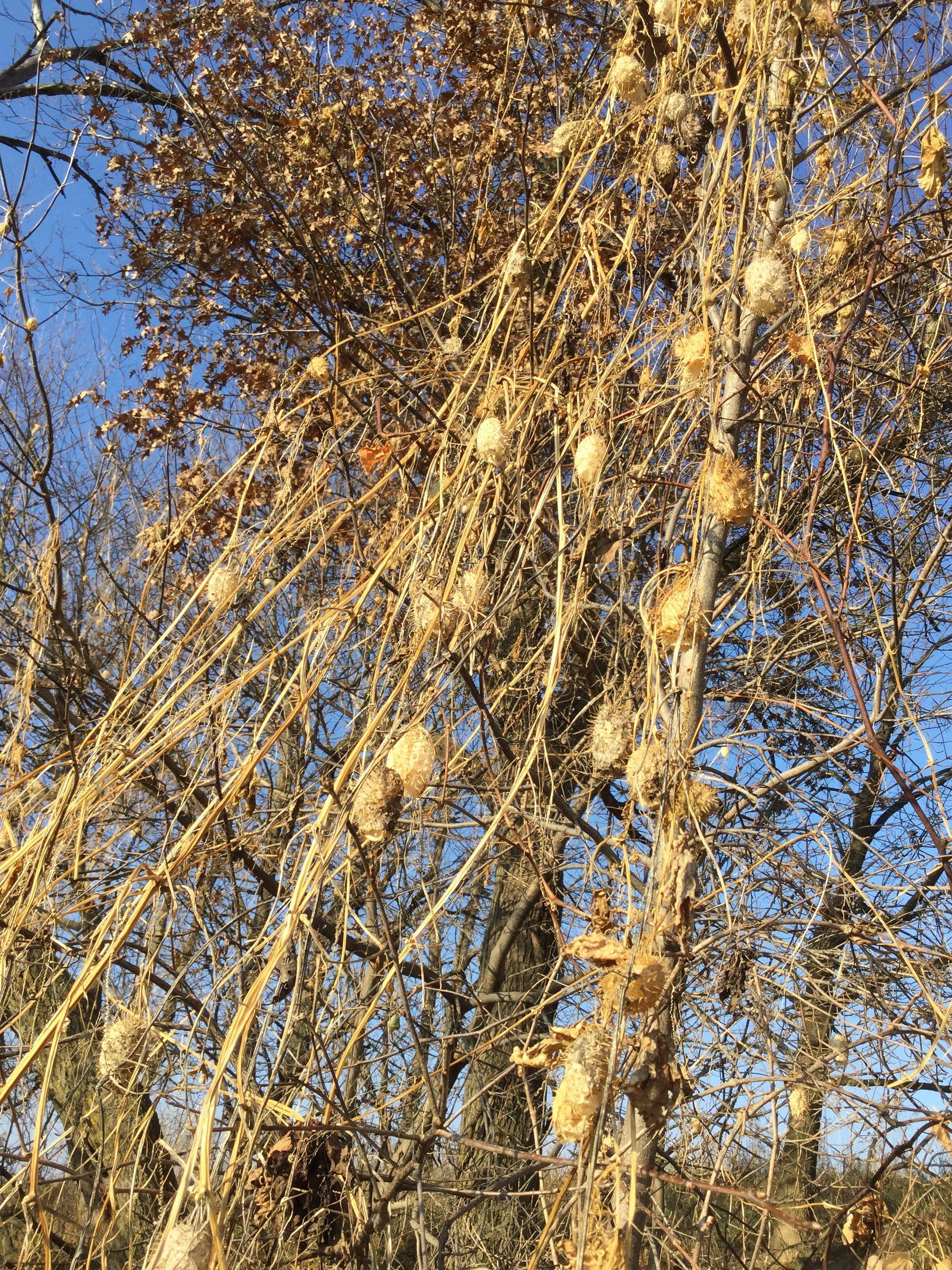 So, to those who noticed this plant for the first time this year, the good news is that the conspicuous masses of wild cucumber vines have been here in North America since before the ice ages. They are probably not the front wave of a green invasion that will smother all of the trees in our area (though it is a nasty invasive weed in Europe), however it may be benefiting from our increasingly human-dominated landscapes.