Many thanks to Lora Conrad for wrapping up this year's wildflower series with an informative piece about a beautiful tree. Iowa wildflower Wednesday will return sometime during the spring of 2019. Happy Thanksgiving to the Bleeding Heartland community! -promoted by desmoinesdem
Driving along a rocky dusty Iowa back road along the banks of the Des Moines River in Van Buren County about eighteen years ago, I spotted the brightest possible pink glowing from a small tree amid the drab, frost-killed brush….. and came to an immediate stop (it's a very quiet road.) There this rather frail, otherwise naked little tree sat with probably a hundred bright seed pods beginning to burst open. What could it be?
Upon talking with an elderly neighbor native to the area, I learned it was commonly called a Wahoo – a name that is an appropriate expression when one sees its unusual beauty for the first time. However, the word Wahoo probably derives from a Dakota word meaning "arrow-wood."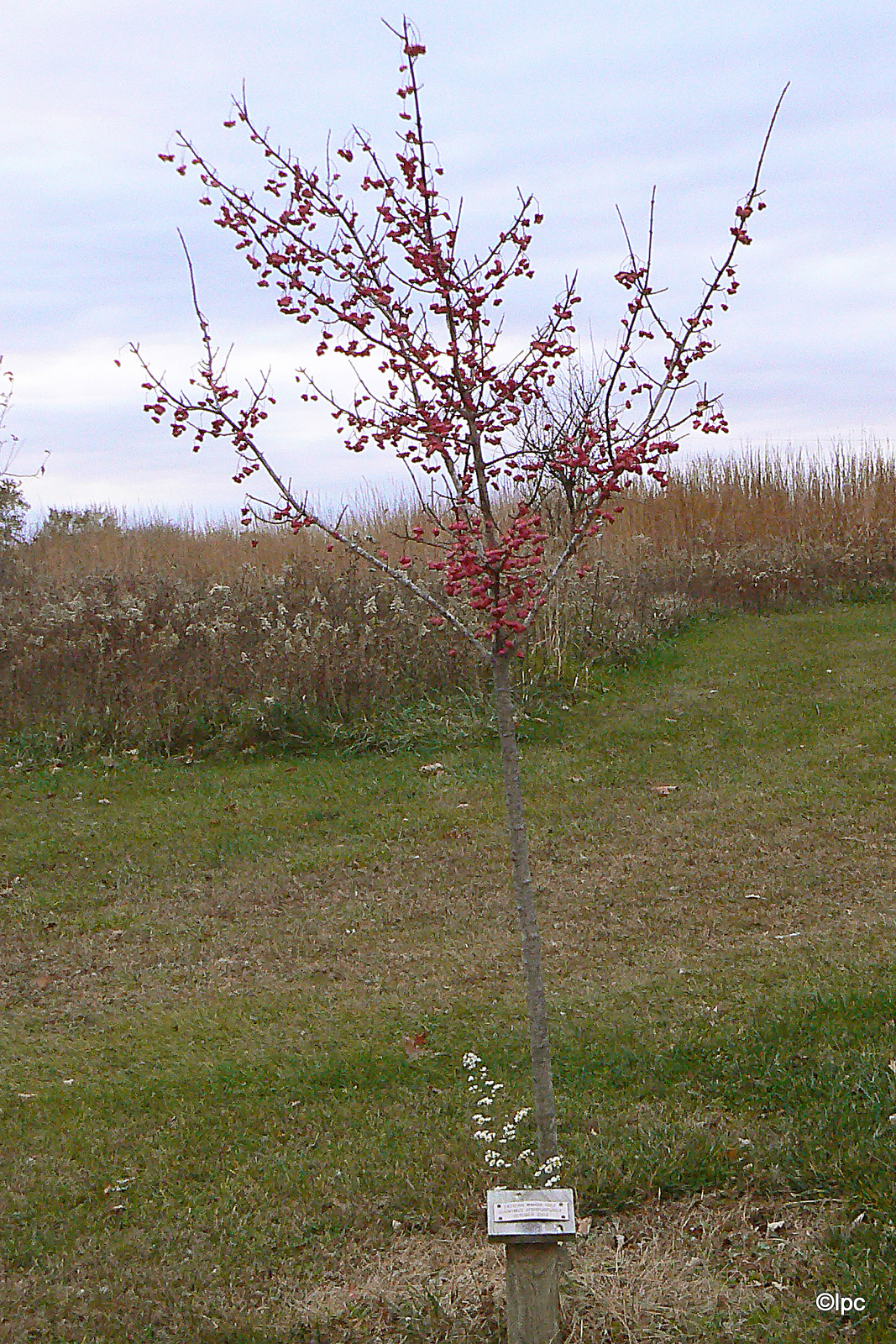 A little internet and reference book reading lead me to find this lovely little wahoo tree to be Euonymus atropurpureus, the Midwest's most common native Euonymus. Unlike some of the aggressive Euonymus species introduced from Eurasia, it is NOT invasive. Despite being present in the state and native, it is "present and not rare" in only part of the counties of Iowa (one of which is Van Buren), per this 2014 map from the Biota of North America Program (BONAP).
You may have heard it called Eastern Wahoo or even Eastern Burning Bush.
With its habit of growing often in woodland borders, shaded riverbanks, or the edge of thickets, it is often destroyed by human activity. It is also a preferred browse plant for deer, which can restrict its presence.
The simple, opposite and finely toothed leaves of early spring are followed in late spring or early summer by small, perfect dark purple-brown flowers with four petals, 4 sepals and 4 short stamens with yellow anthers. These flowers attract flies for pollination.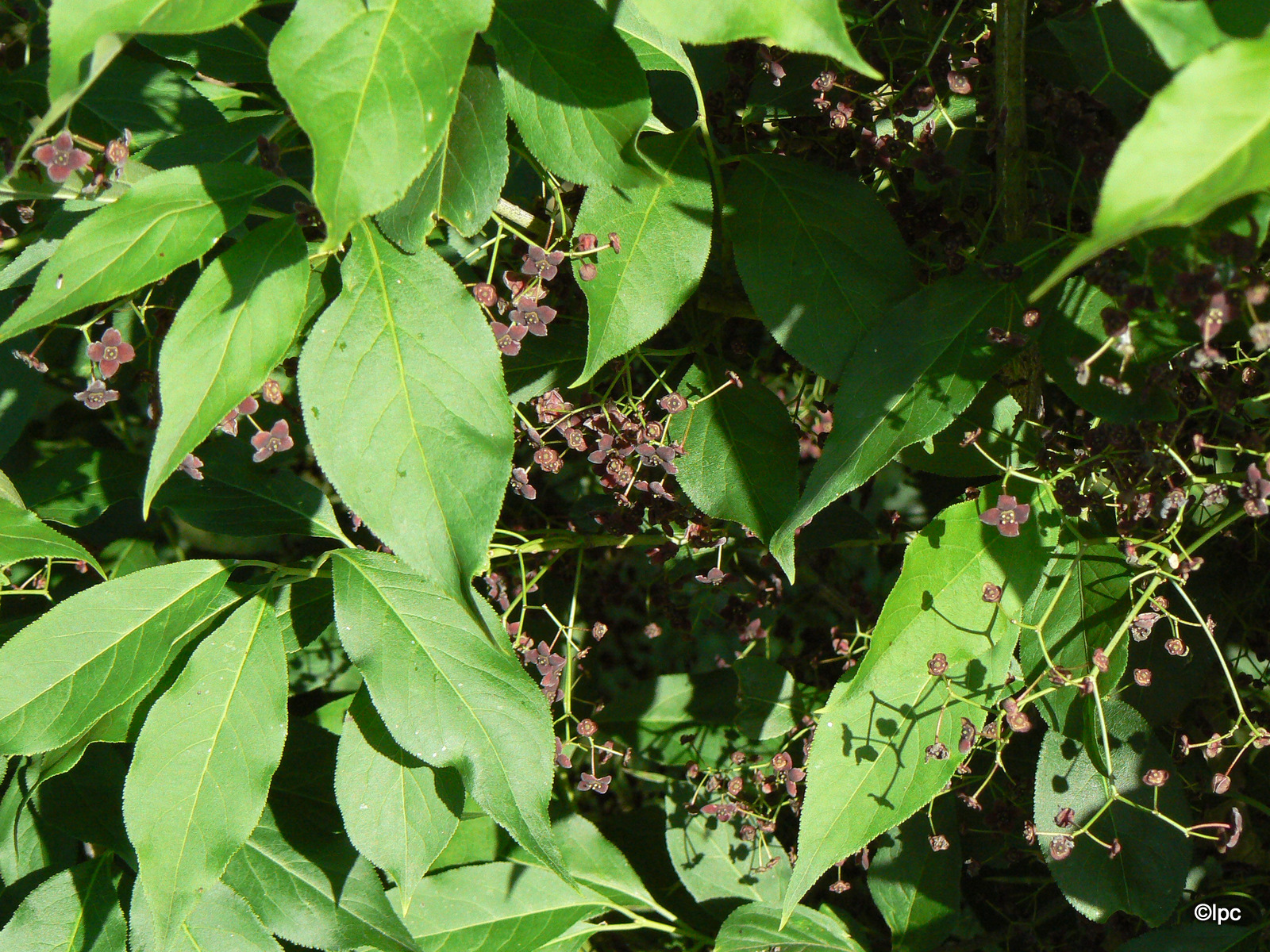 This is soon followed by 4-lobed seed capsules that vary in color from light green to light pink.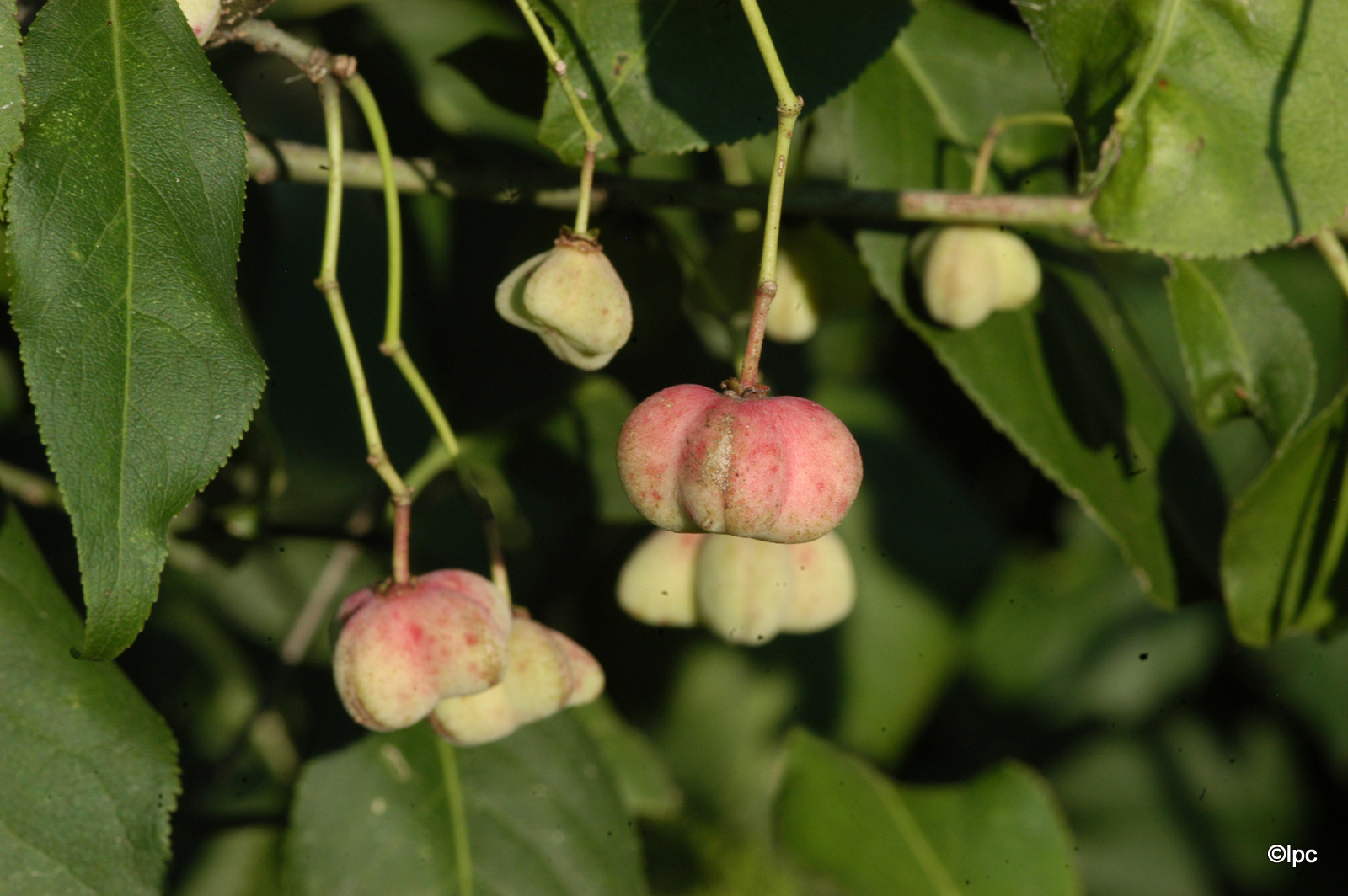 In the fall—late September to mid- October in southeastern Iowa, the seed capsules mature, turning a very bright pink.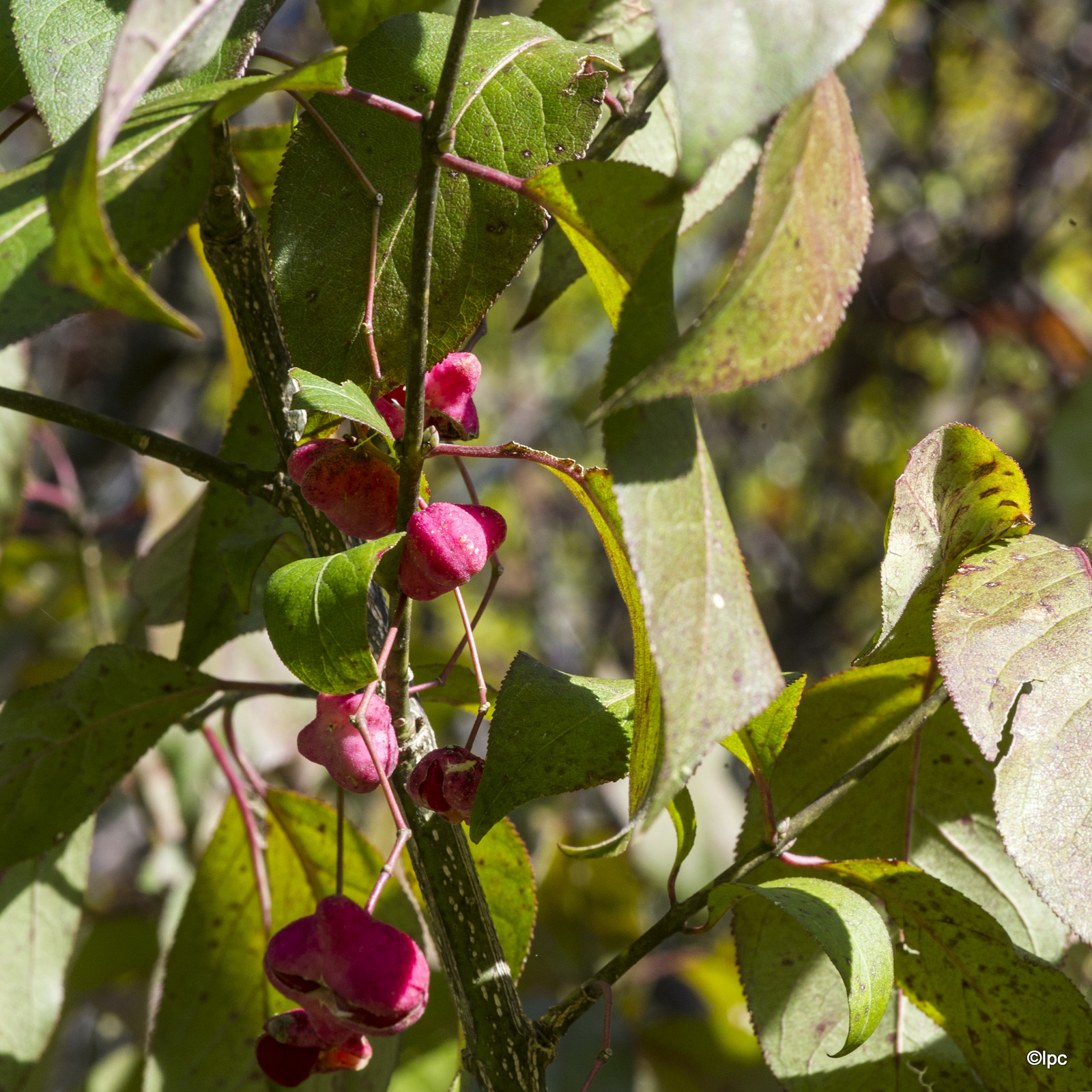 They soon split open, usually exposing 4 fleshy little bright red fruits, each with two seeds. Sometimes all four have not pollinated.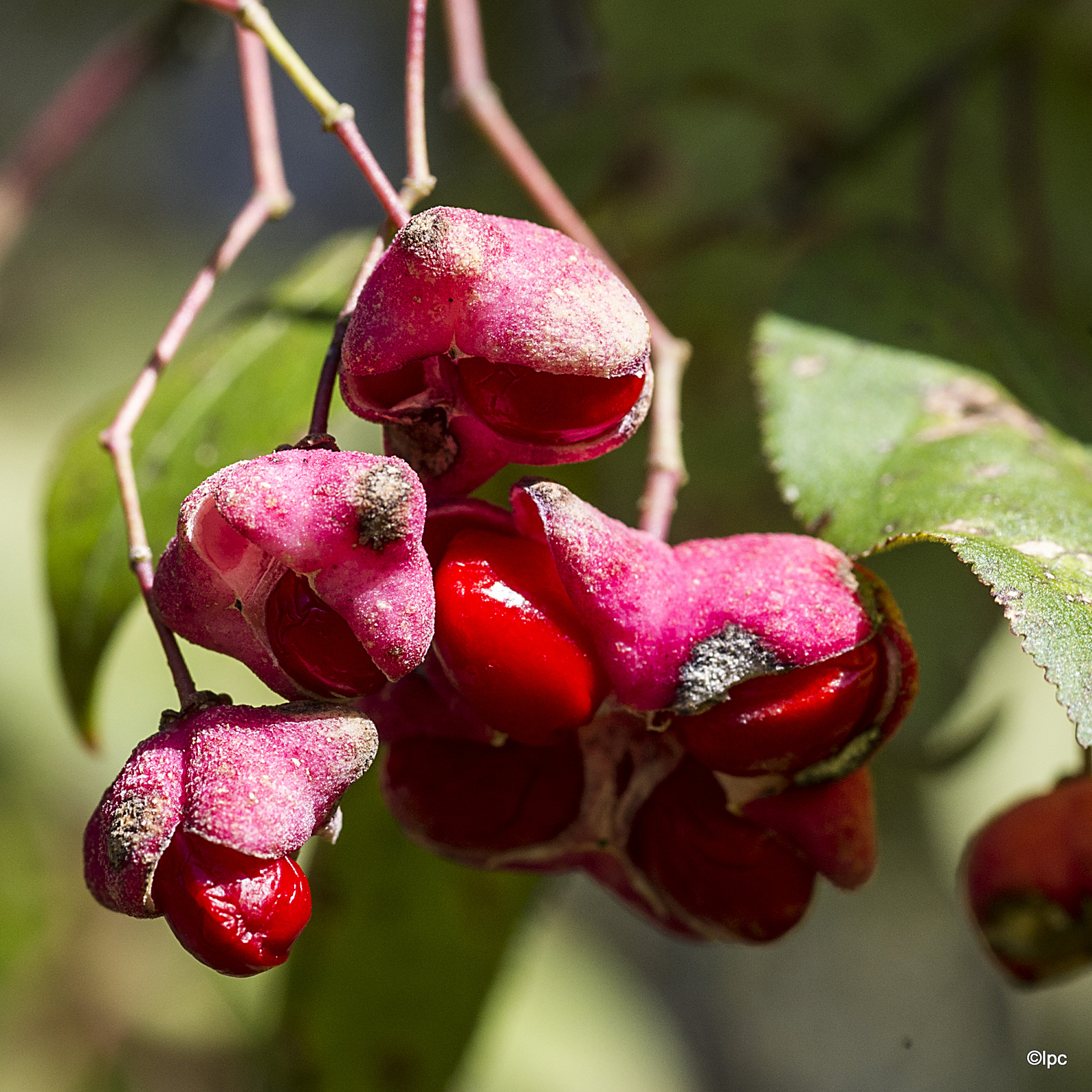 When chilly nights arrive, the leaves turn from bright green to a lovely red with a bit of orange. But after a few hard freezes, the leaves drop off, leaving the open fruit pods hanging on the tree. The seed are not especially attractive to birds though song birds, turkeys and grouse will eat them when other food is scarce.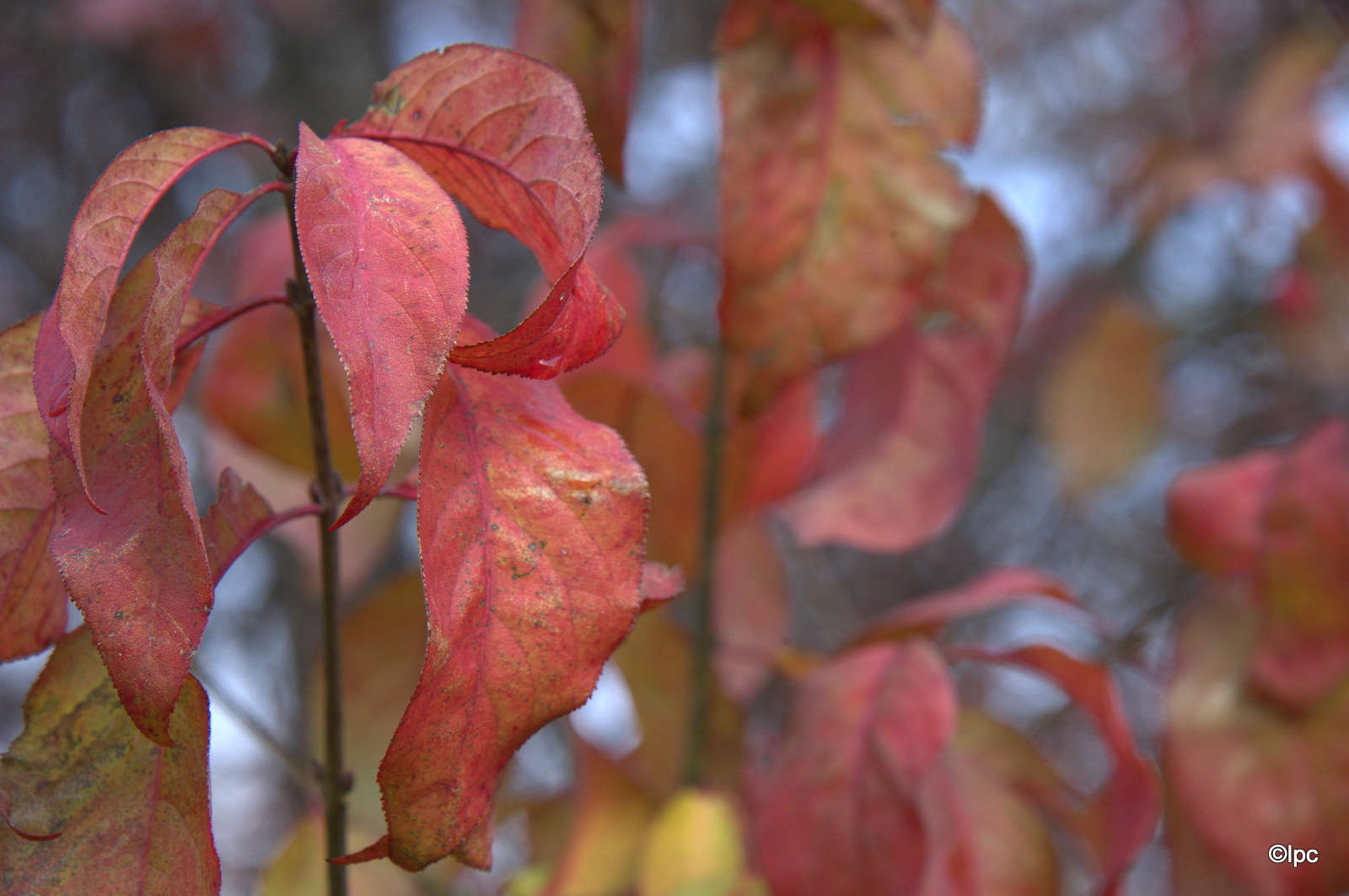 The wahoo spreads both by rhizomes and by seed, so occasionally it forms thickets rather like the grey dogwood.
This lovely shrub or small tree responds well to use in the landscape and rewards you with green twigs and leaves in the spring, purple-brown flowers in the early summer, greenish pink fruits all summer, bright pink seed pods in early fall, then bright leaves and open pink pods and red fruit hanging into winter. Quite an impressive landscape plant we should see used instead of the invasive exotics.
If you see one while hiking with lovely seed pods glowing, pick a few seeds and plant them now. Seeds should be planted in the fall/early winter or given several weeks stratification, as wahoo seeds need alternating times of warm, cool, warm stratification for germination.
Historically, various parts of the wahoo tree have been used medicinally by both indigenous peoples and early European settlers. This writer has not used it as an herb and can not advise on that topic. However, the seeds especially are violently emetic and should not be ingested by people.
UPDATE: Lora Conrad found a wahoo tree covered with snow after the first big winter storm on November 25.