Catherine Gayle Williams passed away on May 20, 2020. Original post follows.
Democratic State Representative Marti Anderson delivered these remarks in the Iowa House on February 4. -promoted by Laura Belin
The Iowa House of Representatives on February 4, 2019 begins to observe Black History Month. The ancestors of African Americans did not immigrate to the United States of their own free will like most of our families. They were trafficked to America to work the fields, build our communities and help create our nation's history.
Beginning today and for the next month, you will hear inspirational stories of Black Americans and you will be moved by their lives of hard work and persistence to make America a better place for their children.
I am thrilled to open this special month of American history by honoring the Iowa grit and American spirit of my friend and shero, Catherine Gayle Williams of Des Moines. Ms. Williams has had two primary careers in her 104 rich years of life, and I would like to weave her story of accomplishment for you.

Catherine Williams was born November 21, 1914 in Des Moines, the fourth of seven children. She graduated valedictorian of her class at North High School and received a scholarship for college, but it was not enough to cover the cost. So, Catherine's hunger for life and knowledge went in a different direction.
Catherine began tap dancing as a youth at what is now the Wilke House and after high school, she took that talent to Chicago to begin her first career as a professional dancer.
After three years in Chicago, Catherine moved to California, where she performed in shows with Tommy Dorsey, Benny Goodman, and Duke Ellingson. Also during four years in California, she performed in four movies: Singing Kid, Murder in Swing-time, New Faces of 1937, and You Can't Have Everything.
Catherine danced in Atlantic City and in New York City at the Apollo Club. She was tapped to travel across the country in the musical Hot Mikado, based on Gilbert and Sullivan's Mikado in which Bill Bojangles Robinson starred. The musical even played the Shrine Auditorium in Des Moines in March 1940.
While dancing, Catherine went to Business College, worked in offices, and even started her own dress shop. But in 1947, as her mother's health failed, she returned to Des Moines to help her family.
Catherine secured a stenographer position with the Polk County Welfare Department and her second career in public service began.
Her thirst for education took her to Drake University. Her supervisor at the Welfare Department recognized her potential and flexed her hours so she could take classes.
While at the Welfare Department, working various clerical jobs, Catherine observed the work of Social Workers and decided that was the job for her.
Working full time, going to school, and caring for her parents filled Catherine's life. By 1955, six years after returning to Des Moines, her father, mother, a sister, and a brother had died. Also, in 1955, Catherine found romance with Richard Williams.
In 1961, after 13 years of part time study, Catherine graduated from Drake with a degree in psychology and sociology. With her degree in hand, she advanced quickly and was appointed Public Welfare Supervisor.
In that position, Catherine relates, she felt "put down" in meetings and that what she had to say was irrelevant. She felt compelled to pursue best credentials by getting a Master of Social Work degree.
Catherine and Richard Williams married in June 1963, the same summer she was accepted in the U of I School of Social Work. Catherine moved to Iowa City that fall, with her new husband remaining in his Des Moines position. Catherine's husband once related that "ever since he met Catherine in 1948, she never wanted to stagnate. She always had a book in her hand. She never stops learning, never! Reads all the time."
Catherine graduated with her MSW in May 1965 and returned to the Polk County Welfare Department. By 1975 she had risen to the position of Deputy Commissioner of the Iowa Department of Social Services.
Catherine was responsible for many innovations in social service delivery in Iowa, particularly in foster care programming.
• established the first foster parent resource system
• organized a foster-parents support group
• developed the first statewide training program for foster parents of children with intellectual disabilities
• wrote the first foster care parent manual
• developed training for foster care, adoption and child welfare workers
• established the first adoption subsidy program
• Implemented a department liaison with the legislature and fed. government
• developed Goal Oriented Social Services (GOSS) which became a National Model for services & accountability
As Deputy Director at DHS, Catherine was responsible for policies and programs:
• Income Maintenance
• Family & Adult Services: protective services, foster care, adoption, day care
• Medical Services
• Community Corrections (in the 1970s, Corrections was part of DHS)
• Intellectual Disabilities
• Youth Services
• Five institutions: Training School for girls; Training School for Boys; State Juvenile Home; Veteran's Home; and Riverview Release Center;
In 1979, Catherine G. Williams became the highest-ranking African-American female in state government and one of the highest ranking in social services nationally when she was appointed Interim Director of the Department of Human Services.
In 1981, when Catherine retired after 32 years of service, she was the highest-ranking Black official in Iowa state government.
Catherine also served on: City of Des Moines Planning and Zoning Committee, The Council of Human Services, United Way Model Cities Allocation Committee, and the Community Relations Task Force of the NAACP & the Jewish Federation.
The many honors and awards earned by Catherine include
• Iowa Women's Hall of Fame in 1980
• Iowa African-Americans Hall of Fame, 1999;
• Honorary Doctor of Humane Letters, Simpson College, 1981;
• Iowa Social Worker of the Year, 1980;
• Drake University Distinguished Alumnae Award, 1981;
• Des Moines North High School Distinguished Alumna Award, 1991;
• YWCA/Mary Louise Smith Racial Justice Award, 1990;
• National Black Child Development Institute Award, 2000;
• State of Iowa Volunteer Award, 1984;
• Morris Scholarship Fund Award, 1985;
Catherine broke barriers and glass ceilings with the conviction of her values. She inspired African Americans, women, and social workers during both her social work career as well as the 33 years she has been retired.
Catherine Williams has been an exemplary public servant, servant leader, community leader, and a dedicated Iowan for over 104 years. I thank her for her love of Iowa's families and children. And thank her for her service.
I invite the House of Representatives to honor her integrity, compassion, and service to the state of Iowa.
Photograph of State Representative Marti Anderson (left) and Catherine Williams, provided by Marti Anderson and published with permission.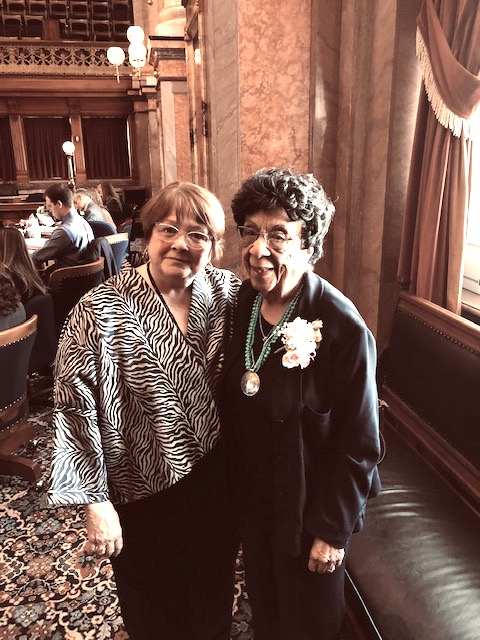 JUNE 2020 UPDATE from Laura Belin: Catherine Williams passed away at age 105 on May 20, 2020. Here is an excerpt from her obituary.
Catherine attended the Des Moines schools, graduating from North High School in 1932. Following a dancing career of 16 years, she received a business college degree from Cortez Peters in Chicago, a B.S. degree from Drake University, and her master's degree in social work from the University of Iowa. Catherine was an Iowa State employee for 33 years, beginning as a secretary and retiring in 1981 as Deputy Commissioner for the Iowa Department of Social Services. During her career, Catherine received an Honorary Doctoral degree from Simpson College, Distinguished Alumnus from Drake University, Social Worker of the Year, Mark Hale Lecture Award from the University of Iowa Women's Hall of Fame in 1982, North High School Distinguished Alumna, Mary Louise Smith Award from the Y.M.C.A., and the Iowa African American Hall of Fame. In 2010, the local chapter of N.A.S.W. initiated an annual award in Catherine's name for social workers in diversity. In 2018 she earned both the Sages Over 70 Award, and the Drake University National Alumni Award in Community Service. In 2019 she was inducted into the National Association of Social Workers Foundation Pioneers Program.

Catherine was a member of St. Paul A.M.E. Church since childhood, serving as a Sunday school teacher, class leader, steward, a member of the William Sampson Brooks Missionary Society, and was the histographer for the North District of the Illinois Annual Conference. Catherine was also a member of the Y.W.C.A., Racial Justice, Delta Sigma Theta Sorority, Inc., Des Moines Chapter of The Links, Inc., life member of the N.A.A.C.P., The Bridges Club, Hostess Club, and past member of the Mary Church Terrell #2 and the Book Lovers Club. […]

Memorial contributions may be directed to St Paul African Methodist Episcopal Church.